A grown man playing with toys? It doesn't sound great. It feels like a waste of precious time. Nathan Sawaya fits that description. At first. But then, after one look at any of his creations, all the complexity of his sculptures kicks in. The magnificence of his talent. All the patience necessary for just one average piece. And yet, his love for the medium gives him both strength and inspiration, and he has evolved from a beginner, still uncertain about himself and his skills, into an artist, one of few masters of this particular technique in the whole wide world. Despite the conflict between the imposed limitations of Legos and his own creative urges, the sculptor is strict about not manipulating the bright color palette or shape of the brick, a rule that proved particularly challenging when reproducing the works of art.[1]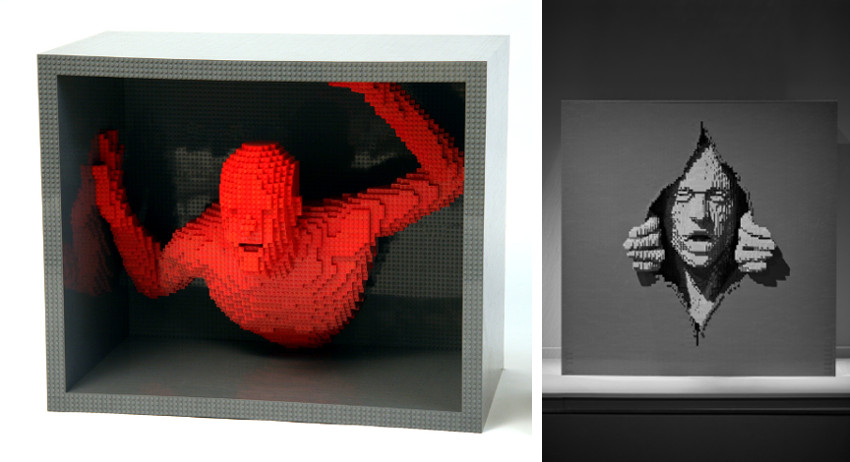 A Lego Artist
Born in Colville, Washington and raised in Veneta, Oregon, Sawaya studied at the New York University. After a number of years of being a corporate lawyer, he dropped everything and began his creative endeavor of creating sculptures using only Lego. One of the first artists to introduce this new medium to the world, he is obsessive about his craftsmanship, and his sculptures undeniably possess beauty and playfulness. He grabbed the attention of both critics and viewers with his first exhibition and has since been at one of the top positions in the world of contemporary art. His work can be described as somewhere between Surrealism and Pop Art, but it's not really a part of both worlds. Rather, it's a new dimension where the sculptor plays with material, colors, shapes, but also light and perspective, and creates masterpieces. His love for the medium is unmatched – even when he's not creating, he often gets a need to breakout a set every once in a while.[2] It seems funny because, compared to the millions of bricks that are in his studio, he doesn't really keep any Lego at home. However, there are times when he feels the need to open a new set and simply follow the instructions.
Somewhere between Surrealism and Pop Art, and yet in a completely new dimension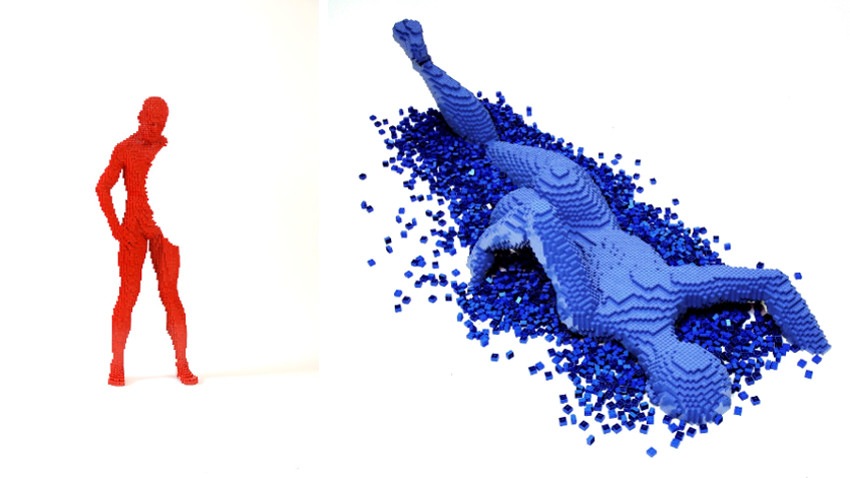 Brick by Brick
He possesses an amazing ability to transform those tiny bits into something new. That ability, complemented by his attention to details such as color perfection and scale, allows him to conceptualize the action of the subject matter, enabling him to create fine art out of something that is usually thought of as an ordinary toy. He is inspired by some of the greatest painters in the history, from Leonardo and his Mona Lisa, over Edvard Munch and The Scream, to Vermeer's Girl With a Pearl Earring and Rodin's Thinker. All of these artworks were given a new life and an extra dimension by their creator. Working within the limitations of his chosen medium, he sculpts artworks whose overall effect is more allusion than illusion.[3] This hardly means they aren't impressive. In fact, they are amazing on several different levels. Sawaya's ambition is great, his skill even greater. Some of the sculptures amaze in scale (The dinosaur consists of over 80,000 bricks, and the Moai figure from Easter Island has in itself more than 75,000 bricks). His most famous piece, titled Yellow, is a life-sized sculpture of a man ripping open his chest, revealing and spilling what's inside – more Legos. As the artist admits, many of his pieces are a reflection of himself.[4]
His works are very popular, and many of them are a reflection of himself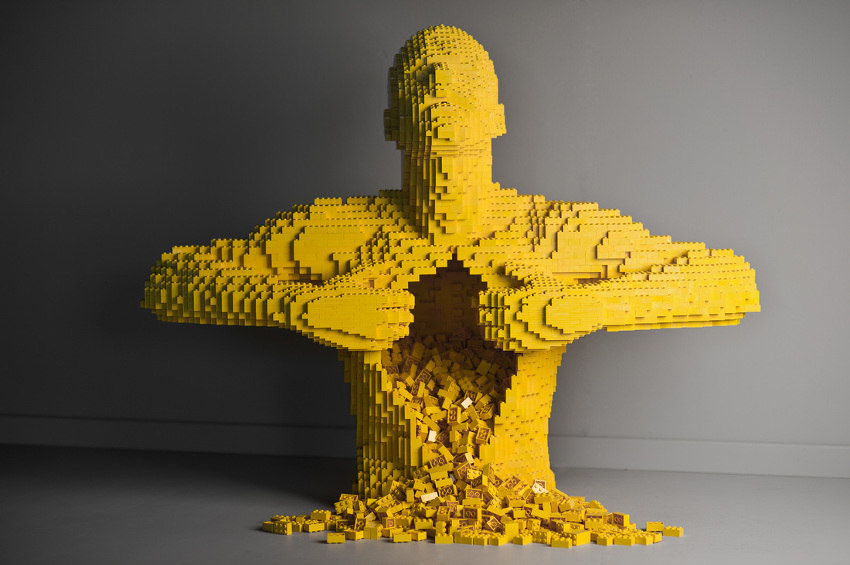 DC Universe and Nathan Sawaya
In November 2015, the viewers had an opportunity to see a hundred new sculptures for the very first time. The thematic have slightly changed, and the name of the exhibition provides more than a hint - Art of the Brick: DC Comics. The show is dedicated to the characters of the DC Universe, both good and bad ones. There are villains, but there are also heroes. Sawaya was interested in exploring the relationship between the good and evil, the right and wrong. So he naturally turned to stories of heroes and villains written on the pages of various DC comics. The whole world knows about Batman and Superman, and these characters can certainly be powerful inspirations. As a child, the sculptor grew up watching the animated TV program Superfriends, and his favorites were the popular Justice League characters. But as he dove deeper into that universe, one of his favorite heroes became Bunker, who uses the creative energy of his mind to build brick-like objects. There was something about that power that stroke a chord with the artist.[5] Sawaya donated a sculpture of Catwoman to the We Can Be Heroes campaign and it began something that would turn out to be a wonderful relationship with DC and Warner Bros.[6] A simple act of donation marked the birth of a completely new series that gained international popularity. The sculptures make Sawaya even more famous, turning him into a hero of a Lego world.
Nathan Sawaya lives and works between New York and Los Angeles.
Sources:
Featured image: Nathan Sawaya in his studio
All images courtesy of the artist