Naum Gabo, born Naum Neemia Pevsner, was a famous Russian sculptor and painter and one of the most important figures belonging to constructivism movement. He was also a pioneer of kinetic art, who developed a transformative approach to sculpture. Gabo's sculptures break solid masses into interlocking planes and geometric shapes surrounded by meaningful open spaces. He used prevalently glass, metal, and plastics in order to create his precise, linear forms, typical for their lightness and dynamic structure. His works were mostly abstract and inspired by new and modern architecture.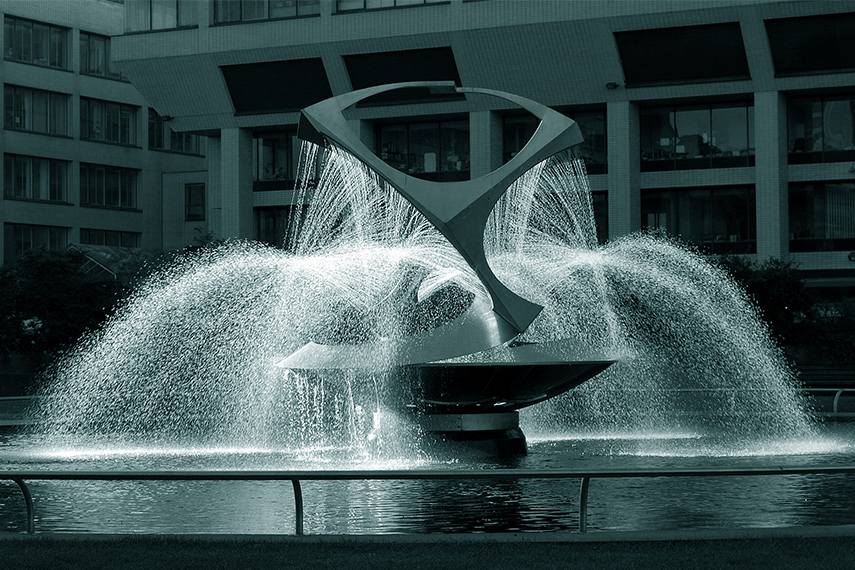 Gabo's Early Biography: The Birth of Constructivism
Naum Gabo was born in a Jewish family, in a small Russian town called Bryansk. Since his early childhood, he was fluent in German, French, and English, and after the graduation from a school in Kursk, Gabo moved to Munich, where he entered the university in 1910. He was initially studying medicine and natural sciences, but he was also interested in visual arts and he attended art lectures held by Heinrich Wölfflin. Two years later, in 1912, Gabo moved to an engineering school in Munich and it was around the same time that he discovered abstract art and even met the great Wassily Kandinsky in person. Inspired by various abstract movements, Naum Gabo started creating his own pieces which became very successful and well-accepted. The artist won appraisal and admiration of many critics and he also got many awards, the most prominent one being the Frank G. Logan Art Institute Prize at the annual Chicago and Vicinity exhibition. After the outbreak of war, the artist decided to move first to Copenhagen and then to Oslo along with his brother, and he started making his early constructions there. These earliest pieces were made in cardboard or wood, such as his Head No.2, which can be found in the Tate collection. Gabo moved back to Russia in 1917, where he became involved in politics, but he also contributed to the local art scene. He organized various exhibitions and started teaching at the Higher Art and Technical Workshop, with his fellow artists Tatlin and Rodchenko. During this period, Gabo's pieces were mainly geometric reliefs and constructions, but he also started to search for new horizons and experiment with kinetic sculpture. He visited London in 1935 and eventually decided to emigrate to the United States in 1946.
Gabo's early works were mainly geometric and modern reliefs and constructions, but he also started to use kinetic sculptures as his tools of self-expression
Gabo's Search for His Own Path: Modern Approach to Construction of Artworks
Gabo's work and style revolve around the exploration of space and his belief that space can be explored and represented without depicting or creating massive objects. His other concern, presented in his Realistic Manifesto, is the innovative idea that art needs to exist actively in four physical dimensions and in time. Since Gabo actively participated in the artistic and philosophical circles of the 20th century, he became known as one of the leading figures in Moscow avant-garde scene. When it comes to his exhibitions, they were rather revolutionary and mind opening, and they have created a lot of enthusiasm among both viewers and critics. I make images to communicate my feelings of the world, said Gabo about the nature of his work. He always aimed at creating a meaningful connection and contact between the tangible and intangible, the simplistic and elaborate. It is really important to underline that his systems of construction weren't just elegantly sculptures, but also viable architectural works, made with the most diverse and unexpected materials such as plastics, fishing line, bronze, sheets and boulders. He thoroughly described his artistic concepts in his famous Realistic Manifesto. The sculptor died in Waterbury, Connecticut, in 1977, after a long and successful career between his home country, Paris and America.
Naum Gabo has thoroughly described his artistic projects and his interaction with various sculpting materials in the famous Realistic Manifesto
Evading the Chaos through Art
Naum Gabo's life was exciting and turbulent - he lived through a revolution between the two world wars. The constant awareness of the external chaos helped Gabo focus on the peacefulness of the ideal art forms – through his perfectly designed pieces, he evaded the chaos and violence of the world he was living in. Instead of sinking into deep despair, Gabo chose to look past all the darkness around him and create sculptures which give us a sense of harmony. Space and time are the only forms on which life is built and hence art must be constructed, claimed Naum Gabo.
Naum Neemia Pevsner aka Naum Gabo lived between Russia and Connecticut in the USA.
Featured image: Naum Gabo's Portrait - image via moma.org