Developing a form of geometric abstraction that assimilates the traditional aniconism of Islamic Art with the algorithmic nature of the world we live in, Navine G. Khan-Dossos painting style is based on her education and knowledge of Islamic Art. Going beyond the expected frameworks of religion and culture, she deals with the complexities of Orientalism, in both historical and contemporary contexts. Inescapable topic of today, the complex relationship between the West and Islamic world represents the main subject of her work. Trying to envisage this art as something essentially informational, not just abstract, Khan-Dossos explores the new figurative language that shapes our imagined version of reality.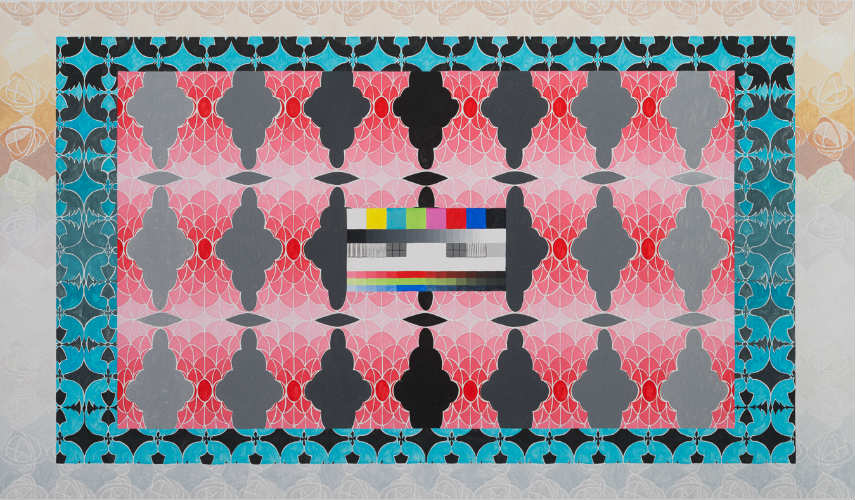 Between the Middle East and West
Also known as Vanessa Hodgkinson, Khan-Dossos got her education in History of Art at Cambridge University, she studied Arabic language at Kuwait University, Islamic Art at the Prince's School of Traditional Art in London and earned her MA in Fine Arts at Chelsea College of Art & Design. Participating at the Van Eyck Academie in Maastricht, she has also taken part in Residencies with the A.M. Qattan Foundation, Leighton House Museum, and the Delfina Foundation. She has exhibited and worked with various institutions as The Museum of Islamic Art in Doha, Witte de With in Rotterdam, The Delfina Foundation in London, The Library of Amiens, The A.M. Qattan Foundation, Ramallah.
Khan-Dossos goes beyond the expected frameworks of religion and culture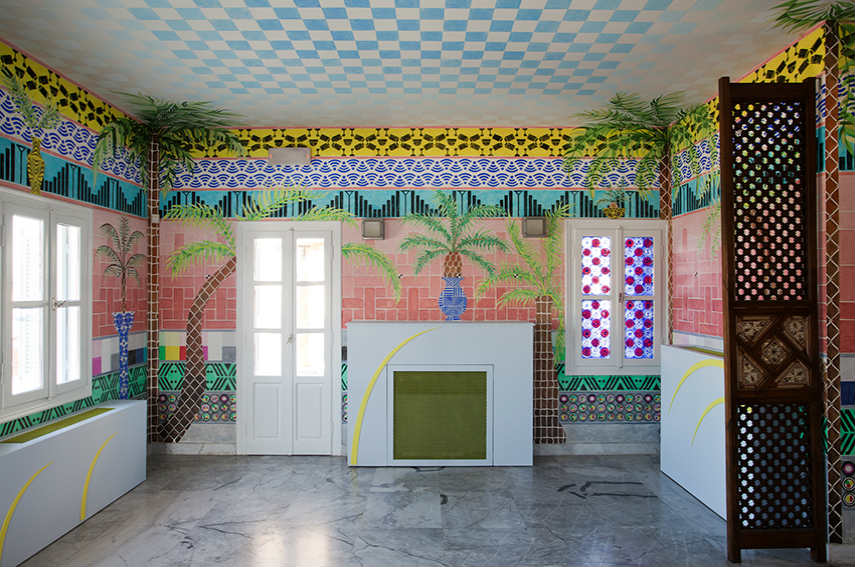 Digital Form of Traditional Visual Language
Using the egg tempera and gouache, Khan-Dossos paints on wooden panels or directly onto walls, desiring the permanence of her work. Her interest in conceptual and structural frameworks that amplify the process of communicating ideas trough painting moved away her recent work from pure geometrical shapes of Islamic Art toward universal visual language. She explores new media technologies as a potential for making images, including the political and aesthetic significance of viral perceptions as systems of propaganda. Her works build a relationship with the current condition of political distrust and cultural and social paranoia with references to photomontage and misinterpretations.
Khan-Dossos paints on wooden panels or directly onto walls
Quest for Figurative in Aniconic World
Merging her practical training in the crafts of Islamic Art and knowledge in Art History, Khan-Dossos combine the aniconic with her quest for figurative as a mediated digital presence. Bonding the industrial terminology with visual signs instead of figuration, she suggests to the viewer to conceptualize the subject through memory and his own imagination. Shifting the logic of the geometrical pattern to universal representations, Khan-Dossos mixes the traditional art with digital languages of programming and the internet. Using geometry not only as decoration but as information, her interests put the Orientalism in the digital realm and aniconism in contemporary culture.
Navine G. Khan-Dossos is represented by Nome, Berlin.
Navine G. Khan-Dossos lives and works in Athens and London.
Featured image: Artist portrait, photo via lifo.gr
All images © artist