A member of the famed Kingdom crew, Nean is a pseudonym of a Belgian street artist with a fascinating style who lives and works in the city of Brussels. Completely self-taught like most of his urban colleagues, Nean started creating on paper before turning to aerosol spray paint - soon after that, the newly revealed world of graffiti installed a passion for portraits, a genre that immediately became the focal point of Nean's portfolio. It should be noted that, although the street artwork is definitely a highlight of this young man's career, Nean also creates spray-on-canvas paintings on a regular basis, constantly levitating between the streets and galleries of Belgium.
Nean - The Graffiti Artist
In 2014, Nean finally decided to practice his graffiti skill full time and joined the collective of artists known as Propaganza, an urban art collective grouping together twenty painters from Belgium, France, Spain and England. An artist with multiple influences, Nean immediately started using various mediums that allowed him a lot of creative freedom otherwise unavailable to him. Inspired primarily by traditional painting and digital art, Nean's style right off the bat started existing between an experimental and photo-realistic manner that easily made him stand out among his peers.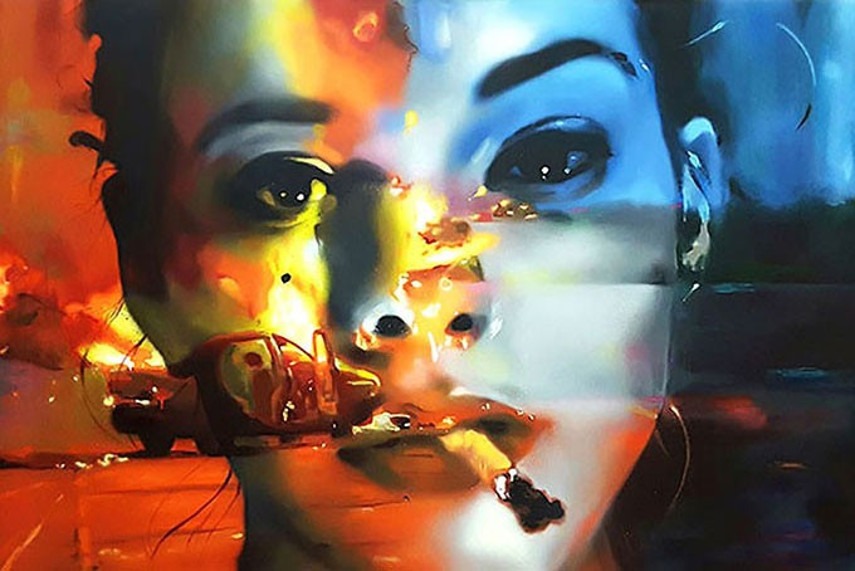 What Separates this Street Painter
Although he focuses on the production of portraits that traditionally have no other motive than presenting an individual, Nean's most personal artworks are about the issues of time and how the human race tends to interpret and deal with the concept of losing it. Nean also expresses the art of memories through subtle, skilled chromatic aberration and double expositions. Interestingly, the wall as a canvas matches perfectly with this comparison with time - as the pictorial surface continues to grow older and decay, the messages Nean is trying to send us only get further reinforced on a conceptual level. This is why his gallery works, despite the fact they are marvelous to look at, simply do not pack the same artistic punch Nean's street pieces have in their arsenal.
Although he frequently creates pieces that are intended to be placed in gallery settings, Nean's street work is where his creative magic truly occurs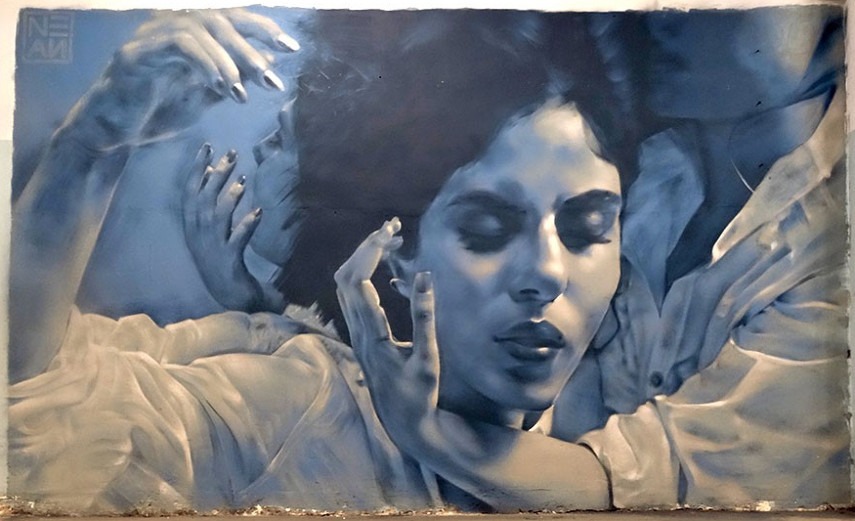 Nean's Takes on Time and Memories
The moments we live, the people who cross our paths, the places we pass, determine our memories. But this past that passes by, nostalgic or factual, wrestles with our memories: it changes, fades, melts or evaporates. This statement by the artist himself is a perfect indicator of what his work is all about - his portraits, whether they are placed in a gallery or are out in the streets, have a tendency to communicate with their viewers in a way that makes them ponder on how much our memories truly matter and just how fragile they can be. A true upgrade over what the usual standard for portraiture pieces is.
This artist is represented by Galerie Martine Ehmer.
Nean lives and works in Brussels, Belgium.
Featured image: Nean - Live with me, Brussels, 2017 - Image courtesy of Galerie Martine Ehmer
All images courtesy of Galerie Martine Ehmer and Nean.