If you are not sure whether to laugh or be horrified by exaggerated black humor jokes, then Neck Face has fulfilled his mission. Pointing out that he enjoys watching people laugh at his violent pieces and then look around and wonder if it's wrong to laugh at it, this anonymous graffiti artist, often likened to Jean-Michel Basquiat, creates violent, bloody, scratchy images whose aesthetic rests on a distinctive mixture of heavy metal and latrinalia influences. Recognizable for his characteristic style that can be seen throughout numerous cities, Neck Face also managed to occupy the gallery spaces.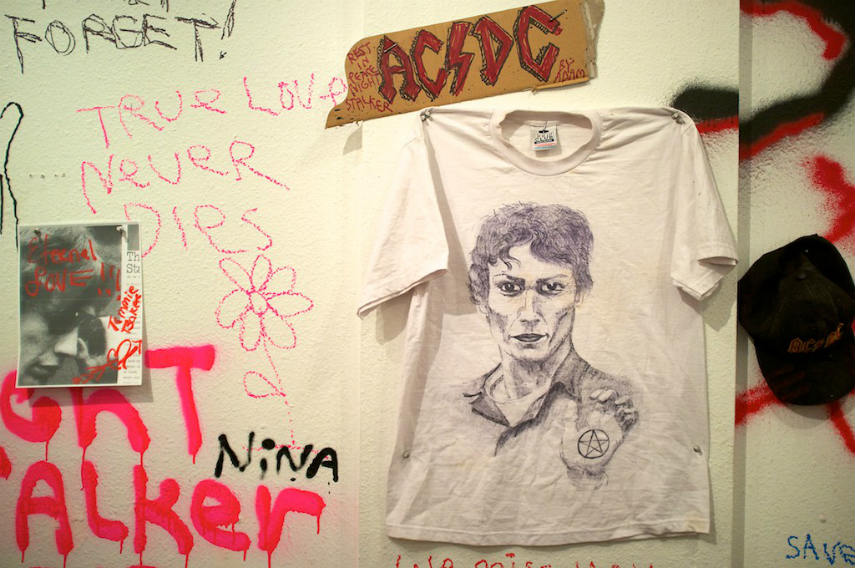 Neck Face as Graffiti Artist
Neck Face was born in 1984 in Stockton, California. As a child, he liked to read his grandmother's collection of snuff magazines which had the pages with photos of the dead people that helped him to build an opinion of death as entertainment from his early age. His street artist's career began during his junior year in high school when he started tagging walls of his hometown. He became known for his self-made stickers on the public objects. After becoming more experienced, he painted in San Francisco and soon decided to move to New York, where he attended Pratt Institute in Brooklyn for two years before dropping out. Besides being an artist, he is also an avid skateboarder and, in accordance with this passion, an art director at Baker Skateboards which has a collaboration with a number of famous brands such as Vans, Stussy, and Altamont Apparel. His street art is characterized by his "neck faced" creatures with the jagged teeth and pointed ears. Described as naïve and scratchy, his illustrative style received so many attentions which allowed him to move to gallery spaces and thus to focus on different techniques and approaches, as drawing, painting, sharp metal masks, felt installations, and sculptures. For one of his numerous interviews, on the question about his fame and position in street culture, he said that he just goes with the flow: "I didn't know this would happen, all the mags and galleries. I've always been doing this. Now I just have shows. If it all goes away, I'll still be doing this. This is what makes me happy."
His "neck faced" creatures from the street have the jagged teeth and pointed ears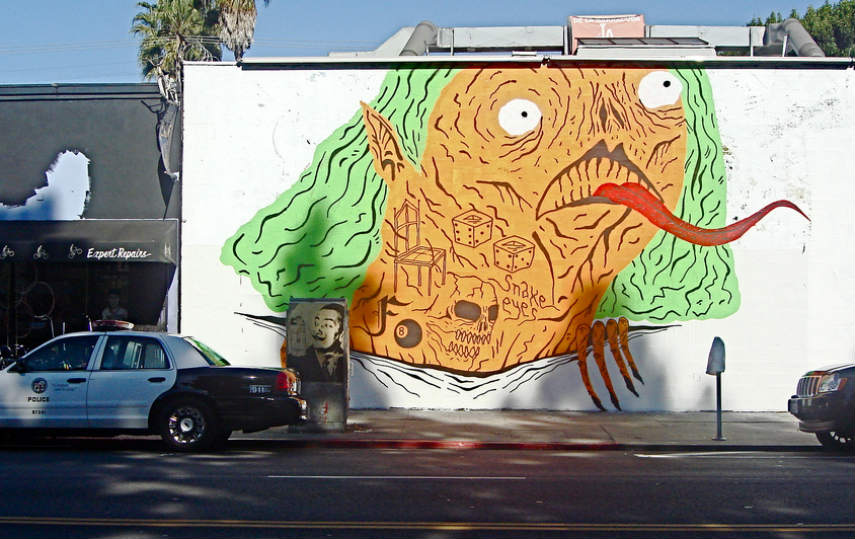 Traditional Halloween Show Openings
Neck Face made a tradition of his Halloween show openings that represent notable charades celebrating the horror and hideousness along with a haunted house entrance organized with his family. "Halloween is my day. Some people like Christmas, I like Halloween" explains the artist. His ability for multi-media creations is seen in the production of metal masks, paper-mache sculptures and film. His unique characters are distinguished by a perfect balance between his studies about criminals through the prism of nightmare and his wit and fresh approach. Exhibition Into Darkness was held in 2010 at OHWOW Gallery in Miami, followed by performances and special installation equipped with a haunted house and skate demo for the opening night on the Halloween. The artist also showed his new body of work with the collection of watercolors with vignettes arranged in comic strip format with his characteristic beings placed in a stop action narratives and engaged in common activities which were sometimes finished in a bloody way, as the card game that gone wrong when one creature shoots his opponent.
When it comes to his three-dimensional artworks, his sculpture shows the influences of the combine tradition of mixing different materials. Adopting this modern method and adapting it to his own creative expression, Neck Face reinterprets the practice of merging flatness with form, changing the context of objects and materials with an aim of presenting the usual with the changed definition. His multiple talents were also proved through his feature-length kung fu horror film Born Under a Bad Sign, directed by Isaiah Seret. Filmed at the Museum of Contemporary Art Los Angeles in conjunction with Art in the Streets, it is a story of an ordinary man who became a ninja and a demon. In a series of strange inspirations, Neck Face's exhibition No Mercy For The Weak at new Image Art Gallery in Hollywood, besides his prints originated from his researches of bar room practices, featured an altar devoted to the Night Stalker (Richard Ramirez) who died in prison. Following the tradition of painting inspired by bar room drama, his prints depict demons in the depth of their darkness carrying the clear messages as: "Don't drink and drive." His creatures continued to be born out of darkness on his works prepared for the solo show Drinking On The Job, held at New Image Gallery in Los Angeles in 2014. Inspired by the world of alcoholic hedonism, these drawings are vulgar in both theme and tone, saturated with the gloomy atmosphere related to bars and pubs.
His drawings are often inspired by themes of drinking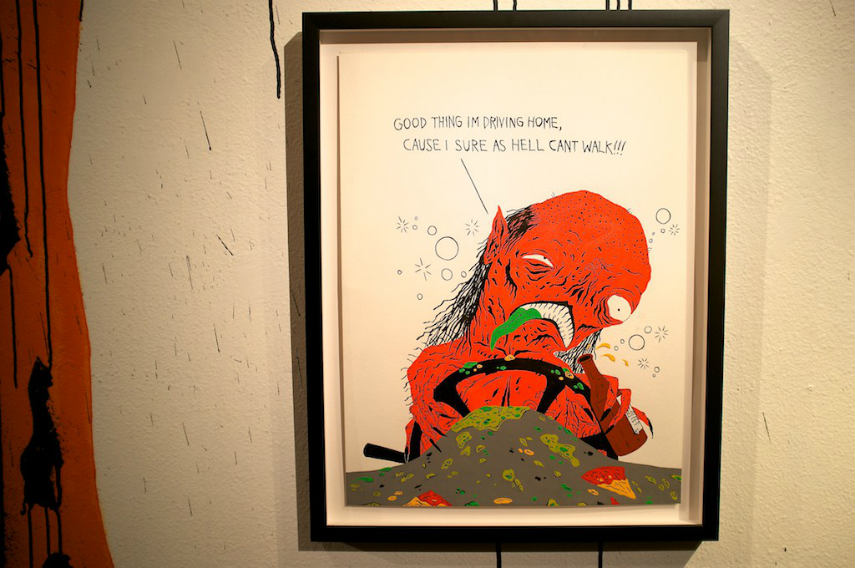 Neck Face's Art
Compared to Banksy and described as "generally super famous in the cool parts of the art world", Neck Face has exhibited alongside the most prominent street artists and his work can be seen internationally across the globe, in places as Melbourne, Sydney, Copenhagen, and Tokyo, in addition to appearing on billboards and buildings in the United States. When asked about his inspiration and creative process Neck Face answers: "Sometimes it's just fucked up the situation that I think of in my head, sometimes it's what I would really like to do to someone, whether it would be an ex-girlfriend or somebody who pissed me off earlier in the day …" His work has been featured in several publications such as Dazed and Confused, The New Order, and i-D Magazine.
Neck Face lives and works in New York.
Featured image: Neck Face - Artist portrait - Image via huckmagazine.com