NemO's is an Italian street artist, known for his thought-provoking, dark comedy murals inhabited by characteristic human figures.
NemO's Street Art
The originality of NemO's work lies in his method of work, best seen in his ongoing Before/After series. He paints skeletons as a base of his murals, which are then covered with layers of old newspapers. This newsprint skin erodes and peels off over time, revealing the innards of his creations underneath. In such way, the artist creates evolving and living art pieces, a proof and exploration of the fleeting nature of street art.
Rip Off

NemO's large public pieces are almost always thought-provoking, displaying his critique towards our society's modern values, selfish aspects of our society, with banal and thoughtless actions, or towards shallow and shock-addicted press and media. Two of his pieces serve as a clear example of the artist's opinion of capitalism and mass media – 1 Gram and Stoks-Pillory, both painted in 2014 in New York.
DistrArt Project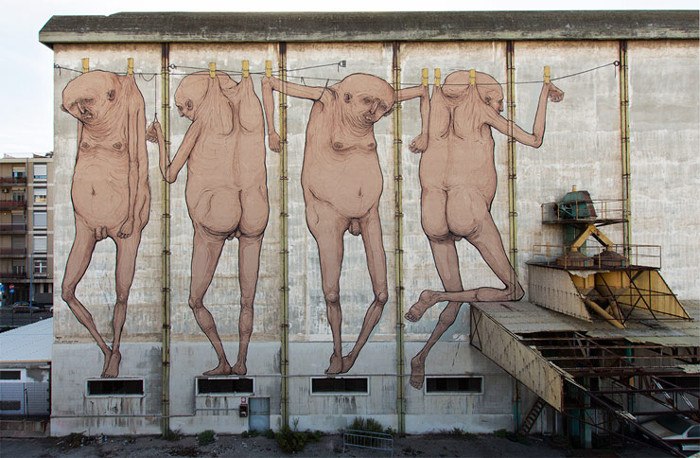 Another example of his social justice activism is his recent mural painted for DistrArt Project on a multi-story factory wall in Messina, Italy. The wall depicts four naked bodies of his familiar hapless chaps clipped to a clothesline, a surreal metaphor of countless deaths of immigrants in the sea. NemO's focus is on immigrants escaping oppression who have drowned and the pseudo-compassion of contemporary news coverage and grand-standing politicians that feed xenophobia.
Ink on paper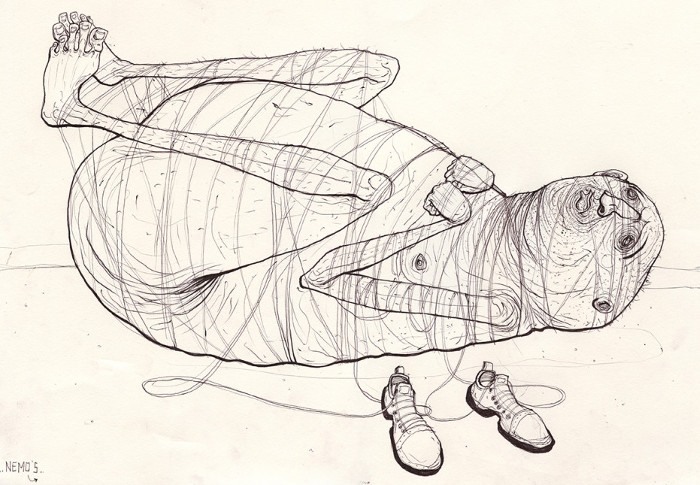 NemO's is currently based in Milan, Italy.
Featured image: NemO's next to his HERO-IN mural
All images copyright © the artist