Reviving the German figurative painting through his narratives rich with myths and histories, life under the pressure of ideology, and faith, Neo Rauch merges the reality with realms of bizarre and the paradoxical. One of the most prominent artists of the New Leipzig School, he uses the visual language of Social Realism, owing a lot to Surrealism of Giorgio de Chirico and Rene Magritte, besides the fact that artist himself rejects the idea of surrealistic references. His images convey the absence of the linear and logical, indicating abstraction of the scenes deprived of common temporal and spatial perspectives. They share certain affinities to surrealism, evoking the dreams as an escape from the consciousness driven by the strict rules. Using the strident, but extravagant palette, his large-scale oil canvas seems like scenography where soldiers, animals, old-time laborers and modern-day businessmen are involved in enigmatic tasks, placed in a strange and unexpected environment.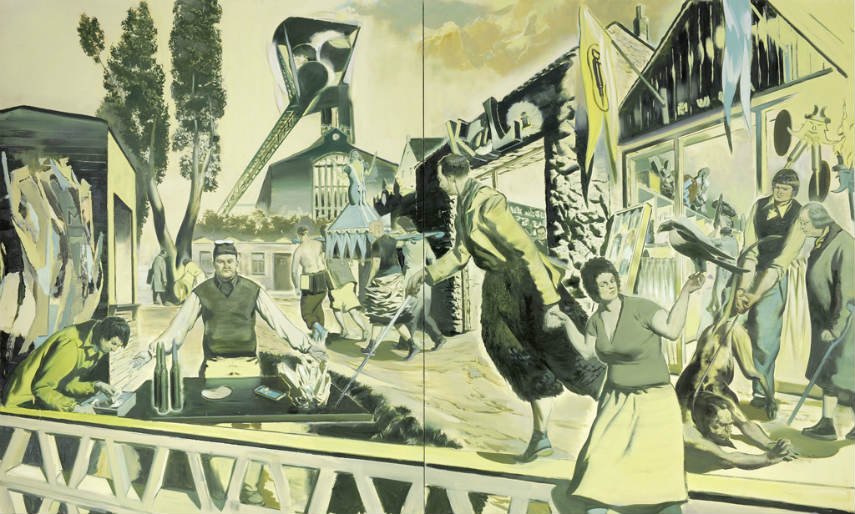 Neo Rauch - Creator of The Modern Myths of East and West
Born in 1960 in Leipzig, Rauch grew up with his grandparents, because he lost his parents in a train accident only four weeks after his birth. Finishing Gymnasium, he studied painting at the Hochschule für Grafik und Buchkunst under the Arno Rink and Bernard Hesig and after the fall of the Berlin wall, he became an assistant to Sighart Gille at the Leipzig's Academy of Visual Arts. As a part of a New Leipzig School movement, his work shows the strong connection with the Social Realism, which some critics recognize as a post-communist Surrealism. Labeled as an East-West painter, Rauch's distinctive style merges the modern myths of both Warsaw Pact and the Western world. In 2007, Rauch created series of oil paintings intended for his solo show Para at the Metropolitan Museum in New York. Explaining his choice of the title, the artist said that he had the intention to invent the word that could signify anything to anyone. "When I first agreed to do the Met exhibition, I thought about a way of working that would be about the nature of a museum. But straight away I realized that I was much more interested in those "visions from the Witches Circle" in my studio than I was in coming up with things in a purely thematic way. Calling them "visions" reflects my personality—they precede inspiration and spring from the moment when internal images appear at the prompting of intellectual decisions. I have no choice but to accept everything that I discover in this way."[1] Placed into three dimensions – a pre-communist civic-mindedness, communist Social realism, and an idealized countryside, these oil paintings contain the prefix associated with terms such as para-normal, para-dox or para-noia. Leaving the impression of trans-temporal depictions, suggesting both contemporary and old East Germany conjoined with the visual narratives from 19th-century Romanticism, Middle age, and science-fiction future, Rauch conveys an endless cycle of growth and decay, creation and destruction.
Neo Rauch has a distinctive style which some critics recognize as a post-communist Surrealism

Awards and Recognitions
Rauch is a recipient of numerous awards and recognitions for his comprehensive work, such as Renta-Preis (1992), Kunstpreis der Leipziger Volkszeitung (1997), Vincent Award followed by solo show at Bonnefanten Museum in Maastricht (2002), Kunstpreis Finkenwerder (2005), and Stiftungspreis der ökumenischen Stiftung Bibel und Kultur (2010). Rauch's work has been shown in number of solo and group exhibitions in prominent galleries, museums, and cultural institutions worldwide, and several pieces are held in public collections, including the Gemeentemuseum, The Hague, The Netherlands, Hamburger Bahnhof – Museum für Gegenwart, Berlin, Kunstmuseum Wolfsburg, Wolfsburg, Los Angeles County Museum of Art, Los Angeles, California, Metropolitan Museum of Art, New York, Museum der Bildenden Künste Leipzig, Leipzig, Museum Ludwig, Cologne, The Museum of Modern Art, New York, Pinakothek der Moderne, Munich, Solomon R. Guggenheim Museum, New York, and the Stedelijk Museum, Amsterdam[2]. The artist works together with his wife, also artist Rosa Loy. The artistic pair rearranged the old cotton mill, called Leipziger Baumwollspinnerei, creating the ideal and inspirational environment for their studio.
The artist is represented by David Zwirner Gallery.
Neo Rauch lives and works in Leipzig.
Resources:
Russ, S. Neo Rauch, Bomb Magazine [September 17, 2016]
Anonymous. Biography, David Zwirner [September 17, 2016]
Featured image: Neo Rauch - Artist's portrait - Image via likesuccess.com
All other images courtesy of David Zwirner Gallery