Situated somewhere between street art, pottery, paintings, sculpture and jewelry, NeSpoon is a Polish street artist. On a mission to embroider the world, she enriches the already diverse urban art with her own unique brand of lace art. By using intricate doily patterns, the artist beautifies abandoned and unadorned spaces in unlikely urban jungles, transforming them into stunning works of art. Her process is based on an almost forgotten tradition of doily making, but NeSpoon has managed to take this humble domestic trait, successfully apply it in the streets (and on a much larger scale), giving the practice new possibilities, and new life. From lace murals and etched images to 3D lace installations perfectly attached to everyday things and intricate filigree in walls, trees or cracks in the sidewalks, she provides often harsh cityscapes with a new softness. Always working with respect for the spot and the local context, NeSpoon finds her inspiration in the local textile traditions. By choosing an art form associated with women, she celebrates its femininity and harmony it creates.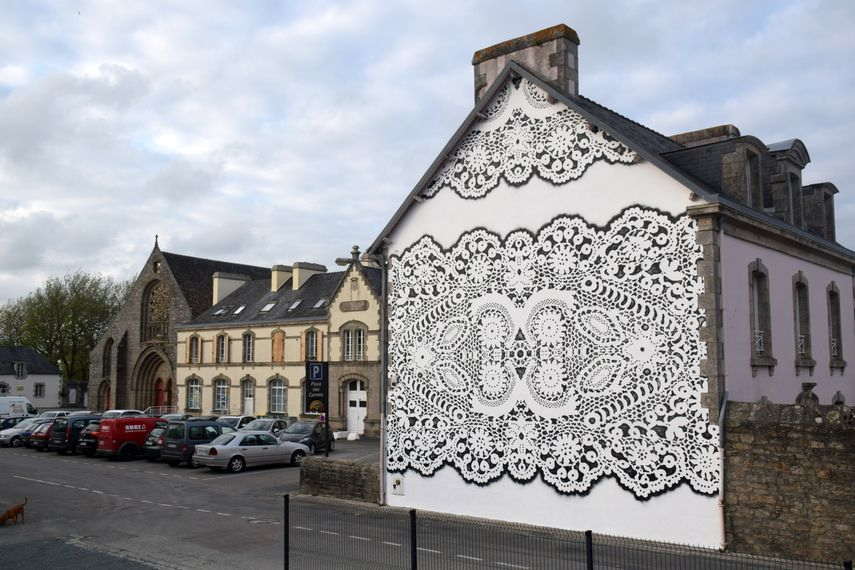 NeSpoon – Background and the Power of Street Art
Coming from Poland, NeSpoon recognizes the country's art scene is rich in talents, with its history dates back to the 1940s. It has reached its final shape after 2000 and was heavily influenced by a number of various factors – from the WWII and communist-era freedom-fighting graffiti, the 1950s, 60s and 70s muralism, neo-avantgarde movement of 70s, punk rock, the DIY philosophy of 80s, and finally, the fall of communism in '89. "What street artists are doing today we did in the 1970s, and 80s, only there were no cameras around to film it and no one called it 'street art'. Today, many Polish street artists are well known around the world – M-city, Etam Cru, Sepe, Chazme, Tone, Nawer – these are just a few names." NeSpoon's favorite artist is Ai Weiwei – his way of expression is admirable, but, what is far more important, he really cares. That being said, she believes that the power of street art is huge. "Nowadays, the phrase 'street art' is a synonym of muralism used often as a tool of advertisement, gentrification or propaganda. Most of the large-scale paintings are created at art festivals which are funded by institutions which have their own, not always artistic goals. I always consider the social and political context of the place where I work. The independent street art which we know from 15 or 20 years ago has more power today thanks to the viral power of the internet. Monocolor stencil graffiti in the backyard can have a global impact and a bigger influence than an expensive advertising campaign."[1]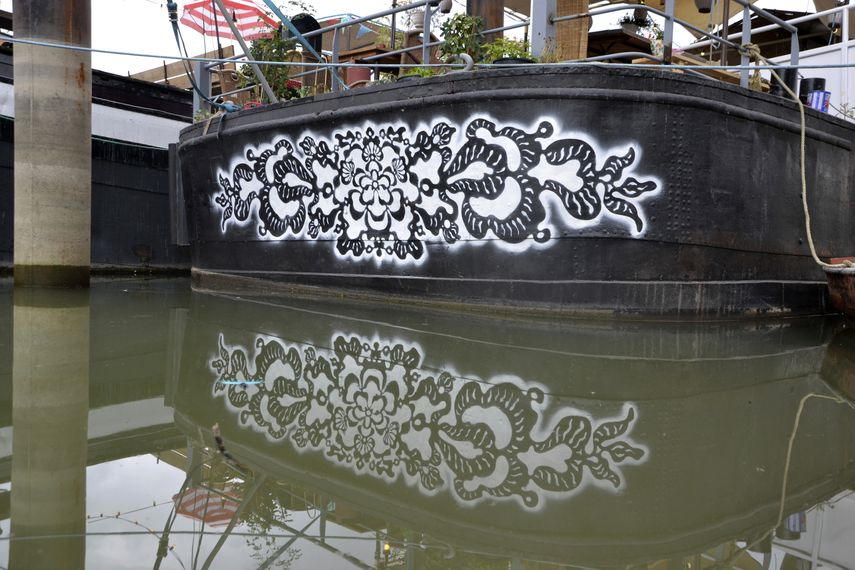 To Beautify the World
NeSpoon makes positive art, hoping to evoke positive emotions in people. She uses lace patterns because every lace contains a universally aesthetic code that is deeply embedded in most cultures around the world. When she adds colors to these beautiful shapes, people sometimes think she is inspired by Tibetan Mandalas, Moroccan Ceramic or native pre-Columbian art. "Lace patterns contain a basic code of the harmony, which is common for most of the people. It is very ancient code, I think, it is older than the humanity. We can find it all around us in the nature: in the shape of small sea creatures, flowers, snowflakes. The harmony and symmetry of lace patterns are biological, alive, not mathematical, machine generated." NeSpoon's mediums include stencils, paintings, ceramics, crocheted webbing installed in public spaces, but also sculptures, video installations, and screen printings. As she states: "The techniques are just tools used to express my thoughts and ideas. Which ones I choose in a particular project is dependent on the subject, place, time and my mood. I am not sure whether I will always use the lace patterns." The artist is especially known for her "public jewelry" – it's a term that refers to her ceramic objects glued to the walls of the city. Sometimes they are combined with stencil graffiti, but making the ceramics is laborious. When finished, the pieces look very decorative, giving beauty to the place they are placed. Her working process is usually instinctive: "First, I always ask my hosts to find local and original laces for me. If it's possible, I always try to meet the local lace makers. Then I look through the different patterns and designs, and when my heart starts beating faster, I know I found the right lace. I immediately know that this pattern will fit into the project and the place."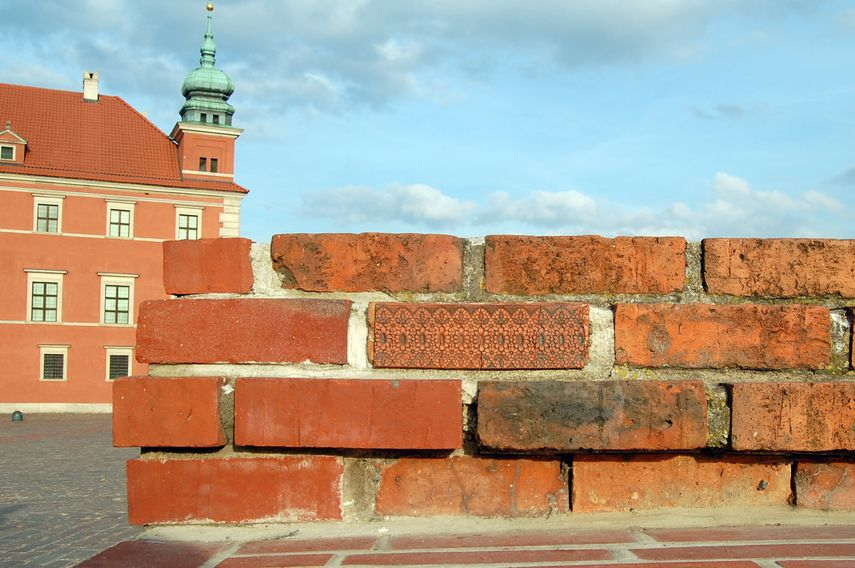 The Lace Art is Feminine
NeSpoon doesn't think her art is related to feminism, but it is feminine indeed. "It is doubtful that any male graffiti writer would ever use such patterns. In all the countries which I have visited so far, making laces was originally an activity that was meant to integrate women from the local community. Wherever I was, the lacemaking women were usually quite old, but lately, I see young girls interested in continuing this tradition. It's great! These women usually meet once a week – sing, talk, gossip, give each other advice, support and make laces together. I have always sensed a strong emotional bond between these women, they are very close to each other, you can feel the warmth of the tight community. I believe that you can find a trace of these warm, feminine relations in my art and that my lace installations, which I do in different countries, are a good metaphor of such close, personal bonds, not only between women but between people in general."
NeSpoon lives and works in Warsaw.
References:
Martinique E., KNITTING LACE ART IN THE STREET - NESPOON IN AN INTERVIEW, Widewalls [January 20, 2017]
Featured image: NeSpoon working on a wall in Dunedin, New Zealand
All images courtesy of the artist