NEVERCREW is a Swiss duo composed of two urban artists, Christian Rebecchi and Pablo Togni. They have been working alongside each other since the year of 1996 and have produced numerous pieces since then, including the mediums of graffiti, sculpture, installations and other projects. From a stylistic point of view, NEVERCREW's work could be defined as a visual hybrid - it combines a simple graphical structure with realistic and formally complex elements, arranged in different spatial levels.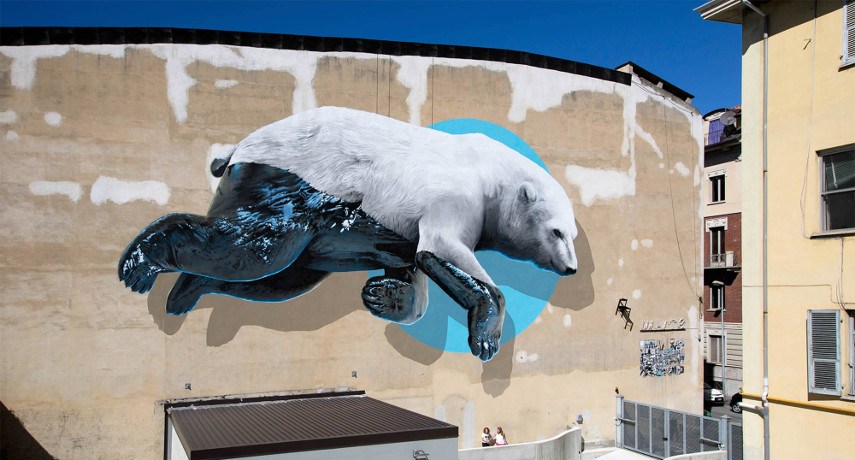 NEVERCREW's Background
Both Pablo Togni and Christian Rebecchi attended the same art school where they've met and started working together. Later they've gone to the same Academy of Fine Arts of Brera in Milan where the future street due developed their united skill. Both of them have always had a tendency to build and experiment with different techniques and it's in this that the future NEVERCREW has been able to start looking for a mutual synchronicity. Their first official collaborations were related to images for vinyls and mix-tapes of hip-hop bands, whose culture in the 90s was very much present in Togni and Rebecchi's living region. Soon, they started to focus on graffiti as their main artistic focal point, predominantly focusing on figurative compositions. From the start, the duo was inspired by hip-hop and artists like Daim and Eron, but also with avant-garde painters and thinkers such as René Magritte and Adre Breton. Pablo and Christian have never been interested in looking for a specific and unique realization technique, but rather in finding the combination that could allow them to build the concepts and convey contents in a way closer to themselves. The idea of construction and composition is therefore probably the one that better defines NEVERCREW's work - in their structures, natural elements relate together in a decidedly precarious and often forced balance. By putting such concepts into action, NEVERCREW hopes to stimulate reactions and thoughts about issues that are dear to them as individuals and which both of them consider important for our societies. In order to achieve such goals, Pablo and Chrisitan search for a visual involvement based on the presence of the elements in the space, looking for where the viewer can feel directly compared with the subjects as the subjects are to each other.
NEVERCREW's street art is best described as an unpredictable combination of various techniques and motifs, as the Rebecchi-Togni duo sees their own work as constructed forms of mechanical and natural elements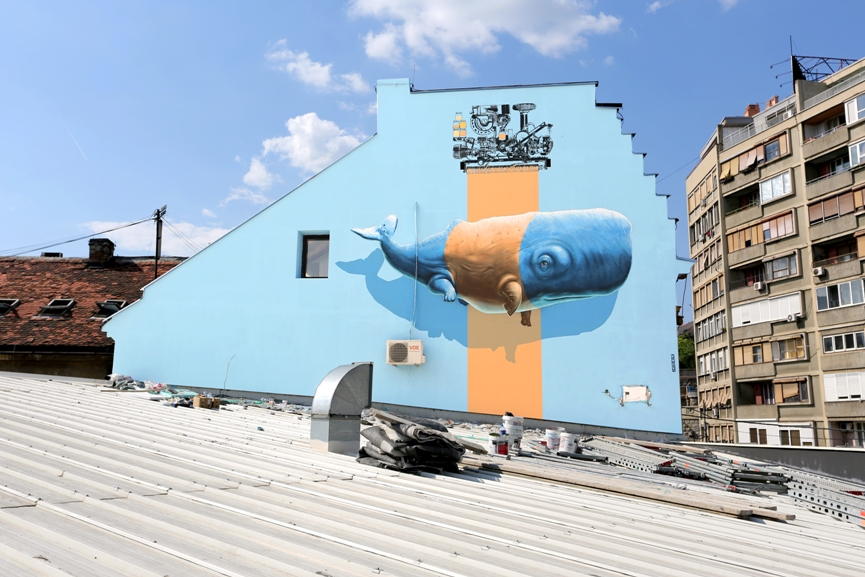 Unique Street Art
From NEVERCREW's unique street painting work emerges a new surreal reality, at the same time logical and illogical, composed of memories, past experiences and personal thoughts. Living and inanimate elements, mechanical and natural elements, inorganic materials and animals - all these components coexist alongside each other within the fantastic works of Pablo Togni and Christian Rebecchi. All of these features mesh with each other and form one of the most unique and instantly recognizable collections of artworks we've seen present on the streets in a very long time.
Pablo Togni and Christian Rebecchi live and work in Lugano, Switzerland.
Featured image: NEVERCREW - A work in progress, Manchester, UK, 2016 - Image via Zane Meyer
All images used for illustrative purposes only.