Nick Brandt is the world's famous black & white photographer, who was born in 1964 in London, England, where he spent his childhood and studied first Painting, and then Film at Saint Martin's School of Art. His work and activism are related to the preservation of the animals and natural world of East Africa before it is destroyed by mankind. Images made by Nick show viewers the catastrophe, as a result of poaching, in a more subtle way. The retro style gives his photos a sense of timelessness. The focus, patience, and care that is given to the photographs of the animal life make them look like human portraits.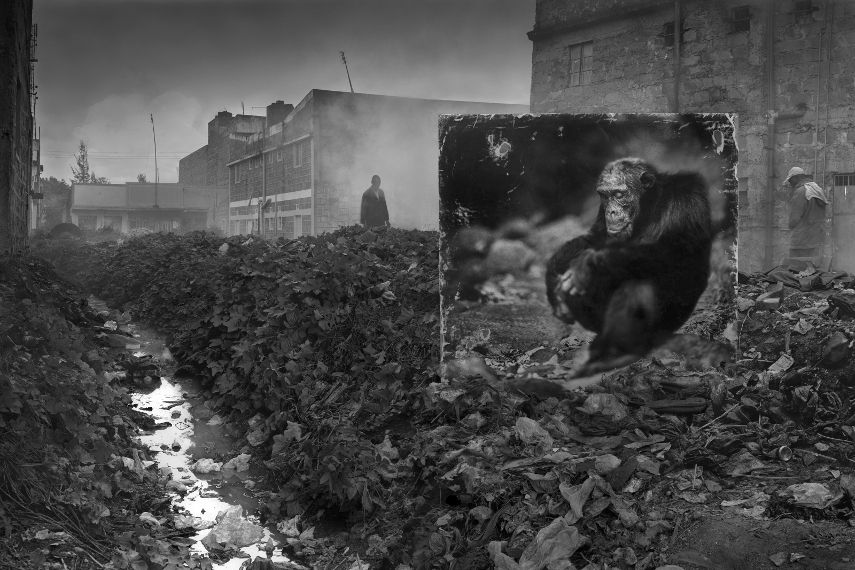 From Director to Photographer
In the early 1990's, Nick Brandt moved to California, the USA, where he worked as a music video and commercials director and made several high-budget videos for musicians like Michael Jackson and Moby. Whilst making Michael Jackson's video Earth Song in 1995 in Tanzania, he fell in love with the natural world and animals there. He realized that he was more able to capture his feelings about the natural world more effectively through photography than the moving image. So he made the decision to turn to black & white photography and do something no one has done before. In 2001, he came up with an idea for an ambitious project, consisting of a trilogy of photography books that memorializes the vanishing natural world of East Africa. Nick Brandt's plan was to make shots of animals in a state of being before they no longer exist. These books were titled On This Earth from 2005, A Shadow Falls from 2009, and Across the Ravaged Land published in 2013, to form one single consecutive sentence. Inherit the Dust was published in 2016 and went into a darker realm, showing the animals in places devastated by man's impact, where the animals used to roam but no longer do.
Nick Brandt's plan was to make shots of animals in a state of being before they no longer exist

Style and Production
In his initial body of work, Nick doesn't belong to a group of conventional wildlife photographers. By using black & white fine art style, a medium-format camera and a portrait or standard lens, he treats his subjects as no different from humans. Hence, he avoids using zoom lenses and gets close to animals as much as he can, in order to show their personality. He conceived quite an inventive approach, to show the world the consequences of an extermination of the creatures. He is sometimes compared to August Sander and Diane Arbus. Nick doesn't hide that he uses the help of digital technology, shooting film but scanning the negatives for a digital file from which post-processing is done. However, the integrity of the scene is always as shot - with the animals and skies as he saw them, without cloning or replacement. It is all about the timing, passion and persuasive determination for achieving outstanding results.
Nick doesn't belong to a group of conventional wildlife photographers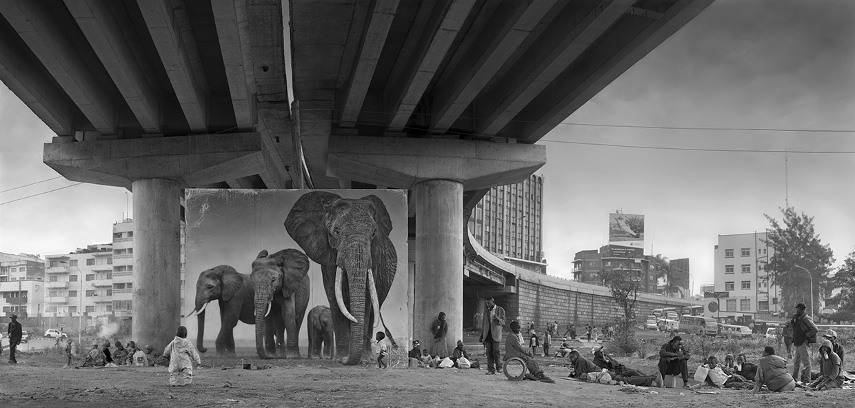 Endless Struggle
In 2010, after a sudden increase of demands from the Far East, the level of poaching had dramatically escalated, so Nick Brandt together with conservationist Richard Bonham founded a non-profit organization called Big Life Foundation, dedicated to the preservation of Africa's wildlife and ecosystems. Most of the photos that were taken during the years were situated in the Amboseli ecosystem of Kenya and Tanzania.
In 2016 he presented the new set of artworks in a book called Inherit the Dust that included life-size panels of animal portraits placed where animals such as these used to roam, but are now ravaged wastelands.
After his photos have been exhibited in 2004 for the first time, Nick had multiple exhibitions in galleries and museums around the globe, like at Fotografiska Museum in Stockholm, Multimedia Museum of Art in Moscow, and Edwynn Houk Gallery in New York, and Fahey Klein Gallery in Los Angeles.
Nick Brandt lives in the mountains of southern California, USA.
Featured Image: Nick Brandt - Wasteland with elephant, 2015
All images courtesy of the artist