Nick Cave is an artist working between visual and performing arts. In his pieces, he deals with topics as diverse as cultural identity, racial stereotype, and creative transformations. Throughout his career, he has worked with a variety of mediums including installation video, sculpture, sound, and performance. He's best known, however for creating sculptural pieces scaled upon his body which he entitled soundsuits. These soundsuits represent an array of costumes that cover the human body and make a sound when worn.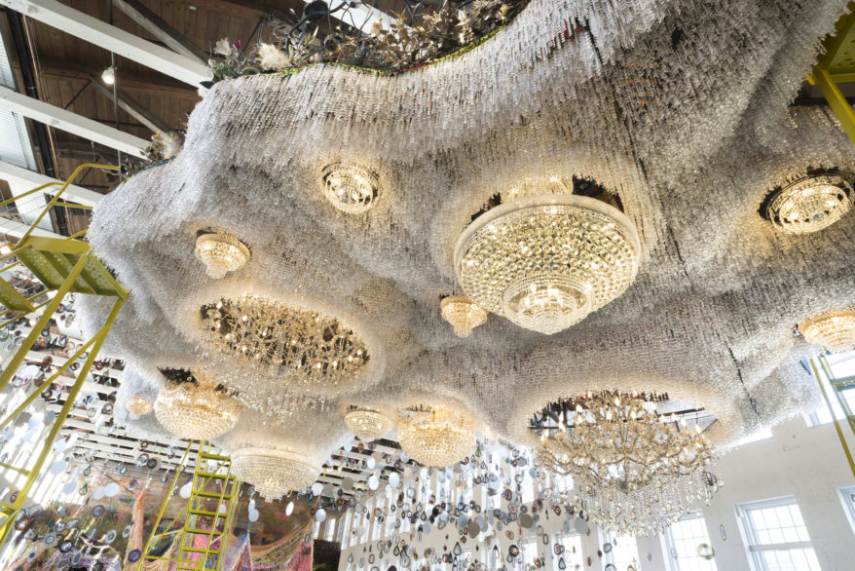 Nick Cave - An Artist Whose Works Surpass Stereotypes
Nick Cave was born on February 4th, 1959 in Fulton, Missouri, USA as one of the seven children raised by a single mother. Due to the poor financial status in his childhood, the American first focused his attention on found objects and assemblage. He learned how to sew in Kansas city art institute's fabric department where he earned a Bachelor of Fine arts degree in 1982. At the same time, he became involved in Alvin Ailey program in Kansas City and New York where he was tough how to dance. In 1989 Nick Cave got his master degree from Cranbrook Academy of Art in Michigan. Race and racial stereotypes are recurrent topics in Nick Cave's artworks. His sculptures usually play with a variety of stereotypes presenting black hands picking up a basketball or typical "negro" heads, dolls, or figures that stare out at the viewer. By placing his sculptures in the historical context, for example, by pairing them with slavery ships and cotton fields (like in his Made By Whites For Whites exhibition in 2014), he simultaneously creates a distance between then and now, but also highlight the fact that the remains of the deeply racist society still exists in people today.
Nick Cave is interested in a variety of political, social and racial issue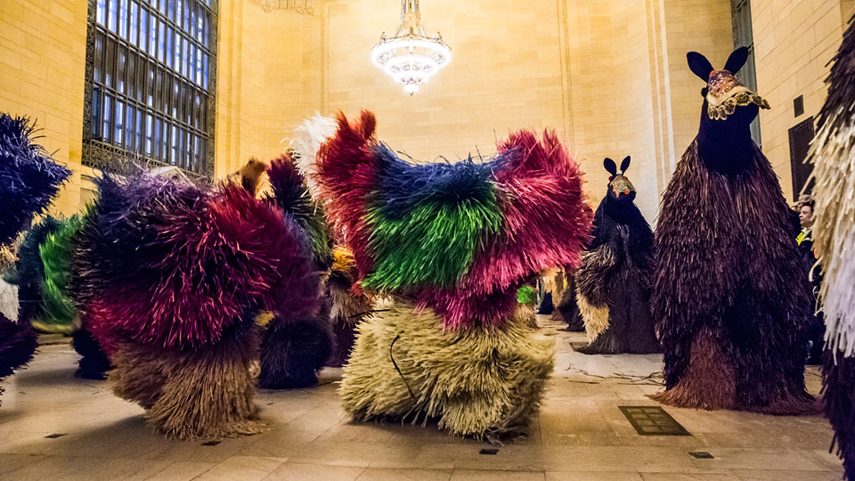 Soundsuit - Between an Armor and a Carnival Costume
Nick Cave is best known for his iconic, otherworldly soundsuits, sculptures that encompass the people body in an array of unusual materials such as plastic buttons, beads, and sequins but also feathers and dyed human hair. The pieces resemble African ceremonial costumes and masks but also draw inspiration from European carnivals and ball culture. The American art-maker created his first soundsuit in 1992 after the murder of Rodney King a young black man brutally killed by the police.[1] He used sticks and twigs gathered from the ground and composed them into a suit that made sound when worn. The creation of the soundsuit was a response to the feeling of vulnerability he endured as a black man during that difficult time. Nick Cave's soundsuts are designed to act as a second skin that hides the features of race, gender, and class thus forcing the viewers to forget about their prejudice. [2] The biggest exhibition of his suits took place at Nick Cave: Recent Soundsuits on view at Jack Shainman Gallery in New York in 2009. With their hybrid identity of sculpture and fashion, the colorful soundsuits represent a basis for numerous photo-shoots and performances that the artist made. Accompanied by happy music and rhythm, these performances make soundsuits come to life. Their visceral energetic nature provides a celebratory aspect to the performative act but a deeper insight into the pieces will unveil a series of the psychological, social and political topic that the performances cover.[3]
Passport to the Playground Act 4 at Jack Shainman gallery -a video showing a vivid performative work of art by Nick Cave
Exhibitions and Art Awards
In October 2016, Nick Cave set up his installation Until at Mass MOCA museum in Massachusetts. The exhibition is inspired by the legal principle "innocent until proven guilty", and its constant abuse. The project brought hundreds of colorful ponies, gilded pigs, ceramic birds, and fruits to the floor of the museum and it represents a response to the ongoing crisis of violence, police brutality, and race relations. The atmosphere surrounding Rodney King murder and the accompanying riots have lived its revival in the Black lives matter movement and the events that initiated its creation. This was the biggest project on view at Mass MoCA focused on a single participant. Apart from being a visual and performance artist Nick Cave is also an educator. An artist who received his MFA at the Cranbrook Academy of Art is employed at the School of the Art Institute of Chicago as the Professor and Chairman of the Fashion Department. Throughout his career Nick Cave received numerous grants and awards and had over 50 international exhibitions including 30 Americans at The Detroit Institute of Arts, Detroit, in 2013 Disguise: Masks and Global African Art at Brooklyn Museum of Art, New York City, 2014, and Sojourns at Denver Art Museum, in Denver, 2013.
The artist lives and works in Chicago, United States.
References:
Beckwith, N. "Cave, Nick". Oxford University Press. (2017)
Bongovani D., (2015), Wild costumes fuel Nick Cave's performance art, JConline, [March 4, 2017]
Sharp S., (2015), Nick Cave on Tackling Really Hard Issues with Art, Hyperallergic, [March 4, 2017]
Featured image: Nick Cave - Hustle Coat, 2017 (detail). Trench coat, cast bronze hand, metal, costume jewelry, watches, and chains. 59 × 41 × 16 in. 149.9 × 104.1 × 40.6 cm. Photo courtesy Kavi Gupta Gallery
All images used for illustrative purposes only