Nicole Cohen is an American video and installation artist whose oeuvre is positioned at the crossroads of contemporary reality, personal fantasy, and culturally constructed space. She is the Founder of the Berlin Collective, an international artist and curator network. Before moving to New York, Nicole has lived in Los Angeles and in Berlin, Germany.
Nicole Cohen was born in 1970 in Washington, D.C. and received her BA from Hampshire College in Amherst, Massachusetts and her MFA from the University of Southern California in Los Angeles, CA. The artist works with collage and video, although she trained in painting and drawing. As her medium, she most frequently uses video, playing upon its intrinsic capacities to manipulate time, distort scale and environment, and overlay imagery. Nicole Cohen consistently engages her audience and challenges notions of lifestyle, celebrity, domesticity, and social behavior.
Hollywood Interiors - Vintage Magazine Collages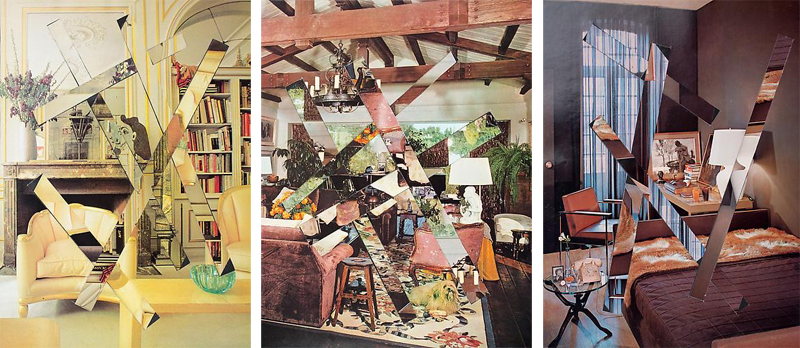 She uses the surveillance camera to involve her viewers in their own voyeurism. Surveillance cameras first appeared in video art installations in the late 1960s, at a time when television dominated American culture. Artists sought to change audiences from passive to active participants and in the last four decades, video art has evolved to encompass new technologies that allow for a more seamless inclusion of and reliance on the viewer for the outcome of the work. Nicole's projects serve as some of the most paradigmatic and successful examples.
Nicole Cohen's Collage Works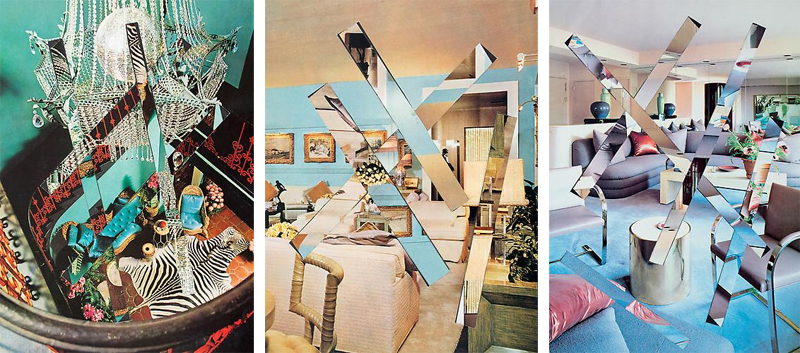 In 2007 Nicole Cohen was commissioned by the J. Paul Getty Center to incorporate French decorative arts from the permanent collection into an interactive video installation. "Please Be Seated" featured replicas of several French chairs fabricated in all white in a room, where visitors could sit in them and look to an over-head screen to see the chair and their image transported to the original interior from whence the furniture would have existed. The installation was inspired by Stanley Kubrick's last scene in 2001: A Space Odyssey (1968), as it transported the past to the future. Other pre-recorded contemporary performers are also part of these televised scenes incorporating Cohen's observation of the unseen powers that govern the rules of social etiquette, performance anxiety, and a historical perspective on expected behavior in private life.
Cohen has featured in solo and group exhibitions around the world. Her works exhibited at the Brooklyn Museum of Art, Los Angeles County of Art, Williams College Museum of Art, Shoshana Wayne Gallery, at the J. Paul Getty Museum (Los Angeles, CA), Wolfsburg, the Autostadt, Schloss Britz, American University Museum at Katzen Art Center, and in Asia.
Nicole Cohen lives and works in New York City.
All images courtesy of Morgan Lehman Gallery.