The foundation of art practice of Nicole Duennebier lays is the fascination with natural processes and phenomena. By introducing the hidden layers of chemical and physical actions and reactions, the artist suggests how we are suffering from the lack of experience of such complex natural activities. Duennebier's lurk, yet transparent compositions reveal the outstanding and outwardly beauty is interwoven out of chiaroscuro contrast and intensity of permeation. The forms seem to be in a constant grasp for transformation which is associated with everlasting natural cycles of changes. Nevertheless, those changes, in general, are affected by no other than humans although Duennebier's works are set free of their presence.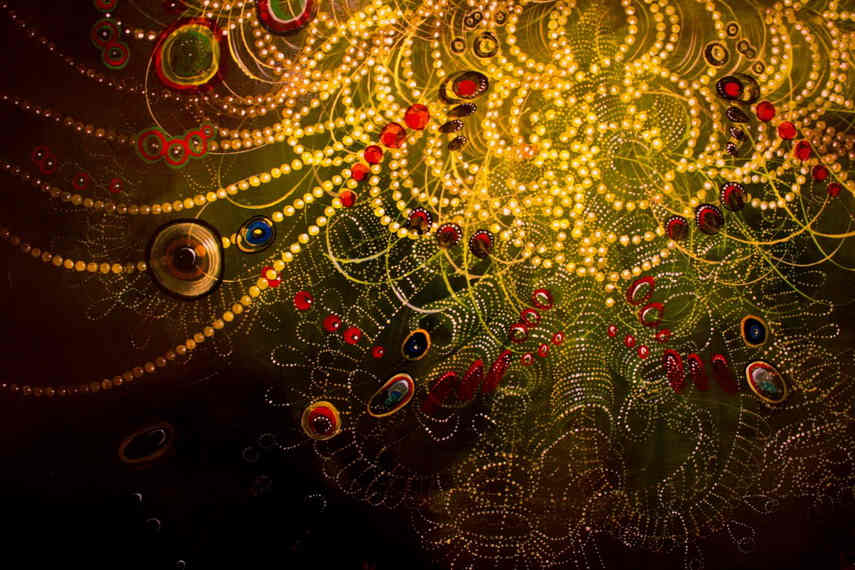 Drawn By Nature
Nicole Duennebier was born in 1983, in Hartford, Connecticut. At Maine College of Art, she collected her Bachelor in Fine Arts with a major in painting. Her thesis was inclined in research of local coastal ecosystems which was extended in 2006 after receiving the Monhegan Island Artists Residency. The establishment of the connection between the darkness and intricacy of undersea regions and the aesthetic of 16th-century Dutch still-life painting was her task which apparently became the right frame for her work.
Biomorphic configurations as dominant motives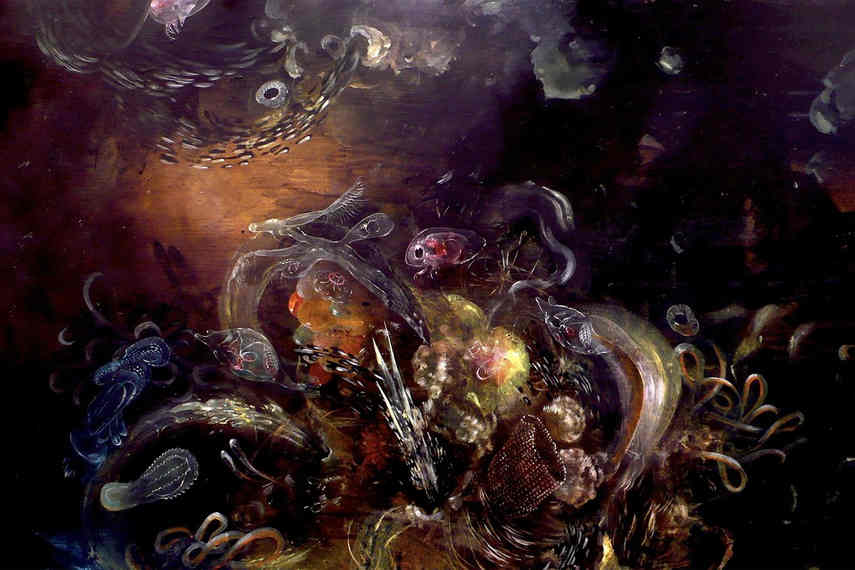 Into The Depths of Unknown
Dermoid cysts, fungus, invasive flora/fauna are just some of the advents she transfers in a poetical manner on her canvas. The invasive forms of life that are in a need of a host in order to grow are usually being perceived as something dangerous, yet by depicting them in all of their colorful glory the artist tries to introduce their fragility and delicacy. Actually, Duennebier is eager to represent the abhorrent, the disgusting in order to both broaden the aesthetical horizons and point out the need to get familiarized wit natural processes.[1]
Ghoulish and macabre atmosphere is often present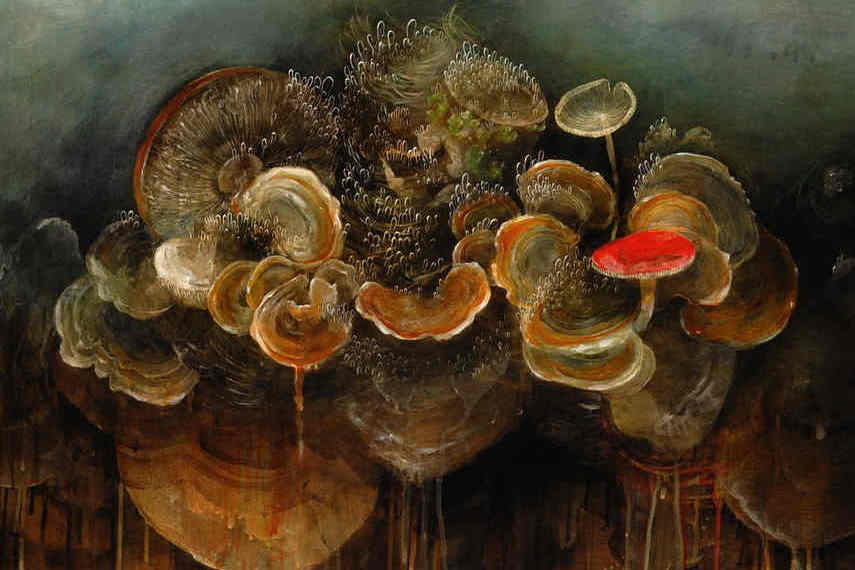 Allegory Not Allegory
Apparently, the art of Nicole Duennebier is embedded in classic painting and can be related to the works of Renaissance painter Pieter Breugel or Baroque artist Rachel Ruysch. Her works are similar to still-life paintings with decaying food, skulls and symbolical objects in regards to the light and composition, but they are not thought as allegorical narratives, representations of the pass of time full of various meanings. Actually, those paintings are mere expressions of the artist's interest in textural and compositional performances of organic constellations. Furthermore, in contemporary context they can be perceived as a commentary in regards to mutation processes as an effect of global warming, pollution, and scientific experiments and diseases.
Decay and growth are some of the main features of Duennebier's work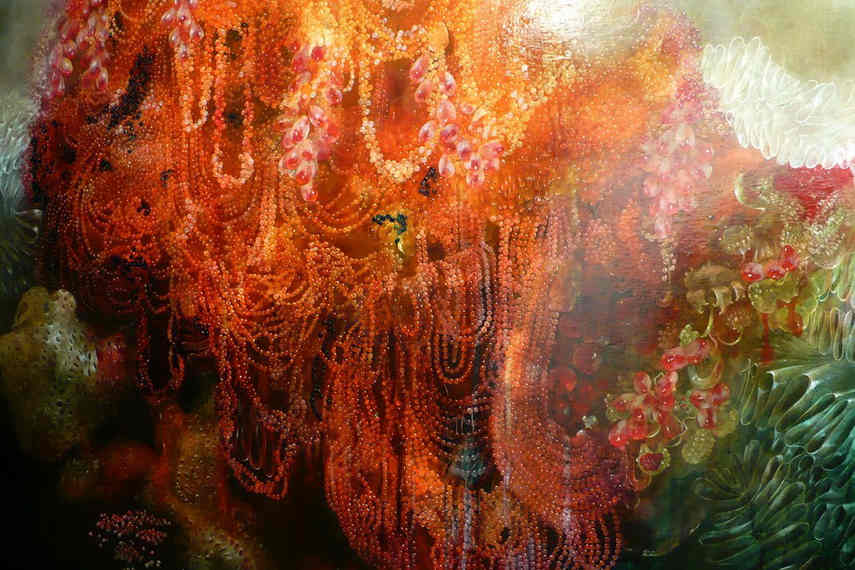 The Career On The Rise
Besides her personal works, Duennebier is known for working in duet with her sister Caitlin, who Is also an artist. They have realized two projects Battle for the Sweetlands and Swims at Hingham Islands in a form of installation. Those works represent imaginary worlds inhabited by somehow human figures and conjoined styles of both artists.[2] The works of Nicole Duennebier are part of permanent collection of New Britain Museum of American Art, as well as Greater Hartford Academy of the Arts and Warner Foundation collections. The continuity and authentic style largely contribute to her painterly practice being recognized as progressive and up to date in both conceptual and purely formal sense.
Nicole Duennebier lives and works in Boston.
References:
Beem, E.A.(2009): Nicole Duennebier is NEW/NOW, New England, [December 21, 2016]
Anonymous, (2015): An interview with the Duennebier sisters, Space Gallery, [December 21, 2016]
Featured image: Nicole Duennebier - portrait, photo credits of the artist
All other images courtesy of the artist