For those of you believing in reincarnation, imagine how incredible would it be if you could actually remember some of your past lives! All of you, who don't believe in such a thing, imagine some kind of mystical and inexplicable feel that guides you through live, helping you in making all the important decisions. Nicole Pon Horvath, also known as NH, is an artist born in France, raised in Algeria, but as she openly admits, a Japanese deep in her soul. Well, not in this life, but in some of her previous ones certainly. However, it was a specific life choice that led to the discovery of her affinities towards all the nuanced details that can be seen in Japanese art. After moving to Japan with her husband due to his work, Horvath suddenly found herself in a situation with enough time on her hands to freely pursue her childhood passion of using her own hands in artistic endeavors. The sky was the very first thing she'd noticed upon arriving at her new home, and the color was reminiscent and evoked some happy memories of Algeria.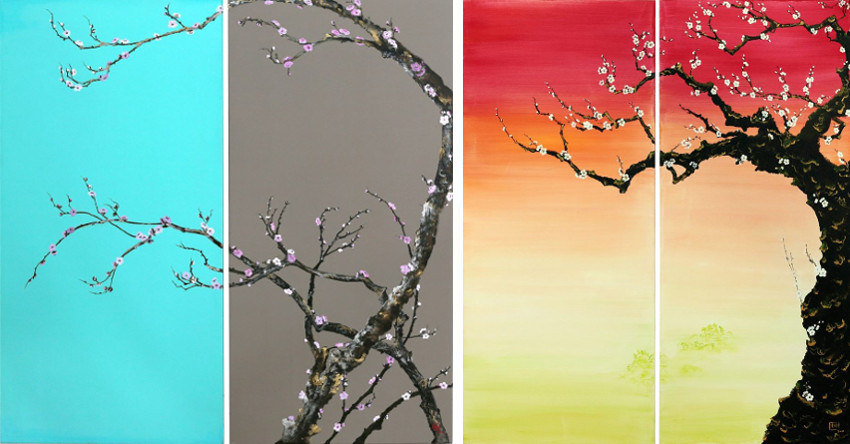 Using Her Own Hands to Create Art
Having felt that she'd finally arrived where she was destined to be, Horvath began taking photographs of her immediate surroundings, with close up shots of foliage and small details. There were the feelings of calm and piece, and she wanted to capture those precious moments so she could be able to recall them later on. As her artistic journey slowly began, she did what most of us do upon finding ourselves in an unknown place – she found a guide. A sensei to teach her. Shoko Ohta, a classically trained master, encouraged Horvath to work in black and white until she felt ready to move on to color. She soon discovered that it's a quite unusual process to learn to execute, with layers upon layers of workmanship. Several years later, the artist returned to Provence. Having temporarily lost her focus, she cut herself from everyone and everything. A couple of weeks later, she emerged with a unique point of view and several completed paintings that represented a basis for her first solo exhibition. Her sensei came and was the first to see the pieces, giving her approval. Showing the stunning minimalism apparent in many Japanese art-forms, all of Horvath's works offer viewers a feeling of serenity.
Nicole Pon Horvath lives and works in Singapore.
Featured image: Nicole Pon Horvath – Cherry Blossom And Winter Sky (detail), 2010 – image via bnigateway.org
All other images courtesy of the artist