Nigel Cox is an Irish figurative painter, who grew up in a small town of Dundalk in Ireland, and traveled the globe on a major Transglobe Expedition, which deeply influenced his style and determined the nature of his artistic career. The exhibition was led by Sir Ranulph Fiennes and for three years he traveled the world on land and sea, circling around North and South pole. He started his first serious drawings on this journey. He paints in a minimalist manner to emphasize the realistic character of his artwork. He is inspired by ordinary people and their everyday lives, by modern man's adventures in routine-land, by fast paced living that takes away the joyful moments of quiet breaks.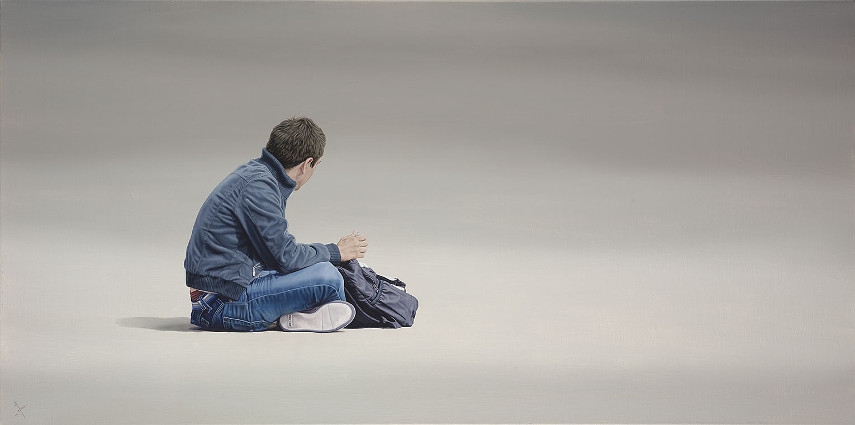 Biography
Nigel Cox grew up with three sisters and left his home in 1977 in order to study marine radio and radar technology in Liverpool, UK. He graduated the Riversdale College of Technology and became a Radio Officer in the Navy. After the graduation, he joined the Transglobe Exhibition, and when he returned he moved to London in 1989. During the exhibition, he experienced firsthand the cold, ice, living in solitude, isolation, how it feels when the personal physical and psychological limits must be defeated, all of which led him to paint. He started painting with watercolors and oil on canvas, and in 2004 he started exhibiting his work internationally and at many art fairs.
Cox paints in a minimalistic manner to emphasize the realistic character of his artwork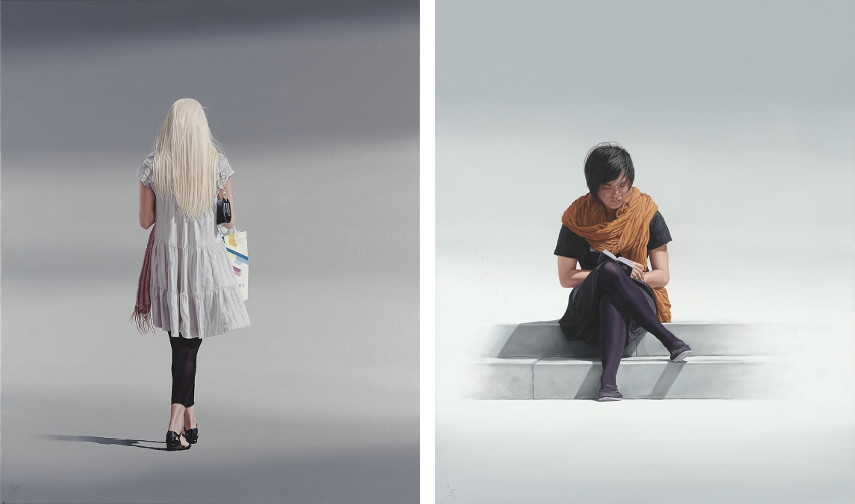 Oblivious Population
He is mostly known, and personally favors the oil on linen technique, but throughout his career worked with digital illustration, watercolors, drawing and graphic works. Oil on linen gives him the opportunity to photo-realistically paint his subjects. In 2014 he held a solo exhibition entitled Oblivious in which he showed many faces of contemporary lifestyle. The paintings show independence, solitude, but certain self-confidence and harmony in lives of young people who hide their face behind smartphone screens and computers, books or walk the city streets being lost in their own inner thoughts and dreams.
Cox's paintings show independence, solitude, and self-confidence of young people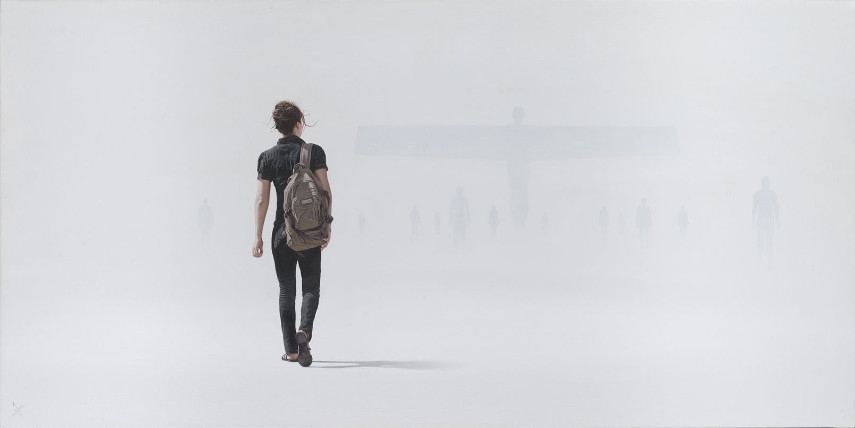 Soft Vague Backgrounds as a Form of Escapism
The idea for his figurative paintings came to him while he was waiting for a bus in Liverpool. He saw a pretty girl reading a book, photographed her and wondered how no one paid attention to that sight of beauty. It is because the fast living and constant career chaos that people do not have time to stop and enjoy life, so Cox decided to develop a new way of painting the backgrounds of his paintings, where he uses whitish and gray fog-like surfaces. The background slows down the tempo, giving the subject a more peaceful environment to move to. The vague background shows the social and economic oblivion of the young modern population.
The artist is represented by the Galerie Heggeman.
Nigel Cox lives and works in London.
Featured image: Nigel Cox - Portrait of the artist (Detail), image via Eventusmagazine.com
All images courtesy of the Galerie Hegemann