Can weapons, with their original intention of destruction, be used for something else? Is it that strange that a rifle can be used for art? Niki de Saint Phalle was a French-American artist, known for her shooting paintings, Nanas sculptures, and Tarot Garden, a monumental sculpture park, her biggest artistic endeavor. At one point in her life, she had found herself living in the very same type of situation that she strongly resented – married young and with a child. After a nervous breakdown, she emerged completely different. She evolved from a person who first used art as a therapy in order to feel better, into a master capable of channeling all of her emotions and current socio-political-cultural issues, creating works that still draw attention.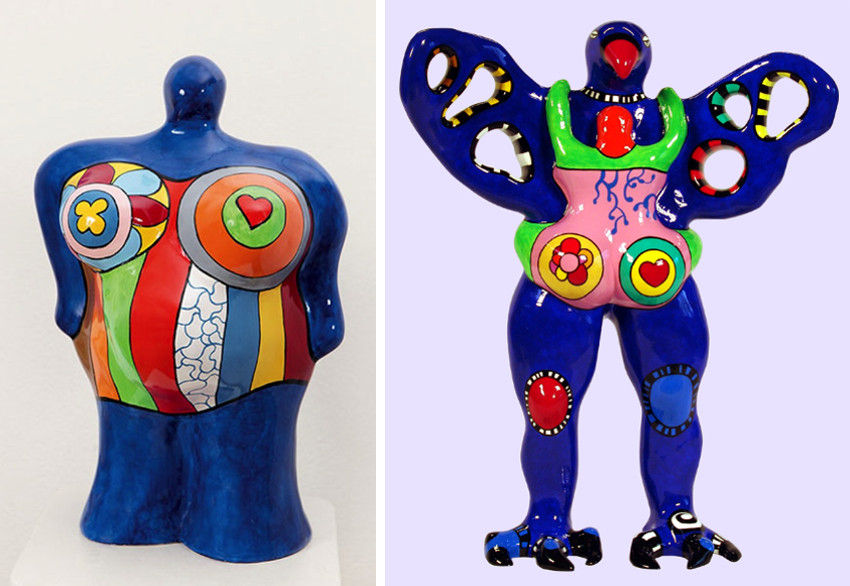 Early Life
Born is a rich aristocratic family, Saint Phalle's father, André, was a wealthy French banker, and her mother, Jacqueline Harper was an American, but raised in France. Young Catherine was the second of five children. Soon after her birth, facing with aftershocks of the Black Tuesday, the French wing of the Great Depression finally forced her father to close his finance company. They lost their fortune, moved to the USA, thinking that they would fare better there. They took their eldest son, John, with them, while Niki, just a few months old at the time, was sent to live with her grandparents in Nièvre. After three years, she joined her family in New York, where her father had worked as a banker once again, and the whole family once again had all the privileges of being rich. She attended the prestigious Brearley School in New York, ending up expelled for painting fig lives of the school's sculpture. Saint Phalle was also expelled from a convent school in Suffern before finally graduating in 1947 from Oldfields, a boarding school outside of Baltimore. As a teenager, Niki de Saint Phalle worked successfully as a fashion model. In 1949, Niki's photographs appeared on the cover of Life, and in 1952, she was featured in French Vogue.
When she was 18, Saint Phalle eloped with Harry Mathews, someone that she knew through her father. He began noticing her, despite their previous acquaintance and various meetings during various social occasions, in autumn of 1948, in a train dining car. As Mathews recollects: "…when a svelte young woman walking past turned to say 'Hello, Harry', with a smile that illuminated her beautiful face to an extent that left me without breath or speech. A moment later, I went after her. Fortunately we were on a train – she could hardly escape."[1] Putting romance aside for a moment, one of the reasons they were so drawn to each other was that they had had similar upbringings in genteel, moderately well-to-do families who subscribed to the tenets of upper-class New York WASP society. Both of them were artistically inclined, oversensitive, overtly rebellious romantics, and we bonded together as such. They began having an affair, which only heightened their impatience with the state of our lives and led, soon after he'd joined the navy for a year, to their elopement. Lara, their first child, was born in 1951. In the early summer of 1952, they moved to Paris, where Saint Phalle was modeling for Vogue and Elle and studying to be an actress, while her husband, following his music studies, was learning to become a conductor.
Niki de Saint Phalle was born in a rich aristocratic family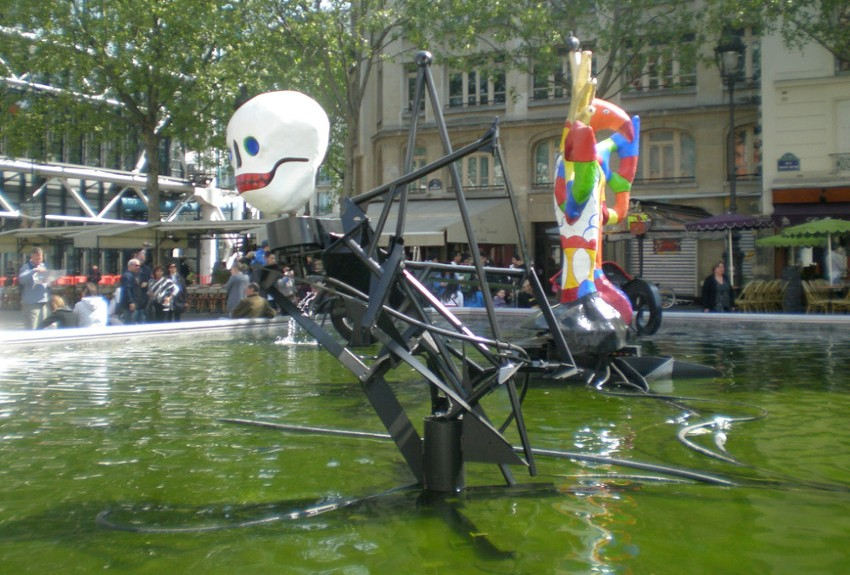 The Beginning of Saint Phalle's Career
She painted and experimented with various styles and techniques, and after her first year of studies, she had a promising career ahead of her. However, by the autumn of 1953, she had gone through and was emerging from a violent nervous breakdown, caused by the facts she had married young and somehow accepted the conservative values and the lifestyle of her family that she wanted to reject so badly, and the memories of her father raping her when she was 11.[2] After becoming intermittently hysterical and virtually out of her mind, Niki de Saint Phalle was first treated with a barbarous treatment – a series of electric shocks. Luckily, she soon ended up in the hands of a humane psychiatrist, who in a month or two of narcoanalysis restored her to mental health. Somewhere in between the shocks and the analysis, she was put to a clinic, where she began doing her first collages, and soon after that her first paintings. They were so extraordinarily original and compelling, that her husband, following her energetic example, gave up all thoughts of a musical career and began writing for the first time since 1949.
Several important moments occurred briefly after. On a modeling assignment in Paris, Saint Phalle met Hugh Weiss, an American painter, who strongly encouraged her to pursue her artistic career. Another important moment was the visit to Barcelona, Spain, where she was struck by the work of Spanish architect Antonio Gaudí and his park Güell. The park sparked her interest in creating her own sculpture garden, combining natural and artistic elements, and inspired her experimentation with different unusual materials in her artworks. Apart from being deeply affected by the work of Antonio Gaudí, Saint Phalle's art was also influenced by various other artists, such as Henri Matisse, Paul Klee, Henri Rousseau, Pablo Picasso, Willem de Kooning, Jasper Johns, Robert Rauschenberg, and Jackson Pollock. Upon returning to Paris, she met the artist Jean Tinguely. In 1960, she divorced Harry Mathews, giving him the custody of their children, and started sharing a studio and living with Tinguely, eventually marrying him in 1971.
In the 1950s, she went through a violent nervous breakdown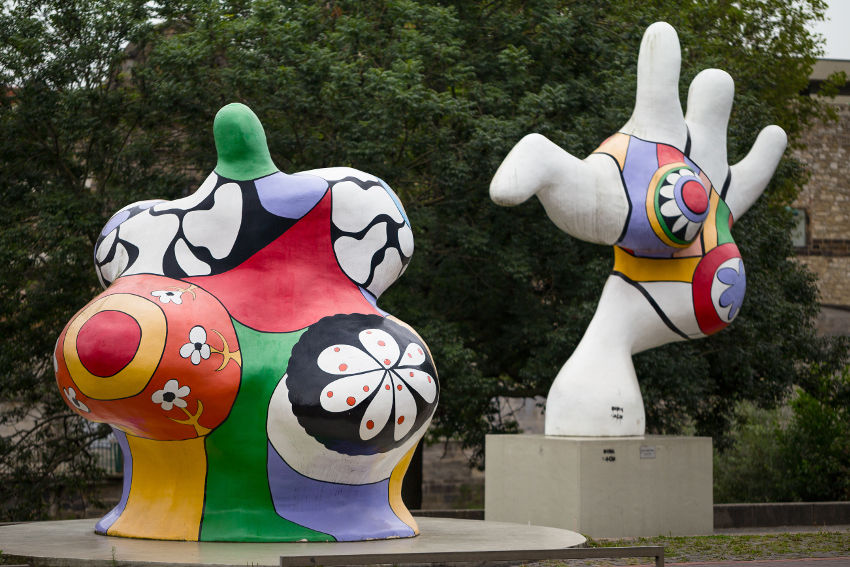 Niki's Shooting Paintings and Nanas
After moving to Paris in the 1950s, Saint Phalle continued with artistic experiments and had her first exhibition in Switzerland in 1956. In the early 1960s, her artistic works had already evolved from being just a therapy. Instead, it had become a bold act of defiance, reclamation of space for herself, and for women. She began to articulate these ideas and combining them with other social and political issues - amidst an atmosphere of radical ideas, from civil rights, anti-war and anti-violence protests to campaigns for women's rights and sexual liberation across the West. In her own words: "In 1960 I was a very angry young woman. Angry at men and their power. I felt that they had robbed me of my own free space in which I could develop myself. I wanted to conquer their world, to earn my own money. Angry with my parents who I felt had raised me for the marriage market. I wanted to show them that I was somebody, that I existed and that my voice and my scream of protest as a woman was important. I was ready to kill."[3] The shooting paintings were born out of this anger. Their creation involved polyethylene bags of paint, which would create spontaneous effects when shot by a rifle. She also became a member of the Nouveau Realism group of artists which included Yves Klein, Jean Tinguely, Arman, Christo and Jacques Villeglé.
In 1961, her first solo exhibition was held in Paris. That is when she became friends with the artist Larry Rivers and his wife Clarice. Clarice's pregnancy inspired her to start creating voluptuous female figures, Nanas, which expressed her thoughts about the position of females in society. Nanas were made of papier-mache, cloth and yarn. She worked with Tinguely and Per Olof Ultvedt on a project for Moderna Museet in Stockholm, Sweden in 1966. They created a large installation, consisting of a Nana, whose vagina served as a door to her internal body. The installation provoked a strong reaction from the public. At that time, Niki was introduced to Rico Weber, the Swiss artist, with whom both Saint Phalle and Tinguely collaborated later. That was also the period when Niki worked on Le Paradis Fantastique with her future husband. It was a commission for the French Pavilion at Expo Montreal, Canada in 1967. While she was working on Le Paradis Fantastique with Jean, Saint Phalle's lungs were severely damaged by polyester resin toxic fumes. Polyester, her favorite material, was the cause of her recurring health problems. In the early 70s, she spent some time in the Swiss mountains, recuperating from her illness. In 1974, she produced three large Nanas, which were placed near the town hall in Hannover, Germany, and nicknamed after three important women of the town. She also created inflatable Nanas that were distributed in America.
Various tools can be used for making various arts - Niki de Saint Phalle even used guns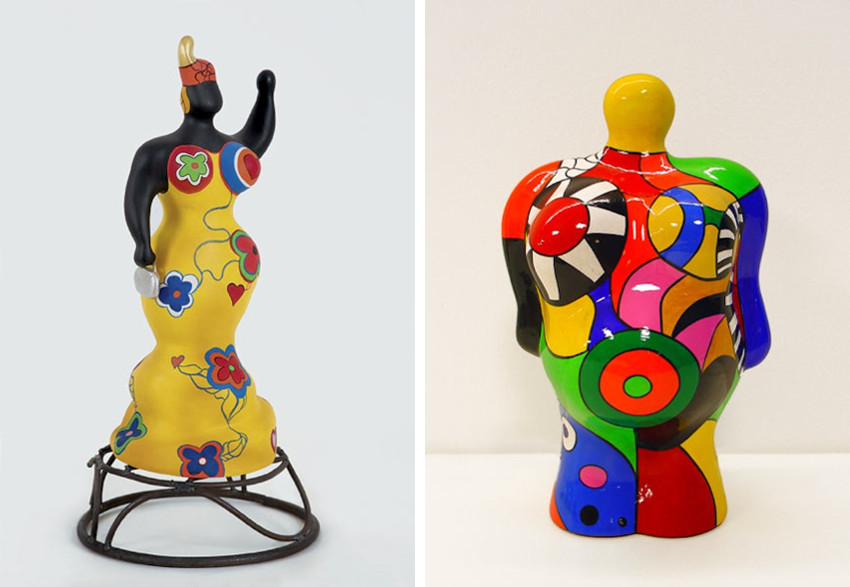 The Tarot Garden
The year when she visited Barcelona and saw Gaudi's Parc Guell was the year when Niki started fantasizing about making a monumental sculpture park, her biggest artistic endeavor. Ferdinand Cheval's Palais Ideal and Simon Rodia's Watts Towers just fueled her wishes. An old friend, Marella Caracciolo Agnelli, shared her dream of building a fantasy garden, inspired by 22 Tarot cards. With Agnelli's help, Saint Phalle acquired a parcel in Tuscany, Italy. The foundations were laid in 1978, and two years later, the construction of the first sculpture began. Niki spent many years completely immersed in the creation of her dream place. After nearly 20 years of intensive work, financial and health problems, the garden was opened in 1998. It contained vibrant mosaics and colossal sculptures, based on the Tarot cards symbols. The Garden was made with the financial help of the Agnelli family, donations and the sales of her perfume. This oeuvre is so imposing that it seems that everything she created previously led to the Tarot Garden, and everything made subsequently looks like an aftershock.
As mentioned above, the idea came from Parc Guell – upon seeing, it, she immediately knew that sometimes in the future she was going to realize a similar project. In the end, the garden became much more than a simple variation on a concept she had come across elsewhere. It was her absolute, on-going concern, and a deep, captivating theme for life. But, why tarot? What was about it that Saint Phalle found so appealing? Tarot is an ancient, venerable set of cards, with picture representations of archetypal, elementary situations upon them. They describe existential, human experiences and psychic states. The history behind the cards is not clear – some claim they originate in Egypt, others claim that Moses himself received these cards from the high priests of Egypt and then brought them to Israel. Whatever the case may be, Saint Phalle was deeply convinced that the cards have a considerable meaning. She saw the Tarot Garden as a site which crosses boundaries into the religious and where everyone is potentially able to have a direct experience of the archetypal content of the Tarot.[4]
When rumors of monsters rising up in the hills nearby began appearing in the Italian village of Capalbio, no one knew where they were coming from. Or who was their 'mother'. Soon it became widely known who was behind the idea, as monsters were already altering the lives of the people around. Some of them, like the postman Ugo Celletti, had been helping to create the monsters. It can be difficult to describe the significance of the sculptures. For some, they are dazzling. For others, deranged. Some find them transcendent, others tawdry. Truth to be told, who would expect that a house-size sculpture of a sphinx, with mirrored blue hair and a bright red crown, a flower blooming on one of her breasts and a lavender heart on the nipple of the other sits amid peaceful olive groves and ochre fields grazed by horses and sheep? They are Grand, in every way. Saint Phalle intended the Tarot Garden, a fourteen-acre sculpture park built atop Etruscan ruins, to serve as both "a sort of joyland" and a demonstration that "a woman can work on a monumental scale." She considered it to be her life's work.[5]
The Tarot Garden was Niki de Saint Phalle's greatest work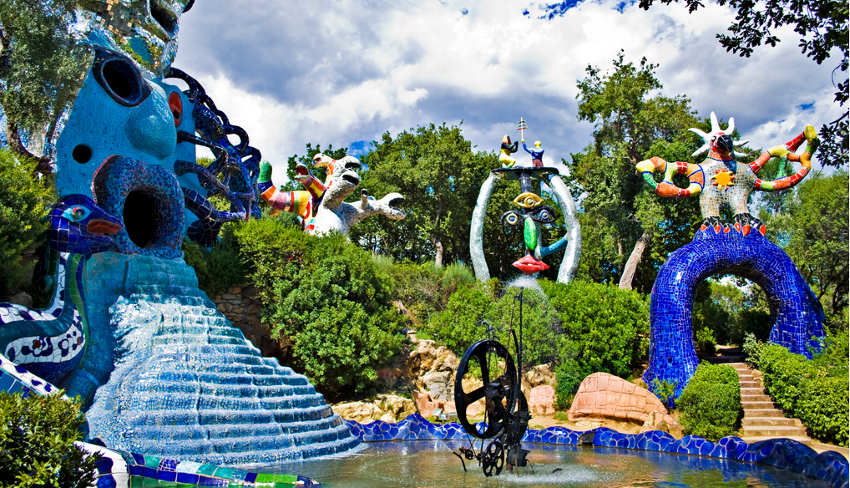 Legacy
In 2002, the artist died of emphysema, a chronic obstructive lung disease, after six months in intensive care in La Jolla, California. But, who was really Niki de Saint Phalle? Is she going to be remembered for that nervous breakdown after which she as an artist emerged? Or for her relationship with Jean Tinguely? What is more important, her paintings or her sculptures? Her entire career is unique and memorable. Built at the juncture of art, personal charisma, and political gesture, all of her works deserve a place in the history of art.
She is represented by We Art Partners and David Pluskwa Art Contemporain.
Niki de Saint Phalle lived and worked in California.
References:
Mathews H. Living with Niki, Tate Etc. [Issue 12: Spring 2008]
Webster P. Sculptor finally exorcises her rapist father, The Guardian [September 20, 2016]
Jansen C. The Art of Niki de Saint Phalle: A Rebel Through and Through, The Huffington Post [September 20, 2016]
Brutsche P. NIKI DE SAINT PHALLE: a Psychological Approach to Her Artwork and the Symbolic Significance of the Tarot Garden, ARAS Connections [Issue I, 2012]
Levy A. Beautiful Monsters, The New Yorker [September 20, 2016]
Featured image: Niki de Saint Phalle and her Nanas – photo credits Kurt Wyss