Nils Völker is a German artist known for his work at the intersection of art and science: physical computing, robotics, media art, new media art and machine art.
Nils Völker's LEGO Revelation
Völker was born in Aalen, in the eastern part of the German state of Baden-Württemberg. In 2004 he graduated in Communication Design from the Bauhaus University in Weimar. That same year, he moved to Berlin and started working as a freelance communication designer.
As he says, a lot of coincidences led him to become a media artist. But, one thing was crucial - it was a LEGO game!
"I was playing around with a Lego-set with which you can build small robots, just for fun during my free time. Over time, my ideas grew bigger and bigger so I switched to real electronics and actually discovered a whole new world."
Choreographed Breathing
Today, Völker's artistic practice includes robotics, sensors, customized software and interactive computer technology. When added his fascination for everyday objects and carefully selected fragile materials – the result are his original and creative installations. He reinterprets ordinary, everyday object and then inflates to huge installations, arranging them in a new context.
One hundred and eight, 2010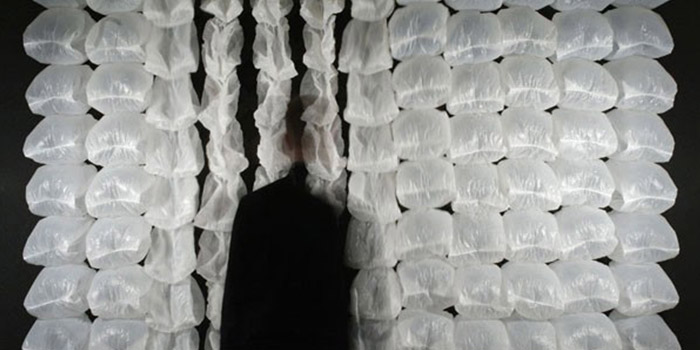 Beginning in 2010 this artist started working on a series he will title "choreographed breathing" installations. Mainly, these installation consisted out of a matrix of cushions of different size and material inflating and deflating in controlled rhythms.
One piece represents this series more than others. It is his One Hundred and Eight installation made from ordinary garbage bags, inflated and deflated in controlled rhythms. This work has been exhibited several times and has been widely published online, in books and magazines and it was the starting point for a whole series of installations based on inflating/deflating cushions made from different materials. The installation became a huge success and has been exhibited in Mannheim, Istanbul and The Hague.
Capture and 64 CCFL
His largest choreographed breathing installation at the time was made with 252 silver cushions. It was created in collaboration with Sven Völker and showed at the exhibition Capture in 2012. It was a temporary installation at MADE Space in Berlin.
Nils Völker and Sven Völkers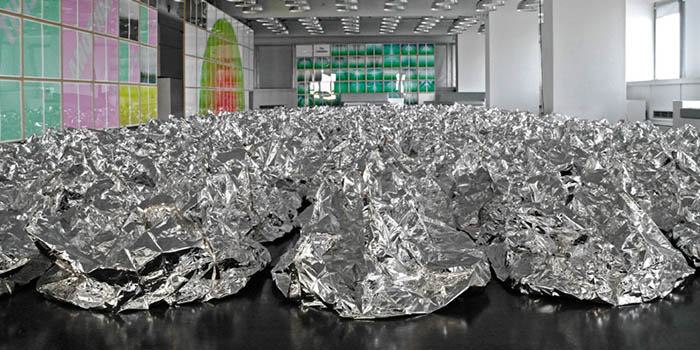 Four hanging walls with 304 framed graphic pages surrounded a field of 252 inflatable silver cushions. Both artworks related to the theme of light and air and interacted with each other in a twelve minute performance that also included sound and light.
64 CCFL, 2012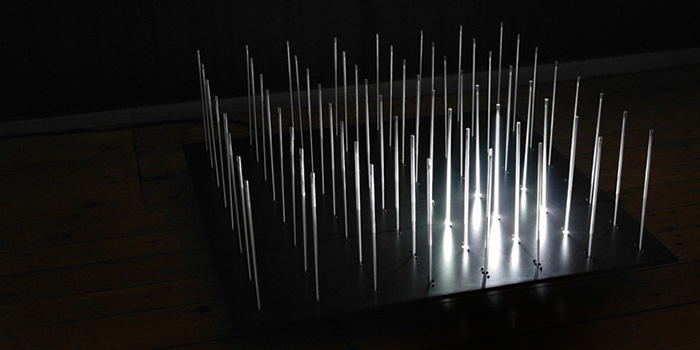 Other type of Völker's work is, for example 64 CCFL, a site-specific installation created out of cold cathode fluorescent lights that are regulated by a micro controller in combination with custom made electronics, controlling the power supply and therewith the height of the illuminated part of each tube.
A Conflict between Natural and Unnatural
However, all the cold technology used in and for Völker's installation did not canceled the basic nature in the background of this art - his works still have a very organic and dynamic complexion. The interpretations of visitors who discover some new detail in his work always opens up a new perspective.
It's hard to fathoms the source of his inspiration for new projects, he calls his approach pragmatic and less conceptual. Völker realizes his large-scale interactive sculptures and site-specific kinetic installations as a way to investigate mechanical rhythm in prepared systems, creating a conflict between natural and unnatural phenomena.
These minimalistic artworks carry poetic and emotional depth thanks to incorporated sound and other components: plastic bags, computer cooling fans, lights… This is the way Völker manages to create a relation to the physical environment in which his installations arise.
"Most of my work is of a rather technical nature; creating electric circuits, programming, drawing circuit boards and soldering. But in the end all the engineering lies hidden under an organic appearing surface and can only be imagined".
Nineteen
In 2015, Nil's solo exhibition titled Nineteen has opened in the temporary art pavilion M0Bi Groningen, Netherlands. The show presented the largest installation so far. It was made out of 19 golden cushions of mylar foil, sizzling in a huge space, hanging from the ceiling and creating mesmerizing patterns in the exhibition space.
Nineteen at MOBi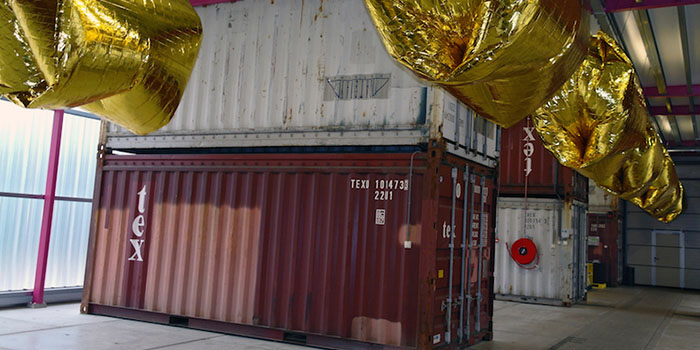 The golden colors on cushions was chosen to create a strong contrast to the industrial appearance of the temporary space built from used shipping containers and inflating-deflating effect constantly changed soundscape in the exhibition space.
No doubt, Nils Völker is an unusual and fascinating artist who transforms technology into art.
"Basically I'm just having a whole lot of fun, dealing with such abstract things like electronics, programming and math to come up with very concrete and sometimes weird things that move, glow, make sounds ..."
This artist is represented by NOME.
Nils Völker is living and working in Berlin.
All images copyright © the artist