One of the most important living Japanese artists, Nobuyoshi Araki is a photographer whose work revolves around female eroticism and his fascination with Tokyo, Japan's capital and the world's most populous metropolis. Notorious for pictures that are both spectacularly compelling and shockingly obscene, Araki - who has created over 450 books in his lifetime - has an unearthly ability to make anything and everything appear erotic. His controversial body of work featuring provocative depictions of female eroticism, bondage, and fetishism, has seen his oeuvre described as both erotic and pornographic and has provoked conflict with authorities in Japan and controversy in the West.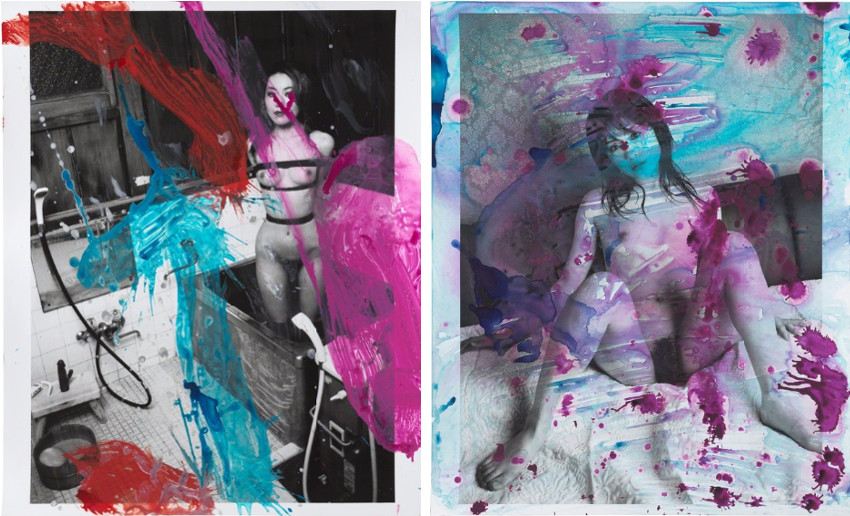 Araki's Sentimental Journey
Born on May 25, 1940, in Tokyo, Nobuyoshi Araki studied photography and filmmaking at Chiba University. Upon graduating in 1963, he pursued a career as a commercial photographer at the advertising agency Dentsu. During this period, he exhibited in his first show, Satchin and Mabo, and won a photography contest for the collection of post-war photographs, Satchin from 1963, which reveals some of the devastation from the war and the need for a fresh start in Japanese society. He became famous for Un Voyage Sentimental (Sentimental Journey), 1971, a series of photos documenting his personal life, in particular, his wedding and honeymoon with his wife, Yoko Araki, whom the artist credits for making him a photographer. The series established his reputation, and in 1972, he left Dentsu to work as a freelance photographer. Since then, almost all his work has revolved around his own life and are almost always about the women who are close to him. Later, in Winter Journey series, Araki documented his wife's terminal battle with cancer. The series was concluded in 2010 with Spring Journey in which Araki's beloved cat, Chiro, originally given to Yoko, was photographed in the last stage of her life.
Araki became famous for Un Voyage Sentimental, a series of photos documenting his personal life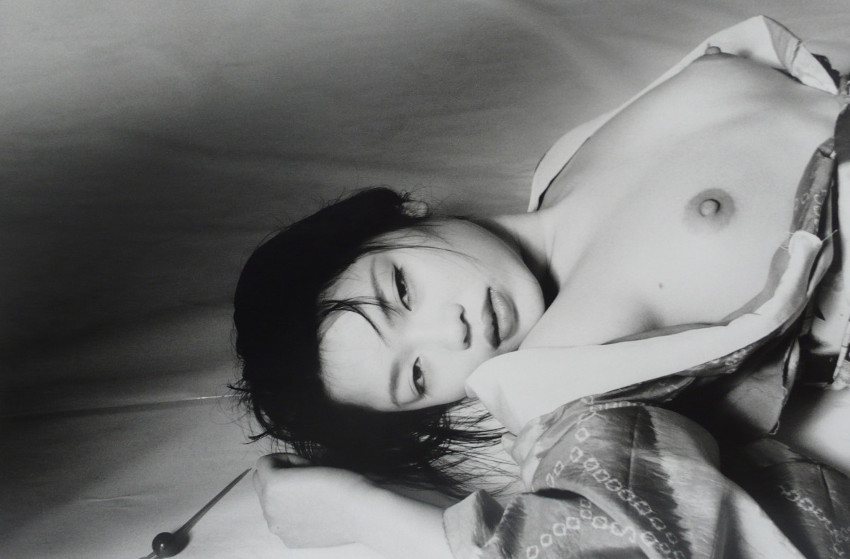 The Controversial Nobuyoshi Araki
Over the years, Nobuyoshi Araki has become instantly recognizable by his daring photographs of naked female bodies, which have always strived to achieve the aesthetic value of Shunga, Japanese woodblock prints that were widely popular between the 17th and the 20th century. Both aggressively pornographic and artistically sophisticated, Shunga portrayed the sex lives of ordinary people, an element that Araki has picked up on in his nude photographs. Araki's images of women wearing kimonos with revealed genitals is a modern take on Shunga that includes a shyness to the subjects by being never revealing their entire bodies.
The artist's daring photographs of naked female bodies are instantly recognizable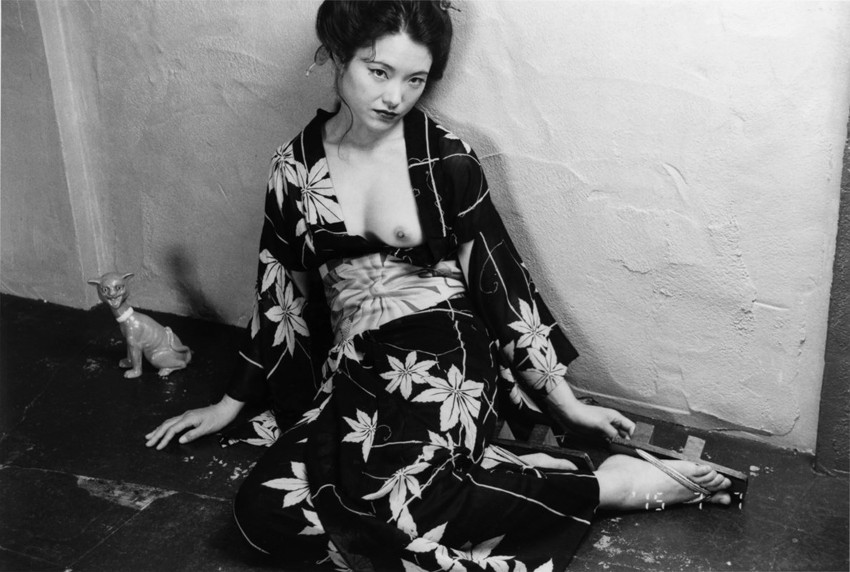 Art of Bondage
The Japanese intricate art of erotic bondage, Kinbaku-bi (literally "the beauty of tight binding") has long fascinated Nobuyoshi Araki, and it has a strong presence in the works. The images of bondage began to appear in his oeuvre in 1979 and though often called sexist, fetishistic, degrading and insulting, the photographer sees the photographs as freeing the souls of the models. One of his most famous series entitled Kinbaku explores the delicate traditional art of bondage by reducing the subject to a minimal, monochromatic aesthetic. Precisely executed, the intricate knots and specific rope patterns indent the models' bodies as they hang suspended in mid-air, both contorted and elegantly streamlined. On several occasions, police raided and closed Araki's exhibitions, confiscated works and arrested the artist for violations of obscenity laws. And yet Araki's portrayal censored subject matter has contributed to a loosening of the strictures imposed on photographers.
Although often called sexist, fetishistic, degrading and insulting, Nobuyoshi Araki sees his photographs as freeing the souls of the models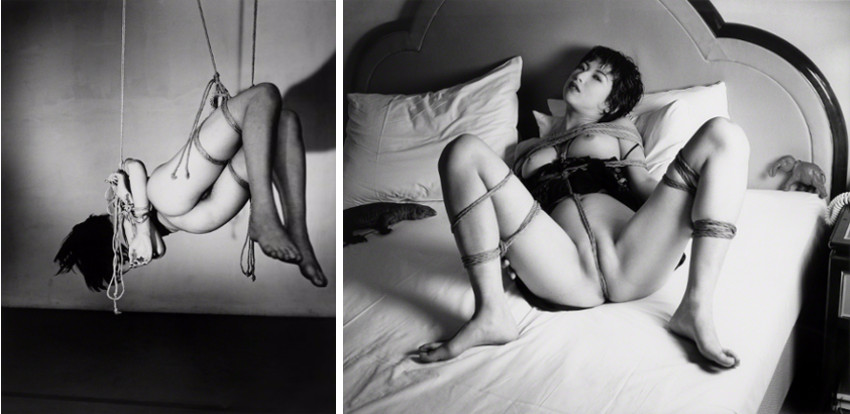 Tokyo Lucky Hole
Although well known for his infamous nude photography, Araki has a passion for capturing many aspects of his hometown whether it be ordinary people on the streets, the city itself or exploring the subcultures that exist away from the public eye. Tokyo Lucky Hole is Araki's iconic series of work that offers a privileged view of Tokyo's underworld in the 1980s when the sex industry in Japan's capital was in full flower. Araki prowled Shinjuku, the city's famous red light district, taking pictures in the sex shops and clubs. His project came to an abrupt end when the district was closed by judicial decree in 1985. In over 800 photos, Tokyo Lucky Hole photobook documents the free-for-all spirit of those clubs via Araki's lens. His photographs form a historical record of Shinjuku's glory days and a portrait of a lesser-known side of Tokyo life.
The artist himself is an observer and participant in the scenes he captures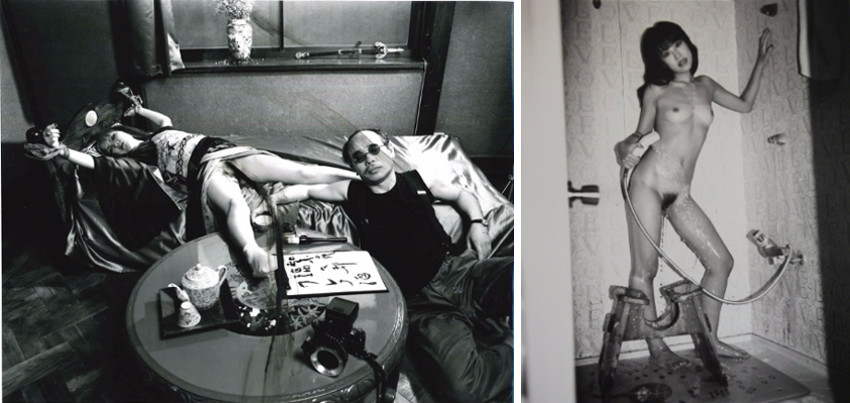 Collections and Awards
Araki's works are part of numerous notable collections including that of the Tate Modern, San Francisco Museum of Modern Art and the Fotomuseum Winterthur in Switzerland. He has worked as a filmmaker and has photographed musicians Bjork and Lady Gaga. He has also photographed for many pornographic magazines such as Playboy, DejA-Vu, and Erotic Housewives. The artist's life and work were the subjects of Travis Klose's 2005 documentary film Arakimentari. He is the recipient of many awards, including the 1994 Japan Inter-Design Forum Grand Prix, the 1990 Society of Photography Award, and the 1964 Sun Prize. The indefatigable artist, now in his seventies, has suffered from reduced sight in his right eye in October 2013, which served as inspiration for a new series of photographs entitled Love on the Left Eye.
Love on the Left Eye is one of the artist's most recent series of work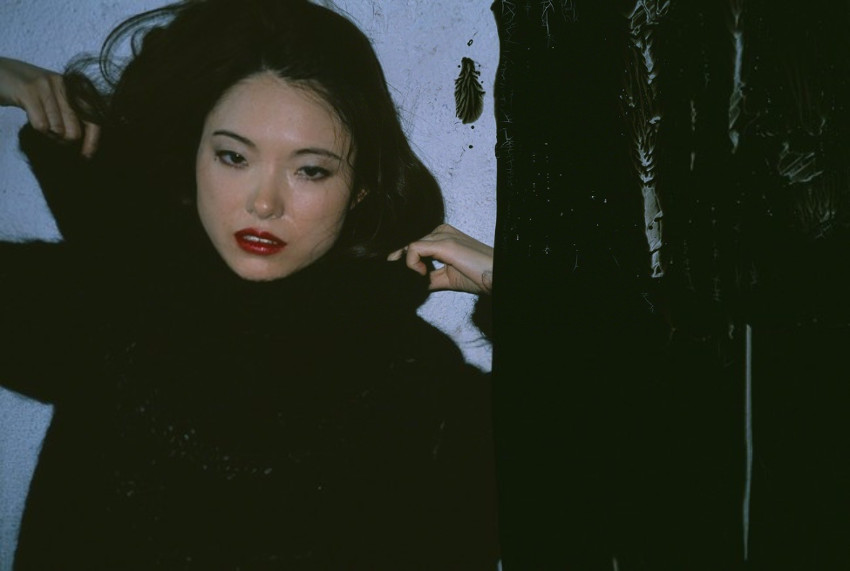 Nobuyoshi Araki: Never out of fashion
Photographing subjects that range from flowers to kinbaku to Tokyo street scenes, Nobuyoshi Araki continues to astound observers with a plethora of stunning and provocative photos. Notorious for his challenging, emotionally raw images and explicit depictions of sexuality and mortality, Nobuyoshi Araki has been one of the Japanese most eminent and prolific photographers who remain ever-popular, after all, provocative and sexual pieces have always been fresh and original.
The artist is represented by Zooart.
Nobuyoshi Araki lives and works in Tokyo, Japan.
Featured image: Nobuyoshi Araki - Untitled, Self-Portrait (detail)
All images copyright of Nobuyoshi Araki