Not just a skillful illustrator working within the conventions of the day, Norman Rockwell was an American artist whose skills were often questioned during his career. But there was something tenacious about his vision, and something uncanny about his access to the wellsprings of public taste. Although technically he was an academic painter, he had the eye of a photographer, and as he was maturing, he used this eye to give his viewers a picture of America that was familiar to everyone and unique at the same time. It seemed familiar to everyone because it was everyone's dream of America, and it was unique because the artist managed to bring it to life with such authority. Perhaps, it was an America that never existed, but it was an America the public wanted to exist. And Rockwell put it together from elements that were there for everyone to see, but not all could experience.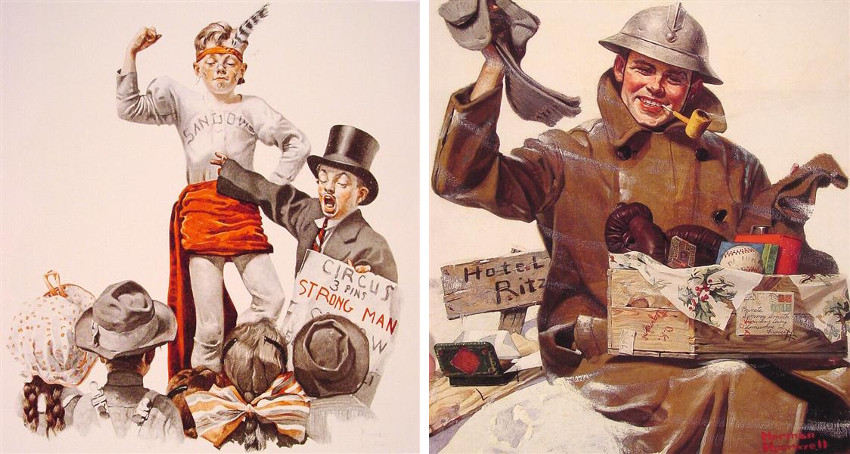 Early Years and Education
Born on Manhattan's upper West Side in New York to Jarvis Waring Rockwell and Anne Mary "Nancy" Rockwell, née Hill, Norman Rockwell grew up in suburban Mamaroneck as a gawky, nearsighted beanpole in the shadow of an athletic older brother, dodging bullies and ingratiating himself to schoolmates with his ability to draw.[1] It was a skill he practiced with his father, a textile company clerk who copied magazine illustrations as a hobby. As a high school student, he was quite indifferent, but he eagerly studied art. In 1908, he enrolled part-time at the Chase School of Art and then the Art Students League in Manhattan, financing his courses with his parents' support and odd jobs. By 1910, he had dropped out of high school to pursue art full time. The growth in mass magazine publishing made illustration a promising and lucrative field to youngsters such as Rockwell, who idolized the imagery of established 19th-century artists such as Howard Pyle, Winslow Homer, and John La Farge. After working jobs of minor importance, at age 18, Rockwell had his first paid commission, illustrating a series of stories for a 1912 question-and-answer book for children. In 1913, he landed a job as art editor at Boys' Life, a magazine for which he'd been freelancing. That and commissions for other youth-oriented publications finally gave him the courage in 1916 to approach The Saturday Evening Post, which immediately took him on. That cemented a 47-year relationship with the Saturday Evening Post that made Norman Rockwell one of the most famous, if not the most famous illustrator in America.
Rockwell's Saturday Evening Post covers are very popular and history remembers them as true art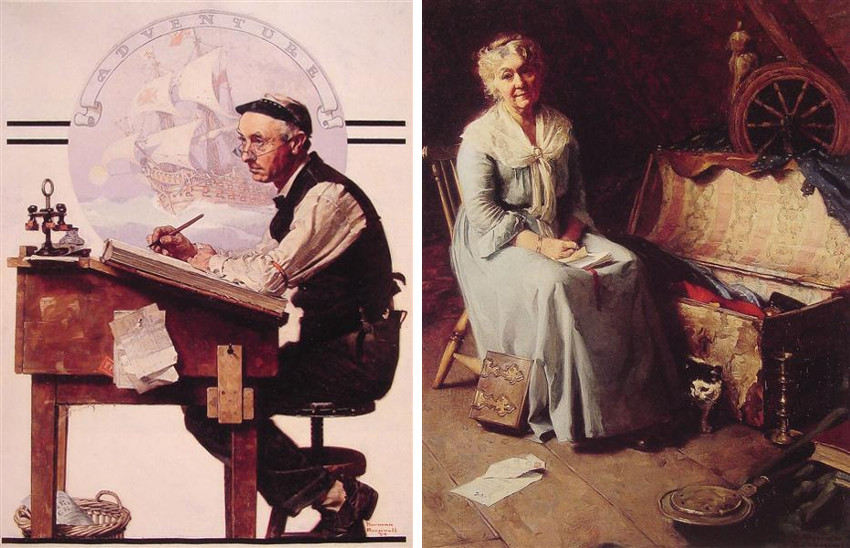 Norman Rockwell - Personal Life
Yet, a year later, in 1917, Rockwell was voicing doubts about his career choice. He complained that he "hated" illustration because it "cramped" his vision, but he wasn't "big enough" to give it up and try something else – it was an ambivalence he would voice throughout his life. With traits of classical artistic personality, Rockwell was an anxious, lonely, self-doubting man. However, these were indeed troubling traits to bring into the roles of a father and husband. His first wife, Irene O'Connor, whom Rockwell married in 1916, was the model in Mother Tucking Children into Bed, published on the cover of The Literary Digest on January 19, 1921. She left the artist for another man in 1929, after 14 years of parties and high living in suburban New Rochelle, N.Y. Depressed, he moved briefly to Alhambra, California as a guest of his old friend Clyde Forsythe. There he met and married Mary Barstow, a California schoolteacher 14 years his junior. They had three sons, Jarvis Waring, Thomas Rhodes, and Peter Barstow, and in 1939 moved from New Rochelle to Arlington, Vt. In 1953, the Rockwells moved to Stockbridge, Massachusetts, so that Marry could be treated at the Austen Riggs Center, a psychiatric hospital at 25 Main Street, close to where Rockwell set up his studio. The artist also received psychiatric treatment, seeing the renowned developmental psychologist and pioneer of psychobiography Erik Erikson, who was on staff at Riggs. It was Erikson who diagnosed that Rockwell only painted his happiness without really living it. In 1959, Mary died unexpectedly of a heart attack. Two years later, Rockwell married his third wife, retired Milton Academy English teacher, Mary Leete "Mollie" Punderson.
Rockwell's cover illustrations cramped his vision, but he wasn't big enough to give it up. Now his covers, among his other work, are quite famous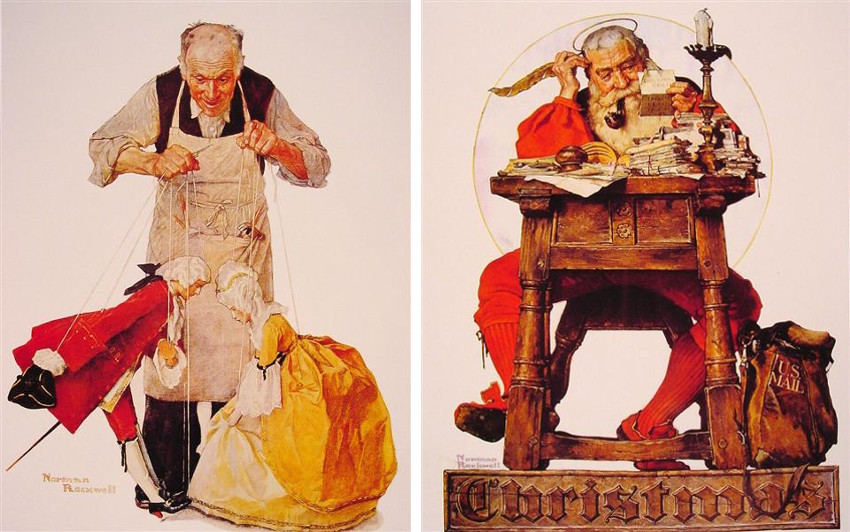 The Art of Norman Rockwell – a True Example of Visual Americana
Technically speaking, Norman Rockwell was a painter, and yet, he was best known for his illustrations. The truth is that he was talented on many different levels. With the eye for photography, he made some meticulously composed and richly detailed, later built upon, turning up as illustrations or oil paintings. Working alongside skilled photographers, Rockwell acted as director, carefully orchestrating models, selecting props, and choosing locations for the photographs - works of art in their own right - that served as the basis of his iconic images. It's interesting to point out that many of his most memorable characters: the girl at the mirror, the young couple on prom night, the family on vacation – were actually his friends and neighbors who served as amateur models.[2] A prolific artist, Rockwell produced more than four thousand original artworks. During his career, however, his work was often dismissed by serious art critics. And yet, the public seemed to enjoy in his work. So did some of his fellow artists – as critic Peter Schjeldah admitted: "My tipping point regarding Rockwell had come in conversation with Willem de Kooning. Our greatest modern painter quite adored Rockwell—as he did most things about the United States since arriving here, as a twenty-two-year-old Dutch stowaway, in 1926."[3] In 1943, during World War II, inspired by a speech by Franklin D. Roosevelt (wherein he described four universal principles, also known as Four Freedoms: Freedom from Want, Freedom of Speech, Freedom of Worship and Freedom from Fear), Rockwell painted the Four Freedom series. Painted Freedoms, showing some of the basic values of the American people, were quite famous. Actually, his entire body of work reflects the golden glow of pre- and post-WWII Americana. Depicting life as he wanted it to be, Rockwell chronicled iconic visions of American life: the Thanksgiving turkey, soda fountains, ice skating on the pond, and small-town boys playing baseball.[4]
The Four Freedoms show the basic values of the American people
Legacy
Norman Rockwell helped preserve American myths, but, more than that, he recreated them and made them palatable for new generations. His function was to reassure people, to remind them of old values in times of rapid change. In times of civil rights movement, the space program, the Vietnam War and the Middle East conflicts, Rockwell confronted topics far beyond the cozy parameters he'd previously pictured. And he rose to the challenge, proving his talent over and over. His reputation continued growing after his death. As the mid-20th-century distinctions between fine and applied art became less important in the multi-faceted post-modern art scene, and Rockwell's paintings reached previously unimaginable heights, leading museums, collectors, and experts felt the need to reconsider his place in both history and their collections. Today, Norman Rockwell is known as an artist who was nearly as prolific as he was talented, and whose oeuvre depicts all the good sides of the American life.
Norman Rockwell lived and worked in Stockbridge, Massachusetts.
References:
Bonenti C., A portrait of Norman Rockwell, The Berkshire Eagle [November 22,2016]
Schick R., Norman Rockwell: Behind the Camera, Little, Brown and Company; 1 edition (2009)
Schjeldahl P., A Kind Word for Norman Rockwell, The New Yorker [November 22,2016]
Rockwell T., The Best of Norman Rockwell, Running Press (2005)
Featured image: Rockwell Norman – Art Critic (detail), 1955
All images copyright Norman Rockwell. All images via wikiart.com