Francisco Silva aka NUNCA brings new light to the art of graffiti. His technique creates unique images, inspired by Brazilian history, the past, and culture. Born and raised in Brazil, this young artist finds most of his inspiration in the nation's roots. Being such a big country rich with cultural differences, it is hard to determine one's origin. This is the topic Nunca finds inexhaustible and derives his ideas from it. His ''tag'' Nunca ("Never" in Portuguese) serves to affirm his determination to release himself from all cultural or psychological constraints.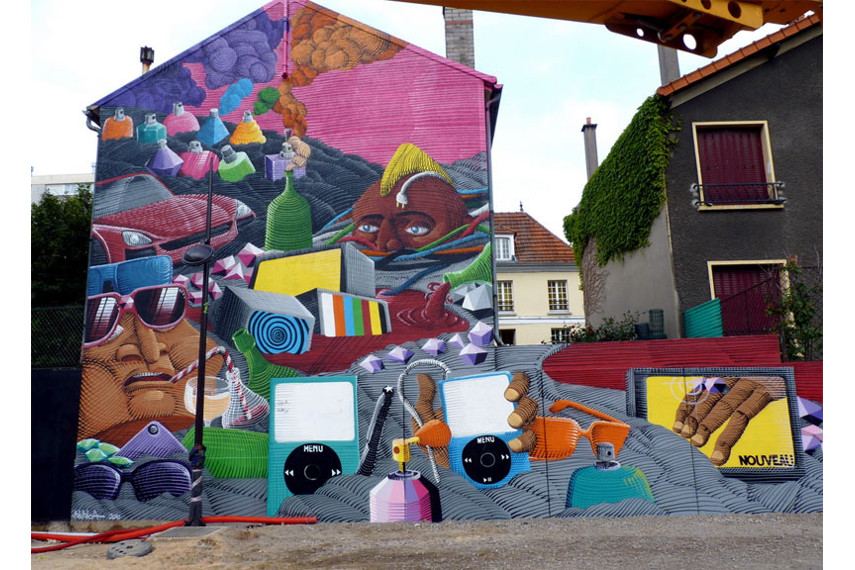 The Human Phenomenon
Born in 1983 in São Paulo, Brazil, Nunca was only 12 when he started painting graffiti on Brazilian streets. His art has always been figurative in nature but has progressed to a certain distinctive style. Nunca values family, and finds it to be very important in the growing and maturing of a young person. His mother has helped him understand more about his ancestors, which is the main motif in his works. Over time, his art has progressively incorporated native figures. Since the 1990s, he has been confronting modern Brazil with its native past as he depicts indigenous people on numerous walls. The human and cultural phenomenon keep occupying Nunca. These elements move him, as he makes them a big part of his work. The artist finds that every new idea develops from the previous from. By making such art, he is taking an entity of the culture and transforms it to his own way of thinking, a process he calls "cultural cannibalism".
The human and cultural element move Nunca, and make a big part of his work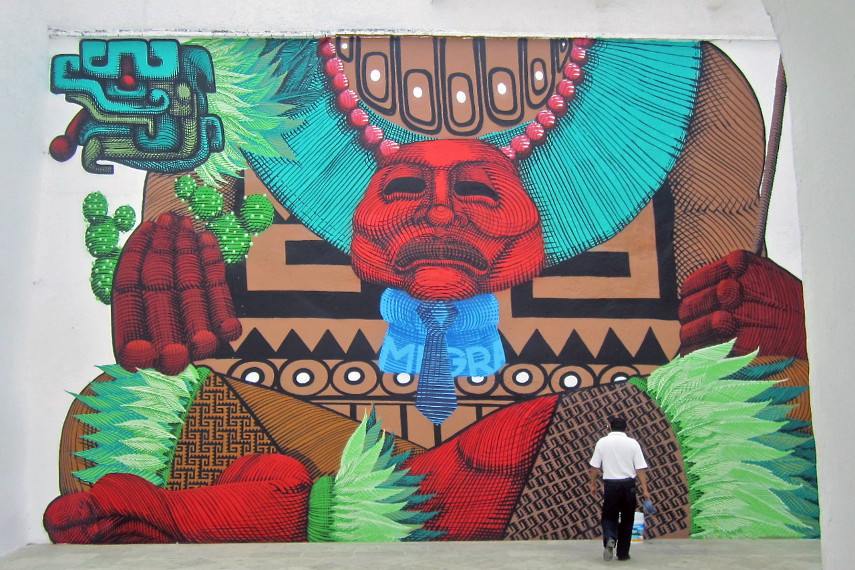 Years that Followed
In 2004, Nunca had his first local group exhibition in his home city. The turning point for this Brazilian artist was in 2007 when he received an invitation to the Museum of Modern Art of São Paulo, before going to Scotland for The Graffiti Projetc. Here, he did a monumental work in collaboration with Os Gemeos and Nina, at the Castle of Kelburn. That same year, he was featured at the Musée des Arts Modestes in Sète, France, and participated in his first European group exhibition at the Magda Danysz Gallery. The next year, 2008 was marked with a monumental mural outside the prestigious London's Tate Modern, during its Street Art exhibition.
The artist has presented in numerous festivals around the world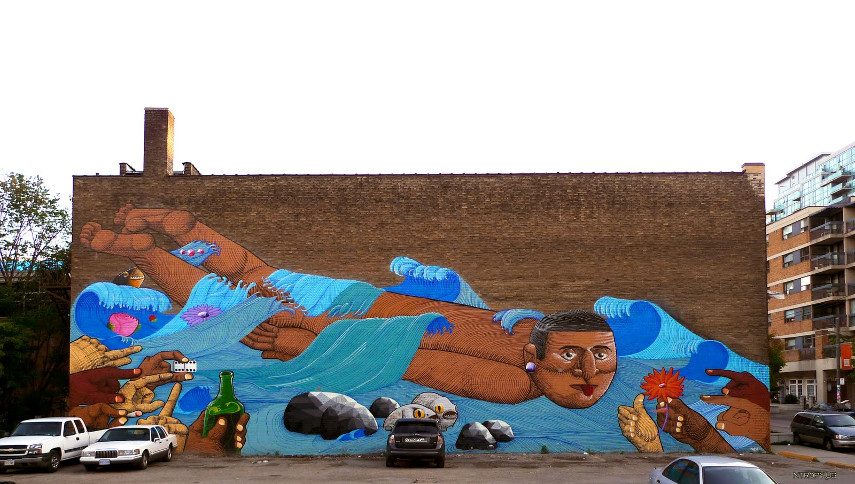 Researching Street Regionalism
Emphasizing the long gone borders of cultural expression, Nunca researches regionalism with his work. With his outlook on history, tradition, and legacy, he creates characters relatable to anyone anywhere. His works bring a perspective on absorbing culture up-to-date. His iconography is carved through a unique blend of climate, history, people and all components that make one culture unique. Nunca uses sketches as the basis for his compositions and enjoys going big. The large scale pieces open the possibility of improvisation and provide freedom of expression. His murals confront the past and the present, the tribal and the modern. As much as it is a confrontation, it is a conflict and interaction. Bright colors in his murals are frank and the hatching lines form volume and definition, making his artworks valuable to all spectators around the world.
Nunca lives and works in São Paulo, Brazil.
Featured image: Nunca - portrait in Los Angeles - photo via streetiam.com