French graffiti artist Ogreoner has conquered the art world with his stunning wildstyle graffiti and his high profile street art and fashion collaborations. The artist spent over 15 years developing his unique style of lettering that can be best described as a mixture of organic and mechanic and wild and spontaneous. Ogreoner is involved in many fields on the graffiti scene as the versatile creative also worked as a journalist, blog writer, event manager and a consultant. His works have graced numerous walls around the globe but the artist also created a variety of canvas works that were on view at a variety of solo and group shows. Deeply rooted in abstract, body of work by Ogreoner is more concerned with the composition than the subject or themes. For decades the artist combines his unorthodox style of lettering with an array of shapes and colors to create an array of striking artworks.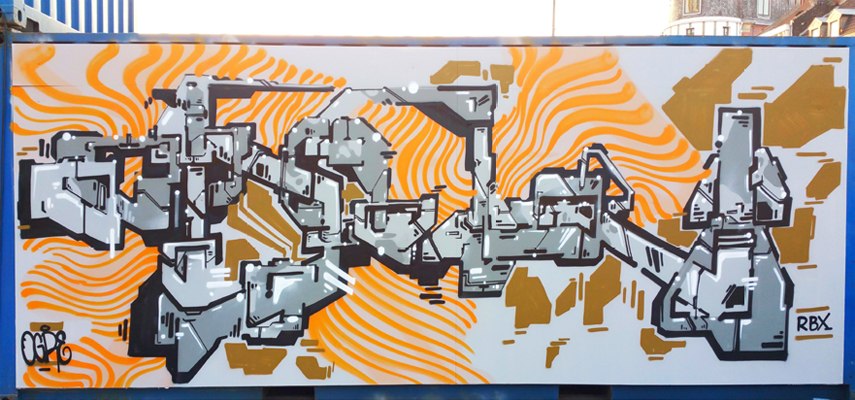 Priority to the Letters and Shapes
Olivier Burel aka Ogreoner aka Ogre was born in Lyon, France. He started to draw since the early childhood. During school years, drawing represented his escape from boring lessons but also a way of achieving true freedom. When he was in high school a friend introduced him to the exciting world of street art and the artist was immediately hooked. Not long after that, he began leaving his tags on the streets of his hometown and created a name for himself that inspired numerous people to sought after him and offer him a job. Ogreoner's creative process starts with composing a clear idea of a future artwork in the mind of the artist before he starts to transfer it to the chosen surface. Keeping the sense of control throughout the creative process is important for the artist, but he still makes sure to leave space for accidents of lines and materials in his pieces. The artist is hugely influenced by the body of work of celebrated Belgian painter Michel Seuphor, by also by his fellow street art-makers like Delta, Lek, Kofie, Satone ... In 2000s Ogreoner traveled to the German city of where he met some of his biggest influences including BOE from Viagrafik Dems, Okuda, Dibo and Pornostars crew from Spain. However, the images he sees around him every day remain the biggest inspiration for the artist who culls from a variety of influences originating from the streets, the subways and fashion magazines. Social networks also represent an important source of inspiration for an artist who often uses images he sees on Instagram as a base for his work.
Ogreoner created Monsters vs Teenage Kicks mural for the festival in Rennes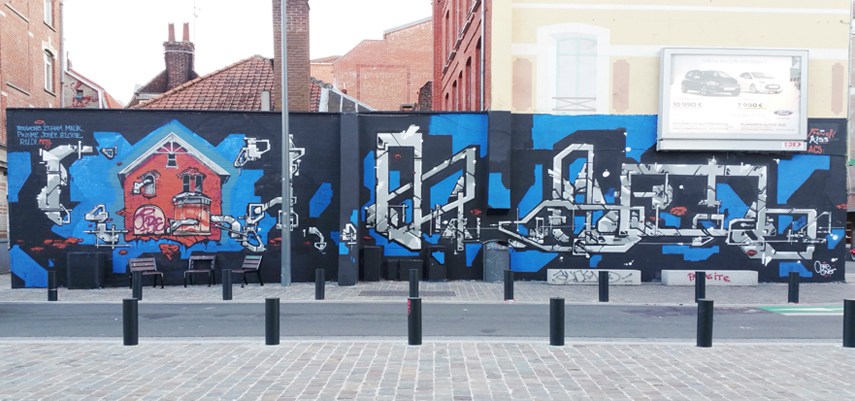 Ogreoner x Famous Fashion Brands
In 2014, Ogreoner teamed up with famous fashion brand to create a unique punk rock window display featuring Chanel Bricolage Canvas Backpack and the artist's recognizable lettering. Later that year Ogreoner's artworks were featured in Thomas Erber's magical Cabinet de Curiosites a unique event that has toured the world spanning from Paris to London, Berlin to New York and finally Bangkok. Apart from showcasing his pieces at a gigantic exhibit encompassing 5 levels of Central Embassy and Siwilai in Bangkok the French artist also made his mark in the capital of Taiwan by creating an image of Naga Pitak a mythical serpent and a symbol of protection in a live painting session at the mall. The image was made in collaboration with the silk company Jim Thompson and featured the brand's logo surrounded by the naga. The combination evokes the feeling of a mystical protection surrounding the brand but simultaneously represent the tribute to the paintings by one of the finest Thai master Thawan Duchan.
Thomas Erber's magical Cabinet de Curiosites show was followed by a party hosted by Jim Thompson and Ogreoner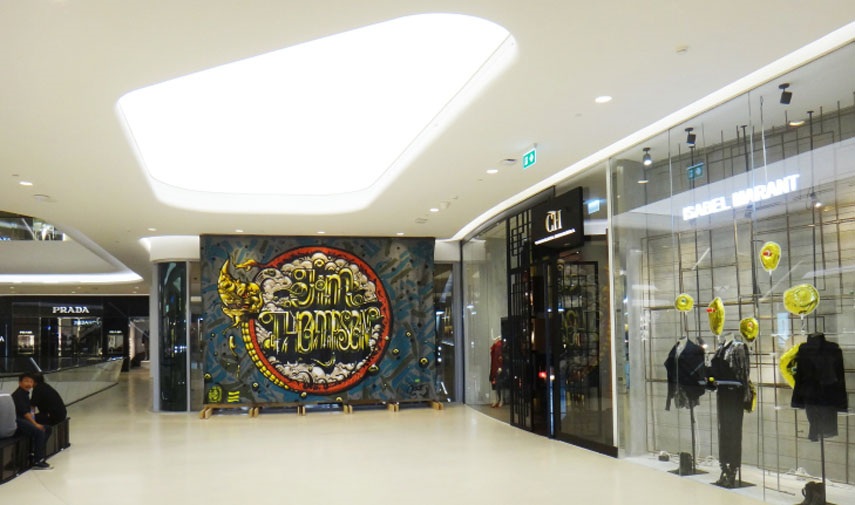 Working with Fellow Artists and Montana Colors
From 2008 until 2010 Ogreoner worked as a writer, PR and community manager at Innercity magazine. The artist was a member of numerous crews (Greetings, LCF, QMJ…) and collaborated with many street artists including Roids. One of his most memorable collaborations is definitely the one with Philippe Starck whose exclusive lamp the artist embellished. The lamp was later auctioned at a charity event and proceeds donated to Reporters d'espoir. With his exceptional wildstyle graffiti, the artist has drawn attention of many companies who sponsored his work including Zooyork, Nixon, Posca, Liquitex and Montana colors.
,
The artist lives and works in Lyon, France.
Featured image : Ogreoner - Portrait
Images courtesy of the artist.