Where Okuda San Miguel appears, a portal to different world opens. His psychedelic colors, skulls, geometric patterns, they produce mental stimulation and visually pleasing content. His vibrant jungle of colors found its place on walls, paintings, photographs. Okuda's signature style are colors, the brighter the better. With the help of online donations and Red Bull, he painted the inside walls of a 100-year old church Santa Barbara in Llanera, Asturias. It's called Kaos Temple and it is a true sanctuary. As a skate part it gathers skaters, athletes, and adrenaline lovers, but for the art community, Okuda's murals in the church are a real out-of-this-world spectacles. Brilliant colors and precise shapes, being done by a steady hand, this work of art is one of the most magnificent sites in the area. Works and illustrations of the artist have been exhibited in posters and art installations sponsored by worldwide known brands such as Puma, Adidas, Kia Motors, POLO by Ralph Lauren and many others.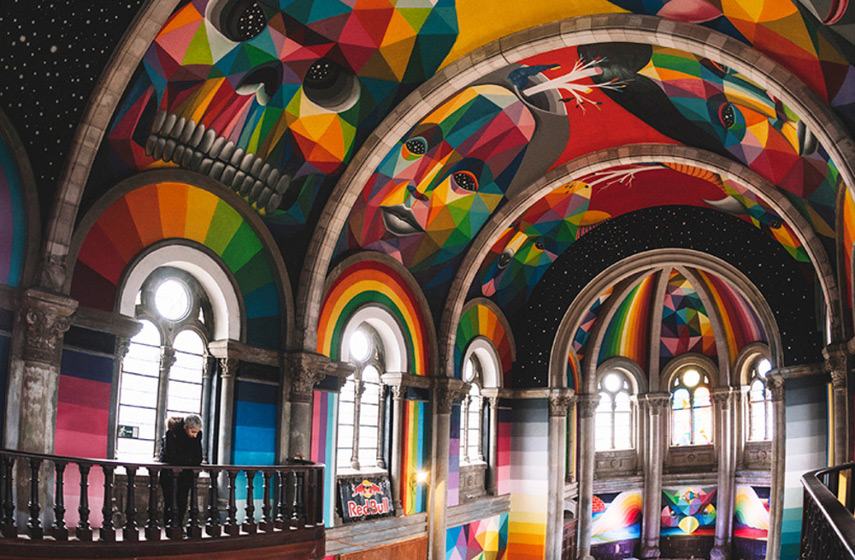 Pop Surrealism with an Essence of the Street
He was born in Santander, Spain and has studied Fine Arts at the Complutense University of Madrid. Since 1997, his work has been shown in abandoned factories and roads of the city of Santander. He is very popular in his hometown and many had found his art to be both inspiring and thought provoking. Some critics have pointed out that the artist's work could be classified as pop surrealism with a clear essence of the street. He has continuously emphasized the conflict between modernity and our roots. The works often raise contradictions about existentialism, the universe, the infinite, the meaning of life, the false freedom of capitalism. Dealing with these complex subjects gave his art involvement a certain depth. The science of living and the philosophy of life always indicate striving for balance, not perfection. Okuda follows these guidelines and balances current street art motifs with bits and pieces of social activism and political advocacy. Okuda can be often found in the collaboration with Remed, who is also involved in artistic expression combined with social activism. Although living and working mainly in Madrid many of his works are located in different cities across the world.
Okuda San Miguel paints colorful patterns and the gray bodies
Early Start and IAM Project
Since 1997, he developed a distinctive and unique approach regarding murals. His style evolved and became further personalized after Okuda San Miguel's participation in the IAM Project, together with San and Nano1814. The artistic expression of Okuda resides somewhere in between the sheer geometrical shapes empowered by the colorful patterns and the gray bodies representing the human condition. The visual narrative he incorporates in his work suggests the fallacy of freedom which has become the dominating discourse of the contemporary age. Aware that freedom is just an ideal concept that can never be established and extrapolated in a real world in full capacity, he tries to expose all the limitations of its definition. There are specific properties of freedom that are restricted not just by the system, but also by the man himself. Okuda tries to search for the possible middle ground between the modernity-driven attributes of our society and the hidden power of our roots. Symbolically portraying the capitalist grip on the natural environment and the freedom of self-exploration, the artist uses distinctive qualities and contrasts in his work to point out the inescapable state of crisis that the Western society faces.
Travelling gives him an opportunity to hunt for more colors
Geometrical Shapes, Colors and Gray Bodies
Okuda is troubled with the notion of a false sense of freedom, thus depicting human beings as gray shapes with an almost elusive anthropomorphic form. It is in the colorful representation of the shapes when the abstract expression of his work becomes grounded in the reality of our existence. A true urban artist, whose art becomes intelligible on the walls and objects of the urban space. According to Okuda, he is inspired by everything around him, whether it's coming from the environment or normal everyday things, he is constantly finding motivation. He shows great interest in pop culture, especially film and fashion, and of course, he finds the best things on the road. Travelling gives him an opportunity to hunt for more colors and more shapes. All of his interests shape his style, and when he works, he makes them mix in a perfect collision, and he does that while singing and dancing. Music is essential for Okuda.
The artist is represented by Ink and Movement.
Okuda San Miguel lives and works in Madrid.
Featured image: portrait of the artist
All images copyright of Okuda San Miguel