Olivier Valsecchi is a French photographer, born in 1979. He studied photography at ETPA Photography School in Toulouse, France. As a teenager, he used to produce music. His interest in photography began when he started taking photos in order to illustrate his record sleeves. Before his decision to enroll at ETPA Photography school and hone his technique, Valsecchi did only self-portraits for ten years. His working process is based entirely on his personal intuition, from planning to capturing the image. His works center around the themes of death, birth, rebirth and maternity.
Olivier's works center around the themes of death, birth, rebirth and maternity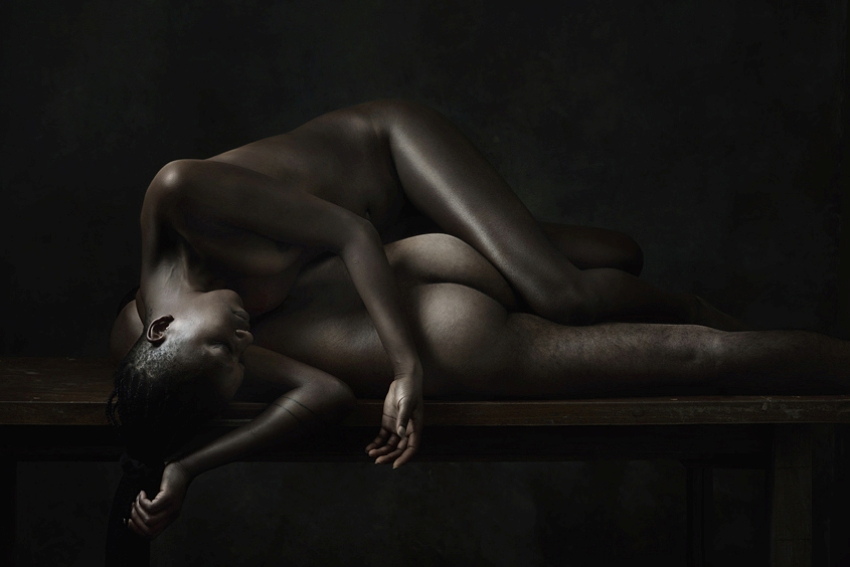 Klecksography Series inspired by the tests of Swiss psychiatrist Rorschach
Klecksography is the photographer's series which presents organic sculptures consisting of symmetrical bodies. The artist found the inspiration for his works in the tests by Swiss psychiatrist Rorschach. The doctor's tests used imagery created by ink stains on a piece of paper, which was folded into two, and the patients were asked for their interpretations of ambiguous ink blots. Rorschach used it to diagnose schizophrenia and dementia, but Valsecchi uses it to create complex artistic symmetries of naked bodies, intertwined in each other.
Klecksography presents complex artistic symmetries of naked bodies intertwined in each other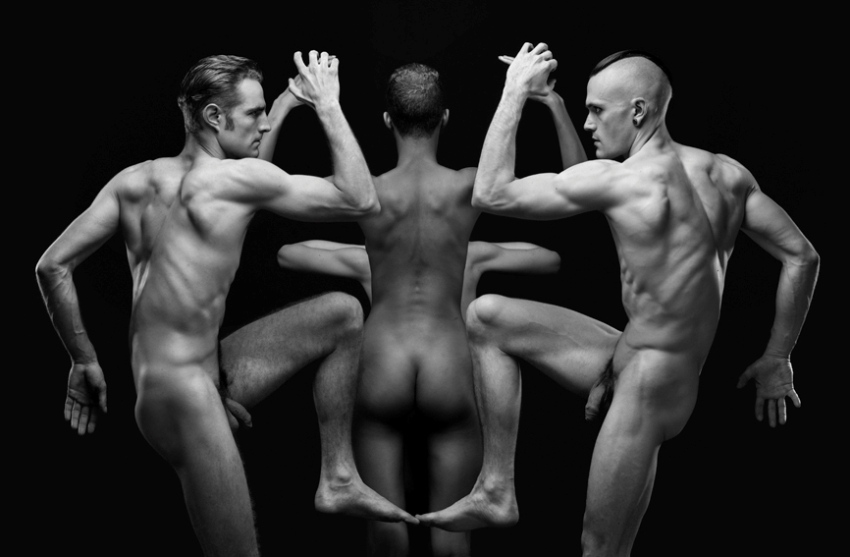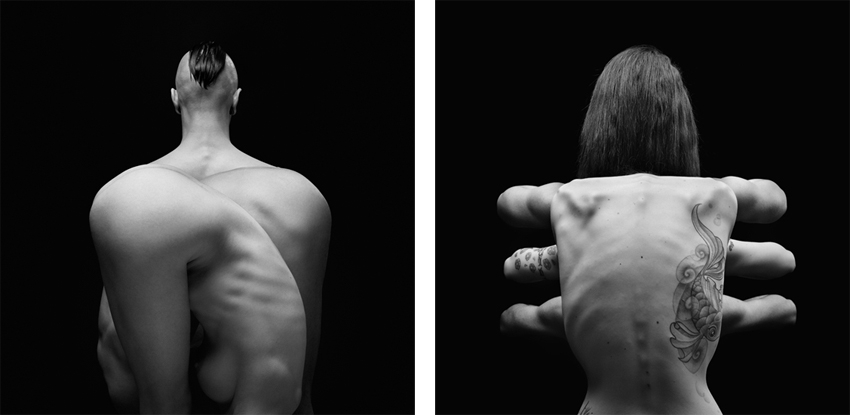 I Am Dust project
With the project entitled I Am Dust, Valsecchi focuses on the essence of creation and the urge to live. It consists of two series (so far) Dust and Time of War. Both series show human figures frozen in dynamic moves, with ashes covering their bodies and erupting around them. The only thematic difference is that Dust centers around Ovid's definition of Chaos and the concept of the Big Bang theory, whereas Time of War deals with the notion of time. The photographer tried to present the rebirth by using a smoke machine but eventually gave up on the idea, as he discovered that real ashes from a chimney were the best choice, despite three-hour cleaning in the end of each shooting. The process of his artistic creation would begin with Valsecchi explaining the models that ashes symbolize death and that they want to get rid of it. Then, he would start showering the undressed model with ashes, trying to capture the ashes in the air, before they fall to the ground.
Dust series
The series titled Dust capture in the same image two opposites. Endings and beginnings, death and life, water and dust, so that the viewer is left confused and wondering where is the end and where is the start. The series depict the phoenix rising from the ashes. It is about creation and incarnation. Frozen bodies with closed eyes symbolize pure energy, and ashes are symbols of death, something that is about to return to the earth.
Time of War series
The recurring theme in Valsecchi's works is incarnation. The second part of his I Am Dust project is set in a former arms factory and named after the exhibition GOYA in Times of War, which was hosted by the Prado Museum in Madrid, Spain in 2008, to commemorate the War of Independence. The photographer's Time of War series is centered around survival and Valsecchi's fascination with Time.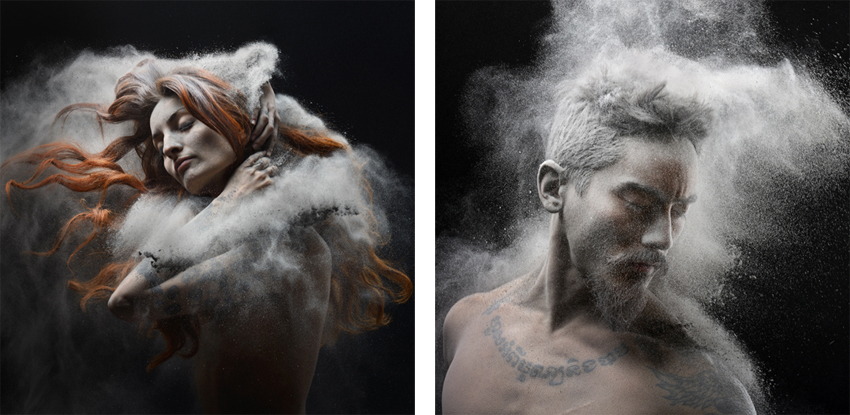 Just like the Dust series, Time of War depicts frozen bodies of naked dancers, covered in ashes which are erupting all around them, as if thrown by an invisible threat. The tense bodies and contracted muscles covered in primeval ash portray survival and the urge to live. Beautiful shapes and movements of nude bodies guide us through the cycles of life and death. Time is circular, but human beings always seem to be fighting against it and the series is about a struggle to survive and go forward. Ash symbolizes death and models are pushing against it, trying to get rid of it, twisting and turning against this mysterious darkness of mortality.
Time of War depicts frozen bodies of naked dancers covered in ashes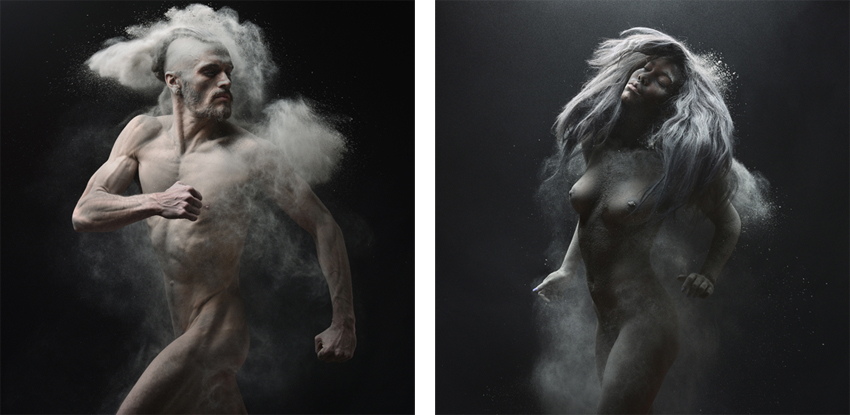 Drifting series
The series entitled Drifting present a journey through art history, where nudes fuse with still life paintings. The Drifting series is somewhere between his two other projects – the dynamic I Am Dust and sculptural Klecksography. Drifting's eerie atmosphere, pale bodies, chiaroscuro approach of light, muted color schemes, the aura of surreal and figures which seem like they are dripping off the table, either falling apart or withstanding paralysis, relate to the notion of transitioning, the moment of disorientation when bodies are recovering from trauma or vertigo. It resembles both Bouguereau's nudes and Dali's surreal paintings.
Drifting resembles both Bouguereau's nudes and Dali's surreal paintings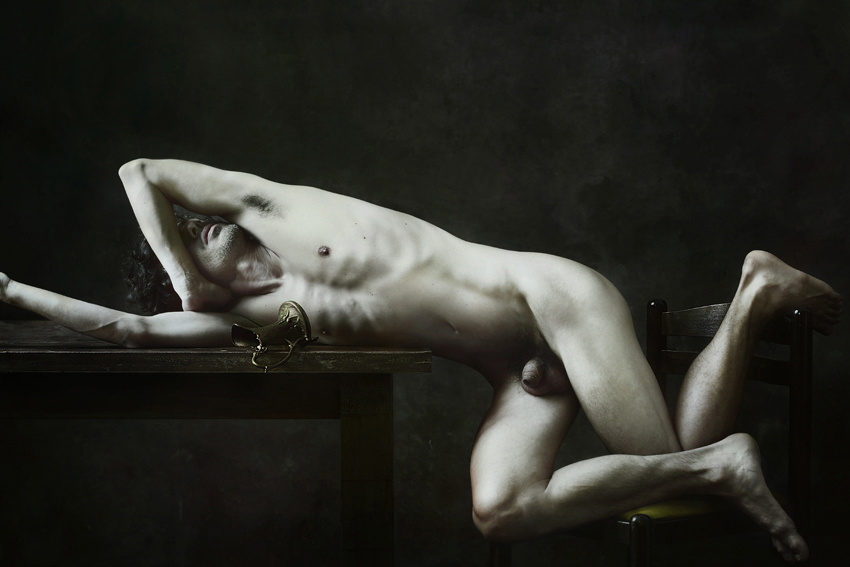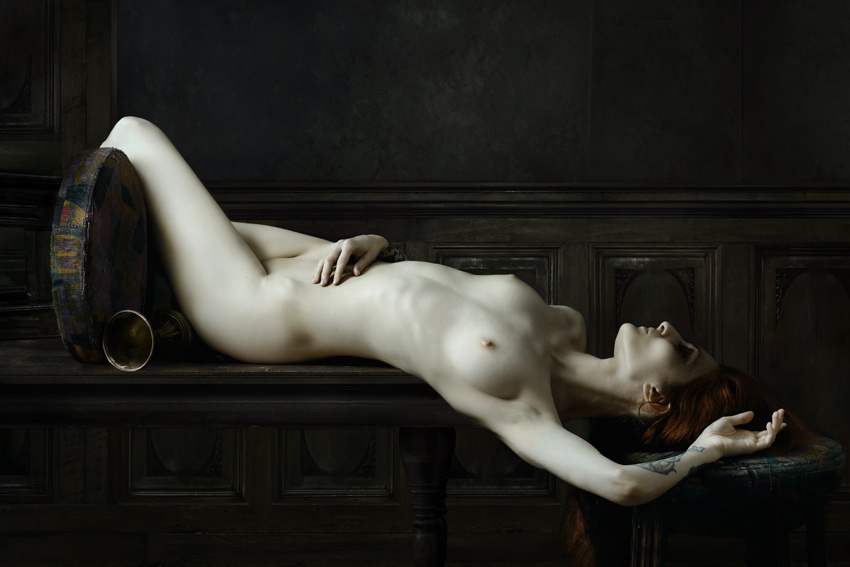 Awards and Exhibitions
The photographer won the prestigious Hasselblad Masters Award in 2012 in Fine Art category for his Dust series. He was the Grand Jury Member of Hasselblad Masters Award in 2013. It is an annual award, organized by the company Hasselblad, a Swedish manufacturer of medium-format cameras and photographic equipment, and given to selected photographers each year.
Olivier Valsecchi has exhibited his work in solo and group exhibitions around the world. In addition to that, he has participated in several art fairs, such as Lille Art Fair in France, Affordable Art Fair in England, Context Art Miami in the United States, and Raw Art Fair in the Netherlands. His first solo exhibition took place in Graz, Austria, at Galerie Fokus in 2010. The other venues where he exhibited include Galerie du Quartz in Brest, France; Galerie Le Carré d'Art in Rennes, France; Opiom Gallery in France and Galerie Maubert in Paris.
Publications
Valsecchi's work has gained interest of the international press, and it has been featured in numerous printed and web publications, such as Le Monde from France, Orlando Weekly from the United States, Réponses Photo from France, Profifoto from Germany, Eyemazing from the Netherlands, Le Figaro Beaux-Arts from France, Zoom from Italy, Rooms from the United Kingsom, Arte Fotografico from Spain, Image in Progress from Italy, Blink from Korea, Empty from Australia and many more.
Valsecchi is represented by Opiom Gallery in Opio.
Olivier Valsecchi lives and works in Paris, France.
Featured image: Olivier Valsecchi - Self-portrait with bubble, 2009 (detail)
All images courtesy of the artist