Life can be unpredictable, but amazing. One day you're a cleaner, mopping the floors to get yourself through art school, and on the next, your painting is sold for more than $400 000. Oscar Murillo is a versatile Colombian-British contemporary artist, who works in painting, installations, fine art, abstractions, and performance art. Thanks to his fast rise in the world of art, he is often called the 21st-century Basquiat. It's a notable title and it carries specific weight, but Murillo proves on daily bases that he's worth of being compared to one of the most famous artists ever.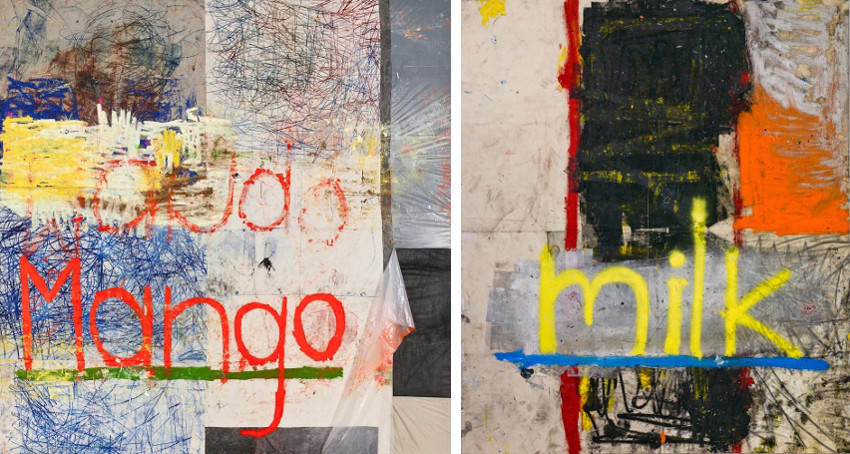 21st-century Basquiat
Murillo was born in La Paila, Colombia – a small town where his family worked in sugar-cane mills. Pursuing a better life, his entire clan immigrated to London, when Oscar was 10 years old. In the UK, he cleaned offices to put himself through art school. Murillo earned his BFA in 2007 from the University of Westminster in London and completed his MFA in 2012 at the Royal College of Art. After graduating, he worked as a teacher in a secondary school, but soon he quit his job and traveled to South America. After that, he dedicated himself to art entirely. Diverse and original from the beginning, Murillo's art practice includes performance, installation, publishing, painting and sculpture – where he uses a variety of different media and techniques, including text, recycled materials, and fragments collected from his studio. His defiantly un-precious paintings are usually made by using a broomstick – he even stitches together multiple canvases, listing "dirt" among used materials and tagging the work with large enigmatic words (YOGA, CHORIZO, MILK).
Speaking of design and the tools used to create his art, Oscar Murillo is extremely versatile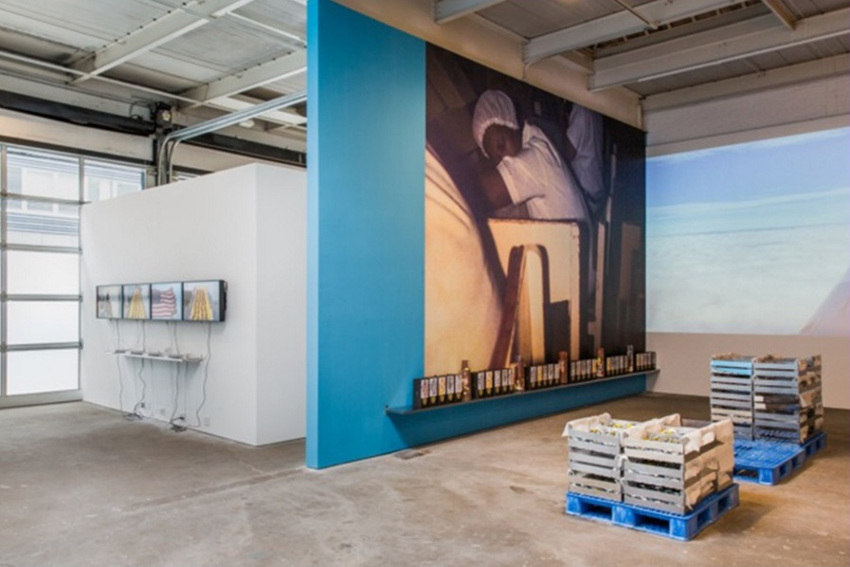 Murillo meets The Rubells
The buzz surrounding Murillo began in 2011 with his performance art piece Animals die from eating too much – – yoga! – when he had several women twisted into yoga poses as the audience watched. Oscar Murillo's meteoric rise in the United States came next year, in 2012. Donald and Mera Rubell, one of the world's largest, privately owned contemporary art collectors, have bought pieces made by artists like Richard Prince, Maurizio Cattelan, Mike Kelley, Keith Haring and Basquiat early in their careers. After seeing a suite of paintings Murillo created for the London dealer Stuart Shave, shown at the Independent Art Fair in New York, they came and met Murillo in a studio at Hunter College, where he had a residency. Ms. Rubell recalled that first meeting:
"We arrived at 9 a.m., and he looked disheveled, exhausted, like a homeless person. He'd stayed up 36 hours straight and had made seven or eight paintings, so he had something to show us. They blew us away. We ended up spending four hours talking to him." The Rubells bought all the work and invited Murillo to their Contemporary Arts Foundation in Miami where he stayed for six weeks and created a series of large-scale canvases (one was a seven-meter-long painting which he made in the private museum of Don and Mera Rubell). The star was born! In 2013, in just four months, his auction price raised from $37,500 (at his auction debut at Sotheby's) to $400,000 (at Phillips)!
The buzz surrounding Murillo began after the performance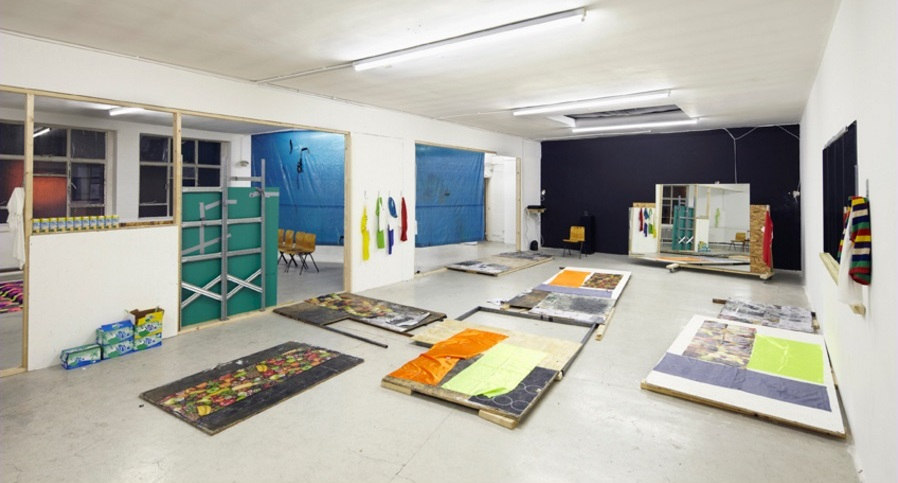 Cross-cultural Ties to London and Colombia
That same year, the South London Gallery held the Murillo's first major solo exhibition in the UK. He presented stitched canvases, drawings, sculptures and films, tables constructed from copper sheets, used as flooring in previous shows, and floor pieces made from masses of pulped biro drawings… For this show, Murillo incorporated an active component in the form of a lottery – the individually screen-printed, artist-signed tickets. This artist's large-scale paintings at first glance appear chaotic, but in fact, they are meticulously comprised of roughly made, stitched canvases. "I like to cut up the canvas in different sections, work on them individually, fold them and just leave them around for months. I don't work on a painting with the goal of finishing it or having a complete and finished painting at the end of a work process."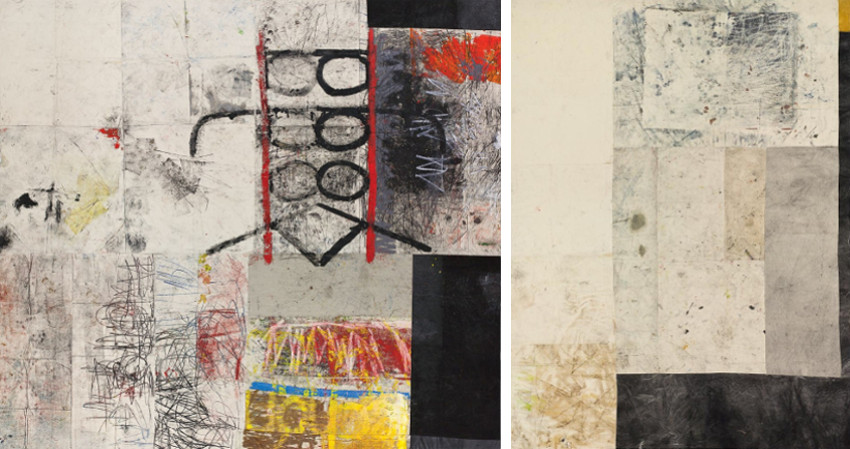 Family Parties
Murillo's paintings, video art, installations, and performances evoke such themes as community, very much influenced and inspired by his cross-cultural ties to London and his native Colombia. He also works a lot with video and participatory installation. Murillo's work titled "family parties" is composed of vibrant films, saturated with motion and color, of intimate gatherings of his friends and kin. These pieces are illustrations of localized ceremony and everyday happenings – the celebration and ritual of a collective public. "I've been very cautious as to how I appropriate these family parties and bring them into the realm of my art practice and out to the public as an event that happens within the art world."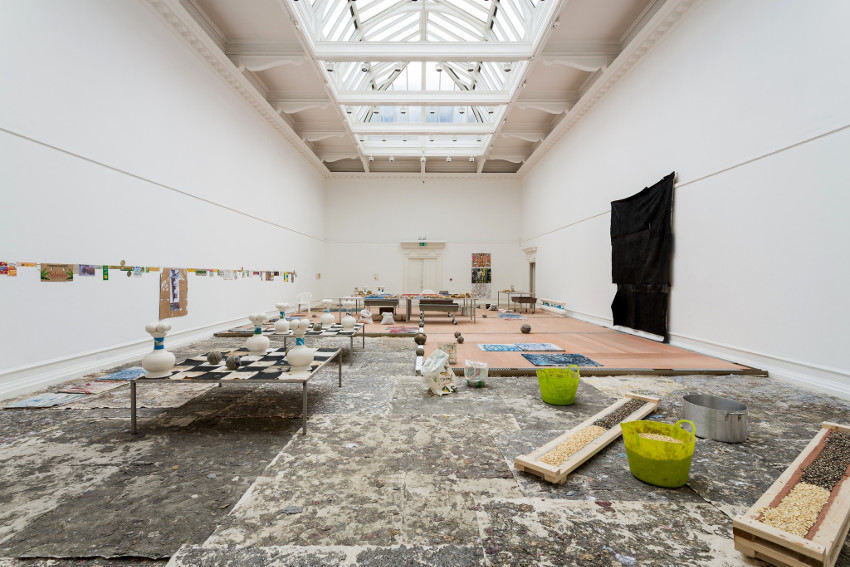 Project Frequencies
In 2013, Murillo created Frequencies, an international art project in collaboration between students aged primarily 10 to 16 from schools across the globe. Over the course of 3 years, Frequencies are to travel across the globe to record the creative expression of children on the cusp of growing into young adults. Itinerant Works is managing the production of the entire project in collaboration with Oscar Murillo and David Zwirner Gallery. The idea of this project is that Murillo visits different schools in the world; inspiring children to document their creativity on canvases are temporarily affixed to classroom desks. The project aims to offer cross-cultural and social insights into youth communities around the world.
Frequencies is an international art project that includes students aged from 10 to 16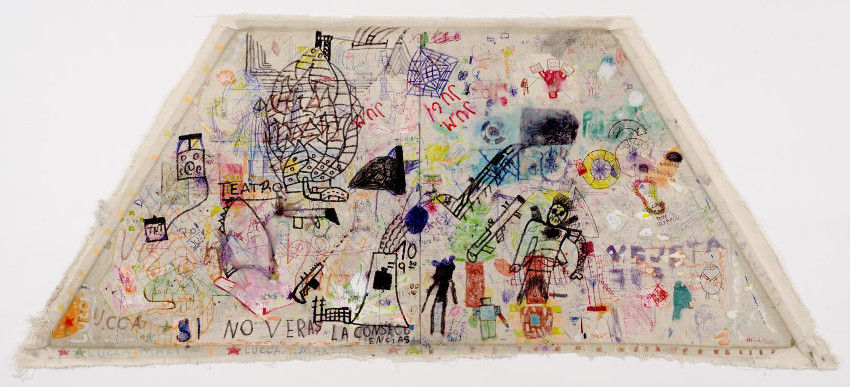 Burrito at Christie's
In 2014, at Christie's, the bidding opened on a Murillo's abstract painting filled with black scratching, titled Burrito. In the first minutes, the auctioneer announced that there were already 17 telephone and absentee buyers vying for the canvas, made in 2011. It was sold for $322,870, six times more than estimated.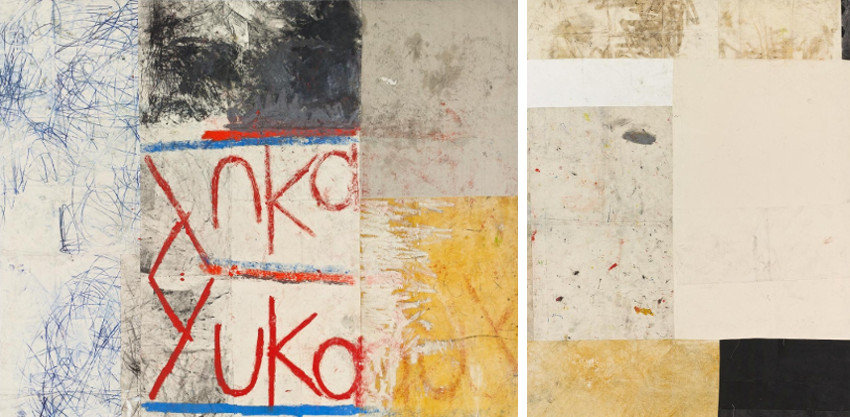 Protest at Centro Cultural Daoiz y Velarde in Madrid
In the same year, Murillo created quite a commotion in Madrid – a protest banner included in his installation was removed from the artwork by a museum guard. Murillo's solo show was to inaugurate the newly-built cultural center Centro Cultural Daoiz y Velarde in Madrid. Centro Cultural's construction took 7 years and €13 million to complete. Due to the government-imposed austerity measures and spending cuts, a group of protesters spontaneously formed outside on the day of the opening, carrying signs with slogans such as "€13 million, 7 years—cultural center or electoral propaganda?" Murillo was deeply surprised and moved by the protesters and their cause, having in mind that he had no prior knowledge of the controversy surrounding the building. When he was informed, Murillo decided to take an action, so he grabbed the banner and hung it in an installation titled De marcha, ¿una rumba? No, sólo un desfile con ética y estética standing in the middle of the exhibition. "This is a work in motion. What I do depends on the things happening around me." But the banner had been removed and when Murillo asked the guards to put it back on claiming that it was the part of his exhibition, the manager refused at first. However, after Murillo's protest, the banner was re-hung.
The artist caused quite a commotion in Madrid by including a protest banner in his installation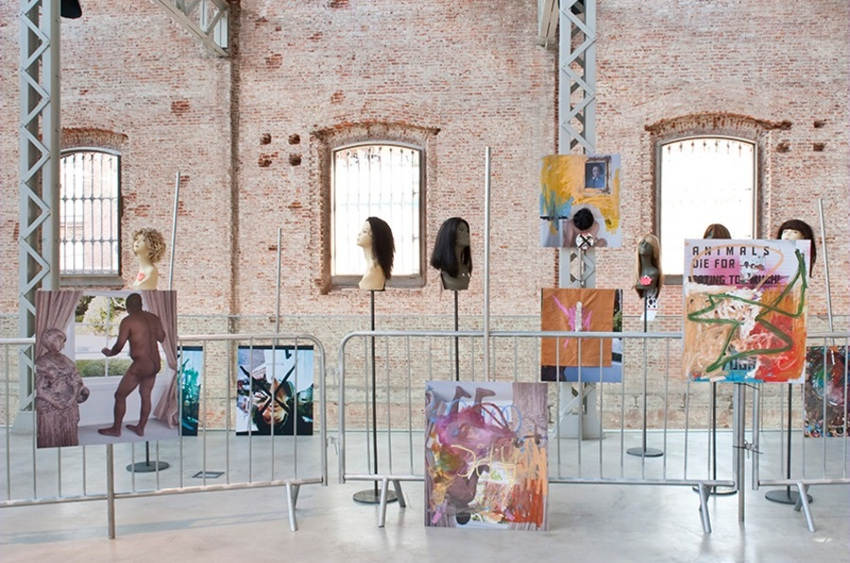 Forever Now: Painting in an Atemporal Age at MoMA
The show included pieces from 17 artists who, in their refusal to allow the viewers to define or even meter time by artworks, reflect a singular approach that characterizes our cultural moment at the beginning of a new millennium. William Gibson, a science fiction writer, identified this phenomenon and used the term "a-temporality" to describe a cultural product of our moment that paradoxically doesn't represent, through style, through content, or through a medium, the time from which it comes. The exhibition brought a fresh breeze into the art world and included several of Murillo's canvases hung on the wall and eight more lying outstretched on the floor, where visitors are welcome to handle them – walking on them, wrapping themselves up in the canvases while cameras snapped away as they posed. The idea behind this experiment was to criticize art market, even though (or, maybe on purpose) the critics go straight to his artwork's high prices. But, the stir doesn't end there. One of the canvases, titled Grid, was stolen from the exhibition. Murillo's canvas displayed on the floor in the exhibition had disappeared. Letting visitors handle the canvases apparently left them vulnerable to, say, theft by a visitor with a backpack while a guard was distracted. Art collectors have come to understand that Murillo is a new Basquiat, however reductive or maybe pretentious that might seem. Just like Basquiat, Murillo is black, ambitious, and engaged with both art history and graffiti. And, what is most important: Oscar Murillo, like Basquiat, makes work that speaks to class issues.
Among his most recent exhibitions, Forever Now: Painting in an Atemporal Age at MoMA stands out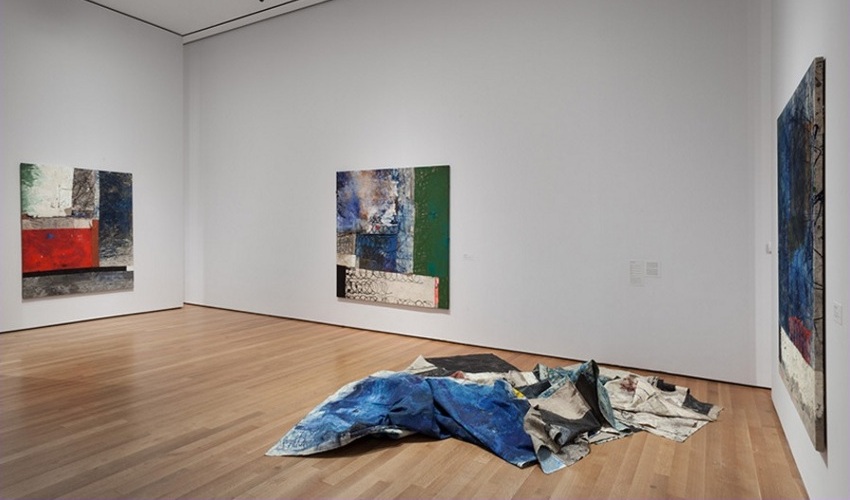 The New York Times and the Story of Flushed Passport
Nothing short of brave – Murillo decided, in mid-flight to Sydney, to flush his passport down a toilet. What was behind it, an artistic instinct or motivation for a protest? Quite possibly the both. As he explained in his statement to The New York Times, there was originally no intention to start a protest, but it has undeniably become one. Destroying his passport was the perfect opportunity to challenge the conditions which allow him to travel the world, as a citizen. A disruptive situation created by the art undoubtedly has the reasonable potential to engage and address different structures of power in the contemporary society. He speaks of his own status as an artist, the state as an arbiter, and of course, the question of mobility in general. After being detained for two days, despite having a valid Colombian passport, Murillo was deported from Australia.
Major news houses reported about the incident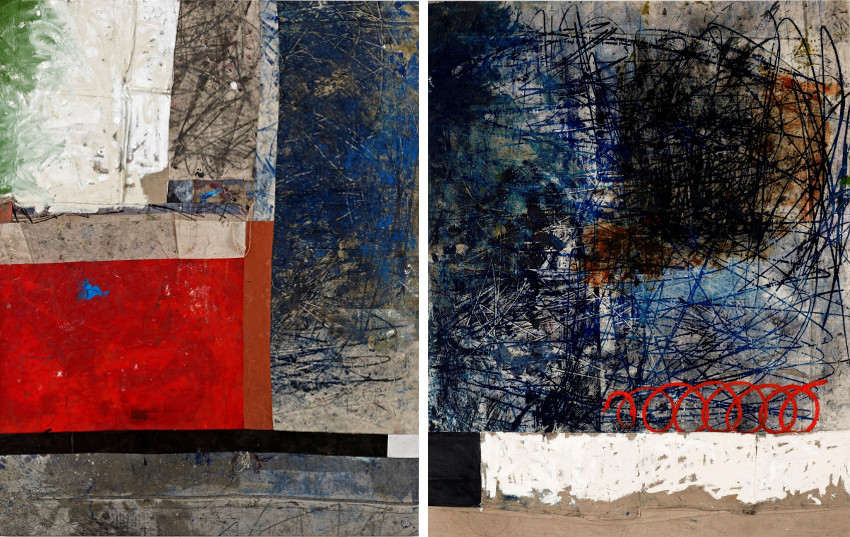 A True New Star
Young age often means a lack of experience. In the world of art, tidal waves of inspiration and tireless work can compensate that inexperience. It shows dedication and hunger for continuous progress – markings of a true artistic star. Now it's up to Murillo to show everyone just how bright he can shine, how many people can his art reach and how many of them will be influenced and emotionally moved. So far, he's on a right track to greatness.
He is represented by David Zwirner and Carlos/Ishikawa.
Oscar Murillo lives and works in East London.
Featured image: Oscar Murillo – portrait, photo credits Rebecca Reid