Otto Alexis Schade López, better known as Otto Schade, or simply OSCH, is a Chilean-German architect and artist, best known for his unique paintings, where he perfectly fuses abstract and surreal art. He is also an avid street artist, photographer and sculptor, and has even done some work in collage, prints, drawing and installation.
Background
Otto Schade was born on October 30th, 1971 in Chile. His talent was evident even from an early age, when he started drawing. Otto spent his academic years at Bio Bio University, studying Architecture, and Construction and Design Architecture in Concepcion, Chile. He never had any formal art education, but sometime around his graduation in 1995, he took up oil painting classes, which helped him a lot develop his artistic expression.
Inspiration and Style
Even though Otto received numerous awards for his architectural achievements working on both public and private projects, the Chilean finds his greatest passion to be painting. Through his artwork, Schade tries to "break the flatness of a canvas", as he puts it. His style blurs the boundaries between surrealism and abstract, enabling him to perfectly capture and display his obsessions and dreams. In the abstract part of his paintings, Schade has been experimenting with layers, creating deepness in his spatial representations. Sometimes, his artwork is inspired by political issues. Having grown up under the dictatorship of Pinochet, Schade learned to think as a rebel, and produce his work as a reaction to a system.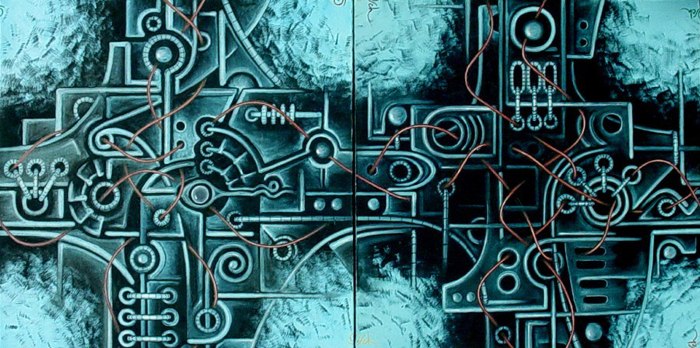 Otto's paintings are unique in style with a refined technique – often characterized by ribbons which are painted meticulously in layers to produce his imagery. As his greatest source of inspiration, he cites painters like Salvador Dali, Max Ernst, M. C. Escher and Roberto Matta – the effect these artists have on Otto are especially noticeable in his surrealist paintings. The artist's main choice of surface is canvas, though sometimes he chooses board, and since he started creating murals and graffiti, the walls of numerous cities became his "second canvas".

Otto Schade as a Street Artist
Although Schade has been painting since 1996, his murals began to appear in East London around 2009. Since then, he has gained an enormous fanbase worldwide. Just like with his paintings, Otto's murals combine the imagination of surrealism and the freedom that abstract art provides. His highly detailed trademark ribbons are there as well. Many factors are at play when it comes to realization of Schade's ideas. They sometimes depend on the wall itself. Once an idea is shaped, he sketches the image on a piece of paper, prints it, and cuts the pieces using a laser, due to the complexity of stencils. When the spraying is done, he uses markers to shade the ribbon-structures, giving them depth and a three-dimensional appearance.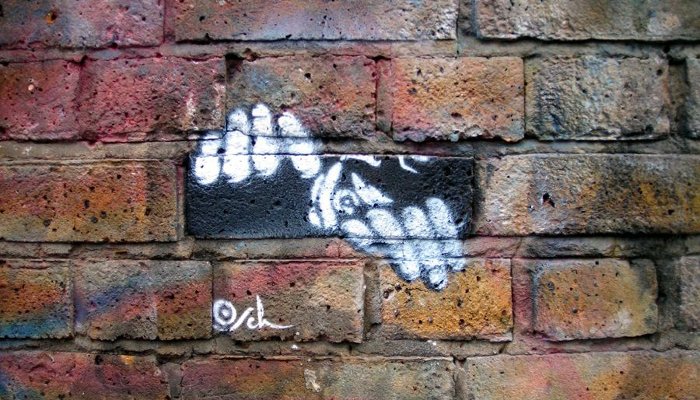 Apart from painting and murals, Schade also creates collages, illustrations, sculptures, photographs and prints.
Exhibitions
Schade's artistic journey and pursuit of new ideas and inspirations has taken him around the world. He has exhibited in cities like Berlin, London, New York, Moscow, Amsterdam and Concepcion, to name a few. Some of his more notable one-person exhibitions include Exposition, held in Luxemburg, and Orbs and Ribbons, hosted by Fabrik Gallery in Hong Kong, in 2014. Otto has also participated in numerous collaborative shows and art festivals, like the 2014 Around the Block at Well Hung Gallery, London and the 2012 Urban Barrier exhibition at Ben Oakley Gallery.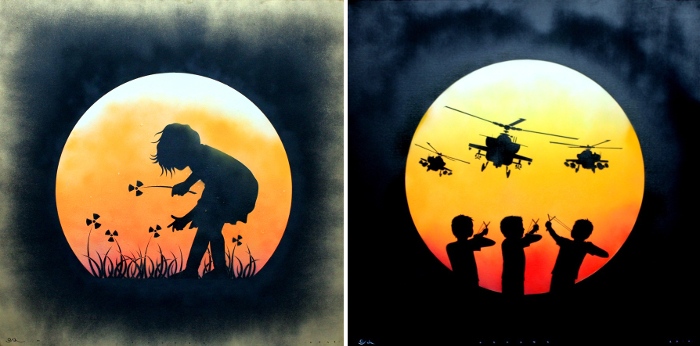 His pieces are a part of many public and private collections – some of his more famous collectors include Queen's Brian May, Jamie Oliver, Naomi Campbell, and the British Prime Minister David Cameron. He is represented by Ministry of Walls gallery.
Since 2006, Otto Schade has been living and working in London, UK.