P. Gnana is a distinguished painter and sculptor in Singapore, whose pieces revolve around the depiction of a celestial cow, which is a contemporary representation of an animal revered in old Indian theology. His cows are truly magnificent and enormous mythical creatures, placed in a modern city environments. In a way, these cows symbolize the lost spirituality floating over the busy urban lives we live. Gnana's work is characterized by experimentation, which has been one of the main instruments in his creative journey throughout many years.
[caption id="attachment_295950" align="aligncenter" width="855"]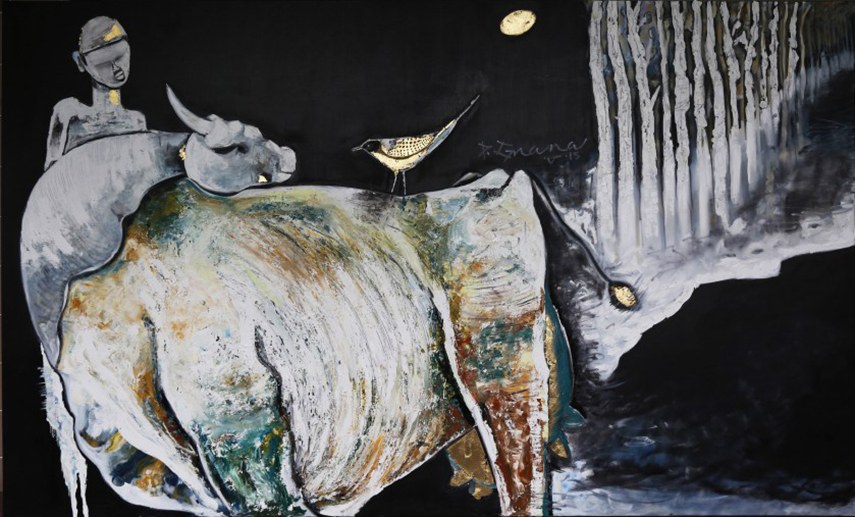 P. Gnana - She's the Universe, 2015[/caption]
Paintings and Sculptures of P. Gnana
Gnana's paintings are usually considered the metaphorical representation of the cow. Besides the depiction of cow and diverse spiritual values, P. Gnana also portrays various dimensions of human relationships. He believes that the theme of the mother and the child is a great example of a selfless relationship and this is the reason we can often see families and children in his imaginative paintings. When it comes to his artistic processes, he is particularly fond of using found materials. Usually, I have ideas first before looking for suitable materials. The ideas are never fixed, says the artist on his creative procedures. It is important to mention that fourteen of the artist's large-scale abstract works were commissioned in 2005 for the prestigious International Tech Park in Chennai, which was a tremendous and memorable success.
Besides the depiction of cow and new spiritual values, P. Gnana also portrays various dimensions and complexities of human relationships
[caption id="attachment_295956" align="aligncenter" width="855"]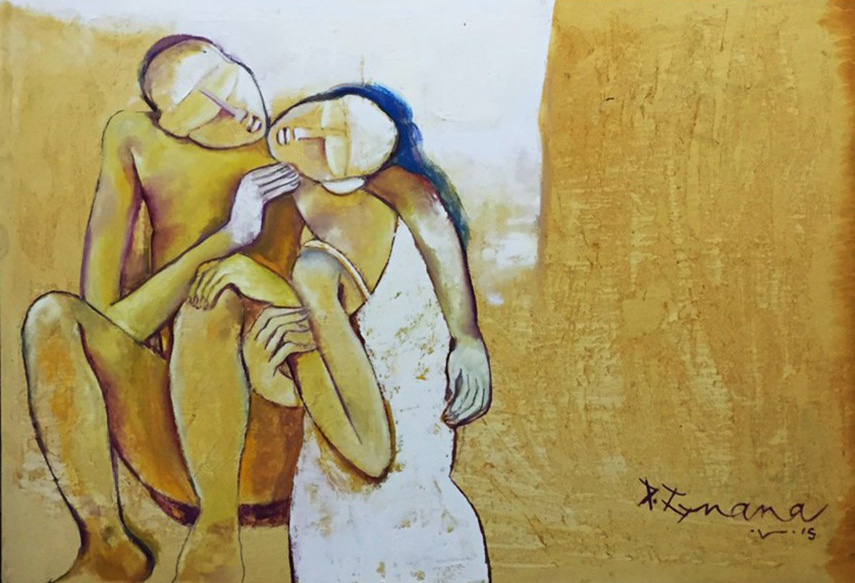 P. Gnana - Zenith of Life, 2015[/caption]
Important Exhibitions and Awards
The artist's innovative pieces are showcased throughout Southeast Asia, Europe, and South Asia and they can be found in the collection of the Former President of the Republic of Singapore and the Singapore Museum. The artist is also a recipient of the scholarship of the LASALLE College in Singapore, from where he received his formal artistic training, and many of his works have been sold at the eminent Masterpiece Auctions in 2008. His important eighth solo exhibition, entitled The Eternal Cow: Sculptures and Paintings, was presented at the Singapore Philatelic Museum in 2009 and it was a great success. Nowadays, in 2016, the artist participates in expo events in Singapore and Malaysia. Gnana's creative journey that lasts over twenty-five years allowing him to incorporate some traditional values into the world of constant change and fluctuating human emotions.
P. Gnana lives and works in Singapore.
Featured image: Portrait of P. Gnana - Photo Credits Darinia Khongwir
All other images courtesy of the artist.