Paolo Cirio is an Italian conceptual artist known for his distinctive and provocative installations, prints, videos, online performances and interventions in public spaces. His inspiring artworks deals with diverse contemporary issues in fields such as copyright, privacy, transparency, finance, democracy, environmentalism, geopolitics, militarism, cyber-security, and transmedia fiction affected by communication networks. The artist uses these networks as material to create his pieces.
He is particularly interested in how media and specific arrangements of information can influence the creation and perception of cultural, political, and economic reality as well as personal emotional states, interpersonal relationships and instinctive human behavior.
Overexposed (2015)
One of Cirio's latest projects is a public intervention Overexposed, composed of a series of nine unauthorized pictures of high-ranking U.S. intelligence officials throughout major cities including New York City, London, Paris and Berlin.
He obtained snapshots of NSA, CIA, and FBI officers through social media hacks. Then, using his HD Stencils graffiti technique, he spray-paints high-resolution reproductions of the misappropriated photos onto public walls. The work considers the aftermath of Edward Snowden's revelations and targets some of the officials responsible for programs of mass surveillance or for misleading the public about them. Cirio's open-source intelligence (OSINT) utilizes intelligence collected from publicly available sources to satirize both an era of ubiquitous mass surveillance and overly mediated political personas. The Overexposed installation was presented at Cirio's solo exhibitions at NOME gallery, Berlin in May 2015.
Solo Show at Nome Gallery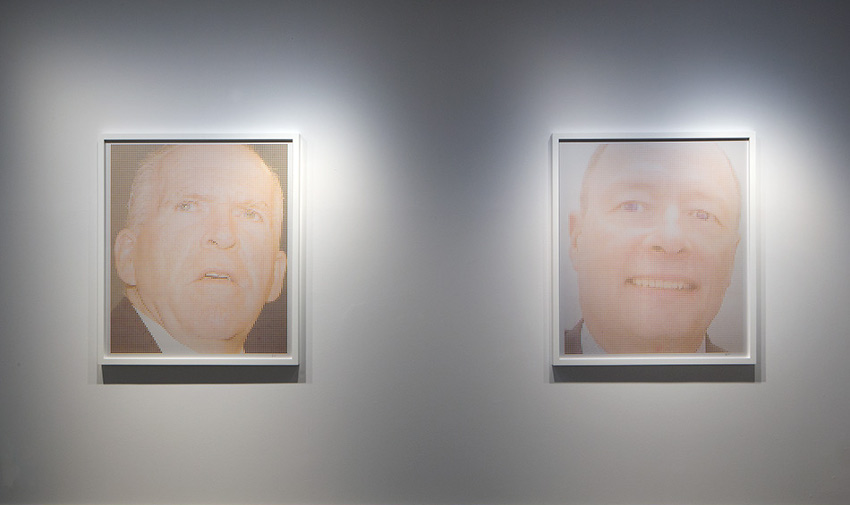 Daily Paywall
In 2014 Paolo created an online and print publication called the Daily Paywall, through which he was providing access to all articles hidden behind the paywalls of publications including the Wall Street Journal, Financial Times, and The Economist. In order to access the articles in the first place, Cirio has had to sign up for paid accounts to the news services and then by executing a script he created, he can pull the whole lot. Around 200 articles a day are published across these sites, and altogether over 50,000 have been published in total this year. He redistributed the pay-per-view articles for free and offered to pay readers and writers of the news articles by crowdsourcing the project.
Daily Paywall was online for five days, with over 60,000 articles and 1000 print copies distributed as a free paper available in custom newsracks and bookshops throughout New York City. The ISP hosting DailyPaywall.com disabled the site after receiving complaints of international Copyright infringement from Pearson PLC, the largest education and publisher company in the world and owner of the Financial Times and The Economist. Also The Wall Street Journal proceeded to terminate the artist's subscription due to a violation of their Terms of Service.
Daily Paywall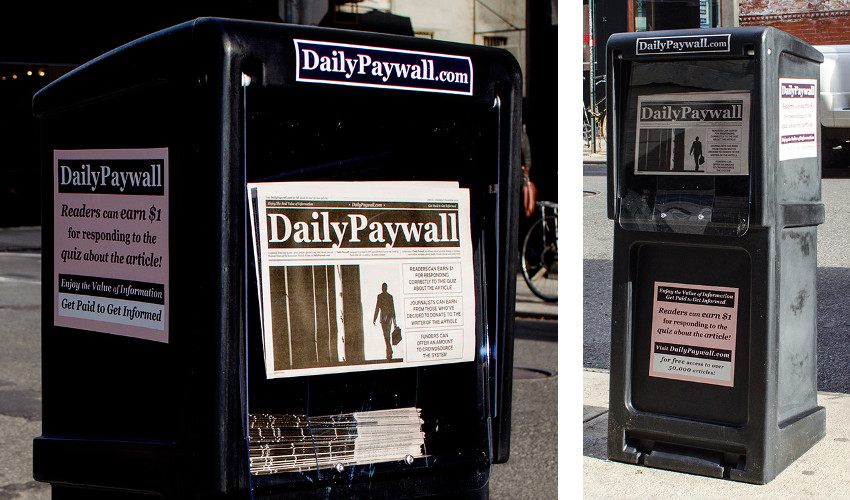 Global Direct
In 2014, he created the Global Direct project, a creative political philosophy that the artist outlined for worldwide participatory democracy within the potentials offered by the Internet. To illustrate the conceptual work the artist drew a series of fifteen diagrams of alternative protocols, procedures and policies for actualizing a global participatory democracy. These creative organograms of Global Direct were informed by research on contemporary forms of democracies which the artist assembled and presents as a documentary component of the work. The research and video statements by philosophers and practitioners of participatory democracy are integrated into the artwork to inspire the audience to think about the formation of alternative political frameworks.
Global Direct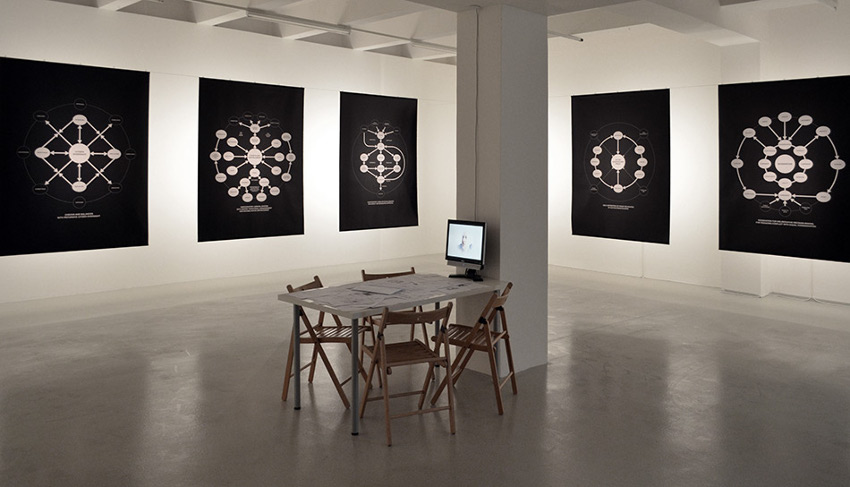 Loophole for All
The Loophole for All investigated offshore jurisdictions and the idea of having a company "on paper" through a hack and leak of Cayman Islands financial information. At Loophole4All.com, the real identities of anonymous companies were on sale at a low cost to democratize the privileges of offshore businesses. This performance generated international media attention, engaged an active audience, and provoked outrage from authorities on the Cayman Islands, global banks, the companies' real owners, international accounting firms and law firms. Ultimately he attracted ten international legal threats and two cease-and-desist letters against his artwork from Chinese companies. After a few weeks of selling this conceptual works in the form of limited editions of firms' identities, PayPal froze the profits.
Loophole for All won the first prize of Prix Ars Electronica's award Golden Nica of Interactive Art in 2014, and it has been exhibited in many galleries and museums including Centre Culturel Bellegard, Toulouse, France (2015); TENT, Rotterdam, Netherlands (2014); ZKM in Karlsruhe, Germany (2013); Architectural Association, London (2013,) and Centre for Contemporary Culture Strozzina, Florence, Italy (2013).
Loophole for All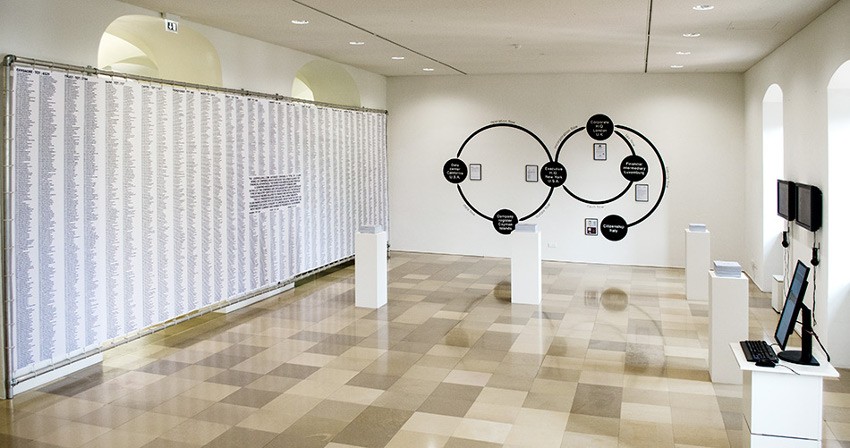 Anti-Social Sculptures
In his practice, Cirio investigates the power of manipulated information defining his artwork as the sculptural performance of information's power, with correlations to Joseph Beuys' idea of Social Sculptures, who illustrated art's potential to transform society by using structures in society made by people, language, actions and thoughts. Cirio's methodology was formalized in a series called Anti-Social Sculptures.
Street Ghosts
With the Street Ghosts in 2012, he printed and posted, without authorization, life-sized pictures of people found on Google Street View at the same physical locations where they were taken. The posters were printed in color, cut along the outline, and then affixed with wheatpaste to the walls of public buildings without authorization. Street Ghosts took place in public spaces of many cities, including London, Berlin, San Francisco, Montreal, New York, Stuttgart, Amsterdam, Brussels, Namur, Toulouse, Lyon, Marseille, Barcelona, Mexico City and Sydney.
Street Ghosts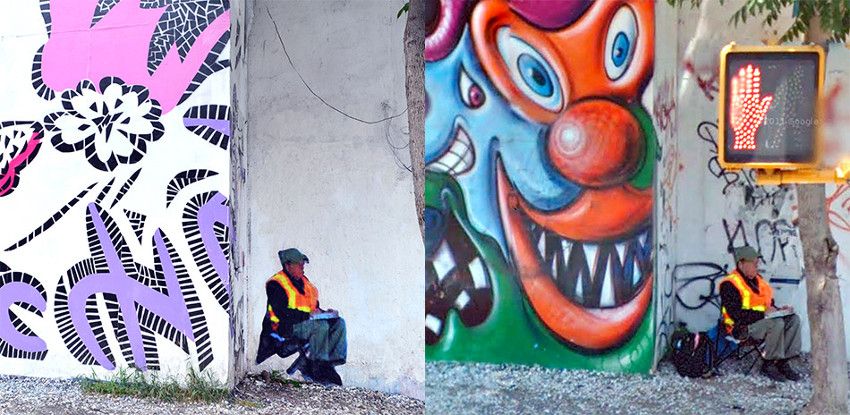 Persecuting.US
In Cirio's web project Persecuting.US over a million Americans were sorted by political affiliation and exposed to public persecution in the aftermath of the 2012 president ial election. For months, the Italian artist secretly stole data from Twitter.com; using a sophisticated sifting process, he determined the political affiliation of those people and scored their public statements and interactional connections in terms of the likelihood that they aligned with a political position. This work breaks boundaries in art transgression with Anti-Social Sculptures made by a mass of people arranged and involved in an artwork without their permission.
Persecuting.US in NYC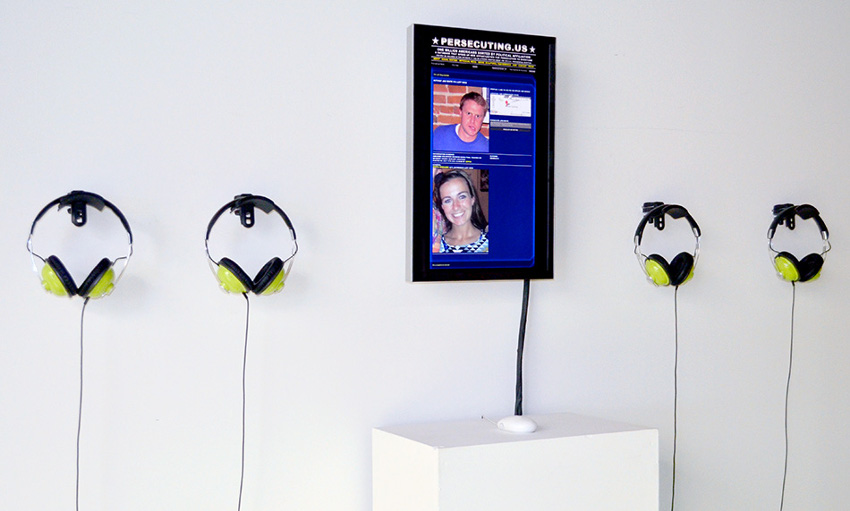 Transmedia Storytelling - The Big Plot and Drowning NYC
Since 2009, Paolo has been working with experimental storytelling in which actors and audiences combine to present real and fictional stories across various media platforms. This led to his theorization of a genre of transmedia called Recombinant Fiction, able to drive tactical activism and dramatic purposes by identifying valuable, distinctive characteristics and objectives. This political genre of transmedia storytelling has resulted in two projects: The Big Plot (2009), a romantic spy story about a dysfunctional and surveilled sociality, and Drowning NYC (2010), about rising sea levels caused by global warming and how urban populations will be impacted by them.
The Recombinant Fiction and its related projects have been showed at the CinemaCity, Novi Sad (2008); Courtauld Institute of Art in London (2009), Corner House Institute in Manchester (2009), National Museum of Contemporary Art Athens (2009), ISEA 2011, File Festival in Sao Paulo (2011), among many other media art events. Cirio also has developed an in depth workshop program entitled Tactical Transmedia Fiction that he leads internationally.
The Big Plot
P2P Gift Credit Card - Gift Finance
Paolo started to work on critical finance in 2010, resulting in the piece P2P Gift Credit Card - Gift Finance. This work proposes an alternative financial model based on a Peer-to-Peer architecture. The artist issued thousands of counterfeited illicit VISA credit cards in order to design a visionary monetary policy, named Gift Finance, which can be applied to any currency; it describes how the creation and distribution of money should be managed democratically.
Gift Finance is the conceptualization of the democratic creation of money by ordinary people in order to redistribute wealth in society. Thousands of the illicit credit cards have been distributed worldwide by mail and public actions. This project was a utopian proposition and radical provocation to engage people with critical financial issues, inspiring inventions of financial alternatives and questioning the nature of money, credit and debt.
P2P Gift Credit Cards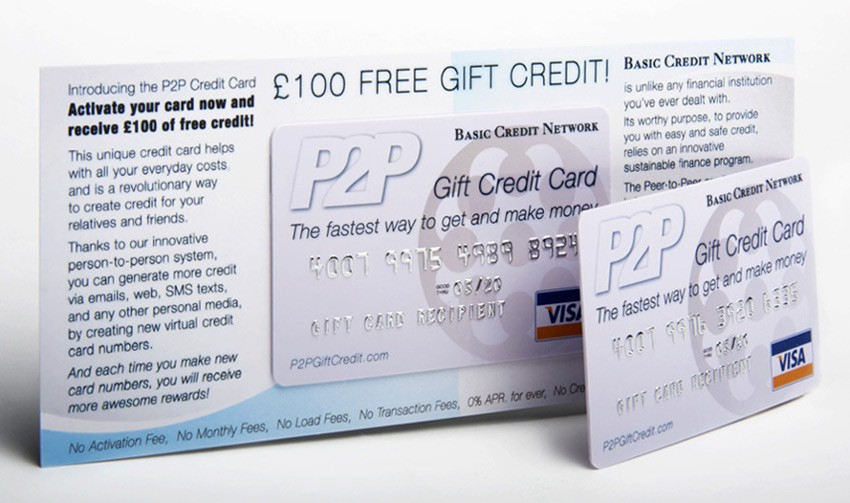 Hacking Monopolism Trilogy
Hacking Monopolism Trilogy was Cirio's renowned project created in conjunction with an Italian artist Alessandro Ludovico and partially with a Swiss–Austrian–American duo Ubermorgen, consisting of lizvlx and Hans Bernhard.
The trilogy is composed of Face to Facebook, Amazon Noir, and Google Will Eat Itsels artworks in which the artist explored the technical and economic vulnerabilities of leading Internet companies at the time of their expansion. All the projects were Media Performances staged through the global media for millions of spectators worldwide. Through this artworks, Cirio artistically reconfigured the way Internet giants concentrate, misappropriate and monetize large quantities of public information and user interactions. The trilogy have received several prizes and have been showed in major exhibitions around the world.
Google Will Eat Itself
In 2005, Cirio worked on the project Google Will Eat Itself (GWEI) which questioned Google's monopoly on information management. The world leading company specialized in Internet-related services and products was hacked in order to be bought with its own money. Revenue was generated through Google's own "AdSense" initiative by programming bots to automatically click on banner ads placed on a network of hidden websites. The money from the scheme was used to buy Google's shares and hand them over via GTTP Ltd., a firm set up for the artwork, which could ultimately distribute the shares to everyone, in order to turn Google into a public company. In an attempt to stop the project, Google sent a cease and desist letter to the artists.
Google Will Eat Itself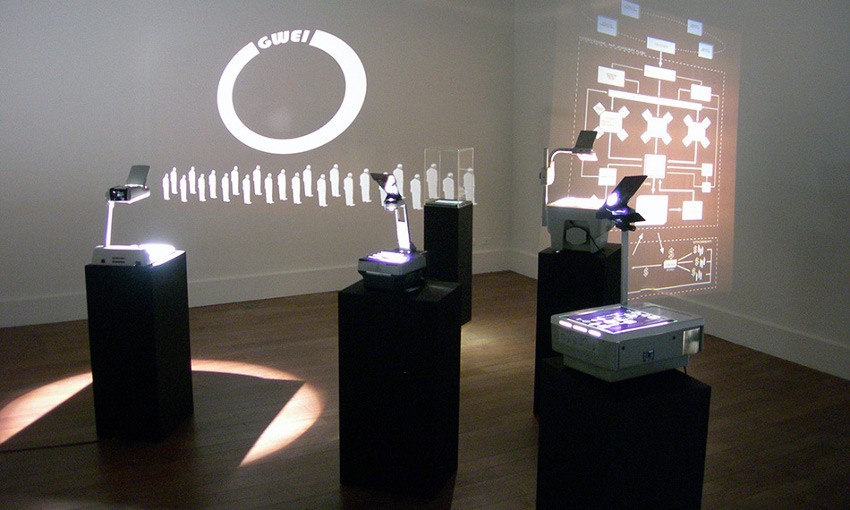 Amazon Noir
In 2006, to criticize the abuse of copyright laws for the protection of digital content, Cirio created Amazon Noir in collaboration with Alessandro Ludovico and Ubermorgen. This work eluded Amazon.com copyright protections through a sophisticated hack of the "Search Inside" service. He scraped complete texts of books, reassembled them into PDF files and illegally redistributed them for free. This media performance was documented through various types of offline conceptual installations and with the appropriated books printed and assembled as if they were the originals.
In 2008 Amazon Noir won the second prize at the Transmediale festival in Berlin and first prize at Stuttgart Film festival.
Amazon Noir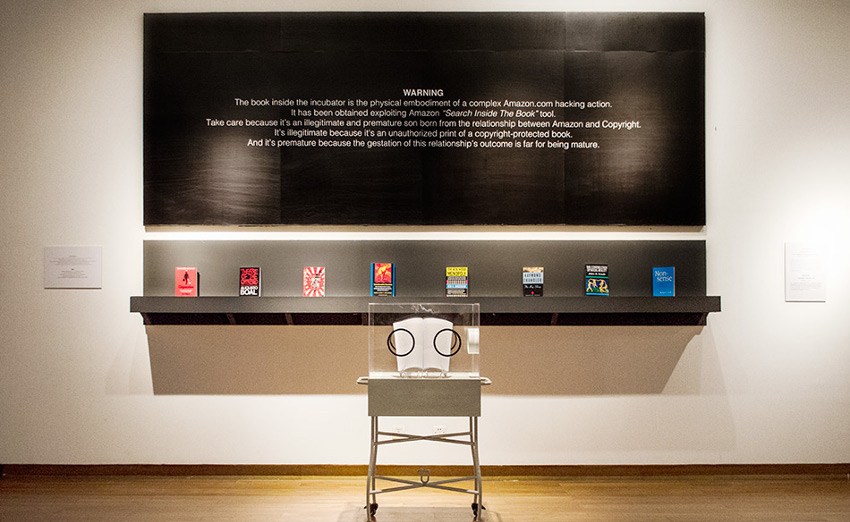 Face to Facebook
Face to Facebook was the third work in a Hacking Monopolism Trilogy. The project consisted of appropriating one million FB profiles, filtering them with face-recognition software, and then publishing 250,000 of them on Lovely-Faces.com, a custom-made dating website designed by Cirio, with the profiles sorted according to facial expressions.
The work practically questioned online privacy through one of the web's most iconic platforms.
In 2011, the artwork won Prix Ars Electronica's Award of Distinction of Interactive Art in Linz. In the same year, the trilogy and Face to Facebook were covered by over a thousand mentions in the international media including CNN, Apple daily HK, Fox News, Tagesschau, Spiegel, USA Today, The Independent, The New Age, and many other global mainstream media sources. Amongst the wide media attention and personal reactions, the project generated a number of threats including eleven legal threats, five death threats, and several letters from the lawyers of FB.
Face to Facebook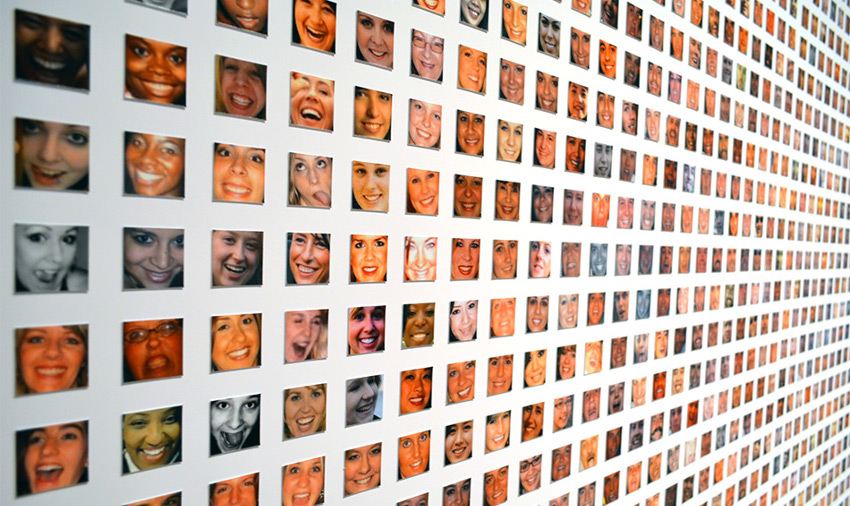 Illegal Art Show
In 2004, Cirio was an organizer and fundraiser for a series of dynamic and interactive street art exhibitions called Illegal Art Show. During these unauthorized exhibitions held in London, UK, as well as in Milan and Turin, several artists converged to freely build and perform their works in a public urban environment. Hundreds of artists were involved and several media outlets covered the events.
Anti-NATO Day
Cirio works with the idea of shaping flows of political, and economic global structures, and in doing so explores systems of control, knowledge, and information. One of his first projects was unfolded around an anti-NATO militarism web portal that was founded in August 2001. The international web portal titled StopTheNato.org was updated by Cirio periodically until 2006 covering news about NATO's expansion into Eastern Europe, its military bases and operations after the September 11 attacks. The website primarily designed Internet protests to interfere with NATO's website and its summits through participatory DDoS (distributed denial-of-service attacks).
On May 28, 2002, during the meeting of NATO leaders at an air force base near Rome, Italy, Cirio organized the Anti-NATO Day, during which activists could flood NATO's website through a Flash script coded and distributed by the artist. Even though the action did not disrupt the target, because of the threat and the technology developed for the project the artist was investigated by the Department of Defense of Canada and U.S. through Verisign's intelligence. Furthermore, the action was covered by international media outlets in Japan and Belarus and was studied by The Eisenhower Institute in the U.S.
Exhibitions and Academic Background
Cirio has exhibited in major art institutions, such as at the Utah Museum of Contemporary Art, Salt Lake City (2015); Victoria and Albert Museum, London (2014); Museum of Contemporary Art of Denver, Colorado (2013); Museum of Modern Art, Rio de Janeiro (2012); Wywyższeni National Museum, Warsaw (2012); Stedelijk Museum voor Actuele Kunst (SMAK), Ghent (2010); National Museum of Contemporary Art, Athens (2009); Museum of Contemporary Art, Tapei (2007); Museum of Contemporary Art, Sydney (2006); and NTT InterCommuication Center, Tokyo (2006), among others.
He was born in Piedmont, in Italy's northwest and borders Switzerland and France, in 1979. He earned his Bachelor of Arts in Drama, Art and Music Studies from the University of Turin in 2005, where his dissertation on performance in information spaces drew on his experience as a media activist. He regularly gives public lectures and workshops at leading art festivals and universities worldwide.
He is represented by NOME, contemporary art gallery in Berlin, Germany.
Paolo Cirio currently lives in New York.
All images courtesy © the artist