Parlee Erz, also known as Pali Erz, or just Parlee, is a pseudonym for the British artist Graham Lawrie. He is best known for his graffiti and illustrations of comic book and cartoon characters. Parlee was born in 1971. He received his academic training at Nottingham Trent University, which he enrolled at in 1991. Three years later, in 1994, he received his Bachelor's degree with Honors in Fine Arts. However, Parlee's interest in art, especially graffiti, developed much earlier, and he began writing in 1983.
Parlee's Street Art
Together with several friends from school, Parlee started a Graffiti crew The Essex Rockerz (hence 'ERZ' in some of his pseudonyms) in 1986. The group is still active and successful to this day. The British artist is also associated with "Art is the Cure", an organization where he volunteers as a teacher to many aspiring young street artists.
Parlee's work is heavily influenced by his background and interests when he was a kid. He draws inspiration from the cartoons he watched as a child, Hip Hop and Graffiti culture he admired as a teenager, and even mark making and figurative drawing he had encountered while studying at Art College. Parlee briefly experimented with canvas, and today he uses acrylic glass as a surface, as it best captures the light and colors of his characters. His paintings capture the viewers' imagination, opening a dialogue between the environment and artwork itself.
Characters from X-Men: Magneto, Xavier & Wolverine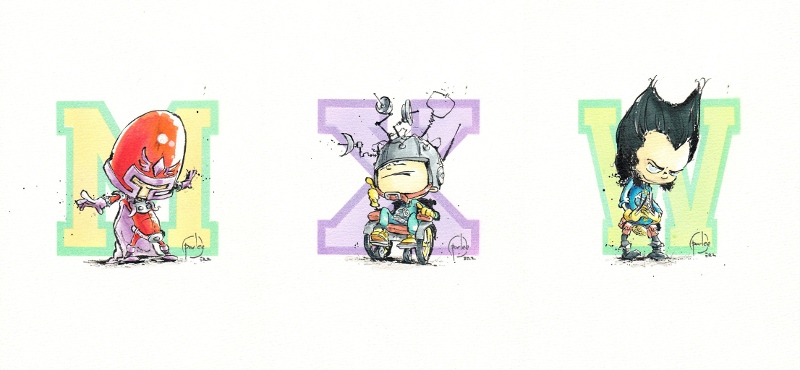 Highly praised, Parlee's art was featured in numerous shows in London. In 2015, the artist participated in Heroes & Villains, a group show organized by Vertical Gallery from Chicago. It was also his USA debut, where he exhibited his collection of superhero characters as kids. All pieces were done in watercolor, ink and spray paint. Today, he is represented by Vertical Gallery.
Parlee Erz resides and works in London, UK.
Featured image: Parlee ERZ portrait, image copyright Imitate Modern website
Other images copyright © the artist