Patch Whisky is an American street artist and muralist whose appealing cartoonish characters and wildly colorful murals can be seen throughout the American East Coast and Mid West. Whisky is working primarily with acrylic paints and aerosols, turning every bland gray surface he chooses into a wonderfully dynamic and vibrant world of his imagination. In addition to murals, he's also famous for small-scale works, paintings and figurines, depicting the same cartoon characters. Those eye-catching, winking faces of his characters have been featured in numerous magazines and sold at various auctions recently.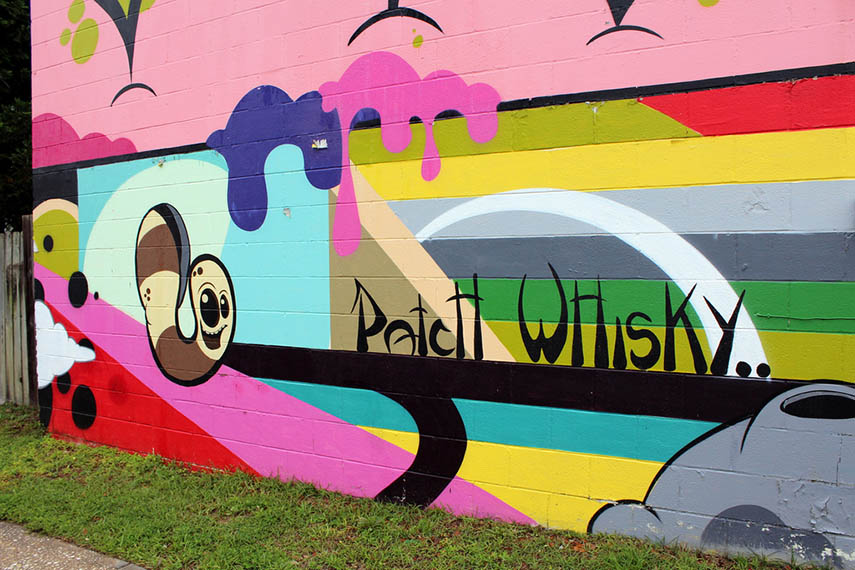 Winking Faces Invading Murals
Patch Whisky is originally from Charleston, South Carolina and he has graduated from the Art Institute of Pittsburgh. The main source of inspiration for his art have been cartoon characters,  and his own fantasy world of monsters, aliens and cute nondescript creatures. The talented artist is combining the motifs of winking faces and dazzling swirls of colors on large surfaces of public buildings but he also enjoys engaging himself in smaller projects, such as creating mock-up traffic signs which again feature his easily recognizable characters. His murals can be found all over the United States – in Miami, Detroit, New York City, his hometown Charleston, Nashville and even in Hawaii. Knowing that street art scene is very strong in Europe, Whisky has initiated a couple of international collaborations recently and his work has been presented in Paris, France.
  Whisky's main source of inspiration are cartoon characters and his own fantasy world of monsters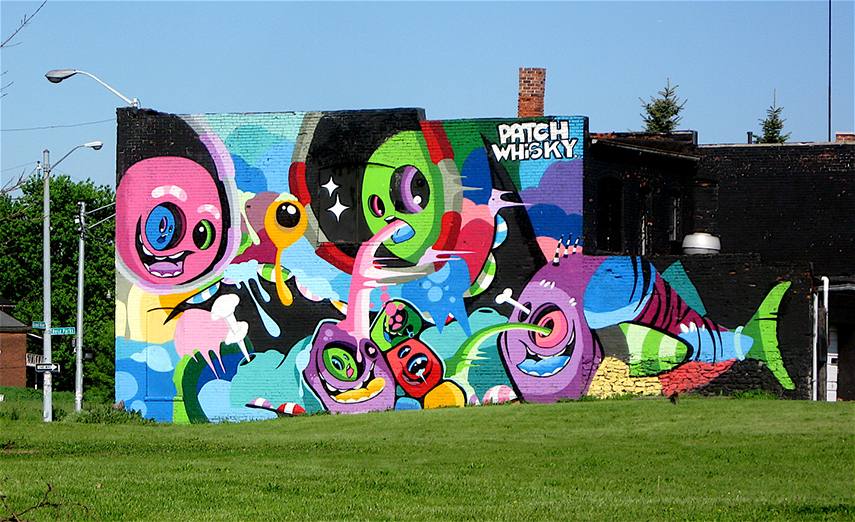 Fuck Art Exhibition
In addition to his murals and paintings, Whisky's most famous artwork is his installation with mannequins and chains, which was the part of Fuck Art exhibition at the Museum of Sex in New York. This controversial exhibition held in 2013 featured artworks from roughly 20 most popular street artists and it included various graphic depictions of sex, sultry and provocative sculptures, and Whisky's alien sex installation. This was my dirty little closet, the artist said about the exhibition, I chained mannequins up and turned them into alien monsters, and I turned Playboy centerfolds into aliens. This exhibition was pushing the sexual boundaries of street art and it boosted Whisky's reputation since it was the biggest show of his career and he felt honored to be the part of such acclaimed event.
Whisky's installation with mannequins and chain was the part of Fuck Art exhibition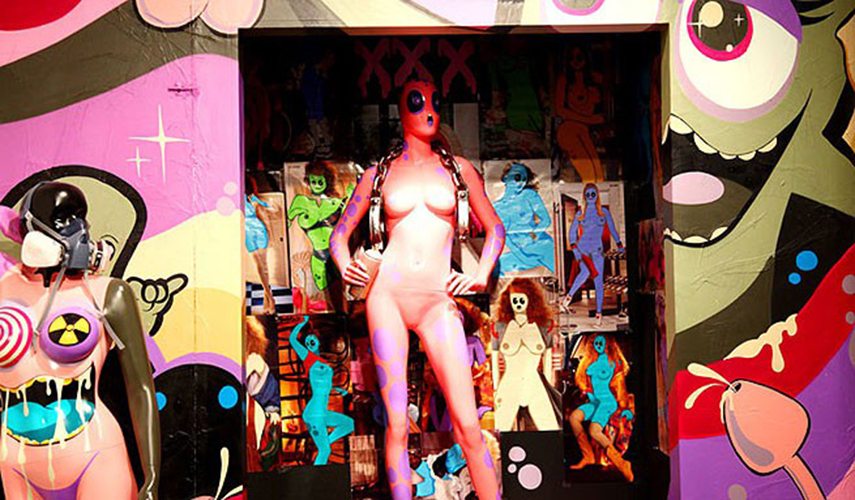 Fun World Nobody Knows Yet
Whisky's work has been shown in numerous famous magazines and galleries such as the already mentioned Museum of Sex in NY, The New York Times, also Museum of Art in Columbia, SC. After gaining a strong reputation, Whisky started working on advertising materials of the renown companies such as Absolut Vodka and Warner Brothers. However, Whisky hopes he will continue to work on his own art projects. His main plan is to create pieces on a truly grand scale so that his viewers can be completely immersed in his creative universe. Instead of a painting on a wall, I'm trying to create an environment for people to be engulfed in. I create this kooky, fun world that nobody's been to yet, Whisky enthusiastically claims.
The artist is represented by Street Art Anarchy.
Patch Whisky lives and works in Charleston, North Carolina.
Featured image: Whisky's portrait - photo credit Stylepublic
All other images courtesy of the artist.