Patrick Caulfield was a masterful British painter and printmaker, one of the foremost artists of the post-war generation whose subtle and complex poetic is yet to get the widespread recognition it deserves. His bold canvases were usually understood as a part of pop art movement, categorization he himself profoundly objected, referring to himself as a formal artist; one can add an artist defying easy definition. Critics often wrongly compared him to Roy Lichtenstein, but due to his reticent nature and the lack of ambition, he didn't use media as an elongation of his art. Nevertheless, he didn't take much notice; he was awarded the Order of the British Empire in 1996 and became a Royal Academician in 1993.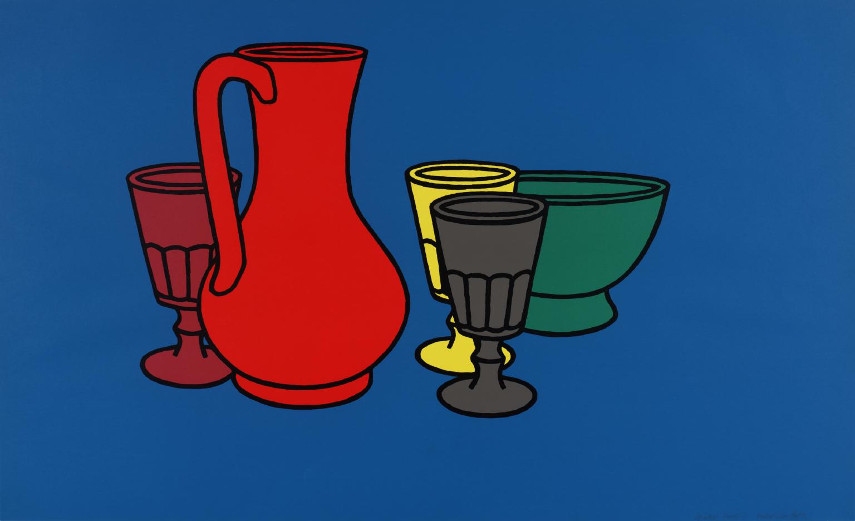 Education and Emerging into Prominence
Caulfield was born in West London in 1936. After he finished the Chelsea School of Art in 1960, he went on a journey to Crete where the frescoes and bright, hard colors of Minoan art made a major influence on him. He attended the Royal College of Arts from 1960 to 1963, after which he had was a part of the important exhibition at Whitechapel gallery in 1964. Since, he emerged to prominence and was associated with pop art and artists like David Hockney, Allan Jones, B.B. Kitaj. Some of his important works from that period are Still Life, Pottery, and Sweet Bowl. In the mid-70s he started doing more detailed paintings with realistic elements, heavy black outlines, and flat colors. He was using a variety of styles, dominated with single hue and figurative simple objects in the interior. In 1987 he was nominated for the national Turner Prize. Aside from paintings, he started doing print screens (doing overall 111 print screens) that were highly appreciated and demanded.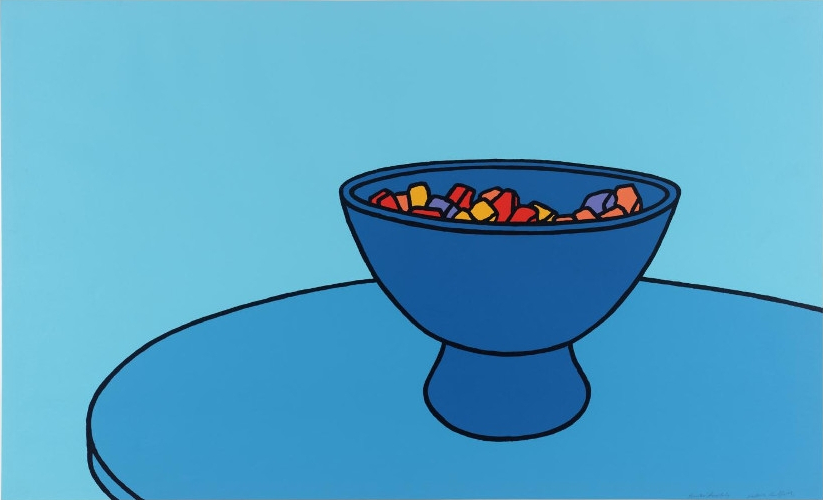 Hallmarks of Patrick Caulfield's Style
Patrick Caulfield's style has no expressive gestures but reductive compositions in his design, his shapes and forms are not similar to pop arts but derived from careful observation. He paints objects from domestic modern reality with a specific dry wit humor and sense of wonder. His characteristic anonymous places and melancholic interiors deprived of humans indicate a pause in time or silence of ultimate aloneness – an elegiac drama without actors. But the critic Marco Livingstone argues that Caulfield manages to transform tragedy into an invitation to pleasurable contemplation. Even though his work is simple, clear and plain he carries off a profoundly subtle manner to enrich and refine that forms of figuration, creating images that are ambiguous and enigmatic in time and context. Caulfield confronts the spectator with ephemeral aspects of materiality and its incomprehensibility, implying a metaphysical point of view. Behind that cultivated and very English surface, immaculate and emotionally restrained, lay a fundamental Romanticism that he made little effort to disguise.[1] He is also regarded as a virtuoso colorist who conscientiously conjoined unpleasant hues in order to create effective visual impact and a skillful painter able to offer a sense of strangeness to familiar objects he painted.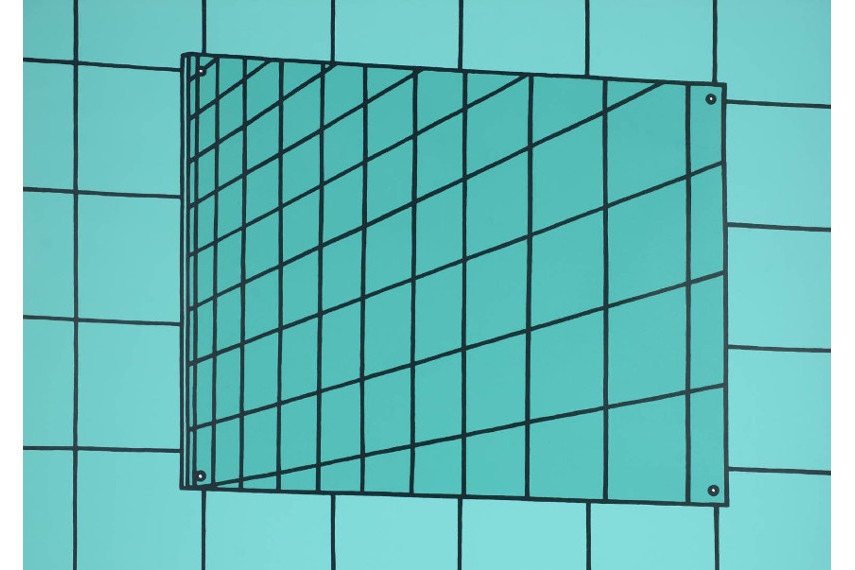 Respect Caulfield Earned as a Painter and a Man
Patrick Caulfield was highly respected and regarded with deep affection among fellow painters and in the art world. He died in London in 2005, at the age of 69. Both being shy and self-effacing by nature and because the quality of his art to resist any precise classification affected the fact that he wasn't widely known as he should be for creating such a unique style and art. He absorbed the wavering of 20th-century art in his own original and authentic way, yet his control of the design can be compared with Ingres', his pallet with Matisse's and the Fauves, the setting up the rules of his own world to Picasso and the Cubists. Patrick Caulfield was a painter's painter, an artist whose work revealed great depths when contemplated, and to those with an understanding of art, its history and possibilities, his work could resonate on a grand scale.[2] In 2013 the Tate Modern organized the retrospective exhibition in his honor.
Patrick Caulfield lived and worked in London.
References:
Livingstone, M, Patrick Caulfield, Independent [April 11, 2017]
Anonymous, Patrick Caulfield, Telegraph [April 11, 2017]
Featured image: Patrick Caulfield - Portrait of the artist - Image via Pinterest