With the skillful combination of the acrylic paint, photography and stencil art, Paul Davies create narrative paintings whose imagery refers to the juxtaposition of the architecture and natural environment. Starting from collages, his primal inspiration was famous Japanese graphic works as The Great Wave off Kanagawa until he discovered the organic buildings of Frank Lloyd Wright and made a distinctive mixture of all. His homes, set in idyllic, leisure landscapes are uninhabited and the scenes, devoid of human presence, encourage the viewer to experience this living space generating the personal narrative. Although seem realistic, these images represent the blend of different elements from various locations.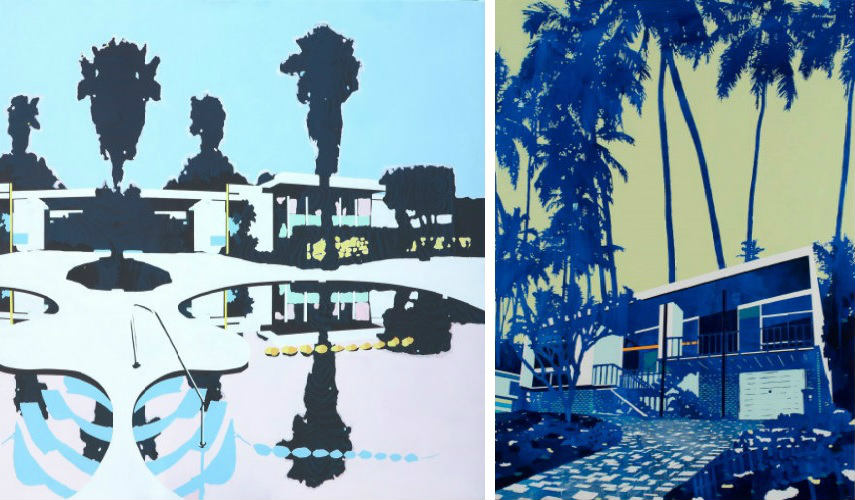 Exploring the Relationship Between the Architecture and Nature
Davies was born in 1979, and he became interested in art since the age of seven, inspired by cartoons drawing Asterix and Obelix and work of Australian artist Jeffrey Smart. He gained his education in sculpture at the College of Fine Arts UNSW and soon after discovered the graffiti and Sidney street art scene, implementing these techniques into his sculptural works. In 2014, he finished his Masters by research at the same college, with the subject of investigation the relationship between the architectural and natural elements in his work.
His further exploration of this topic naturally led to translation from stencil to sculpture. The essence of his process is based on the use of hand-cut stencils on digital photographs that contribute that the relationship between the original and its reproduction be blurred. For example, his series Blow-Up is based on photographic work. Referencing the old film of the same name, from 1966, he again depicts abandoned architecture, provoking the tension between the subject and the viewer.
His creative process is based on the use of hand-cut stencils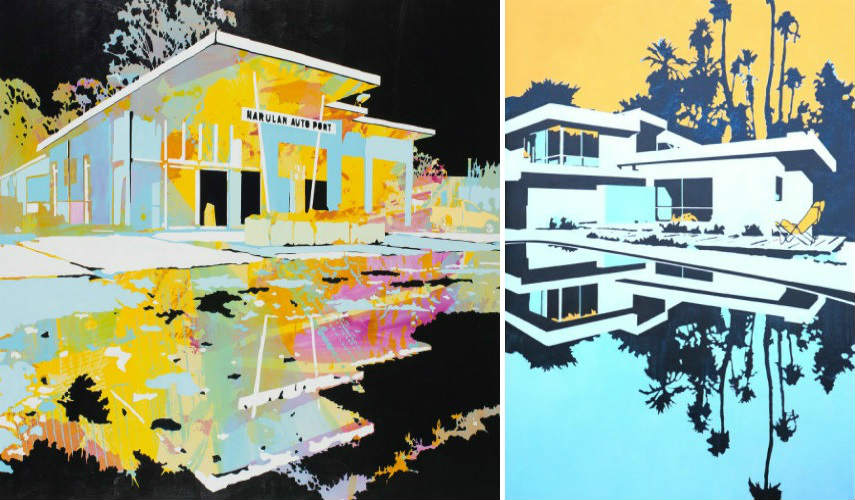 What Awaits Us in the Future?
Creating vivid images deftly colored with the delicate hand-cut paper stencil, Davies opposed the ideals of domestic architecture to the universal environment, exploring the relationship as the portrait of space. Drawing the inspiration from work of David Hockney, Jeffrey Smart, Peter Doig, Jon Cattapan and Rachel Whiteread, he follows their painterly, photographic and sculptural practice, adjusting the content to his artistic needs. Davies images evoke the sense of nostalgia keeping the viewer in the present but in a constant uncertainty about unknown future open to interpretation.
The artist is represented by The Cat Street Gallery, Hong Kong.
Paul Davies currently lives and works in Los Angeles.
Featured image: Paul Davies - Artist portrait, photo via snakesandladders.tv
All images courtesy of the Cat Street Gallery