Paul Klee was a Swiss painter, musician, and teacher at the Bauhaus school of art. He himself was part of Expressionism, and he was influenced by Cubism and Bauhaus. The ingenious artwork he created was intertwined with metaphysics and musicology. He was dedicated to the art both inside and out. He wanted to express his ideas through painting and to explore them even further through writing and theory. His notes and lectures on form and design were published in English as Paul Klee Notebooks. The diverse artwork he created could never possibly be categorized, but the main points are his freedom, music, importance of childhood imagination, wittiness, and humor, and transcendence to and from personal beliefs and the self.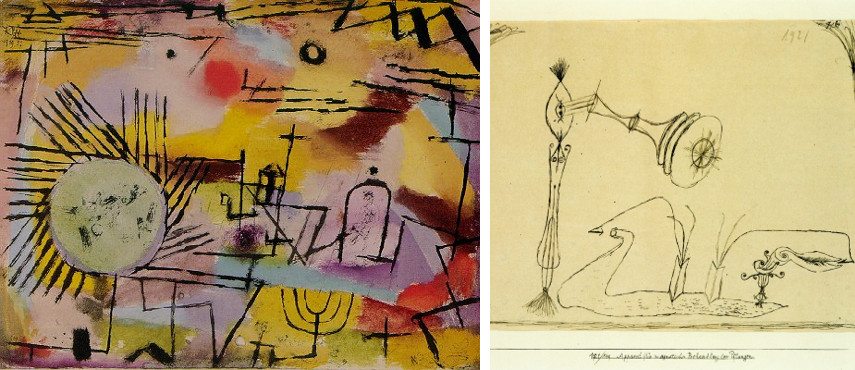 Musical Beginnings and the Issues of Color
Klee was born in Münchenbuchsee, Switzerland to a musical family. His father was a music teacher, while his mother had a career as a singer. When he was in primary school he started taking violin lessons and had his first performance at the Bern Music Association when he was 11. Following his parents' footsteps, he spent his childhood years playing the violin but felt that there was not much freedom to explore. He wanted to find out more about different styles and methods, but the formal teaching didn't allow him to. Klee started drawing as a hobby, and his landscapes gave him the freedom he wanted. After he finished high-school, the Gymnasium in Bern, he began studying at the Academy of Fine Arts in Munich in 1898. After graduation, he went to Italy and studied paintings of old masters. His drawing skills were exceptional, but he struggled to express himself in color. He had a firm and profound belief, that the nature of coloring in a painting is optimistic and happy. Color meant life, the lively energy that fights the gloom of black and white drawings. When he returned to Bern he experimented with color and tools. He drew with a needle on the surface of blackened glass, made zinc-plate etchings, and did mostly satirical and bizarre drawings. After he got married and had a child, he spent time playing music, making art and taking care of the family.
Paul Klee mostly did drawings at his early period, then switched paintings and power of colors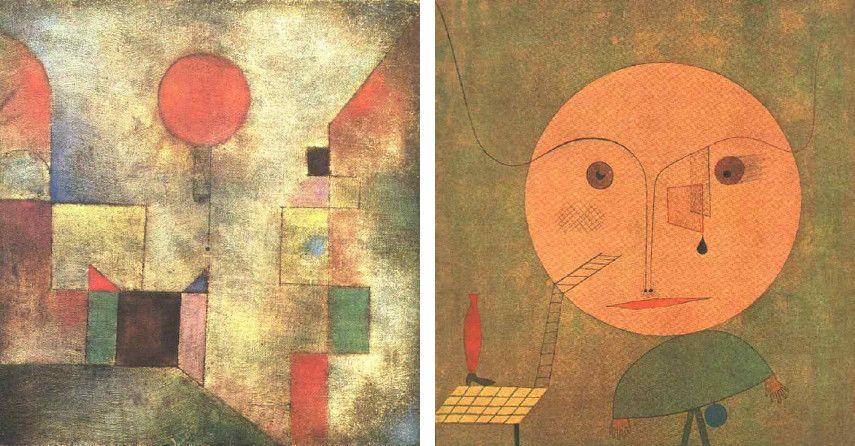 Firts Paintings and the Beginning of Abstraction
Upon meeting Wassily Kandinsky, he joined his team and wrote for the art almanac, called Der Blaue Reiter. Spending time with the Blaue Reiter artist and exhibiting his drawings gave him an opportunity to travel. In Paris, he started studying Cubism and finally felt that he could do more with color. He started working with watercolors and did primitive landscapes. His internal struggle to master the art of painting started feeling like no struggle at all. In 1914 he visited Tunis and fell in love with the light and nature, but only when it comes to terms of colors. He did not want to make landscapes anymore. Instead, he wanted to explore the freedom of colors and started making his first abstract work. When he came back home, he painted his first abstract painting called In the Style of Kairouan in 1914, which was made of rectangles and circles. He incorporated his personal philosophy and music into painting. Paul Klee enjoyed the different teachings at the Bauhaus school. He encouraged differences and individuality. He made most of his famous artwork in Germany, but he also traveled a lot. He stayed friends with Kandinsky all his life, and while visiting Paris he met Picasso, who he admired a lot.
Paul Klee's works inspired many artists who pursued abstract art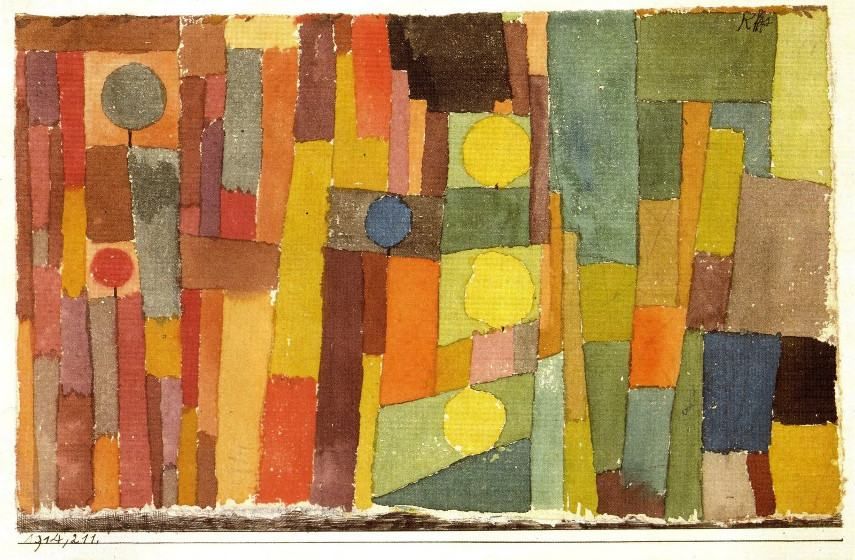 Early Works, Abstract Period and 1919 Turnover to Bauhaus
His early works were black and white drawings since he was afraid that he could not master the usage of color. His so-called fear motivated him to continue to explore, and he never gave up, just because it seemed hard at the beginning. From the period of 1903 to 1905 he made etchings and drawings for Inventions series. They were dark, satirical and grotesque. In the mystical and abstract period, after coming to terms with color in Tunis, he made some watercolor work and moved on from the conventional form of landscape and color. In 1920's he started his Bauhaus teaching job, and the school influenced his artmaking. The paintings were vibrant, radiating and full of symbols. His last work in the 1930's was antifascist, dark, close to macabre, and represented the death of an era of freedom and creativity. He was banned in Germany and his work was full of bitterness and anguish. Colors started to get darker, and symbols became more hieroglyphical.
Klee liked to combine classical aproach with experimental tools and canvases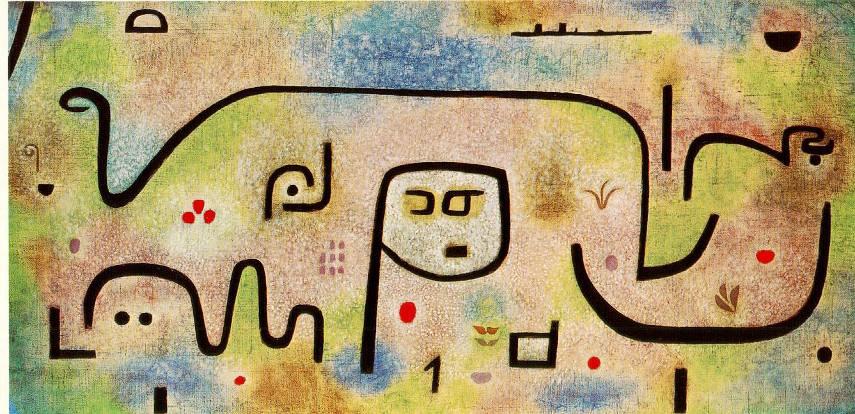 Blue Four Association in 1923 and Transcendental Ideas
Paul Klee taught at the Academy of Art in Stuttgart in 1919 and got a three-year contract with a gallery which jump-started his success. In 1923 he joined the The Blue Four association of artist. In the association, they organized lectures and exhibitions. They traveled to the USA in 1925. The meaning of Klee's painting relied on colors. That was the beauty of abstract art, where little details and expressive power of color changes the meaning of the painting. Klee's philosophy consisted of transcendental beliefs, where he based his conception of reality on a hypothesis that there are many others, which can also be open to human perception. The relation between music and painting made his shapes and colors appear in harmonious and corresponding ways. The time Klee spent three years teaching at the Bauhaus school partially inspired him to continue to write about art and musical theory. He saw connections and analogies where no one else did and approached the art with curiosity and consistency. Ingeniously refusing to stay within the boundaries of formal teachings, he used symbols, musical notes, letter, geometrical shapes to form the expression and the soul of the painting. He painted on cardboard, muslin, glass. The greatest freedom he found in children's drawing. He liked all thing experimental, and since children did not about academic rules of painting and drawing, their imagination could flourish.
All images via Wikiart.org