A genuine radical of true perversion, Paul McCarthy is an American contemporary artist, dedicated to messing with viewer sensibility, while at the same time achieving broad mainstream popularity. Santa carrying butt plug-in, Snow White as a nymphomaniac and dwarfs depicted as extremely horny – McCarthy is a master of grotesque fables, metaphors for our social dis-ease. Originally trained as a painter, his oeuvre includes drawings and paintings, which he took to another level by using himself as a tool for the process, eventually even as a canvas; however, he is best known for his sculptures and performances, but also videos, whose vertiginous effects always seem to have given way to ever more disorienting and ornate stories.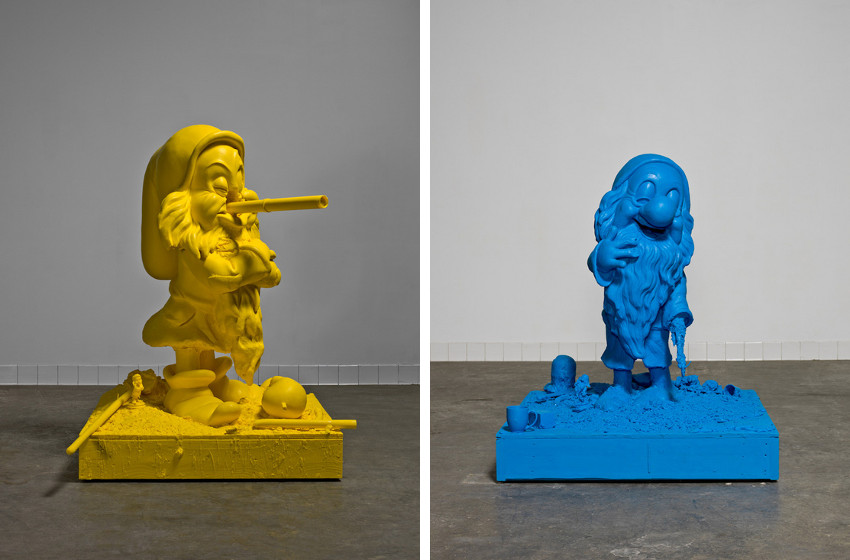 Paul McCarthy's Personal Life
Born into a liberal Mormon family in Salt Lake City, McCarthy studied at Weber State University in Ogden, Utah, and continued his studies at the University of Utah until 1969. He received a BFA in Painting from the San Francisco Art Institute, and in 1972, he received an MFA from the University of Southern California, focusing on film video and art. Quickly achieving a reputation among his fellow artists, McCarthy's life hasn't been exactly an easy one. Similarly to many other West-Coast artists who came of age around 1960, he was also attracted to the materially messy, psychologically fraught side of Abstract Expressionism, which he transmuted into performances. Slathering himself with ketchup, chain-sawing the furniture and painting with his penis was his usual acts at the time. Long before the abject body became a dominant theme in the 90's, he was already there, presenting the human form as a gaseous, leaky container, and gender as a fluid condition. These anarchic early works made sense during the Vietnamese War, and his later work represented a direct attack on American normality, something that seemed to fit the emotional chaos of the AIDS era. And while he rarely referred to specific political issues, this was still intensely political art. In fact, it was intense that galleries and museums weren't sure what to do with it, and people simply didn't buy it. For years, he was forced to support his family by doing pickup work in construction and photography that occasionally brought him into Los Angeles film studios. Hollywood and the mechanics of film fantasy are a primary source of his work.[1] Now that the market has finally discovered him, this statement is particularly true of the most recent works that tend to be big-budget projects.
The abject body was his dominant theme some twenty years before others finally recognized its potential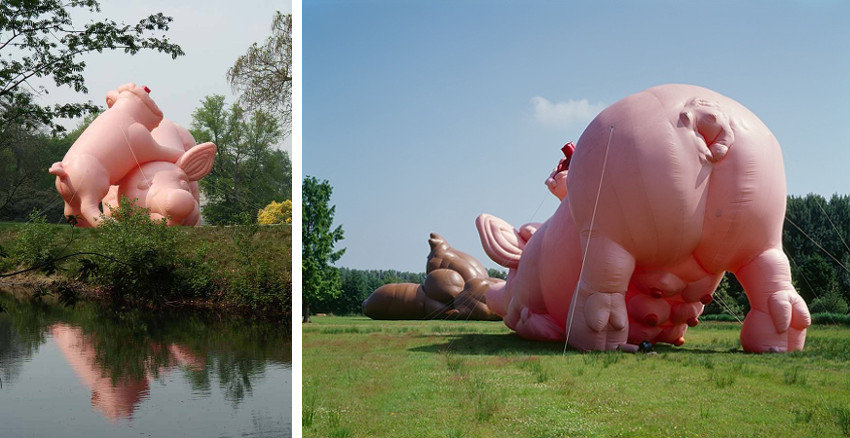 Related Artists and Style
In the beginning of his career, McCarthy was often compared to the works of Happenings and Viennese Actionists. His works in the late 60's, such as Mountain Bowling (1969) and Hold an Apple in Your Armpit (1970) are similar to the ones produced by the Happenings founder Allan Kaprow, with whom McCarthy had a professional relationship.[2] As for the Viennese Actionists, the artist admits that their work was quite known to him in the early 70's, but he sees and sets a clear difference between their work and his own. He didn't go through Catholicism and WWII as a teenager and he didn't live in a European movement – his process came from the kids' television in LA. "People make references to Viennese art without really questioning the fact that there is a big difference between ketchup and blood. I never thought of my work as shamanistic. My work is more about being a clown than a shaman."[3] On one side, his points of reference are rooted in things typically considered as American – Soap Operas, Comics, Disneyland, and B-Movies, while the artist positions himself as a critical analyst of the mass media and consumer-driven American society and its hypocrisy, double standards and repression. On the other side, the European art has significantly influenced his visual language, including people like Sigmund Freud, Samuel Beckett, Joseph Beuys, and the movements like Lost Art Movement, and the above-mentioned Viennese Actionism. In the 70's and early 80's, Beuys played a major role for McCarthy; not just for him, for the entire European scene. He was critical of the way the world looked at European artists, and he marked the shift from the emphasis on New York to Europe. He was the first European art star since the prewar period.
Abstract Expressionism, the movement that influenced McCarthy at the beginning of his career, was New York-based. Even Jackson Pollock, who was a Westerner and grew up mostly in Los Angeles, followed the examples of his peers, such as Mark Rothko and Willem de Kooning, and moved to New York. Another name for abstract expressionism is, indeed, the New York School. While the Big Apple became the undisputed capital of modern art, its artists, gallerists and critics pushing neo-dada, then pop, then minimalism, then post-minimalism, things were looking quite different on the west coast. There was the sky, western car culture, and Hollywood. Edward Kienholz used the car culture as an image of American excess in visceral, sexually explicit installations, even insisting that, after his death, he should be buried in a 1940 Packard coupe. He was the most politically conscious and satirical of the American artists, a splenetic and grotesque scenarist whose tableaux revile the American dream, mocking postwar affluence with dark echoes of the Depression and an atmosphere of fetid decay.[4] Another great distinction of California art is based on the fact that much of it is edgy, angry, and skeptical of mainstream values. This very skepticism is painfully obvious in McCarthy's work. Bruce Conner and his decadent assemblages that mix pornographic imagery and fetishistic materials reveal one more Californian thing that greatly influenced McCarthy – Hollywood. Studios, actors, cameras – all very intriguing for the young artist who moved to LA in 1970. Even though he lacked the bite of young and mutilating Marina Abramovic or Chris Burden, McCarthy nevertheless joined his peers in antagonizing conservative middle-class sensibilities.
By performing feats like rubbing his naked body against a white table and then slathering his penis and testicles with what Americans normally put on their French fries, he inspired generations of artists who adored coating themselves in condiments or inserting objects into their anuses, such as Matthew Barney or Karen Finley. In the 1990s, disease, death, and bodies became one of the most potent themes and Damien Hirst created A Thousand Years, depicting live flies as they feed on a cow's head, and Lucian Freud painted portraits of the performance artist Leigh Bowery. As art rediscovered flesh, the attention fell on McCarthy, who's been using his own body for more than twenty years. Suddenly, he was recognized as a master, whose reach could be felt everywhere, from Chapman brothers to Nathaniel Mellors. And yet, the early days were somewhat different for McCarthy. Conceptually speaking, drawing has always been at the core of his process. Everything he envisions must be placed on paper, and drawing serves its purpose – sometimes as a starting point, sometimes as an artwork all by itself. The artist is best known for his sculptures and performances, but also for his videos. As soon he began using video, he was more interested in its properties as an object than merely a mode of documentation. This was extremely prescient, considering that he began transforming his performance art into videos as soon as he arrived in Los Angeles, with Spinning, in 1970. But he consciously makes a distinction between his work and that of his close circle of peers on the West Coast: "Bruce [Nauman] was very much concerned with process, and Chris [Burden] was not so interested in video as he was in the single iconic moment, but I was immediately intrigued by how the videotape itself could be an art object, a form that when watched would not be a surrogate explanation for some previous event, but a narrative body itself."
He inspired generations of artists that came after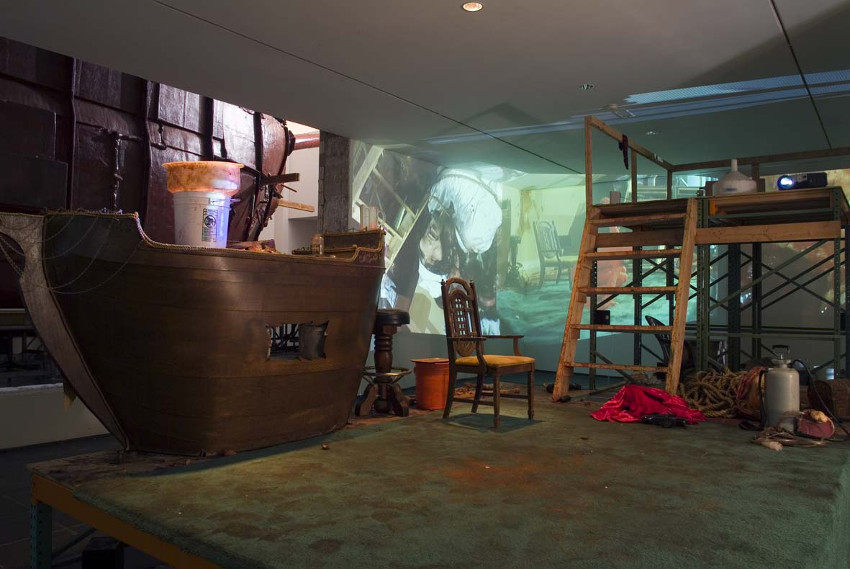 Recent Popular Shows
In 2009, the artist presented his solo show entitled White Snow, where he drew upon the famous 19th-century German folk tale 'Snow White' ('Schneewittchen') and commenting upon the modern interpretation of the story in Disney's beloved 1937 animated classic Snow White and the Seven Dwarfs. The young Snow White masturbating in a solitary romantic reverie, various phallic-nosed dwarfs in a dither at the arrival of the beautiful stranger in their midst – he develops his characters and depicts them as players in a sly yet poignant coming-of-age narrative packing a metaphorical wallop. As one of the few exhibitions ever to focus exclusively on Paul McCarthy's drawings, White Snow provides rare access to the initial stages of exploration that fuel the work of one of America's most challenging and influential artists. McCarthy's early investigations into his characters always occur through repeated and even compulsive sketching, a process that reveals layers of connections. The exhibition took place at Hauser & Wirth in New York. In 2014, McCarthy, one of the most provocative and influential voices in multimedia, sculpture and performance art, unveiled new paintings in his first exhibition devoted to the medium since the 1980s. His paintings represent the latest iteration of two major ongoing projects within his multidisciplinary practice: White Snow and Stagecoach. The show, titled WS SC, combines the artist's two central motifs with the language of painting as subject matter in itself, invoking the art historical canon as a framework for his narratives. The exhibition was held at Hauser & Wirth in London. In 2015, the exhibition titled Spin Offs: White Snow WS. Caribbean Pirates CP, marks the latest iteration of the White Snow series, while the Caribbean Pirates series features a monumental assemblage installation and new resin block sculptures. Inspired by the Disneyland attraction and movie Pirates of the Caribbean, the Caribbean Pirates project began as a collaboration between Paul McCarthy and his son, Damon, in 2001 and has since spawned sculptures, performance, and film. The show took place at Hauser & Wirth in Zürich.
These selected exhibitions provide some insight into the career of one of the most controversial artists today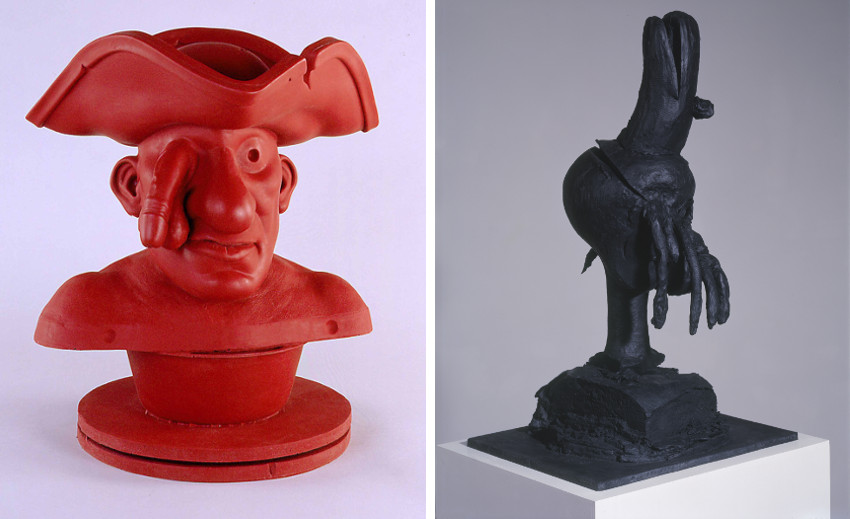 Legacy
The 60's and 70's were marked by his absolutely outré performance work, which, even in that most uncommercial moment of avant-garde process-based explorations of oneself, was so viscerally disquieting as to transgress the archest radicalisms of the day. In the 90's, he turned to object making with just enough uncanny humor that somehow the art world embraced ideas, sensations, and experiences that have always been so patently impolite one could never imagine them in a gallery, let alone a collector's home.[5] McCarthy escaped from the quagmire of financial struggles and managed to establish himself as one of the most influential artists of the contemporary world. Today, he is widely known for pioneering abject performances and for his sculptural dioramas of bourgeois depravity.
He is represented by Hauser & Wirth.
Paul McCarthy lives and works in Los Angeles.
References:
Cotter H. The American Fairy Tale, Fun House Style, The New York Times [September 23,2016]
Klein J. Paul McCarthy: Rites of Masculinity, PAJ: A Journal of Performance and Art [Volume 23, Issue 2, May 2001]
Petersen M. Paul McCarthy's 40 years of hard work-an attempt at a summary, Head Shop/Shop Head. Göttingen: Steidl Verlag, 2006
Jones J. Paul McCarthy: 'I had this thing about exposing the interior of the body', The Guardian [September 23,2016]
MCormick C. PAUL MCCARTHY'S ABJECT OBJECT OF DESIRE, Issue Magazine [September 23,2016]
Featured image: Paul McCarthy – performance with ketchup – photo credits Gérard Rancinan, via animalnewyork.com
All other images courtesy of Hauser & Wirth