Striving for a vivid and three-dimensional look, British visual artist and sculptor Paul Oz uses thick layers of paint in his explosive portraits. He finds endless inspiration in sports and pop culture and brings his passion for Formula 1 racing to the canvas, immortalizing many legends of the sport, as well as other iconic characters from movies and television. His distinctive style is what captures the attention of his audiences, making his art desirable and landing him many commissions with leading names of the entertainment industry, such as Star Trek and the Bruce Lee family.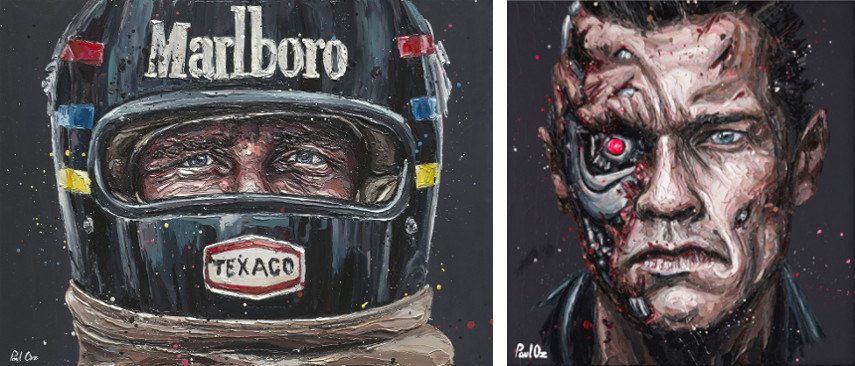 Explosive Painting
Paul Oz's layers of paint give his artworks their extraordinary and embellished look, earning the interesting title "explosive". As the artist says: "I strive for the impression of explosive energy, movement, expression and the maximum in 3D effect when I paint – several techniques combining for the end result. Every one is around 2cm thick oils in places (yes, I get through a fair amount of the stuff) and pretty large scale, usually on board for a completely flat background so that the texture of the subject really comes out at you. I'm fascinated with how perceptions change with distance – the biggest unintentional compliment I've had was that my work looks like porridge close up. Awesome!"
Public Figures, Like the Queen of England, Often Find Their Place on Oz's Canvas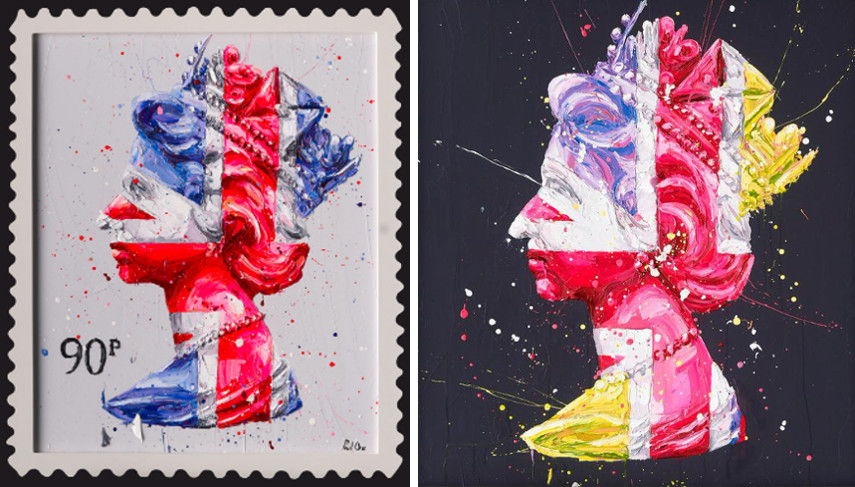 Painting? I Could Do That
As a young boy, Paul was doing alright in art class: he could draw realistically in pencil and was even able to replicate Monet's style to a degree. In spite of this, his family persuaded him to follow a more academic path, and pursue engineering as a career, seeing as "no one makes ever money from art".Paul heeded their advice and studied Aerospace Engineering at University. Years later, while browsing artworks, looking for something to put up on the white walls in his new apartment, a thought struck him: "I could do this". At home, he tried his hand with acrylic paint and was quick to rediscover his talent, undertaking painting as his weekend hobby and break from his everyday job in software brand development. He had a solo show in 2008, trying to find a balance between his career and his hobby. Nevertheless, in 2009, he decided to fully focus on painting and hasn't stopped since, using his favorite leisure time activities, such as watching formula 1 races and movies, as inspiration.
Cartoons and Toys Get Explosive Versions Too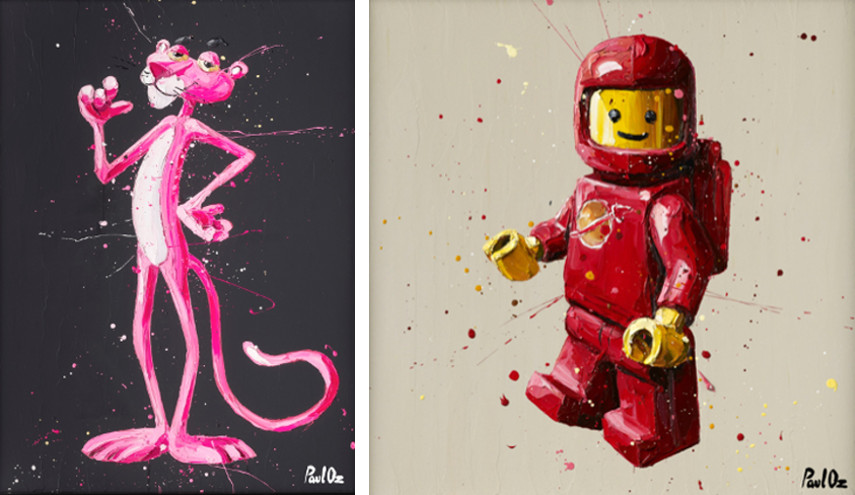 Explosive Painting Appeals To The High-and-Mighty as Well!
His style is well liked by the very people he likes to paint. Paul says: "I'm perhaps not a textbook artist - my entire aim is for visual impact, to capture characters in a unique way that blows your socks off and to illicit a response something along the lines of 'woooohhhhaaa!'" It looks like he successfully achieves this, seeing as the list of people he has created commissioned work for includes Sir Alex Ferguson, Theo Paphitis, Roger De Haan, Chris Moyles, Instituto Ayrton Senna, Jenson Button, Red Bull, Pirelli, Lewis Hamilton, Jake Humphrey, Wretch32 and JLS's, and is the official licensed artist to Bruce Lee Enterprises, Star Trek, Denis the Menace, Ali, Mr Men and Little Miss, Thunderbirds, and more, yet undisclosed.
The artist is represented by Imitate Modern gallery.
Paul Oz is based in Cheltenham and London, UK.
Featured image: Portrait of the artist.
All images courtesy of Imitate Modern