Rightfully earning the place among the most famous female painters due to the monumentality and psychological drama of her art, Paula Rego is certainly one of the most important figurative artists of her generation. Many of her paintings are of people caught in the act – but the acts are often ambiguous and the stories that surround them enigmatic. Seethed with gaggles of girls, animals, monsters and other imaginary beings, her work is exuberant and infectious, open and warm, but mysterious, too, and yes, somewhat unsettling. She first achieved success in her native Portugal with semi-abstract paintings with collage elements culled from her own drawings but has since shifted to figuration. Rego gave up working with collage in the late 1970s and began using pastels as a medium in the early 90s. The painter continues to use pastels to this day, almost to the exclusion of oil paint.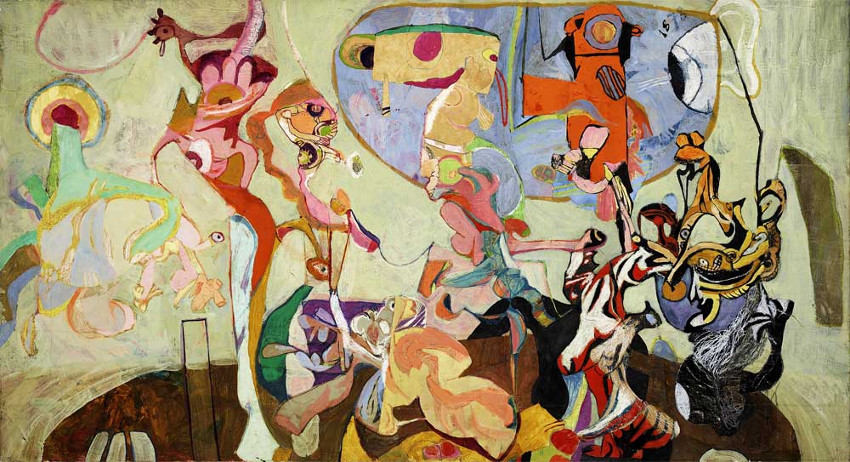 Paula Rego – Personal Life
Born in Lisbon, Rego grew up in Estoril and in Ericeira, a fishing village, where her grandparents lived. Her father was an engineer and her mother ran the house. Both of them had some artistic tendencies – the father made films as a hobby, and the mother rearranged the furniture.[1] She was also familiar with the painting due to her education. The family was, however, divided in 1936, when Rego's father was posted to work in the UK. Her parents moved there, and young Paula was left in the care of her grandmother, who would become a person of extreme importance in the artist's life, telling her traditional folktales that would one day become the very base of Rego's work. From 1945 to 1951, she attended the St Julian's School, Carcavelos, the only English-language school in Portugal at the time. In 1952, Rego began her studies at The Slade School of Art, London. While at Slade, she met Victor Willing, her future husband, who also studied there. In 1957, they moved to Ericeira, and two years later, they got married (following Willing's divorce from his previous wife). In 1963, the couple bought a house in London and, for the next twelve years, lived between England and Portugal. In 1975, following the socio-political events in Portugal, Victor and Paula settled permanently in the UK. They have three children: Nick, Victoria, and Caroline Willing. Victor, Paula's loving husband and her major support in her career, died in 1988.
The art of Paula Rego is inspired by folk tales, among other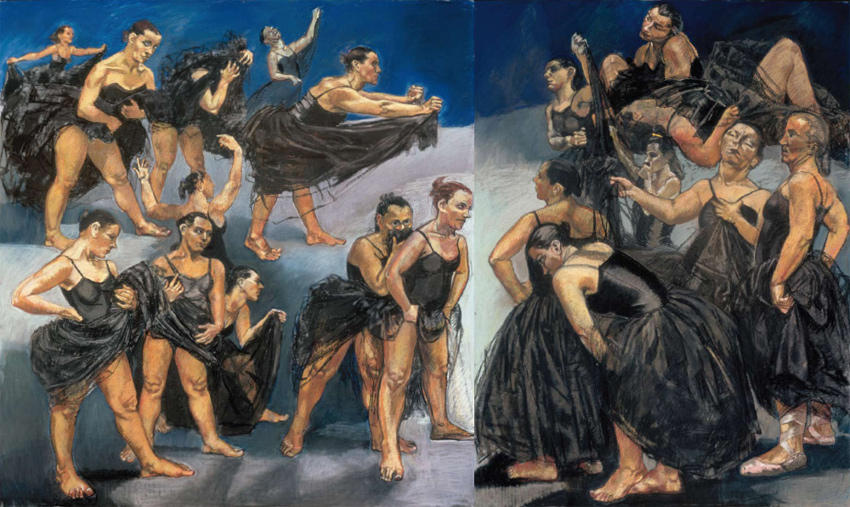 Beginnings and Approach to Work
"Painting helps you find out about things through painting them. It is not a career."[2] As the painter admits, she not entirely sure when she decided to be an artist. It was simply what she was best at in school. Rego began drawing on the floor at a very early age, and she continued to do so for years. Her grandmother also played a major part in her career, taking care of her when her parents were in England, and telling her all those stories, fueling Rego's imagination, and unknowingly forging an immensely strong base for the future painter. However, it seems as the final nudge came in 1944 when her father commissioned a Belgian portraitist who was "hibernating in Portugal" to paint his wife and their only daughter. Rego recalls watching the elderly artist at work. Part of her was fascinated by the mechanism by which he transmuted people into pictures; the other part was thinking: "I could do better than that."[3] And so she did, becoming not only better than that Belgian portraitist; she became one of the most famous figurative artists. Since 1994, Rego creates art in a studio in Camden, northwest London. The space and freedom that this move allowed had a dramatic effect on the way she works, changing her preparations, models, method, and technique.[4]
Rego begin drawing at a very early age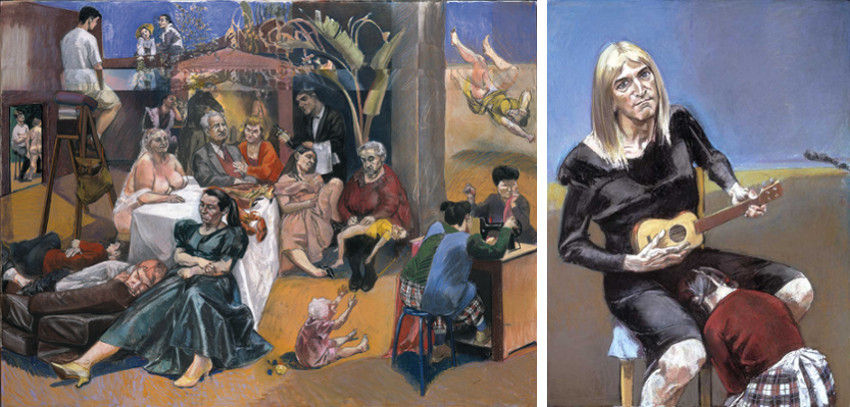 The Art of Paula Rego: Inspiration and Influences
Drawing on well-known sources, including literature, fairy tales, religious stories and cartoons, Rego gives her paintings strong narrative element that draws in the viewer. However, the stories being told are often hard to read as they are subverted to produce an enigmatic, dreamlike atmosphere, influenced by her interest in surrealism. Multiple levels of reference and symbolism both build up and frustrate expectations. Key motifs (dogs, young girls, dominant father figures, claustrophobic family scenes) recur, creating a uniquely personal iconography.[5] Rego's view of the world as expressed in her work is a particularly female one.[6] If one wants to truly understand the work of Paula Rego, some analytical tools must be used. For example, psychoanalytic theory and social history. Looking at two of Rego's pieces - The Interrogator's Garden (2000) and The Policeman's Daughter (1987) - their content links them to the political context of the Estado Novo, the fascist-inspired regime that dominated her childhood.[7] There is a complex intertwining of state power and parental authority in her work, focusing on the "labor of socialization and resistance" that Rego's work evinces in relation to the Freudian model of the family romance.
Rego's recurring motifs are dogs, young girls, dominant father figures, claustrophobic family scenes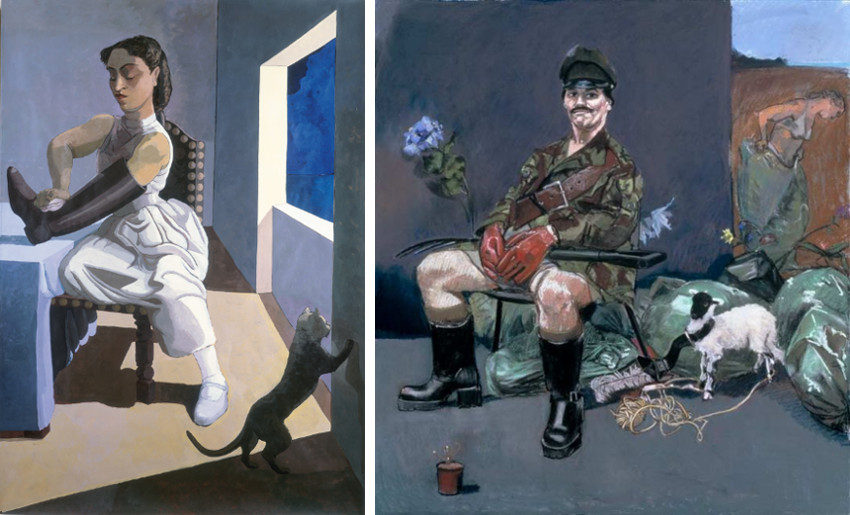 Notable Works
For an artist as gifted and prolific as Paula Rego is, it can be extremely hard to emphasize some of the works and leave others in the dark. In Celestina's House (2000), the artist created a world of dark fairy tale where childhood stories are thin guises for psycho-sexual intrigue and taboo, where magical realism rules, where nothing is certain except the witchy powers of feminism and the underlying notion that nothing is as it seems. Celestina is a character who first appeared in Spanish literature in the late fifteen century. A procuress, she is drawn ruthless, practical, and tough, and the work uses the story of Celestina to explore the ages of women. In Snow White Playing With Her Father's Trophies (1995), the Portuguese master uses the allegory of female vanity to underlie a familial politic. The heroine, pictured in a white dress symbolizing virginity and innocence, seems wryly aware of her own sexuality. Sat unladylike with legs spread, she prizes the head of a young buck between her knees, representing sexual awakening and insinuating improper affection towards her father. In the background, her stepmother kneels as the aging witch, looking on with scorn and envy. In The Ostriches series, there is no story; no man (or child) is present or implied. The ostrich women may tempt or pursue men, but these are pictures of states of mind rather than narration; the most 'abstract', in the imaginative sense, of Rego's career so far.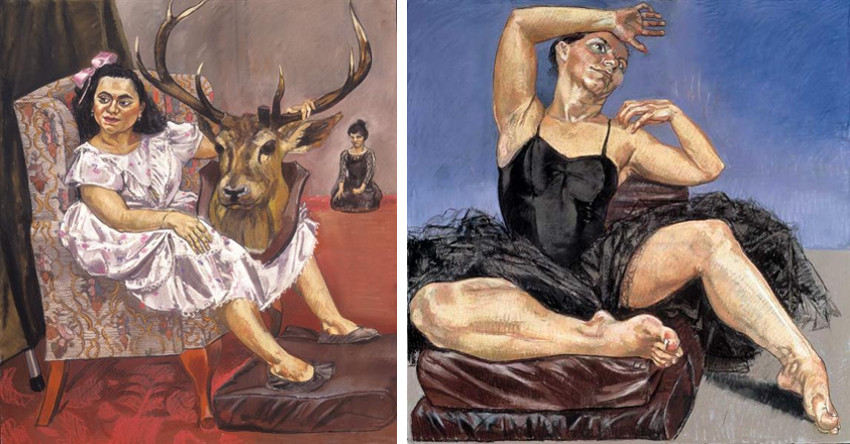 Paula Rego – Recognition, Collections, Exhibitions
The Portuguese painter has received honorary doctorates from the Winchester School of Art, the University of East Anglia, the Rhode Island School of Design and the University of Oxford. In 2004 she was awarded the Grã Cruz da Ordem de Sant'Iago da Espada by the President of Portugal. Five years later, a museum, dedicated to Rego's work and designed by the architect Eduardo Souto de Moura, the Casa das Histórias Paula Rego, was opened in Cascais, Portugal. Several of her exhibitions have been held there since, and she has had numerous solo shows around the world, and she participated in countless group exhibitions. In 2010, Paula Rego was made a Dame of the British Empire in the Queen's Birthday Honors, and the same year she also won the MAPFRE Foundation Drawing Prize in Madrid. Her work is a part of many prestigious collections, including the Tate Gallery and National Gallery – both in London; the Metropolitan Museum of Art in New York; Chapel of the Palacio de Belém in Lisbon, and many others.
Paula Rego lives and works in London.
References:
Kellaway K., Paula Rego, 80: 'Painting is not a career. It's an inspiration' (2015), The Guardian [February 10, 2017]
Ibidem
Secher B., Paula Rego: 'It's horrible to be so old and still so afraid' (2016), The Telegraph [February 10, 2017]
McEwen J., Paula Rego: Behind the Scenes, Phaidon Press; First Edition edition (2008)
Bradley F., Paula Rego, Tate (2003)
McEwen J., Paula Rego, Phaidon Press; 2nd edition (1997)
Rosengarten R., Love and authority in the work of Paula Rego: Narrating the family romance, Manchester University Press; 1 edition (2016)
Featured image: Paula Rego - portrait - image via mag.sapo.pt
All other images via wikiart.org