One of the relatively few female artists to be notably involved with the Pop Art movement, Pauline Boty became well known in London during the 1960s when she began drawing attention for her good looks, minor roles on television shows and her paintings. Very involved with many key figures from the Pop Art movement since her Wimbledon School of Art and the Royal College of Art days, Boty developed a personal style that was based on incorporating juxtaposed images of celebrities and exploring the traits of female sexuality. All of her paintings and collages were underlined by a strong note of femininity and they all displayed just how much criticism the painter had towards a man's world in which she lived[1].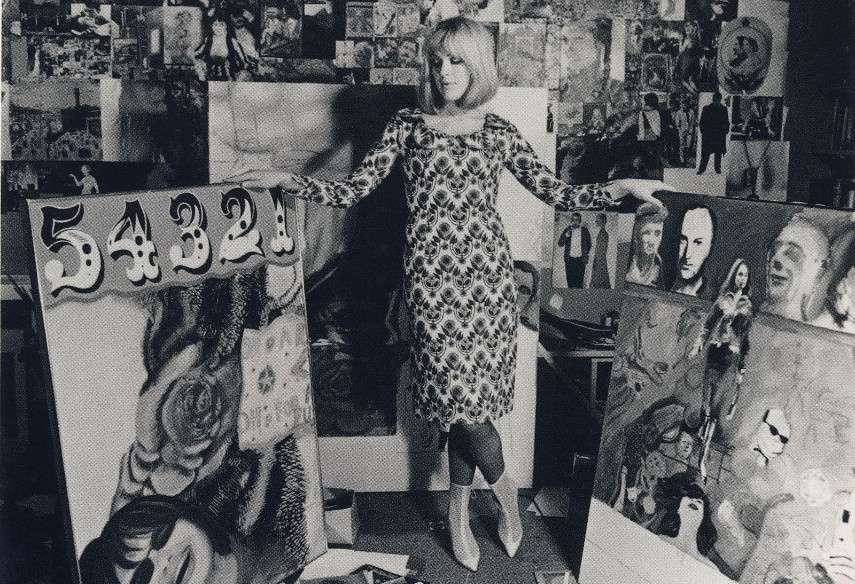 The Education Phase of Her Career
Pauline Boty was born in suburban south London in the year of 1938 into a middle-class, Catholic family where she was the youngest of four children - she had three older brothers and a stern father looking after them. In 1954, young Boty won a scholarship to the Wimbledon School of Art which she chose to attend despite her father's open disapproval. Pauline, or The Wimbledon Bardot as her schoolmates called her on account of her resemblance to the French film star Brigitte Bardot, earned an Intermediate diploma in lithography and a National Diploma in Design in stained glass by the year of 1958. Encouraged by her tutor Charles Carey to explore the possibilities of collage techniques, Boty's painting became much more experimental. Showing an increasing interest in popular culture, her pionering Pop art was displayed alongside the works of Robyn Denny, Richard Smith and Bridget Riley. She studied at the School of Stained Glass at the Royal College of Art until the year of 1961 and during this time she became friends with other emerging Pop artists, such as David Hockney, Derek Boshier, Peter Phillips and Peter Blake. Boty had a habit to work at home as she belived watching a film or reading a book had a bigger impact on personal culture than any gallery visit.
The career of Pauline Boty took a great leap forward after she became a part of the Pop art movement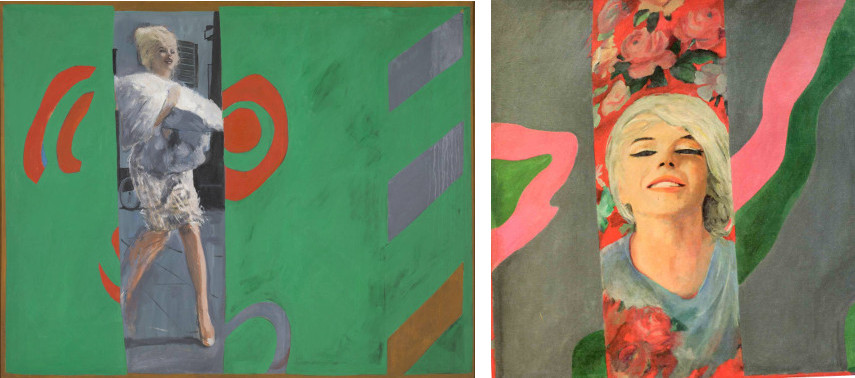 What Was on the Pop Menu for Pauline Boty
The two years (1962 and 1963) following her graduation was perhaps the most productive segment of Boty's career. During that time, she developed a signature style and iconography that attracted attention from the media due to the fact she was the only female Pop artist on the British soil.[2] The fact Pauline was a beautiful woman did not hurt either. Her painted and collaged pieces were sensual and erotic, joyous in their celebration of female sexuality. Boty's pictorial compositions were set against vivid, colorful backgrounds and often included close-ups of red, symbolic flowers. Pauline often painted her male idols, like Elvis, French actor Jean-Paul Belmondo, British writer Derek Marlowe, as sex symbols - just as she did with Monica Vitti and Marilyn Monroe. Following the footsteps of Andy Warhol, she began reusing press photographs of celebrities in her work. In June 1965, Boty unexpectedly became pregnant and, during a prenatal exam, a tumor was discovered. She refused to have an abortion and also refused to receive chemotherapy treatment that might have harmed the fetus. Her daughter, Boty Goodwin, was born in February 1966, but Boty died at the Royal Marsden Hospital on the 1st of July that same year. She was 28 years old. After her death, Pauline Boty's paintings were stored away in a barn on her brother's farm and she was largely forgotten for nearly 30 years - however, a revival of interest in her work has been taking place during the 2010s.
Although she did not live to be 30 years old, Pauline Boty is still counted amongst the best Pop art representatives of the United Kingdom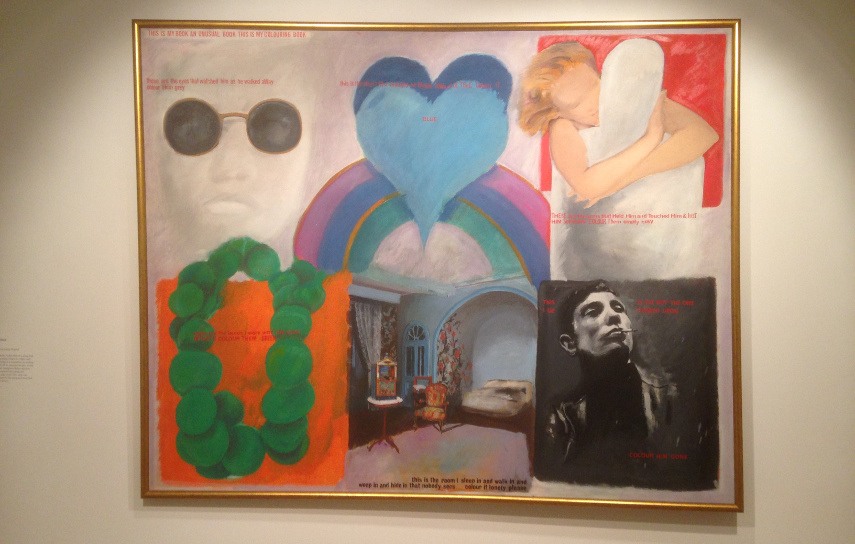 Main Pop Comments and Her Support of Feminism
Despite her untimely death putting an end to a career that had so much left to offer, Pauline Boty still managed to establish herself as one of the founders of the British Pop art[3]. She was also the only female painter in the UK wing of the movement. Pauline Boty's rebellious art of colorful paintings and collages, combined with her free-spirited lifestyle, made her into a true milestone of what may arguably be the most defining movement in the history of modern art. Her life could also be interpreted as a sign of things to come as Pauline was eventually considered a herald of 1970s feminism, a time that finally started to bring real changes and cause gender equality.
References:
Tate, S., Pauline Boty: Pop Artist and Woman, Wolverhampton Art Gallery & Museums, 2013
Watling, S., Mellor, D. A., Pauline Boty the Only Blonde In the World, Art Books International, 1999
Watling, S., Pauline Boty: Pop Painter, London: AM Publications, 1998
Featured image: Pauline Boty - Photo of the artist by John Aston, 1962 - Image via flashbak.com
All images used for illustrative purposes only.