Pedrita is a Lisbon-based art duo, consisted of Pedro Ferreira and Rita João, whose projects draw inspiration from tradition of Portugal. Two of them founded a design studio under the same name of Pedrita in 2005.
Pedrita Studio: Design and Art
Heart and soul of Pedrita studio – Pedro Ferreira and Rita João were both born in 1978, and they both graduated in Design from the Architecture Faculty of Lisbon's Technical University. In addition, Rita has studied at TU Delft in the Netherlands, and Pedro was a student of Politecnico di Milano, in Italy. In 2002, they joined Fabrica, the Benetton Design and Communication Research Center in Treviso, Italy. Not long after, in 2004, they become head of the 3D Design Department at Fabrica. The following year was the year when they decided to found a design studio in Lisbon. Established in 2005, Pedrita studio become a platform for countless versatile projects in collaboration with creative structures, individuals and clients from all over the world.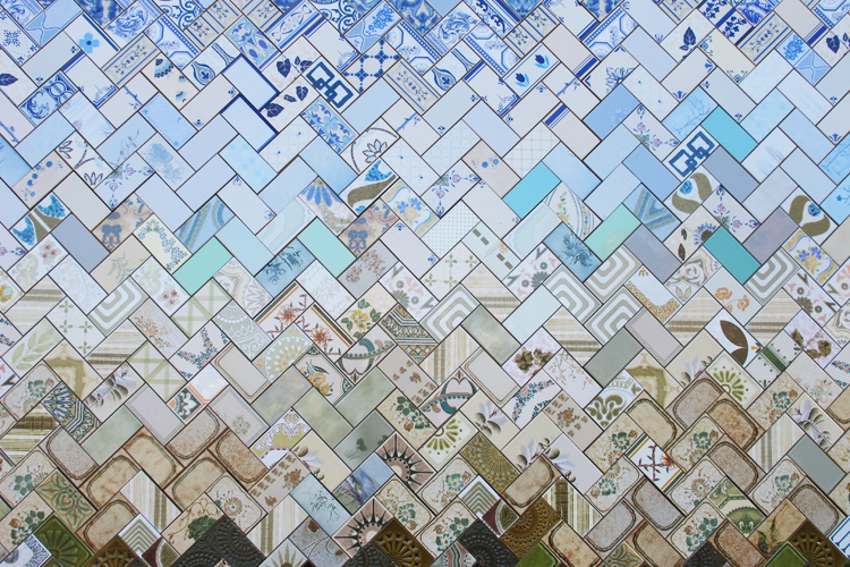 As a relatively young studio, Pedrita is focused on self-proposed projects which have a goal of improving their environment and drawing attention to problems concerning their surroundings, where design is not yet an obvious conscientious resource. Such projects demand collaborative work. Working with an ever-changing team of talented professionals, Pedrita duo manages to build creative approaches to problems and come up with suitable solutions.
Grão System: Assembling Old Tiles
Pedrita's works are best known for their style inspired by Portuguese traditional forms and techniques, such as a national symbol – colorful tiles, which can be seen not only all over Lisbon, but also throughout the country.
Together, Pedro and Rita give an inquisitive gaze upon our material culture, in such way that they use end-of-the-line, industrially produced tiles and give them new life in a playful, expressive way. The duo developed Grão, a visual composition and reproduction system used for assemblage of old tiles. The system is then used to create different large-scale panels, murals, and gallery works, such as the artworks made for their recent exhibition, Best Guess for This Image held in Underdogs Gallery in Lisbon.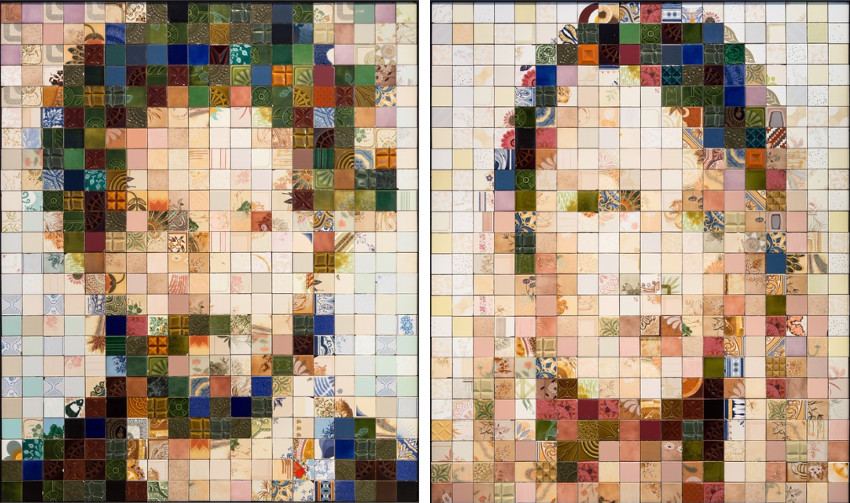 Images that emerge from Grão appear pixelated, and depending on a distance between a work and a viewer, give two possible moments of visualization. On a human scale, up close, anyone walking close enough to the panel can see the various designs and motifs of the tiles that compose the larger piece, and from a distance, seen as a part of the urban landscape, panels can be perceived as whole, complete image.
Constructed from hundreds, or even thousands of tiles, Pedrita's large-scale murals and panels can also be seen as an innovative option for the rehabilitation of the urban built heritage, or as decorative elements of architectural facades.
Pedro Ferreira and Rita João are based in Lisbon, Portugal.