Silvestre Santiago, better known as Pejac, is a Spanish artist whose street art combines elements of surrealism and fantasy executed in his signature minimalist style. Through his clever use of symbols, Pejac manages to prove to all of us that street art does not necessarily have to be graffiti. His subtle and intelligent work covers topics such as freedom, peace and poetry. His simple yet powerful murals and site-specific installations cleverly interact and incorporate the surrounding architectural features into the compositions. Besides street art pieces, Pejac is also an accomplished painter and illustrator on more traditional surfaces like canvas.
Pejac: From Silhouettes to Trompe l'Oeil
Pejac was born in Santander, Cantabria in 1977 and studied Fine Arts in Salamanca and subsequently in Barcelona. In 2001, he continued his studies at the Accademia di Belle Arti di Milano. Pejac initially started creating street art when he became disillusioned with the elitist attitudes of his art teachers. Instead, he decided to bring art to everyone, even those who would never visit a museum or gallery. He started working in the streets in 2000 while living in Milan, Italy. After leaving that city, his urge for public transgression had kind of disappeared until about few years ago. Today, Pejac's paintings can be found on walls in Moscow, Paris, Istanbul, London and Milan. Pejac primarily paints with only black but sometimes uses splashes of color in his works. His paintings always touch on social-economic themes and deal with topics such as peace, freedom and politics.
Pejac seems comfortable working on the smallest drawing to the largest outdoor mural. While his ideas and motivations are often crystal clear, it is his minimalism and subtractive techniques that make his work truly stand out. Pejac often uses trompe l'oeil to fool our eye in everyday places. Trompe l'oeil literarily translates from French to "eye trap". His skilled artworks perfectly blend colors and textures to give them the appearance that you could reach out and touch them.
His artworks always touch on social-economic themes and topics such as peace, freedom and politics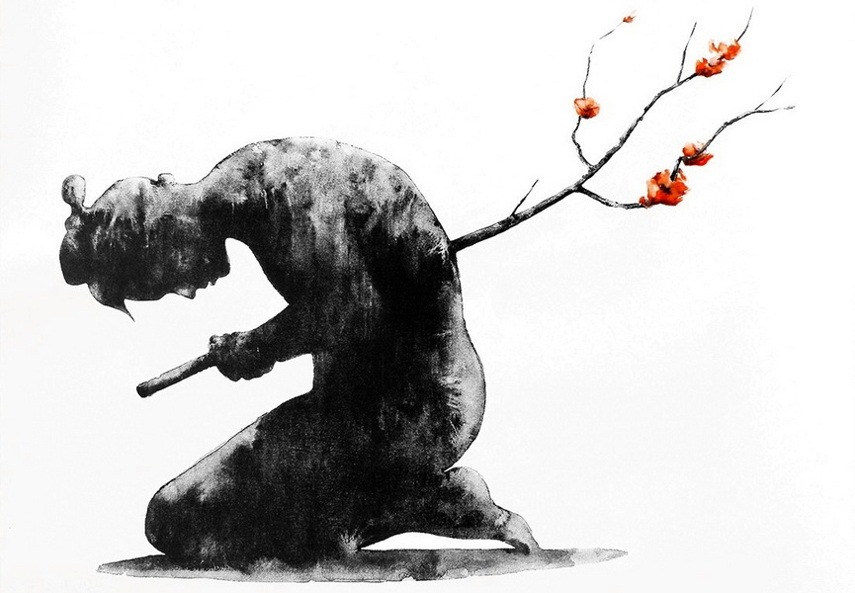 The Whole World is a Canvas
Pejac paints both playful and serious scenes, often using silhouetted figures. A young girl – a giant – uses the power of a magnifying glass and the sun to set tiny figures on fire. Another person attempts to deface a wall, but the splatter features Manet's iconic The Luncheon on the Grass. And, in a more poignant piece, a portrait of the world appears to run down a sewage drain.
The common thread of Pejac's work is that it is all clever – this artist takes everyday outdoor features and manipulates them in subtle and diverse ways: "The least interesting thing for me is the texture, color, or wall size. What I care about is the urban context...in some works I clearly work with optical distortions/illusions, with the sole intention to not only play with the concept but with the very perception of reality."
Pejac's silhouetted forms are depicted in both playful and serious scenes
Pejac in Istanbul
Known for his minimalist motifs frequently using optical illusions, Pejac displayed his talents by painting, during his travels in Istanbul in 2014, three different pieces on the walls of the Asian neighborhood of Üsküdar, which he gave the name Lock, Poster and Shutters. The three wall paintings are meant to represent the "perception and illusion of freedom." The artist explains in a statement:
"I've painted these Trompe l'oeils in the same zone of Uskudar (Asian Istanbul), very close one from another in order to establish a physical bond between them. In the case of these three windows the trap works in both directions: from outside to inside and from inside to outside."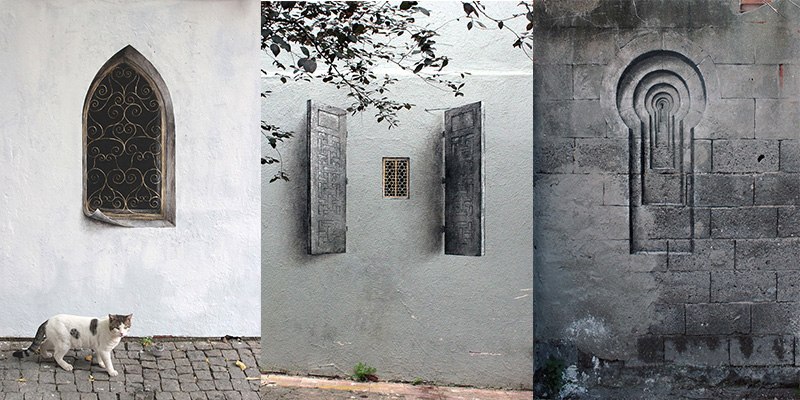 Pejac and Monet on a Boat
Among his most interesting projects is one on the shores of Cantabria in northern Spain – it is painting a rusty and abandoned ship, recreating a scene from a hundred forty or so years earlier over the harbor of Le Havre, France. Pejac decided to paint one of Monet's most famous impressionist paintings on its side. The original Monet work, Impression, Sunrise was the inspiration for the very term Impressionism that was eventually applied to an entire movement of French painters who eschewed the rigidity of realism in favor of intuitional readings of light and movement in the material world. The piece is not just a simple Monet recreation on the side of a boat, this one is partially hidden depending on the tide - the ocean itself reveals and obscures the painting.
"I think that the rusted metallic hull of this semi-sunk ship gives life to the image. With the daily sea tides of the Cantabric ocean the work is constantly above and below water," he says, and because of it, "the sea acts as a theater curtain."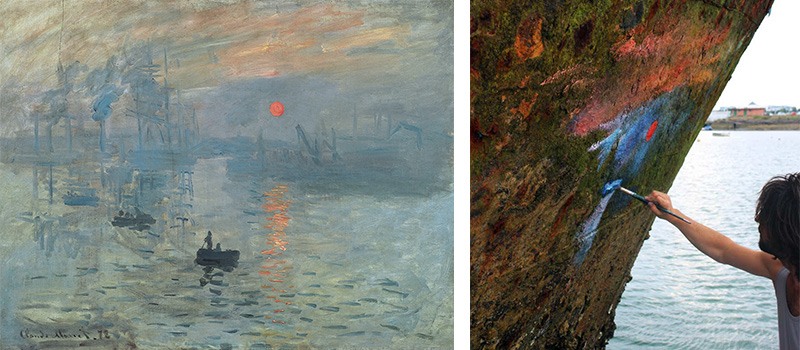 Pejac's Minimalistic Approach
From works on paper to this kind of different interventions involving various concepts and techniques (like painting on the silk for his Seppuku collection), this skilled artist is able to show and tell so much by painting minimally, bringing new meaning to the term "site-specific". His diverse and inventive works often use their surroundings as part of the entire image, and with subtle intervention, achieves fantastic effects. Playing with the perspective, repetitiveness, dimension, reusing textures and intervening his objects, characters and elements, are some of the signature methods of getting to the point. It is these visual contradictions and illogicalities that are one of his strongest weapons, which immerses the viewer with their simplicity and power.
About his artistic expression, Pejac says: "Both melancholy and humor are the locomotives of my works. They create a poetic language whose essence doesn't rely on simple beauty, but on the hidden side of everything. People's reactions make me go on. Adult life is pure inertia, which seems to be broken only by bad news or incentives, and if I can make people think, it all makes sense."
Playing with perspective, repetitiveness and characters are some of the artist's trademarks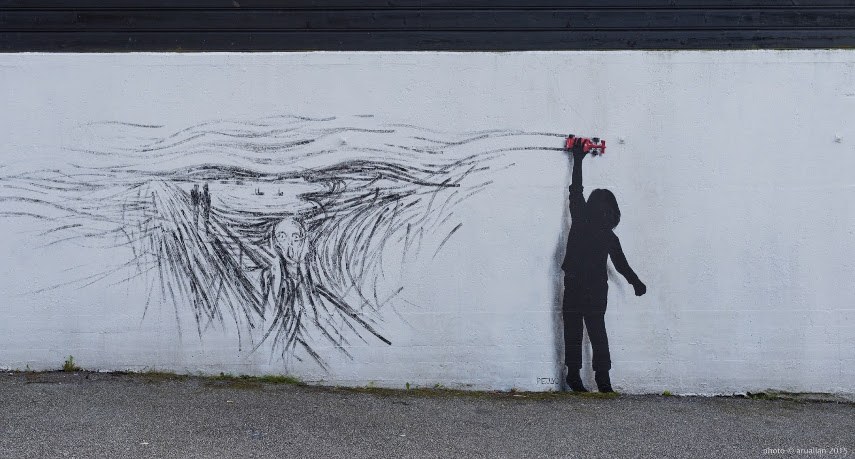 Spreading the Word: Pejac's 2015 Asia Tour
In 2015, Pejac began his Asia tour and made a series of site-specific works inspired by the culture and atmosphere of Hong Kong and Tokyo. One of the works from the series, titled Tagger, depicts a dragon, traditional symbol of power and strength in Chinese culture. Located on the busy streets of Hong Kong Central, this fire-blowing mythical animal became tamed and domesticated, painted along with the universal symbol of love – the heart which Pejac made using a blow torch.
Another piece which Pejac created features the MSN Hotmail Butterfly trapped in a glass jar. The work, named Oppression, was intentionally placed and left in front of the Central Government Complex of Hong Kong, the place where Umbrella Revolution protests were focused on in the previous year. Trapped, the Oppression butterfly metaphorically represents the lack of free speech and limited social communication determined by the repressive Chinese laws. It remains unknown what exactly happened to the jar.
Pejac's last work created in the Hong Kong series most successfully illustrates his perception of time and tense environment. Painted on a hotel window, the Re-Thinker piece is inspired by the Auguste Rodin's famous sculpture. The idea that lies behind Re-Thinker came to Pejac's mind while observing the city of Hong Kong and the locals. The artist felt like people, in a lack of time and space or maybe caused by the rhythm of the city, are not left to think for themselves.
Pejac's Hong Kong series illustrates his perception of time and tense environment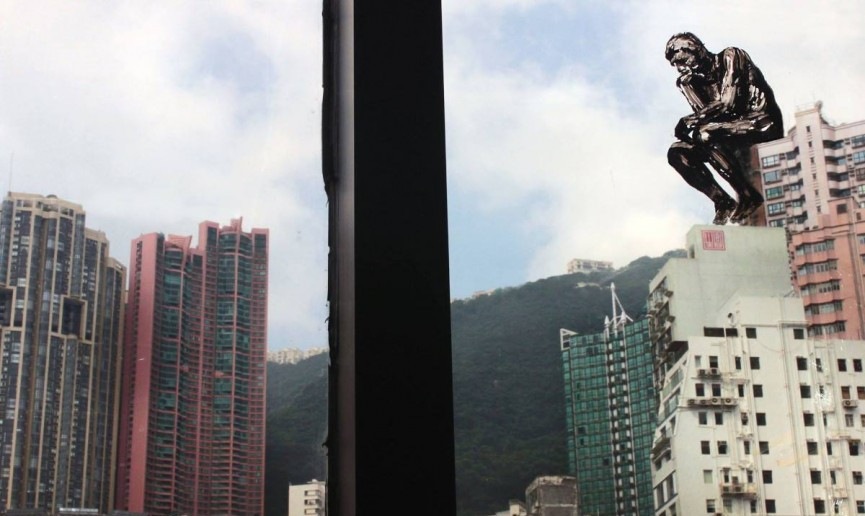 Pejac usually uses brushes, pencils, acrylic paint and sand paper to create pieces that blend into their surroundings. Much of his art breaks outside the confines of the usual space in order to transpose work beyond its normal boundaries. Some of his gallery work, for example, literally breaks through the frames to create something visually striking but also challenging. Such a convention is a logical extension for a street artist, however, and much of Pejac's work outside the gallery uses the breaking of normal limits to attract attention and challenge viewpoints.
Pejac lives in Santander, Spain.
All images used for illustrative purposes only