Peter Hill Beard was an American photographer and writer, who lived in New York and Kenya. In his captures of African wildlife, he explored the subjects of death and destruction. For decades, he made powerful images of animals that were often followed by his own journal writing. Since 1970 he kept a diary where he wrote his daily contemplations and used every media available such as collage, paper clippings, herbarium leaves and flowers, photos of friends and lovers, and many tiny found objects. These scrapbooks remained a distinctive form of expression for Beard, and he gained international fame with his unusual personal journaling. The most extreme method he used was writing and painting in animal blood, and the blood of his own.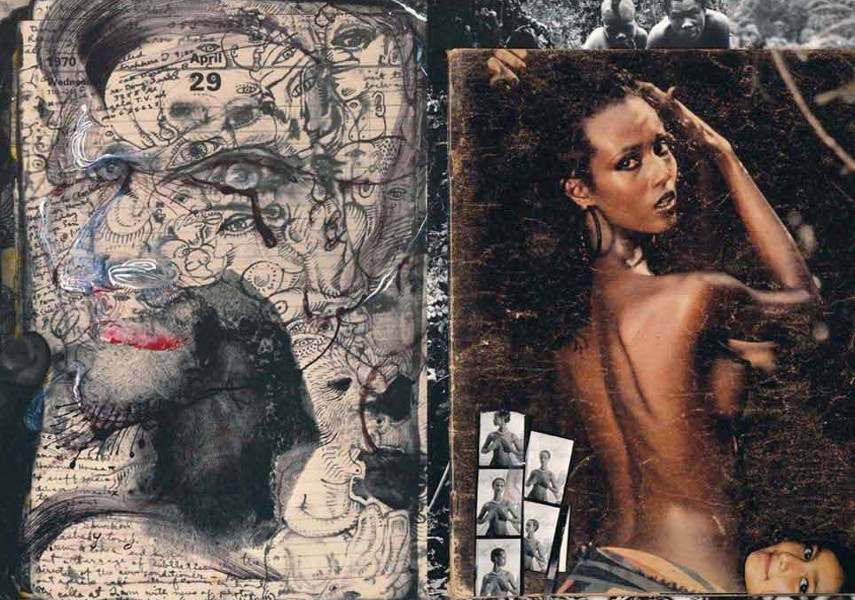 Life Story and Related Adventures
For six decades Peter Beard photographed Africa's wildlife and landscapes, keeping a diary of his work and experiences. He often openly spoke about mistreat and animal abuse in Africa, about elephant massacres that were happening in the 60's and 70's. His love for nature inspired him to became an artist, grounded in firm belief that nature is the best thing we got, a cradle of life, nurturing and giving, the one that made all the life on this planet possible. He settled for ornamental style, often working with dark themes, trying to emphasize the importance of preservation and fighting for animal rights. His commitment to the protection of endangered species continuously motivated him to push boundaries and to work harder. Beard's personal style is nostalgic and humorous, with a touch of dark, opaque, often disturbing elements. The artist was born in 1938 in New York and he spent most of his childhood in Alabama and Long Island. As a child he started taking photographs, keeping a diary, while spending most of his time outdoors. He went to Pomfret School and enrolled at the Yale University where he wanted to study medicine. In strange circumstances, he decided that pre-med was not suitable for him and switched his major completely to art history. The first trips to Africa happened in 1955, and after the graduation, he knew that he needed to go back there. His first adventure to Kenya happened in 1960 where he started working at the National Park in Tsavo. He documented the massacre of nearly 35,000 elephants and other wild animals and used the images in his first published book The End of the Game in 1965. He earned and saved enough money to buy his first ranch, the Hog Ranch, which remained his second home.
In many press articles Beard was described as a playboy and a rebel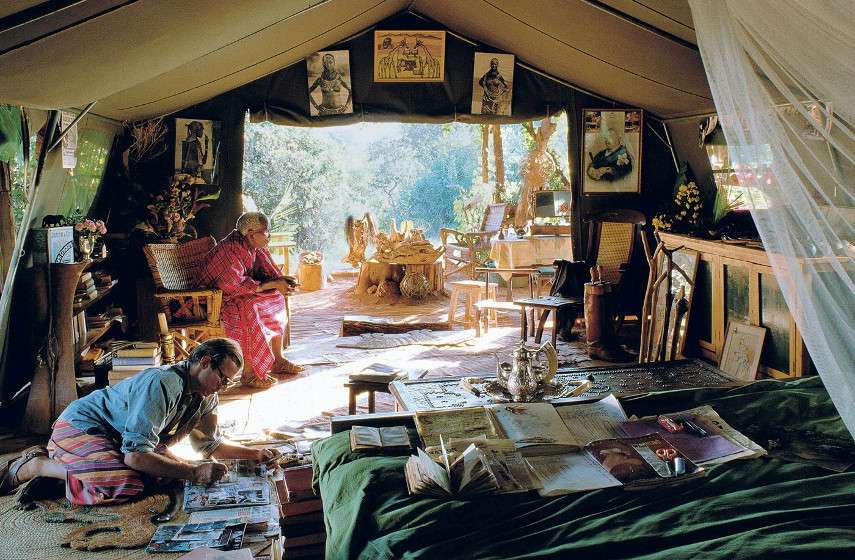 Popular with the Press and Loved by the Celebrities
After he witnessed the demise of wildlife in Africa, he decided to fight for saving the planet from violence and animals from extinction. He published multiple books on elephants and black rhinos. Deeply disturbed by the gory scenes he witnessed he started keeping a journal, in the same manner as he did when he was a child and memorized all the experiences from his African adventures, both good and bad. The journal consisted of photographic collages and his own writing, where he poured his feelings. Peter Beard mostly wondered about the nature of the relationship between men and animals and about the circle of life. He switched homes quite often and in his time in New York he befriended some of the most notable artists of the 60's and 70's, like Warhol, Richard Linder (who was his mentor at Yale University), writer Truman Capote and many other prominent artists and writers from the New York creative circle. He collaborated with few of them and joined them in New York nightlife adventures. His portfolio was enriched during the late 70's and the 80's with portraits of supermodels, rock stars, celebrities, scientists, and politicians. He was loved and appreciated in jet-set life in New York City and adored by the press and paparazzi. As an artist he did not like to label himself, he wanted to stay free of categorization so he could explore his interest without being suspended by any definitions. He was a socialite, but an anthropologist also. After his first exhibition in 1975 at the Blum Helman gallery in New York, many international exhibitions followed. He exhibited his journals, collages, photographs, African jewelry, and artifacts. Beard never hesitated to use extreme methods to depict extreme experiences. His character was wild and his spirit remained untamed.
Beard used various tools in his journalmaking, from blood to found objects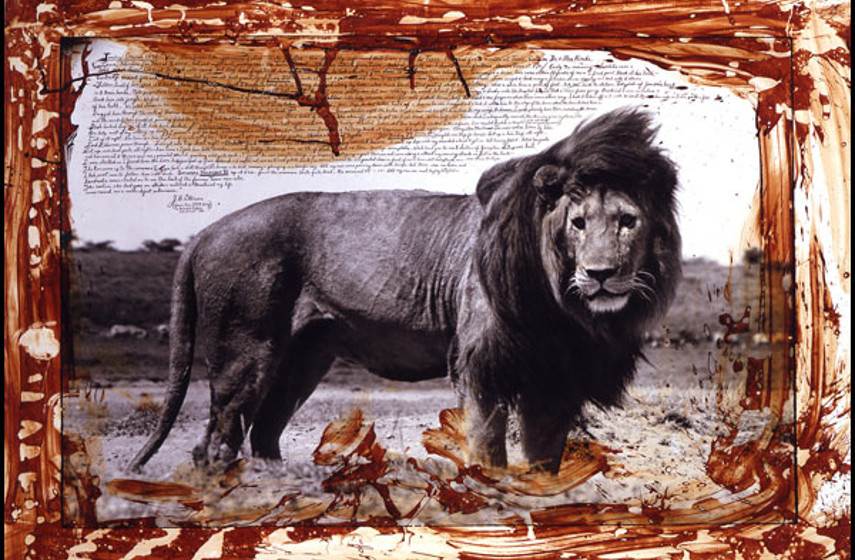 The Wild Nature of Past Experiences
Although he was popular in social circles, part of the Studio 54 gang and enjoying the reputation of New York's playboy, he wasn't much appreciated in the serious circles of the American artists. His rebellious spirit couldn't let him follow any sort of rules and regulations, and sometimes he intentionally tried not to be taken seriously. If there is a fine line between a coward and silly courageousness, Beard crossed it decades ago, when he fiercely entered his African adventures, never worrying about his safety. He swam with crocodiles, ran from stampedes of wild animals, and in 1996 unfortunately injured himself in one of his missions. An angry elephant stepped on him, crushing his pelvis and hips, injuring his leg. Extreme lust for life and love for nature and medical help helped him to recover and to be able to walk and work again. For decades, his obsession and passion were animals and the disruption of life in Africa as we know it. At the beginning of 21st century he started to explore a different kind of destruction, the loss of moral compass among men, both in Africa and Northern America. He was threatened, robbed, pointed a gun at, robbed again, almost dealt with bankruptcy, but still stayed thirsty for excitement. Once he said to himself that he was probably the most irresponsible person in the world. His incautious character got him in many unfortunate situations but led him to great length when it comes to photographing and journaling.
Peter Beard is one of those artists who are in a constant search for an adventure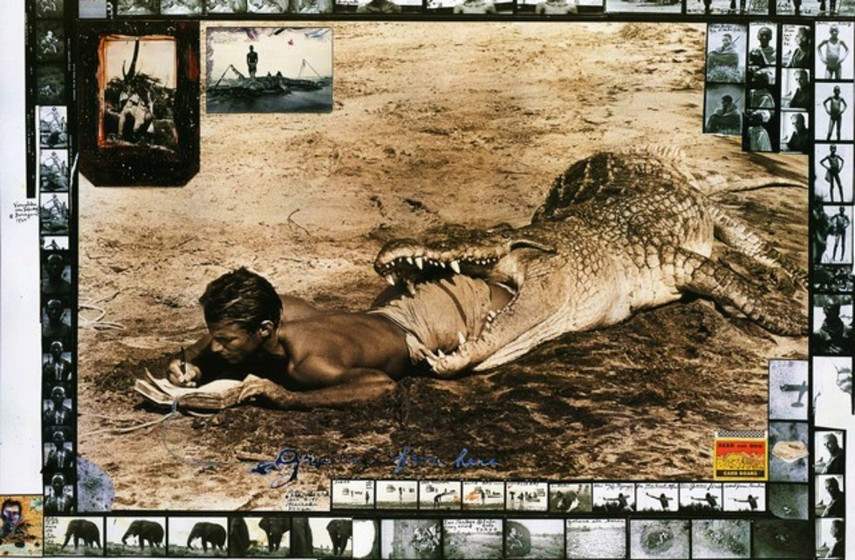 Diaries of Lost Environment
The first diary, that he later used for African stories, was given to him by lovely Jackie Onassis. The leather bound book contained all of his thoughts, a lot of found objects, photographs of famous people, receipts, food wrapping, pieces of fabric, drawings and quotations, small insects, fish bones, even cigarettes. When it comes to photography he didn't like to categorize himself as a photographer, believing that the medium lost its ability to be personal and genuine, that many gave up the genuineness in order to succeed and monetize their art. In 2015 his book The End of the Game was republished and critics found that it has maybe even more relevance in 2015 than it had 50 years ago. The white men explorations in Africa and the local crime destroyed the original beauty. Hunting for trophies destroyed the flora and fauna. The book is filled with devastating images and text, that on the 292 pages chronicle the violence against endangered animals, especially elephants. The photos present an emotional statement of the human intervention in Africa's wildlife. The are personal and universal at the same time. Peter Beard felt the injustice deeply and the extinction of animals determined his career, however, photos depict the global cries of animal killings, especially rhinos, hippos and elephants. In 2009 he collaborated with Pirelli and made calendar dedicated to environmental and climate changes. The calendar got major approval, it was even supported by the general secretary of the UN convention. Beard wanted to make a reminder, a warning note even, to be careful how we treat the animals and to what extent we go to protect our planet. There are several more publications of his diaries, but his personal favorite is the Zara's Tales: Perilous Escapades in Equatorial Africa, a book dedicated to his daughter Zara in which he writes about the tales of Hog Ranch, about handsome animals and their adventures, about adventures and explorations, and above anything, about the importance of living in harmony with all the living things.
Toward the end of his life, Peter Beard suffered from dementia. On March 31, his family reported him missing from the premises of his property on Long Island's East End. His body was found 19 days later in the woods of Montauk.
All images via Afritorial.com