Although the portfolio of Peter Bynum consists of many mediums and techniques, the ones that made him famous are light-infused sculptural paintings and large-scale installations. This American artist has formed an interesting method of combining light effects with painted glass, forsaking all the well established and traditional ways of visual arts. Bynum's pieces are simply incredible to view as they do not easily reveal the material that consists them and they are aesthetically astonishing. Peter Bynum is based in New York, a city that provided this artist with all the inspiration, training and audience he ever needed.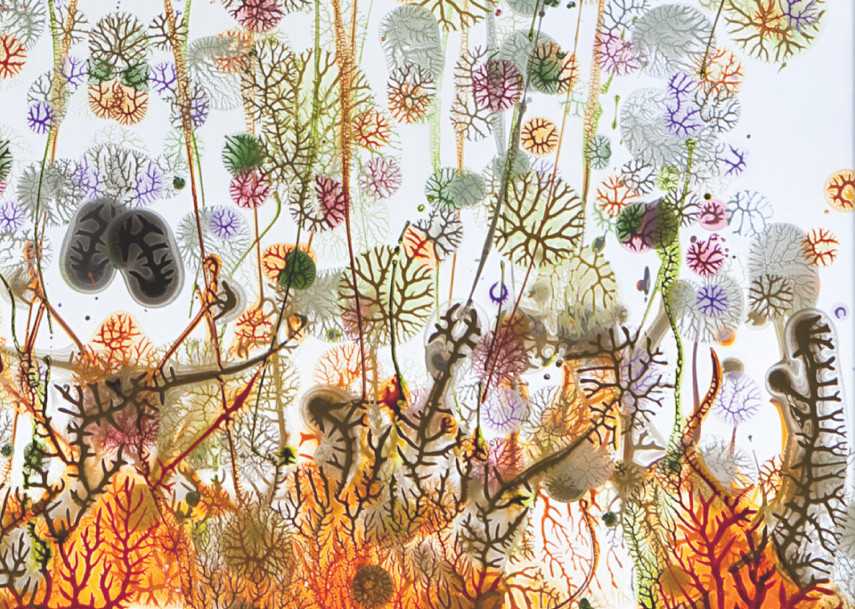 The Ideas Behind Bynum's Work
Peter Bynum received his MFA from the New York University, a city that will eventually prove to be the main center for this artist's work. The education Peter acquired at the NYC University allowed him to build an impressive foundation for his concepts and ideas, although Bynum can be considered very self-taught since much of his art has been quite experimental in nature. No matter on what he was putting the focal point, Bynum always invited viewers to experience a higher form of consciousness, to engage in meditation on the harmony of all living things and abandon all they know about art, leaving the artistic egos to the instinctive intelligence of paint. Although a bit complex, Bynum has developed an approach that exploits the inherent branching composition and dendritic forms of pressurized paint, revealing the medium's affinity to infrastructure present in nature. Bynum's illuminated paintings are based on corporeal capillaries and floral root systems as they abandon the restriction of direct light, utilizing the pure white beams of flat-panel LEDs to illuminate acrylic through panes of tempered glass. Yes, peter actually uses glass and light instead of more conventional tools such as canvases and oils. Such circumstances naturally require that Bynum's art be displayed in darkrooms, which actually works to the artist's advantage as such settings enhance the psychotropic experience of Peter's light-infused pieces.
Forsaking the canvas for good, Peter Bynum uses glass and light to create unique his art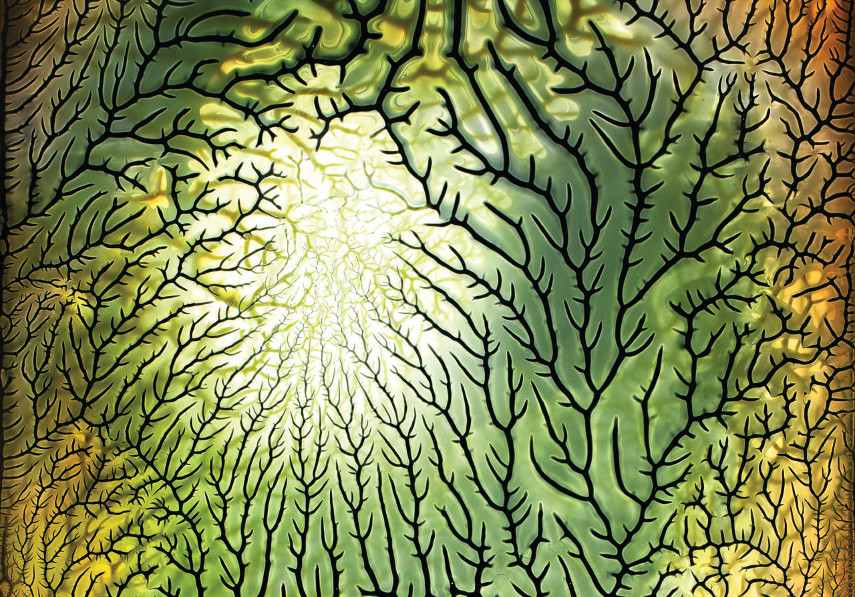 Bynum's Inspirations and Exhibitions
Peter started focusing and exploiting light while he was living in the East Village with a photo editor for Magnum photos - every few weeks Bynum's roommate would get a package of slides that one of her photographers, so one day came images that someone had shot on the front lines of the guerrilla war in El Salvador. Bynum's flatmate put the slides on a light box during nighttime and the most rich, intense colors Peter ever saw came out. Red guerilla army flags, revolutionary slogans spray-painted on the walls, all covered in magical lightning - these images became engraved inside Bynum's mind and from then on he focused his effort on explaining the potential of light. Bynum's work has been exhibited in Rome, Shanghai, Basel, Paris, Cologne and all throughout the United States of America, never failing to attract mass public attention wherever the shows were held. During the year of 2013, New York's Museum of Arts & Design hired Bynum and commissioned a large, illuminated triptych to feature alongside renowned light artist James Turrell. However, this only proved to be a taste of things to come, as Peter was commissioned by the New York Public Library during the year of 2014, asking him to fill its 5th Avenue windows with 17 large-scale illuminated paintings! Bynum answered the call, creating some very impressive pieces that really shined on the 5th Avenue of New York. Peter Bynum's next milestone commission came when the Hudson Valley Center for Contemporary Art requested him to reinterpret his work into canvases 23x16 feet for the Hudson riverfront in Peekskill, in the heart of New York City.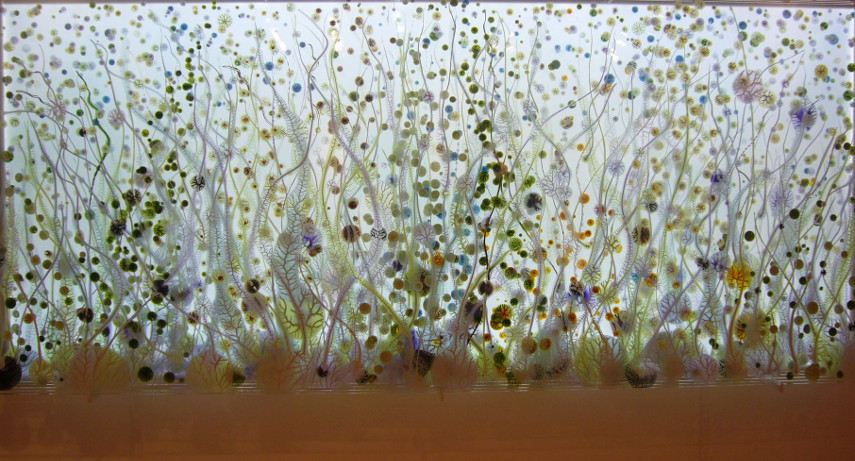 An Amazing Control over Light and Glass
Without getting into the discussion if Bynum's work belongs in the sculpture or painting category, we can safely agree that Peter manages to create some pretty impressive pieces of art. He combines many aspects of different mediums and as a result gets incredible effects that really teach us how much glass and light are being overlooked by contemporary artists. The art scene really depends on artists such as Bynum as they are the ones that are fighting against stagnation that threatens to struggle all the creativity by repeating same patterns over and over again.
Peter Bynum lives and works in New York, United States
Featured Image: Peter Bynum - Photo of the artist in his studio - Image via globallighting.com
All images courtesy of Peter Bynum