Peter Combe is a Canadian-British contemporary artist and photographer known for his 3 dimensional artworks made of collaged paint chips. Based in San Francisco since 2008, Combe has focused his practice around explorations into multi-disciplinary aspects of working with paper as a medium through which the artist envelops the aesthetics of the other mediums including painting, sculpture, photography and digital-media.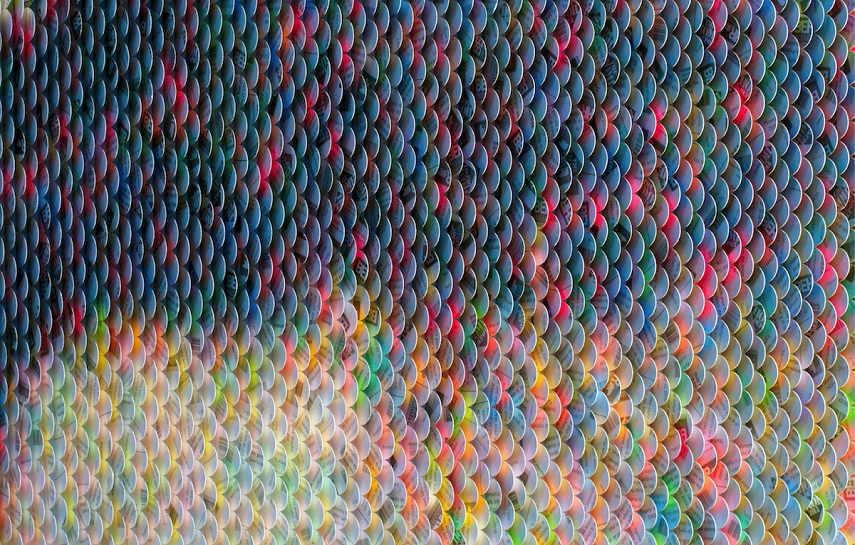 Art by Peter Combe
Peter Combe creates a three-dimensional images using household paint swatches as a basic material, regularly hand-punched into small coloured disks. He places these commercially produced paint-samples into bevel-cut grooves on a specially prepared archival material so that the colours he selects appear at 45 degree angles and the reverse side of each colour-swatch. The artist engages the sculptural possibilities of disks building the illusion of images that appear to move and change depending on the viewer's perspective. From a distance, Combe's subjects gaze at the viewer while, upon closer inspection, the stunning details - looking like colorful, perfectly circular fish scales - expose themselves showing integral part of Combe's image.
The artist makes a three-dimensional images using household paint swatches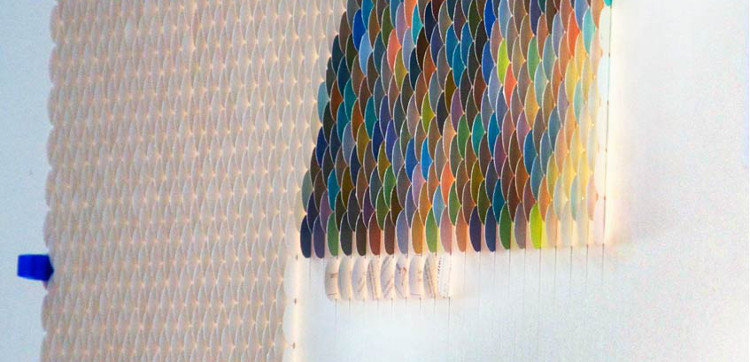 Realistic Portraits Made from Paint Swatches
Peter Combe's work range from abstract pattern-based color compositions to realistic portraits of people. Apart from producing portraits commissioned by collectors, many of Combe's subjects are sourced from online social media, especially Instagram. By inserting the chips into a surface Combe makes pixelated representations of his subjects, the recreation of a photographs. In order to create portraits made from paint swatches, Peter Combe works speedily, thinking of tones rather than colors. For this reason he has organized his palette of over 1,100 colors into 28 groups based on tonal increments and light-reflecting values.
The playful tension produced between the three-dimensional appearance of the portraits and the visual flattening that occurs through the digital references made in Combe's recent works are part of his ongoing examinations into the material characteristics that define ephemerality and permanence as well as representation and abstraction.
Portraits by Combe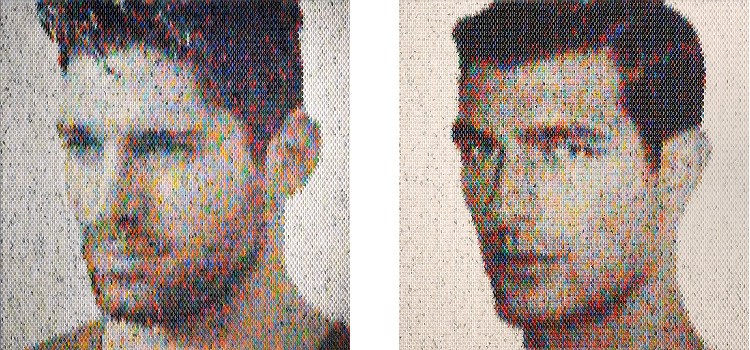 Collections and Exhibitions
Combe's works is in many public and private collections including Laurence Hallier, Los Angeles; David Kensington, San Francisco; David Nazarian, Los Angeles; Sam Nazarian, Las Vegas; Mark Smucker, Ohio; and Chris Viehbacher, Boston. Peter Combe has participated in many individual and collective exhibitions in the USA and abroad, including at Robert Fontaine Gallery, Miami, FL; Back Gallery Project, Vancouver, BC, Canada; Luhring Augustine Gallery, New York, NY; Andrea Schwartz Gallery, San Francisco, CA; Galerie C.O.A, Montréal, QC, Canada; Stedelijk Museum, Amsterdam, Netherlands; Museum of Fine Art, Florida State University, FL; and Centre de Cultura Contemporania de Barcelona, Barcleona, Spain, among others. In 2011 he produced a work for a Burrard Street Bridge as part of the City of Vancouver's Public Art Program.
He is represented by Robert Fontaine Gallery in Miami, FL.
Peter Come lives and works in San Francisco, CA.
Featured photo by Jessica Christian
Images copyright © the artist