A leader of his generation, Peter Doig is a Scottish artist who was able to propose a new set of questions and alter the way we understand art. In a time when new techniques were dominating and when painters and painting, in general, were considered quaintly anachronistic, he forged a new painterly language: an ironic mix of Romanticism and post-impressionism to create haunting landscape vistas. Well known for the exotic atmospheres and dreamy narratives that appear in his work, executed in an uncommonly rich color palette and with a unique material sensibility, Doig has created some of the most resonant and evocative images in contemporary painting, placing him among the most inventive painters working today. But he's more than 'just' a creator - he is also a sophisticated visual thinker, endlessly preoccupied with the process and history of painting.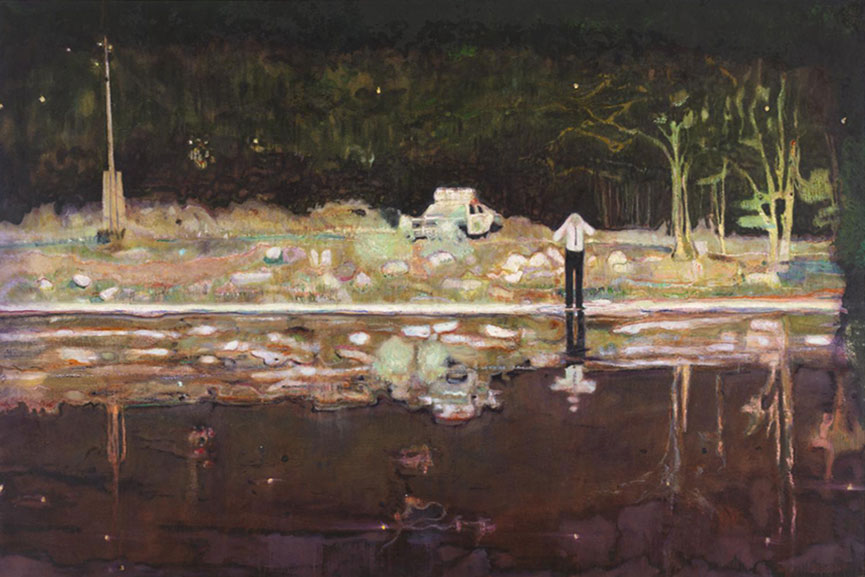 Early Life and Education
On 17 April 1959, Peter Doig, one of the most renowned living figurative painters, was born in Edinburgh. In 1962, he relocated to Trinidad with his family, and four years later, to Canada. At 17, he dropped out of school to work on oil rigs in the prairies, a chastening experience during which he began drawing seriously for the first time. Having decided to get himself educated in art, he chose London, home of his favorite punk bands, moving there in 1979. He attended a foundation course at Wimbledon School of Art and studied at St Martin's School of Art, where the prevailing lyrical abstraction caused him to react and rebel against it. The painter received his MA from the Chelsea School of Art in 1990. In the mid-1980s, he lived in Montreal and had a studio in London. He worked as a dresser (a part-time job) at the English National Opera in 1989. As an artist, he achieved wide acclaim and recognition in the mid-1990s, both nationally and internationally. In 2000, Doig was invited to return to Trinidad, to take up artist's residency. He permanently moved to the island in 2002 and set up a studio at the Caribbean Contemporary Arts Center near Port of Spain. He also became a professor at the Fine Arts Academy in Düsseldorf, Germany. A year later, he started a weekly film club, StudioFilmClub with a Trinidadian artist Che Lovelace. His part in the studio is, besides choosing and screening the films, painting posters advertising the week's film.[1]
While working on oil rigs in the prairies, Doig began drawing seriously for the first time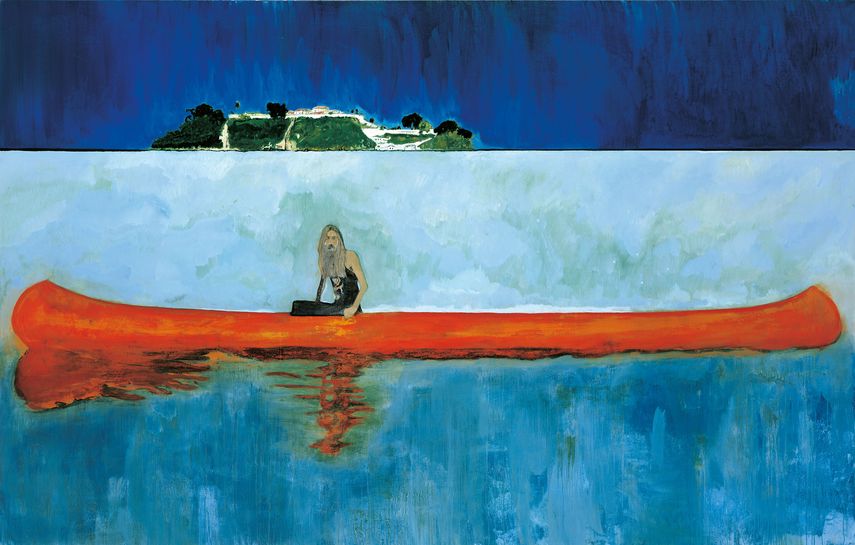 Peter Doig Art
Speaking quietly, Doig appears at once shy and commanding, expressing himself through flurries of words and ideas, exuding a sense of inner sureness about the value of what he does. He also seems equally interested in both figure and landscape. Some of the landscapes are abstract while others are influenced by the snowy scenes of his childhood in Canada. Most often, however, his work originates in some sort of cinematic of photographic sources. His uncanny ability to pour his emotions and intuition in these allows him to end somewhere else. The result is an artwork with an incredible amount of painterly energy and an enormous depth. "You try to create scenarios and atmospheres in your paintings. I don't set out to be deliberately sinister, but I always wanted to make paintings that told stories and suggested things."[2] As mentioned above, in a time when painting appeared increasingly irrelevant compared to other contemporary artistic trends, Doig stubbornly rose as a painter whose enigmatic images of abandoned houses, frozen forests and lone figures in canoes seemed to champion traditional painterly values – colour, texture, space – while bringing to them a sense of unease that feels very much of our time.
And indeed, looking at his quintessential work The Architect's Home in the Ravine, with its lattice of foliage breaking up the surface of the artwork, one might feel unsure whether what he/she's looking at is figurative or ultimately abstract. Plainly in view but physically inaccessible, the work is half obliterated with an underbrush as dense as a half-finished Pollock and the scene becomes foreboding: something out of an Edward Hopper or an Andrew Wyeth artwork. In short, Peter Doig reinvented the way a picture is meant to be looked at. In our visual culture, we're used to reading pictures – we read the information. Whether they're on the Internet, on Television, or in the papers, we only read information – but in the case of Doig's pieces, we sympathize with them. Coming to an ordinary exhibition, people will simply walk by the works, giving them all a fragment of their attention. At Doig's exhibitions, the spectators don't walk through it. They sit in front of the pieces, immersing themselves in them. And it is this immersion – the idea of the picture focusing on our existence because it is out of focus that makes his paintings so utterly fascinating.
Peter Doig expresses himself through flurries of words and ideas, exuding a sense of inner sureness about the value of what he does
[caption id="attachment_313246" align="aligncenter" width="850"]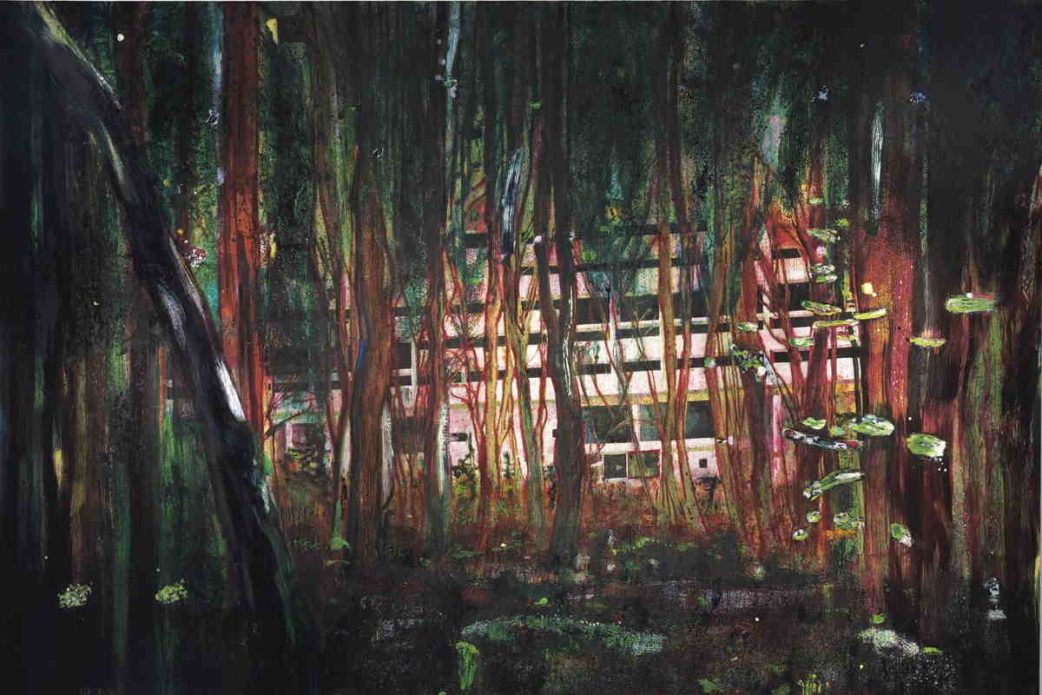 Peter Doig - Cabin Essence, 1993-4 - image via artnews.com[/caption]
Inspiration and Style
Apart from personal experiences, his inspiration comes from movie scenes, record album covers, newspaper clippings, and works of artists like Edvard Munch, Claude Monet, and Gustav Klimt. While his works are based on photographs (sometimes found, sometimes his own) his style can't be categorized as and is not photorealism. His series of paintings, created in the late 1990s, allude from where his inspiration is coming from. Country-Rock (Wing-Mirror) (1999), a piece that depicts a tunnel, on which an unknown artist, for more than two decades has painted a rainbow, which authorities were constantly trying to remove, is a familiar landmark in Toronto, which confirms the influence that Canadian scenery left on him. To this also points his use of canoes in his practice, which are freight symbol of Canada. His use of unusual color combinations, and presenting scenes from unexpected angles, contribute to magic realistic feel that his art leaves to the viewer.
To enter Doig's imagery is to enter a dream world, a dream-like universe. The images, according to the artist himself, come to him in the state between being awake and falling asleep. His paintings deal in reflections, and it's a recurrent feature. There are things between depth and the viewers that look like a dirt on the lens, or we have an impression that something is in our eyes – only to realize that it is delicately painted snow or branches. In many ways, the painting is a medium that requires time for its observers to move through it. Looking at Doig's works is like traveling – and many of them reflect travels. Pretty much all of them deal with what the viewers perform in front of them. They look at the pieces to find out if it is a reflection of them. Doig has a very distinctive style, as he creates images so intense that they possess the power to suck the observers in, expanding their world, what they have experienced and what they know.
To enter Doig's imagery is to enter a dream world, a dream-like universe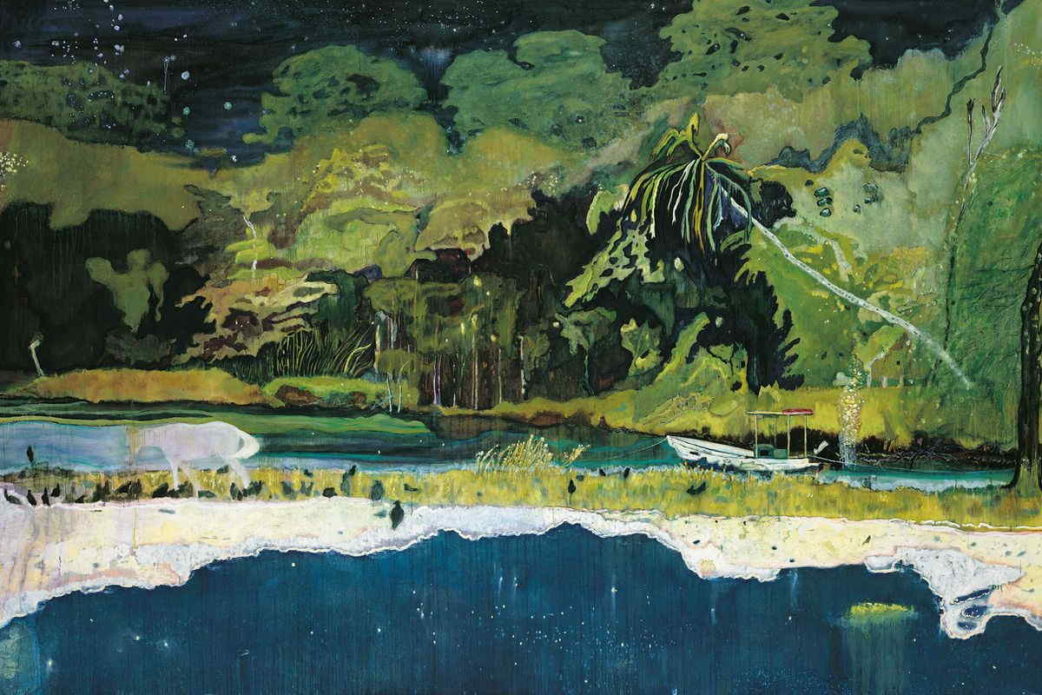 Exhibitions, Awards, and Auction Results
Doig had many exhibitions over the years. His major solo exhibitions would include exhibitions at Tate Britain (2008), Musée d'Art Moderne de la Ville de Paris and Schirn Kunsthalle Frankfurt, Dallas Museum of Art (2005), Pinakothek der Moderne, Munich (2004), Bonnefanten Museum, Maastricht (2003), and Whitechapel Art Gallery, London (1998). His first solo exhibition since 2008, was in 2012 when he inaugurated Michael Werner Gallery's new location in London's Mayfair. Until 2013, he didn't had major exhibitions in his home country. First major one was titled No Foreign Lands and took place at Scottish National Gallery, in Edinburgh, from 3 August to 3 November 2013. There he showed works he created in the past decade, much of which the artist spent in Trinidad. Often tropical in their subject matter, these are paintings of intense color on a monumental scale.[3]
Doig received Whitechapel Artist Prize in 1991, shortly after his graduation from the Chelsea School of Art. In 1993, he won the first prize at the John Moores exhibition with his painting Blotter. In 1994, he was nominated for the Turner Prize. The winner was the popular sculptor Antony Gormley, while other nominees were video artist Northern Irish-born Willie Doherty, whose work The Only Good One Is A Dead One was the first video piece to be nominated for the prize and multi-media Shirazeh Houshiary. From 1995 to 2000, he was a trustee of the Tate Gallery. He was honored with amfAR's Award of Excellence for Artistic Contributions to the Fight Against AIDS in 2009.
The painter had some formidable auction results in the past. His painting, titled White Canoe, was sold at Sotheby's for $11.3 million in 2007, which was a record at the time for a living European artist. Night Playground (1997–98), sold in 2009 by Joel Mallin, a New York collector, went for $5 million at a Christie's auction in London (the estimate was $3 million). The Architect's Home in the Ravine (1991) also at Christie's London, was auctioned at £7.66 million. Jetty, a 1994 canvas of a lone figure on a dock at sunset, was sold by a César Reyes (a psychiatrist who is one of the artist's biggest collectors) for $11.3 million. In 2014, his Gasthof reached $17,038,276 at the Christie's auction. A year later, his painting Swamped, depicting a canoe in a moonlit lagoon, has fetched nearly $26m (£16.6m) at a record-breaking auction in the US.[4]
Group or solo, Doig's exhibitions are always covered by the news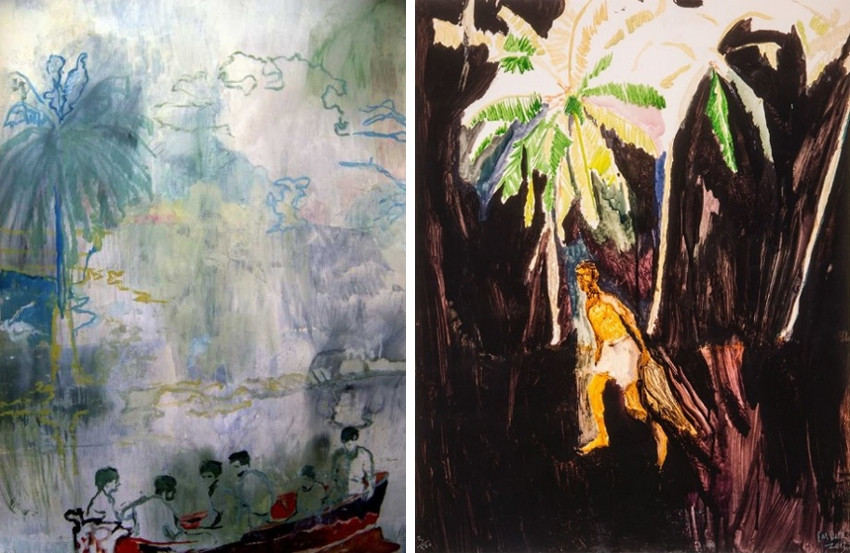 Peter Doig in Court – a Bizarre Trial
Recently, Peter Doig has been a subject of an extremely bizarre lawsuit that was followed by a film-like and even more bizarre trial. Former Canadian prison official Robert Fletcher claimed that he had bought a certain painting from the artist forty years ago. He insisted that the painting was bought from Doig for $100 in 1976 when the artist was serving a sentence for LSD possession at Thunder Bay Correctional Centre in Ontario, where Fletcher worked at the time. Yet, the painting was signed "Pete Doige 76". After Fletcher tried to sell the work, Doig disavowed of it claiming he had never painted it. Fletcher and the art dealer filed a lawsuit against him for interfering with the sales and plummeting the painting's worth. What followed was a weird trial where artist's claims and former whereabouts were put to question.
Doig claimed he had never been in prison and that he had been attending high school in Ontario at the time, but Fletcher insisted that the records of the prison sentence were erased not to jeopardize the artist's career. Additionally, the artist stated the signature was not his, that he hasn't been painting on canvas at the time and that he has never painted a single painting in acrylic, as this one was. After an agonizing cross-examining, the judge ruled that it was a case of mistaken identity.[5] There was a certain Peter Edward Doige who has spent time in Thunder Bay during the 1970s who have died in 2012, and his sister confirmed it was, in fact, the work of her late brother. This was certainly a quite unique and bizarre case, as this was the first time that the living artist had to fight such accusations, as it is widely accepted that their word concerning the authenticity of a work is final. The justice finally prevailed for Peter Doig.
Peter Doig said that signature wasn't his and that he hasn't been painting on canvas at the time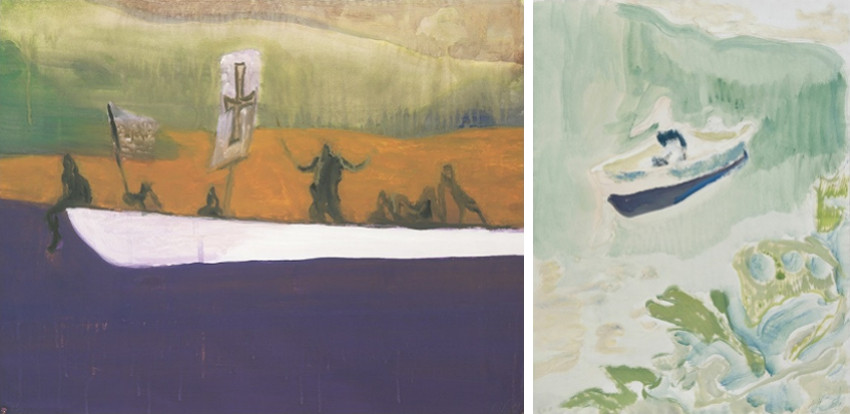 The Market Has It Right This Time
Doig's works are being sold for record-breaking amounts at auctions. And while sometimes the market makes mistakes, overpricing certain creators and their pieces, there isn't such a mistake present in the case of Peter Doig. People who buy his creations are assured they will survive the test of time and are willing to invest in sheer quality. Why wouldn't they be? Peter Doig is "a jewel of genuine imagination, sincere work, and humble creativity".[6] Not only an immensely talented artist, he is also a profound thinker and a scholar, ready to transfer his knowledge to his students at the Kunstakademie in Düsseldorf. His paintings take the mind to new places, far-off places, forgotten places. Even though he paints landscapes, it would make no sense to call him a landscape artist. Rather, he creates spooky fictional places inhabited by bizarre outcasts.
He is represented by Weng Contemporary, Kunzt Gallery and Galerie Fluegel-Roncak.
Peter Doig lives and works in Trinidad.
References:
Featured image: Peter Doig at his London studio - photo credits Martin Godwin, courtesy of The Guardian