Peter Max Lawrence is an American visual artist who works in a variety of media and styles including painting, drawing, sculpture, video installation and photography. Born on March 19, 1977 in Topeka, Lawrence soon moved to Kansas City with his adoptive parents, where he grew up. He graduated from Kansas Community College in 1996, and then from Kansas University in 1997 in Fine Art. He later moved to San Francisco, where he enrolled at City College of San Francisco in 2003. Lawrence also holds a BFA degree from San Francisco Art Institute, which he obtained in 2008. Owing to his extensive education and experience he gained during his academic training, the artist creates content that has earned him both public and critical acclaim.
Lawrence's massive body of work includes performances, visual art and videos, through which he investigates a variety of themes. The Battle of the Last Goodbye is an installation that was featured in a duo exhibition called At War, which included the artworks of Truong Tran, a poet and artist. The installation consisted of thousands of sculptures, paintings and videos, and it took place at SOMArts Cultural Center in San Francisco in 2012. Another critically renowned artwork is an autobiographical short film titled Queer in Kansas, which had its debut in 2007 at San Francisco Art Institute. Since then, the film has been shown at numerous international LGBT film festivals, including Frameline.
Drawings by Peter Max Lawrence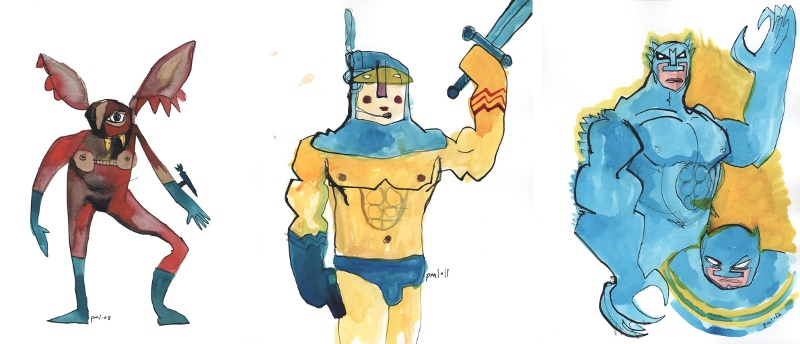 Lawrence has shown his work in numerous galleries throughout Canada and the United States. He was a part of countless group and one-person exhibitions, and he took part in numerous festivals. His first solo gallery show, Lunching with Lesbians, took place in 1999 in Planet Gallery from Kansas City. That same year, the American participated in River Market art fair in Kansas City, and later, in 2013, in CollectLA in Los Angeles and Foundation Art Fair in San Francisco. He was also the recipient of CAAC fellowship in 1999, and the Garber Grant, which he received two years later. His artworks were also featured in many publications, and are in numerous public and private collections.
Peter is represented by Vertical Gallery from Chicago.
Peter Max Lawrence resides and works in San Francisco, California.
Featured image: Peter Max Lawrence portrait - Image source Vcrown
All artwork images are courtesy of Vertical Gallery