Providing satirical commentary on American culture, politics, and history, Peter Saul is a painter and printmaker known for his electric color palette and comically horrific use of the human figure. Saturated with absurd hybrid creatures, social and political satire, and references both timely and historical, his work has always been perplexing. Certainly, the lampooning of art-historical subjects through the familiar icons of American culture and politics is a huge part of the artist's work, but it would be a mistake to ignore his idiosyncratic style and technique as clear evidence of the enjoyment he clearly derives from making work — an enjoyment as deviant as the uncouth subject matter he tackles. A great agitator of both ideas and forms, Saul paints his easily identifiable figures in a style that doesn't recognize the conventions of either Pop Art or glorified minimalism.[1] His caustic humor sinks its teeth into America, lambasting the consumer society of the West, and his paintings, often grand-scale, nearly run away from their supports; their loud, violent colors set the eye spinning.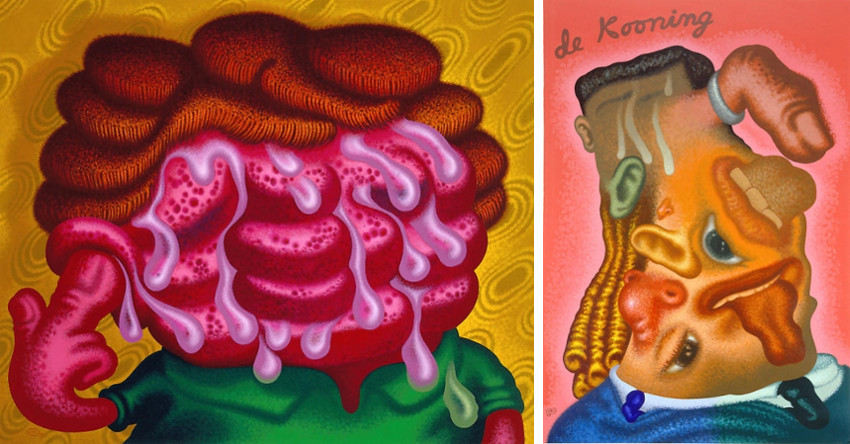 Peter Saul – Personal Life
Born in San Francisco, Saul studied at California School of Fine Art from 1950-1952, and Washington University of Fine Arts in St. Louis from 1952-1956, before moving to Europe in 1956. He lived in The Netherlands, Paris, and Rome. In 1964, he came back to the States, settling in Mill Valley, California, where he would stay for the next decade. The same year he won the Art in America "New Talent" Award and Copley Foundation Award. Between 1961 and 1987, he exhibited regularly at Allan Frumkin Gallery in New York and Chicago. In 1975, he moved to Chappaqua, New York, where he stayed for six years. Between 1981 and 2000, he was based in Austin, where he was teaching at the University of Texas. In 2000, Peter Saul settled permanently in New York.
Peter Saul lived in Europe from 1956 to 1964, from where he witnessed the rise of Abstract Expressionism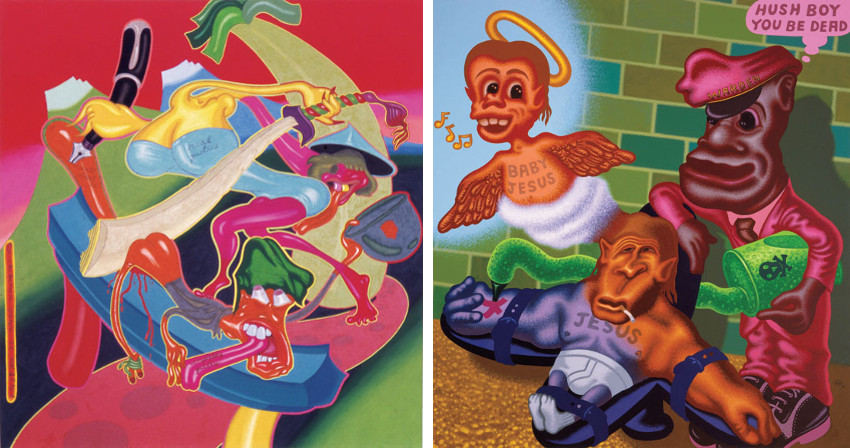 Beginnings
From 1956 to 1964, Saul lived in Europe, where, from afar, he witnessed the rise of Abstract Expressionism and the New York School as the zeitgeist of post-war American art. The pieces he created in Europe were unlike anything else being made at the time. Presaging the American artist, Phillip Guston, they were both expressive and figurative and featured distinctly unartful motifs such as iceboxes, cars, toi­lets, and Don­ald Duck. Looking back from today's vantage point, it is clear that Peter Saul had established himself as a progenitor of what became internationally known as American Pop Art. In late 1950's, while living in Paris, he befriended the Chilean surrealist and Abstract Expressionist Roberto Matta, who introduced his work to the art dealer Allan Frumkin, another person who played a significant role in Saul's career. His first solo exhibitions were to follow in New York and Chicago in 1961.[2] Upon his return to the USA in 1964, Saul's style veered away from the expressive and painterly in favor of a hard-edged figurative style featuring distorted anatomy, acidic psychedelic colors, and an all-over, chaotic composition that created an animated drama and tension within the frame of the canvas. This highly charged cartoon style served Saul as a means to comment, during the late 1960s and early 1970s, on the profound rift within American society over the Vietnam War and the struggle for racial equality.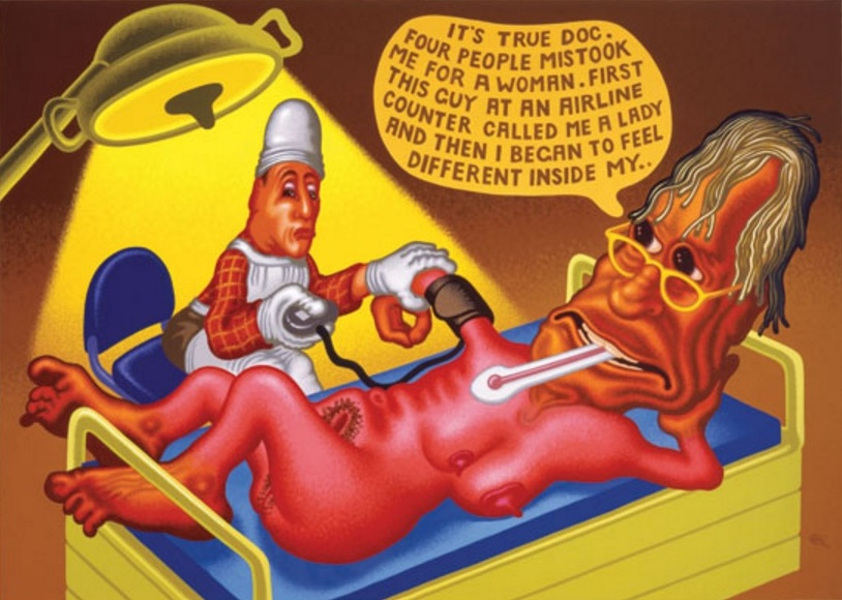 The Evolution of Style and Variety of Themes
Saul established his reputation as an outsider and a troublemaker in San Francisco in the 1960's by painting violent scenes of racism, blood lust and misogyny, unadulterated hallmarks of the Vietnam War, in the midst of flower-child culture. Growing up in San Francisco may have had an influence on his aversion to political correctness or political beliefs, but as Saul claims: "…but the meaningful time I had there was 1964 to 1973. I never used drugs beyond marijuana four or five times — I was talked into it, I didn't enjoy it very much — but drugs were a huge subject for people to think about. I took note of that, put it in my pictures. And I also put in the kind of psychology that was going on. In Marin County, Mill Valley, everybody was undergoing psychic change, it seemed. I couldn't help but make use of that, even though I personally didn't go through any psychic change — I don't think. I just mixed the whole thing up with politics."[3] Over the years, the generic imagery of Paul Saul has really changed. Frumkin here played the major part. As the painter admits: "Maybe Frumkin did me a favor by insisting on something interesting to look at when he came for his once-a-year visit to my studio. I was afraid to show him something he'd already seen."[4]
Saul's themes are very diverse – in the late 1960's, he began painting portraits of art world celebrities, including Marcel Duchamp, Frank Stella, Clement Greenberg, but also his dealer, Allan Frumkin, all in a spirit of rudeness and psychosexual turmoil. Leading politicians were next to follow, most notoriously Nixon and Reagan with the same attitude. Perhaps feeling he'd gone too far in the direction of personal insult, the painter tried to make amends by repainting famous works by the icons of Cubism and Ab-ex, giving these masterworks the gift of cartoony drawing and fluorescent colors. In the 80's and 90's, he imagined the punishments of Ethel Rosenberg, John Wayne Gacy and O.J. Simpson, strapping each into an electric chair and being executed. The artist also tackles history, as some of his works are based on historical classics, such as Rigaud's full-length portrait Louis XIV, Géricault's The Raft of the Medusa, and Cabanel's The Birth of Venus. In these spirited re-interpretations, Saul is looking at the classics, he explains, according to his "will or whimsy".
The art of Peter Saul possesses a unique design and covers a variety of themes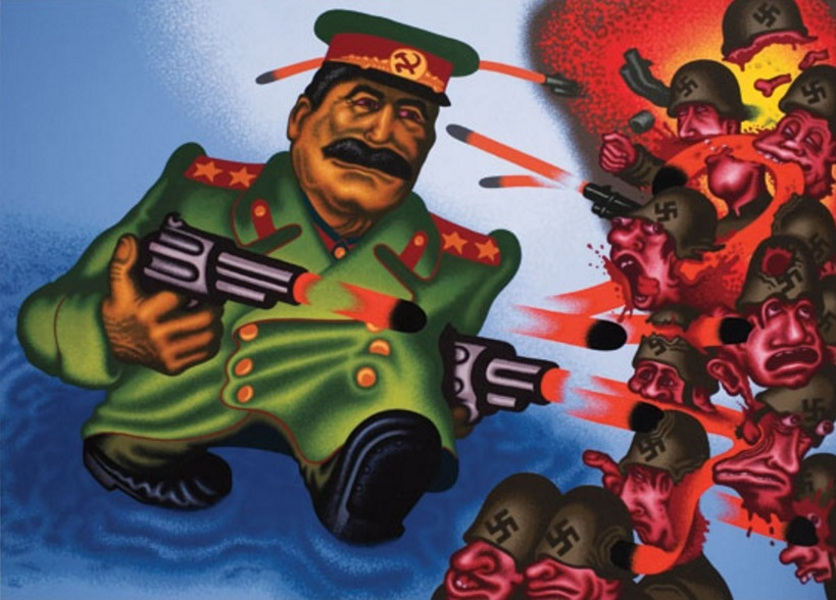 Legacy
Over the last half a century, Peter Saul has created one of the most immediately recognizable bodies of work in contemporary American painting. Concerning his penchant for difficult or vulgar subject matter, the artist has stated: "Putting crime, war, sex, distortion and low class stuff into the picture is a way to take the decoration out of the picture - literally remove it from the dining room because no one is going to drink orange juice in the same room with it."[5] By maintaining allegiance to no particular school–indeed, his career has in part been predicated upon the skewering of the endless litany of "-isms" that are commonly assumed to define art in the 20th and 21st centuries – he has allowed his own idiosyncrasies to channel the strangeness and perversity of modern life. Never far removing formal experimentation from social commentary, the painter bounded the broad scope of history painting with emotional responses to the specific day-to-day realities of being an artist.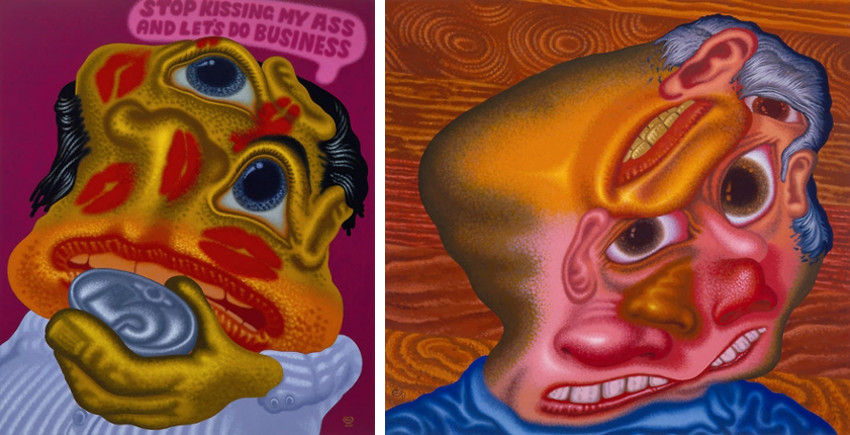 The Artist's Recognition, Exhibitions, and Collections
Saul has been widely praised for his career and style that constantly escapes easy critical definition. Since his first solo shows back in 1961, he has been quite active in the exhibition scene, displaying his works both as a solo artist and as a part of group shows, throughout the US but internationally as well (The Netherlands, France, Greece, Germany, Switzerland, Austria). In 2010, he was elected to the American Academy of Art and Letters. Saul's artworks are held in numerous prestigious collection worldwide - Art Institute of Chicago, Stedelijk Museum in Amsterdam, Whitney Museum of American Art in New York, and many others.
Peter Saul lives and works in New York.
References:
Decron B., Peter Saul, Somogy; Bilingual edition (2006)
Saul P., & Corbett J., Peter Saul: Stupid Arguments, Corbett vs. Dempsey Modern Art & Uncommon Objects (2011)
Frank P., Meet Peter Saul, The Art World's Resident Octogenarian Rebel (2015), The Huffington Post [February 8, 2017]
Ostrow S., Peter Saul (2008), Bomb Magazine [February 8, 2017]
Storr R., Peter Saul: A Retrospective, Hatje Cantz (2008)
Featured image: Peter Saul - portrait - photo credits John Huba, via vanityfair.com
All other images courtesy of David Nolan Gallery