Peter Steinhauer is an American photographer best known for his images of Asia where he lived for more than 20 years.
Peter Steinhauer: Urban and Natural landscape of Asia
Peter's parents brought him and his siblings on annual travels, so Steinhauer developed an early appreciation of different cultures. Ever since he can remember, the idea of experiencing a new city or country was something that had a tremendous impact on his imagination, wanting to explore, get lost and see as much as possible wherever he traveled to.
Steinhauer was born in San Francisco, two weeks after his father left to serve as a doctor in Danang, Vietnam during the war, with The Third Marine Division from 1966 to 1967. Back home, Peter started giving slideshows of his father's snapshots, even though he wasn't a professional photographer. In 1988, Vietnam let American servicemen come back to visit the country so his father came back and this time he went back to the north to Hanoi, helping to found a medical organization that would give donated medical equipment from the states to Vietnam. This group has developed deep friendships with Vietnamese and when Peter finished art school in early 1993, he saw a chance to go there and stay with these people. That was his first trip - Peter stayed for seven months, came back to the US for a month and moved back. Next two decades, he called it home.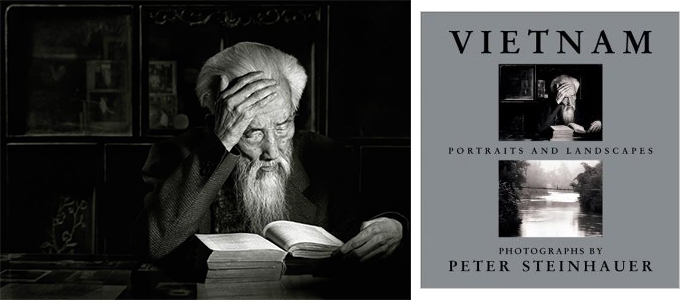 Peter's photography mostly focuses on architecture within urban and natural landscape, Asian faces and manmade structure. Peter's Steinhauer's first project was black and white book entitled Vietnam: Portraits and Landscapes. From the start, Steinhauer was fascinated with graphic elements he found within both rural and urban landscapes, throughout entire Hong Kong. Peter's images present mainly the urban landscape of Hong Kong and the nature of Hong Kong; stillness and a peaceful.
"I do come from nature in Colorado in the United States, so stillness, calmness, mountains, that is very much a part of how I grew up. It's very much a part of me, although I love large, urban cities, I have to have a bit of nature just an arm's length away and that was the beauty about Hong Kong for me."
Elements such as clouds, coast lines, mountains, even organized chaos of urban architecture - are what appeals to his eyes most. His second monograph, titled Enduring Spirit of Vietnam, was published in 2007 and was awarded Best Photography Book of the Year 2007 by PDN (Photo District News), and won a Silver Medal in the Independent Publishers Annual Book Awards 2007.
A long exposure and 19th century photographers
Using a long exposure is a huge part of Peter's art and he tries to involve in every part of his work. Peter's main influences were 19th century photographers, as he explains - mainly because there wasn't much interest in photography back then; even though they weren't making money, they still had this passion to really document.
"What I love about their work is this blurring of people in the streets, like ghosting images — things were moving, water kind of looked like ice because the exposures were so long that any movement blurred into stillness."
Scottish photographer John Thomson had a significant influence on Peter. He was one of the first Western photographers to document Southeast Asia and settled in Hong Kong not long after it became a colony in 1868. He has the largest body of work documented on Hong Kong and he has the first photographs of Angkor Wat in 1866.
Cacoon
A routine construction technique, practiced in Hong Kong for over 100 years, caught Peter Steinhauer's attention in 1994.
This inspiration has led him to spend a decade of work capturing this unique urban phenomenon - the bamboo scaffolding and fabric wrappings. His 'Cocoon' series are shots of the amazing edifices entirely wrapped in a veil of vibrantly colored silk which prevents debris material and prevents workers falling into the void.
The series' name Cacoon is a reference to insects during a stage of their metamorphosis from caterpillar to butterfly - a perfect way to understand the image of buildings when are undergo their own structural renovations.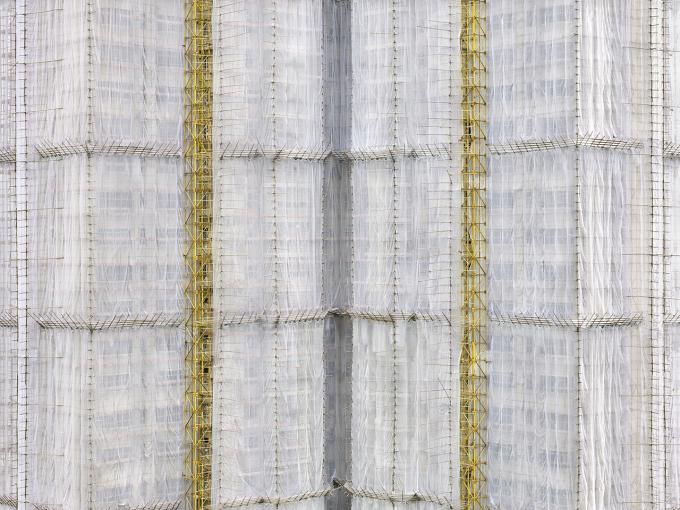 Hong Kong: Surface Unseen and Asian Market
Surface Unseen is a series Peter have photographed with an aim to represent what is right in front of everyone, right on the surface, but what people simply pass by - the small details of life. The culture of Hong Kong is full of that kind of hidden treasures.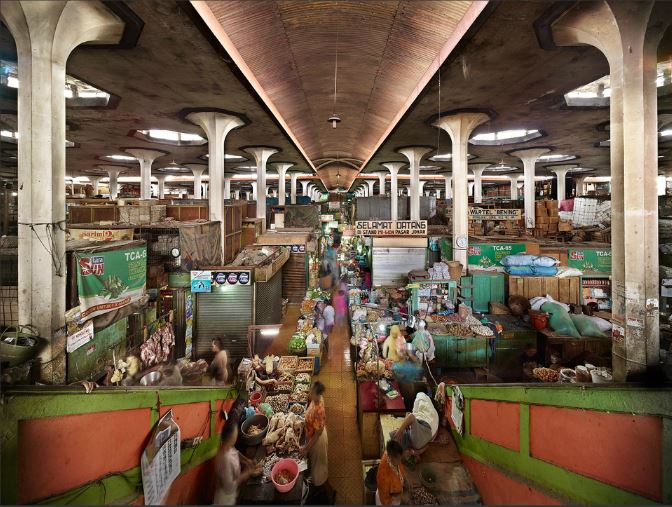 Other project Peter worked on is Asian Market, where he tried to express socializing throughout the food. Central markets are disappearing slowly from Asia, so it became important to him to show them photographically. The only thing he regrets is that the image can't evoke smell and sound of the market. Peter thought about this for quite a long time and finally decided to record the exact sound each photograph made. He even created an App: Asian Markets by Peter Steinhauer, so one can feel like standing inside the market.
Peter Steinhauer - Surface Unseen at Contemporary by Angela Li
In 2015, Peter Steinhauer held an exhibition at Contemporary by Angela Li in Hong Kong. The show was titled Peter Steinhauer - Surface Unseen - he wanted to visualize scenes of peacefulness and the underlying beauty of urban density. Hong Kong – Surface Unseen is a body of photographic work that exposes the many dimensions of Hong Kong that are within our sight, yet often go unnoticed and unseen.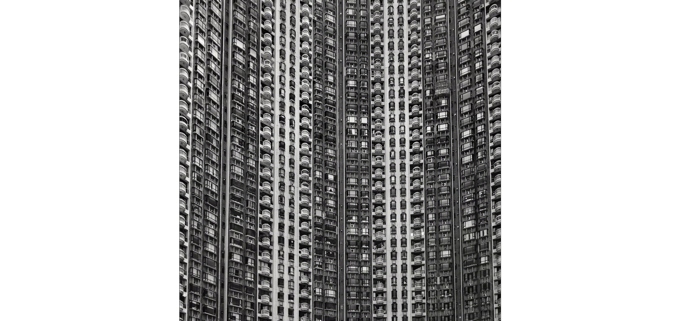 Peter's works have been showcased in publications such as TIME, Communication Arts, Archive, B+W, Black and White, Lenswork Asian Art News and the in-flight magazines of Cathay Pacific, United and Malaysian Airlines. Steinhauer is also a member of the elite Explorers Club in New York. He is a recipient of numerous international photography awards including a Ford Foundation grant for his multiyear work in Vietnam, a Black and White Spider Award for Architecture, IPA and PX3 Paris awards, among others.
Peter Steinhauer relocated back to the US to San Francisco after 20 years living in Asia.
All images copyright © the artist