Pez or El Pez is a pseudonym for a Barcelona-born artist who began his artistic career by writing his tag on the streets of hometown in 1999. Searching for an original language to interact with the pedestrians, the Spanish artist soon shifted from writing his tag to using the figure of a grinning fish which led to the emergence of his current moniker - El Pez (The Fish in Spanish). Over the years the images of smiling fish have evolved to a varied range of characters and doodles that are easily recognizable.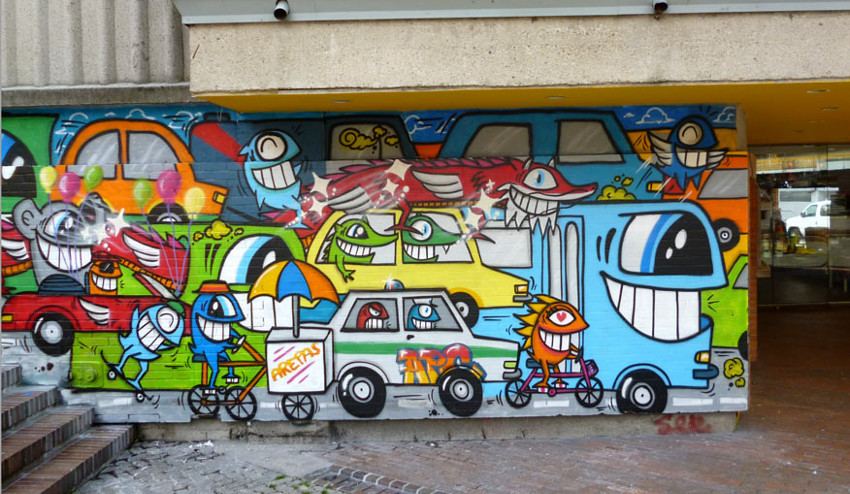 Soon after El Pez had invaded the streets of Spain's second most populated city, he went on to travel to Madrid, Pamplona, Las Palmas, Valencia, Bilbao, Sevilla, as well as to various European metropolis including Paris, Amsterdam, Berlin, Milan. Pez's colourfull and jolly works became instantly recognizable throughout Europe thanks to its uniqueness, as well as the artist's perseverance and hard work.
In 2006 he traveled to South America to paint in Venezuela, Colombia and Peru. Being part the K-Swiss Tour, El Pez travelled to the some of the biggest Asia's cities including to Hong Kong, Singapore, Shanghai, Tokyo, Seoul, Taipei. His work has been included in numerous exhibitions, festivals and international art fairs in Bogotá, Amsterdam, Lausane, Barcelona, Hamburg, Paris, London, New York, Oslo, Madrid, Portland, Dubai, Bratislava and Los Angeles, to name a few.
El Pez's colourfull and jolly works are instantly recognizable throughout Europe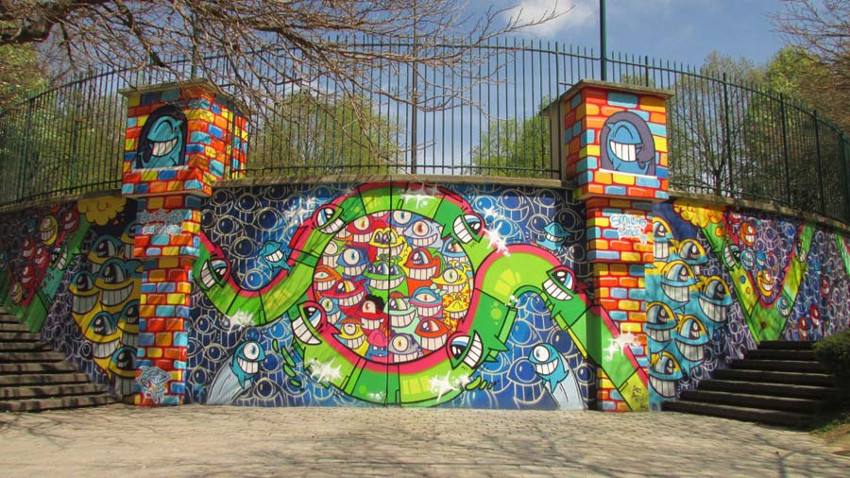 His work has appeared in documentaries such as Bomb It-The Movie; Muros Libres; Free Walls; and A Primer on Urban Painting, as well as in street art books Street Logos; Art of Rebellion; Street Art; Bcn New York; and in specialized magazines and graffiti culture websites. In 2011 Pez decided to create his own line of products: graffiti spray cans, backpacks, mobile cases, and apparel.
The artist is represented by Azart Gallery in New York, Galerie Celal in Paris, and Vertical Gallery in Chicago.
El Pez lives in Spain.
All images used for illustrative purposes only