Phoebe Boswell is an award-winning visual artist and animator, known for her charged, multi-sensory works always anchored to a personal exploration of home. With a heavy base in drawing and a formal background in Fine Art, Phoebe works between fine art and new media.
Art by Phoebe Boswell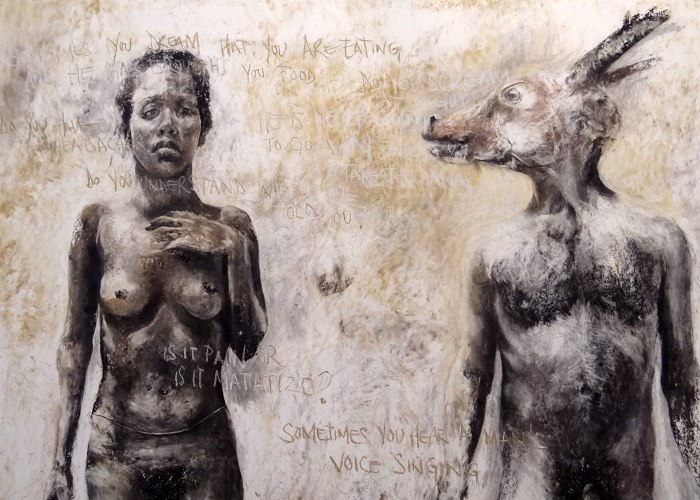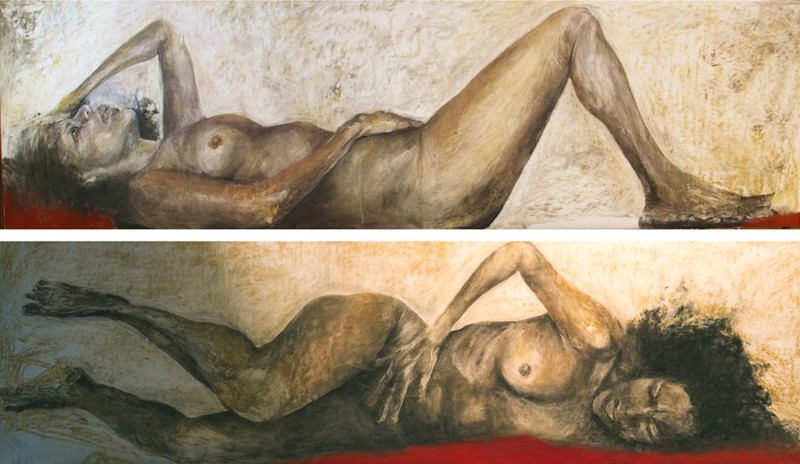 Born in Nairobi, Kenya in 1982, Phoebe Boswell grew up as an expatriate in the Middle East before coming to London. She studied Painting at the Slade School of Art, graduating in 2005. Interested in finding a suitable medium for telling contemporary stories, she enrolled in an Animation course at Central St Martins where she mixed traditional hand-drawn animation with compositing, the latter process acting as an equally important creative methodology.
Transit Terminal installation
In 2014, Boswell created Transit Terminal - an installation which explores the transient territory of the migrant experience. Transit Terminal consists of twelve white, totemic plinths, with the powerful charcoal drawings of the African migrant in various archetypal guises, such as the kitenge-clad mama holding a rosary, the uniformed schoolgirl exuding hope-filled innocence, the middle-aged Arab/Indian gentleman, or the modern lady with relaxed hair. These figures can be seen only from the back, waiting. The anonymity interrupts empathic interaction, forcing the viewer to construct their own narratives as they stand amongst the figures, narratives that are undoubtedly articulated by their own position and sense of self-belonging within the city.
Pencil on paper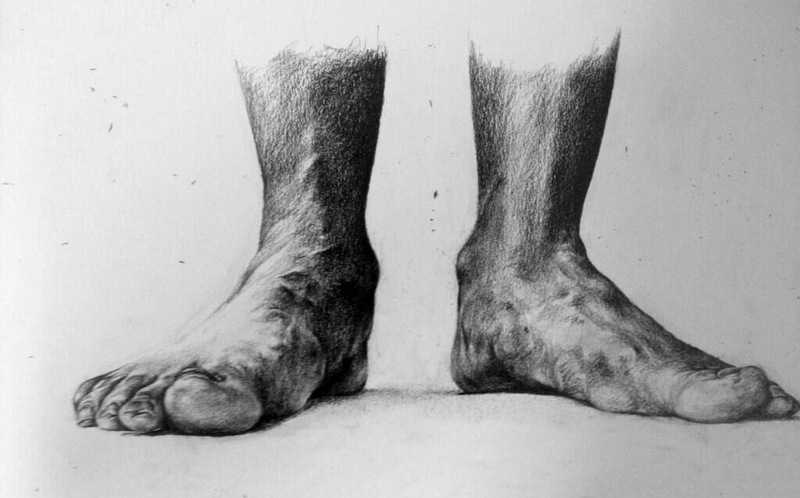 Her moving-image installation - The Matter of Memory, was exhibited at Carroll/Fletcher Gallery in London in 2014 alongside John Akomfrah and Rashaad Newsome.
Boswell's works have been exhibited in many collective and solo shows, including the ones held at Carroll/Fletcher, Kristin Hjellegjerde, the Royal Academy, Bonhams, and the Mall Galleries.
Phoebe Boswell currently lives and works in London, UK.
All images copyright © the artist