We associate black with sadness, death, darkness. Many of us are simply unable to see the bright side of it. And yet, a chosen few, like Pierre Soulages, have dedicated their entire career to one specific color. It's not that unusual – many choose monochrome painting as a form of expression and they work predominantly with just one color. And yet, only some actually achieve a level of mastery necessary to keep all the paintings fresh and original. Without difficulties, Soulages have remained one of the unique painters of the 20th century. When he decided to paint light and snow with black, that uniqueness became even more apparent.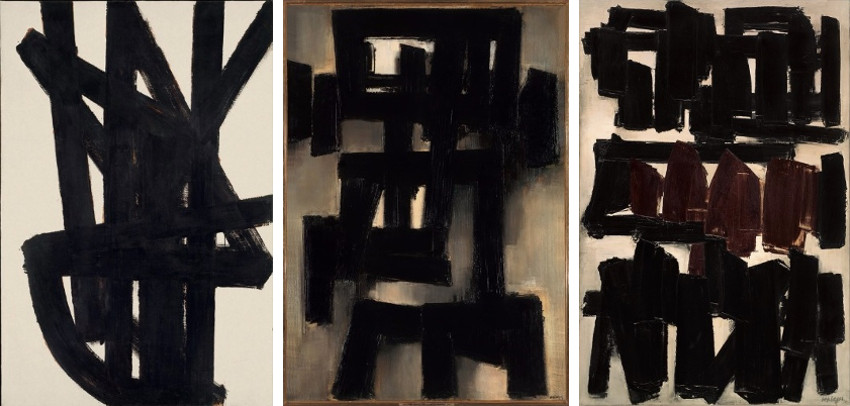 Biography and Important Years
When he was just six years old, his older sister found him drawing thick black lines in ink with a brush and asked: "What are you painting, my little Pierre?" He replied: "Snow".[1] Nine decades later, after giving it another meaning, he is the king of black. Born in Rodez, he was attracted as very young to Romanesque artistic traditions and prehistory. He began his career in this isolated province that has not followed the contemporary artistic trends. At the age of 18, he went to Paris to prepare for the entrance examination to the prestigious École Nationale Supérieure des Beaux-Arts. Initially accepted into the school, Soulages, convinced of the poor quality of education, refused to even start his studies and went back to Rodez. While he was in Paris, he frequently visited the exhibitions of Cézanne and Picasso that were taking place at the Louvre. The WWII broke out and he was soon mobilized. After Paris was occupied, he was demobilized and went to Montpellier where he regularly attended the Musée Fabre. However, Montpellier was also quickly occupied, and he spent the next period escaping the Service du travail obligatoire (the Nazis deported hundreds of thousands of French workers to Germany to work as forced labor for the German war effort). During this time of constant conflict and hiding, he didn't paint.
It was not until 1946 that he could devote all of his time to painting. Having settled in Paris once again, Soulages began creating abstract and dark paintings, dominated by black. These pieces, heavily influenced by the atrocities of war, were immediately noticed as they differed significantly from the semi-figurative painting and colorful post-war tendencies. In 1948, he began participating in exhibitions in Paris and Europe. One of the most known shows was Französische abstrakte malerei, exhibited in several German museums. Soulages was by far the youngest in this small group of masters of abstraction that included Kupka, Herbin, Domela, etc. The poster for the show depicted one of his paintings, and it was a huge acknowledgment and inspiration for the young artist. A year later, he had his first solo show in Paris, at the Lydia Conti gallery, and he also continued participating in group exhibitions throughout the world, including London, Copenhagen, and Sao Paolo. From 1949-1952, the artist made his first engravings at the Lacourière workshop in Paris. Over the next few years, the Americans had an opportunity to have themselves acquainted with his work, as several of the shows he was participating in were traveling exhibitions, such as Advancing French Art in 1951, Younger European Painters in 1953, and The New Decade in 1955.
He exhibited regularly at the Koot Gallery in The Big Apple and Galerie de France in Paris. In the early '50s, his pieces were already acquired by some prestigious galleries and museums, such as Phillips Gallery in Washington, the Guggenheim Museum in New York, the Tate Gallery in London, Musée d'Art Moderne de la Ville de Paris, the Museu de arte moderna in Rio de Janeiro, and many others. Today, Soulages' paintings (over 230) are included in permanent collections of more than 110 museums on all continents. In 1960, he had first retrospective exhibitions in museums in Hanover, Essen, Zurich, The Hague. Changing his approach in 1979, that very year he exhibited at Centre George Pompidou. From 1987 to 1994, he produced the 104 windows for the abbey of Conques (the very same place where he had his first profound aesthetic experience). In 2001, he became the first living artist to exhibit at the Hermitage Museum in Saint Petersburg. In October 2009, celebrating its 90th anniversary, the Centre Pompidou presented the largest retrospective ever devoted to a living artist since the early '80s, with more than 2000 square meters of exhibition space. Even with the staff strike that occurred, the exposure received more than half a million visitors, making it the fourth most popular exhibition in the history of Centre Pompidou.[2]
As a child, he painted snow with black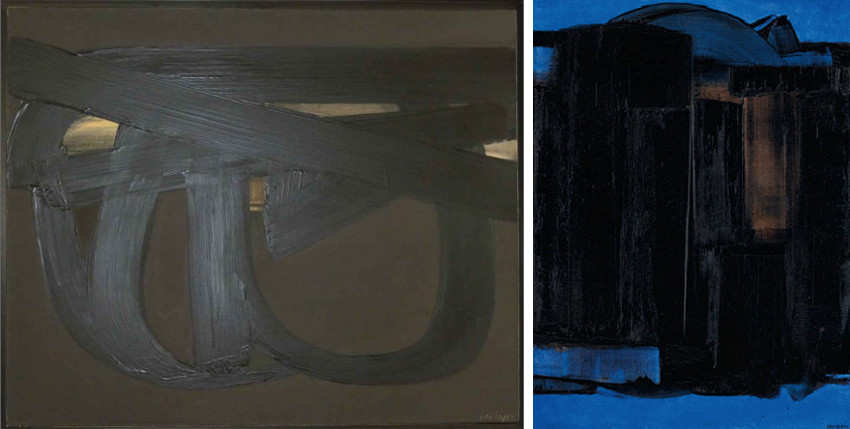 Coming to New York, Related Artists and Famous People of the Creative World
When Soulages first got to Paris, he tried to show his work at the Salon d'Automne, but they didn't accept him. A friend told him about the Salon des Surindépendants, which didn't have a jury, so he showed my work there for the first time. The piece was very dark, standing out in a mass of yellow and red paintings. Quite different from the rest, the painting caught the eye of Francis Picabia, who called it the best in the show. A few days later, the two of them met, and Picabia encouraged Soulages with kind words. In 1948, as stated above, the artist was invited to participate along the masters of abstraction such as Kupka, Herbin, Hartung, Schneider, a group of people much older than him and already established. That same year an American who had heard about his work came to Soulages' studio in Paris. It was no other than James Johnson Sweeney (a painting curator at MoMA at the time, and later the director of the Guggenheim Museum in New York). Sweeney said he liked everything he saw and bought one of the paintings. After one of the traveling shows, Soulages attracted the attention of Duncan Phillips, who personally bought one painting for the Phillips Collection in Washington D.C.
In 1954, Samuel Kootz began to represent the artist. All of the interest for Soulages' work was a bit strange considering that he didn't actually visit the States until 1957. Upon arriving to New York, he was invited to a dinner at the Sam Hunter's house (Hunter was a curator at MoMA). There he had the honor of meeting some of the most famous American painters, including Mark Rothko and Theodoros Stamos. He ended up befriending Franz Kline, Robert Motherwell, Willem de Kooning. A not so funny scene with Rothko marked the lifelong friendship between the two. At Hunter's, Rothko initially attacked Soulages, saying: "Soulages is Europe, and I'm familiar with European museums. European museums have men with their arms out, with nails in their hands and blood flowing. They have men with thorns in their foreheads and blood flowing. They have men shot with arrows and blood flowing. They have women carrying heads on platters and blood flowing. Europe! Concentration camps, gas chambers, crematoriums. Me, I prefer bird songs."[3] At first, the Frenchman didn't know how to respond, and then he simply repeated everything that Rothko said, adding: "I have yet to see the American Indian museums". Rothko invited him to a lunch the next day, and so their friendship began.
There are many arts, many tools, in many times - and yet, Soulages' adventure with black will be long remembered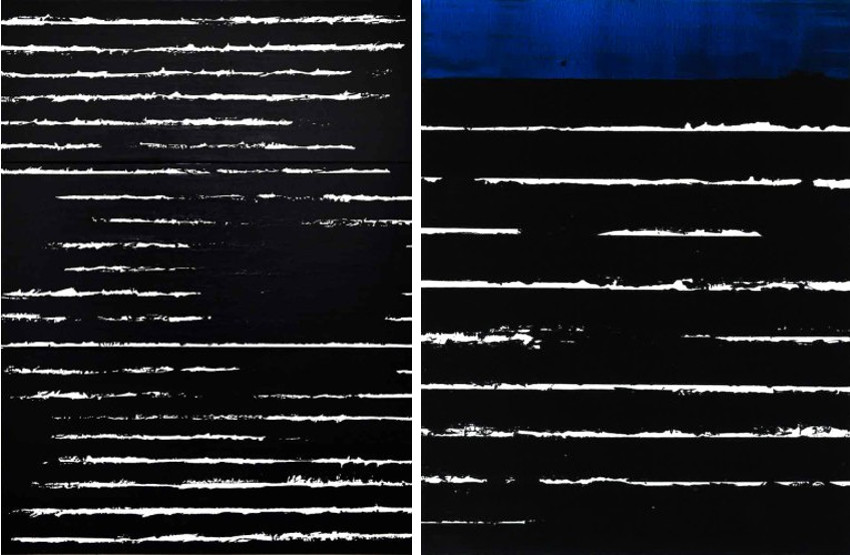 Early Inspirations and the Evolution of Artworks
Soulages' first profound aesthetic experience was in the interior of the Romanesque abbey of Conques. A real epiphany followed shortly afterward. Through a book (a reproduction of the Bison of Altamira), he realized just how narrow was the history of art taught at schools or exposed in museums. With only 5 or 6 previous centuries (that number expands to about 26 when the Greek culture is included), and that doesn't even compare with the age of the Bison of Altamira, which was a hundred and eighty centuries old. From that moment, Soulages wanted to discover everything about painting, to go all the way back to its most distant origins, to learn about the practices present in other countries, continents.[4] The paintings of the prehistoric era, which was revealed in a succession of waves, impressed him by the force of their presence which went far beyond the concern for illusionistic representation that ended up in the study of perspective. These vast painted spaces inspired a desire for freedom that was so rarely matched since.
Certainly, the Greeks have one of the first intentionally cultivated artistic practices, with their beautiful women and handsome man, but something like that never interested Soulages. Being against limitations like perspective, he considers perspective to be an illusion. It is opposite of presence, and art is presence. All of this led to him meeting the love of his life, Collete, the woman he has spent more than 7 decades with! It was a love at first sight! They had the same taste and shared an interest in pre-Renaissance practices. As established, he was intrigued by pre-historic period, while she wanted to learn about medieval art, which nobody knew back then. Even today, the number of experts in those fields is next to non-existing. On February 13th, 1941, the painter arrived at Montpellier and immediately went to the school where you could only become a drawing teacher. There he met this girl who was trying to convince some boys that Picasso was a great artist. Soulages told her she's never going to convince those idiots, and since he was planning to go to the Musée Fabre, he asked her to join him. Collete went with him and they haven't been apart since.
As for his style – Soulages' early paintings are given to sections more than a holistic intake, a feature he still possesses. The works made 'back in the day' suggest a more symbolic aspect, a kind of contradiction between form and space, between the gesture and the surface, between the support and its interior. These painterly ideas were closer to Soulages than the more metaphorical interpretations of being an expression of post-World War II trauma where hope lingers in the crevices between the charred remnants (a popular interpretation that Soulages attempted to discourage).[5] Soulages was always painting with black, and yet, it was his travels and discovery of "beyond black" that made the true earthquake in the artistic world. It happened in 1979, while he was working for many hours on a painting, with black paint everywhere. Exhausted, he couldn't quite comprehend why he was working for so long on something that he didn't like. The piece was simply not turning out as the others. So, after a quick sleep, he looked at it once again and made a decision that was going to change his life – no more painting with black. Instead, he will paint with the light reflected off the black surface.
This spur of the moment realization deeply touched him, so he continued making pieces like this. The Centre Pompidou invited him to show these works, which people began calling noir lumière, or black light. The name suggested an optical effect, and the Soulage didn't like it. He only started making these because he found that the light reflected by the black surface elicits certain emotions in him. They are not monochromes. The light is coming from the color which represents the absence of light, and these paintings are very moving. Having realized that he needs to find an appropriate word to convey mental field opened up by these works, Soulages invented the word outrenoir – it doesn't exist in English, and its closest interpretation is "beyond black". It's a completely different thing from black, a completely different place. More recent paintings (from 2013-14) have surfaces that reveal more literal variations of black pigment, often utilizing an uncompromising matt underpainting as a support for glossy black on top. Alternatively, the light refracts from severe cuts into a hardened density of pigment. Since 1979, the focus has always been on the birth of light from the blackness. The most recent paintings constitute a latent subterfuge, whereby the light bounces rhythmically from one panel to another within a single painting.
His first profound aesthetic experience was in the interior of the Romanesque abbey of Conques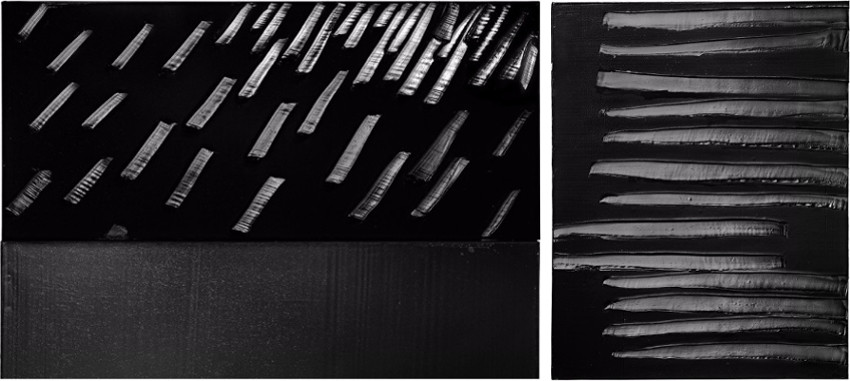 Legacy
Soulages has liberated his style from centuries of Western decorative painting traditions and drawing that dated back in prehistoric times. His work is a pure celebration of the very essence of painting – there are primal instinct to create and the spiritual power of lines and movement.[6] The Museum in his hometown is an homage to his vision and long-lasting career. His true legacy lies in the fact that he was able to bring out from the darkness something pure and beautiful. He found light in black, a feat that is extremely difficult.
He is represented by Galerie Perrotin and We Art Partners.
Pierre Soulages lives and works in Rodez.
References:
Featured image: Pierre Soulages - portrait - photo credits Philippe Desmazes/AFP, image via directmatin.fr