One of the few true fathers of pictorial abstraction, Piet Mondrian was a Dutch painter who devised a way of depicting form that avoids any references to the real world and relies completely on the use of primary colors and their directions, leaving the entire world of modern art in his debt. By working at creating his one of a kind and original visual vocabulary, Mondrian produced abstract paintings that revealed universal harmony and order full of balance. Many of his conceptual ideas were shared by his fellow Dutch painter Theo van Doesburg - the two close friends cofounded the pioneering and highly influential movement De Stijl. However, the incredible importance of Piet's solo work has been often described as a movement on its own, called Neo-Plasticism. This is one of those rare occurrences in art history in which a movement is solely propelled and developed by a single person. Interestingly, the Neoplastic and non-representational way of creating form is also one of the most pivotal avant-garde moments in all of the 20th-century art[1].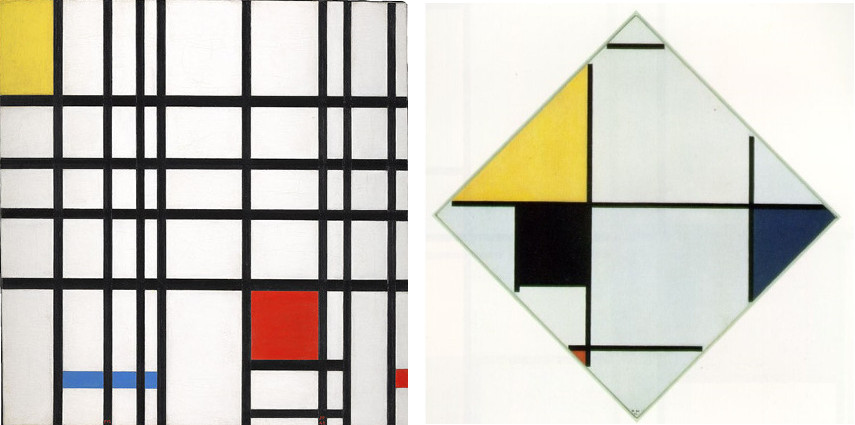 Early Pursuits of Style
Piet Mondrian was born during the year of 1872, in the town of Amersfoort, the second largest city in the province of Utrecht in central Netherlands. He was the second child in a family that lived in Amersfoort until Piet's father, Pieter Cornelius Mondriaan, was appointed as the Head Teacher at a primary school in Winterswijk, a town in the eastern Netherlands. Young Mondrian was introduced to art from a very early age as his father was a qualified drawing teacher. Additionally, Piet's uncle, Fritz Mondriaan, was a pupil of Willem Maris of the Hague School of artists and he often painted himself. When the time came for young Piet to choose what he will study, he decided to enroll at the Academy for Fine Art in Amsterdam. At that point, he was already qualified as a teacher due to his father's line of work, so it came as a surprise to no one when Mondrian began his career as a teacher in primary education[2]. However, besides holding his job of an educator, Piet also never stopped painting on a daily basis. Most of his work from this period is naturalistic, consisting largely of landscape compositions with a strong note of Impressionism popular in Mondrian's contemporary Hague School. Piet painted depictions of his native country, mostly concentrating on images of windmills, fields and rivers found around the Netherlands. Mondrian went through many pictorial concepts and styles during these years as the painter was obviously searching for a visual form that suited him the most.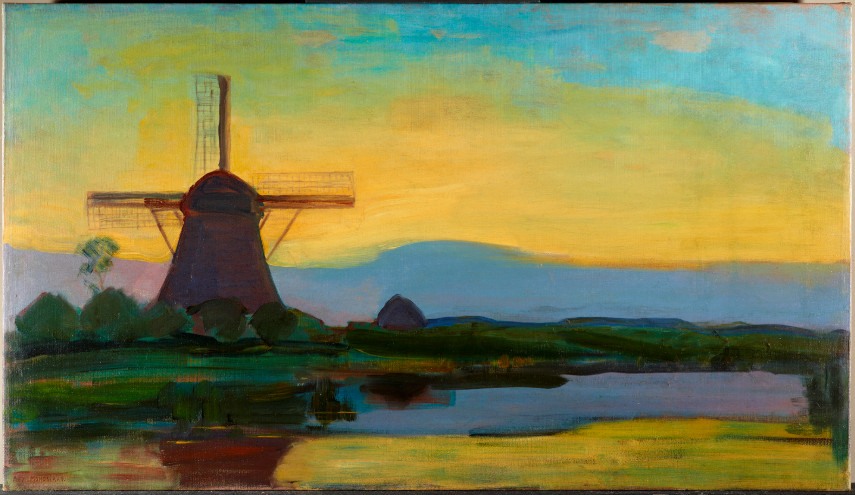 Piet Mondrian and His Stylistic Experimentation
All of Mondrian's early paintings were definitely representational and are a perfect indicator of just how influential various artistic movements were on this artist's style. Besides the aforementioned Impressionism, Piet also found much inspiration in the ideas of pointillism and the wild colors of Fauvism. It appears that Mondrian's early art was intimately related to his spiritual and philosophical studies - a feature that never truly left his work. A big milestone for the artist came in the year of 1911 when the Moderne Kunstkring exhibition of Cubism arrived at Amsterdam. From that point on, Piet started to search for simplification in his work, adopting some of the ideas Cubist painters established via their artworks. Most of his forms were reduced to a round shape with triangles and rectangles[3]. In 1911, Mondrian moved to Paris, wishing to create a distance between himself and Netherlands - he even went as far as removing the letter a from his Mondriaan family surname. It took him no time to become a part of the avant-garde scene the City of Light is famed for to this day. The influence of the Cubist style commonly found within the art of Pablo Picasso and Georges Braque appeared almost immediately in Mondrian's work as well. However, it's now common knowledge that Mondrian observed Cubism just as one of his many creative stops and not as a true conceptual destination. Unlike the representatives of this iconic movement, Piet never stopped attempting to reconcile his paintings with his personal, spiritual pursuits. In 1914, Mondrian returned home to visit his family, but as the World War I began, he was forced to remain in the Netherlands for the duration of the conflict and was not able to go back to Paris for years.
One of the most interesting aspects of Piet Mondrian's art is the way it progressed and developed in a methodical way that saw the artist go from traditional representation to complete abstraction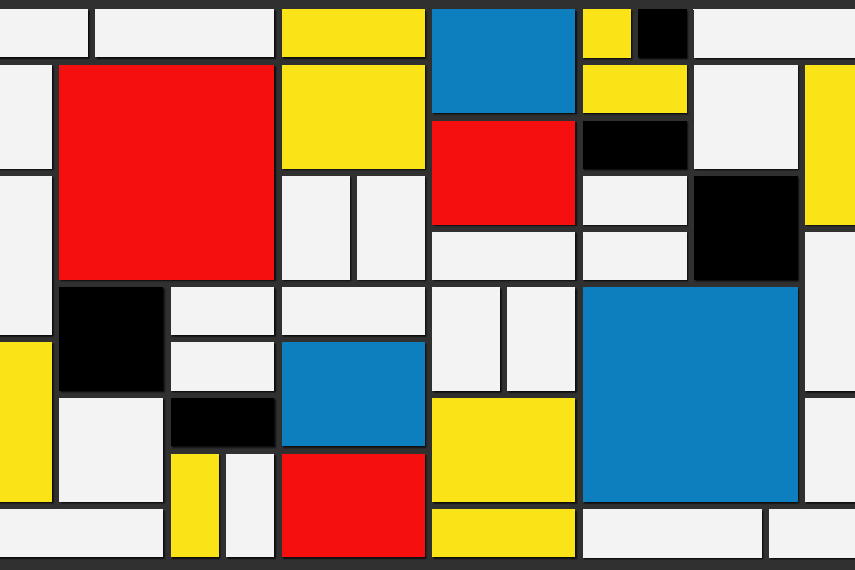 De Stijl and Neoplasticism
During the period whilst he was banned from returning to Paris due to the continental circumstances, Mondrian met Bart van der Leck and Theo van Doesburg. All three of them were interested in discovering the perfect way of using abstraction in their work. Van der Leck's characteristic and exclusive use of primary colors greatly influenced Mondrian. Piet wrote the following statement in his journal in 1916: My technique, which was more or less Cubist, and therefore more or less pictorial, came under the influence of this precise method of Bart van der Leck.[4] Alongside Theo van Doesburg, Mondrian co-founded De Stijl (The Style), a unique journal of the De Stijl Group, a magazine in which he first published essays defining his theory concerning visual expression that he called neoplasticism. One of the more famous lines from this theory is the following: I construct lines and color combinations on a flat surface in order to express general beauty with the utmost awareness. Nature (or, that which I see) inspires me, puts me, as with any painter, in an emotional state so that an urge comes about to make something, but I want to come as close as possible to the truth and abstract everything from that, until I reach the foundation (still just an external foundation!) of things… I believe it is possible that, through horizontal and vertical lines constructed with awareness, but not with calculation, led by high intuition, and brought to harmony and rhythm, these basic forms of beauty, supplemented if necessary by other direct lines or curves, can become a work of art, as strong as it is true. After the WWI came to a halt, Mondrian returned to France and remained in Paris[5] until the year of 1938.
The work of Piet Mondrian always aimed to find the idyllic and natural balance between the positive and the negative, the dynamic and the static, the masculine and the feminine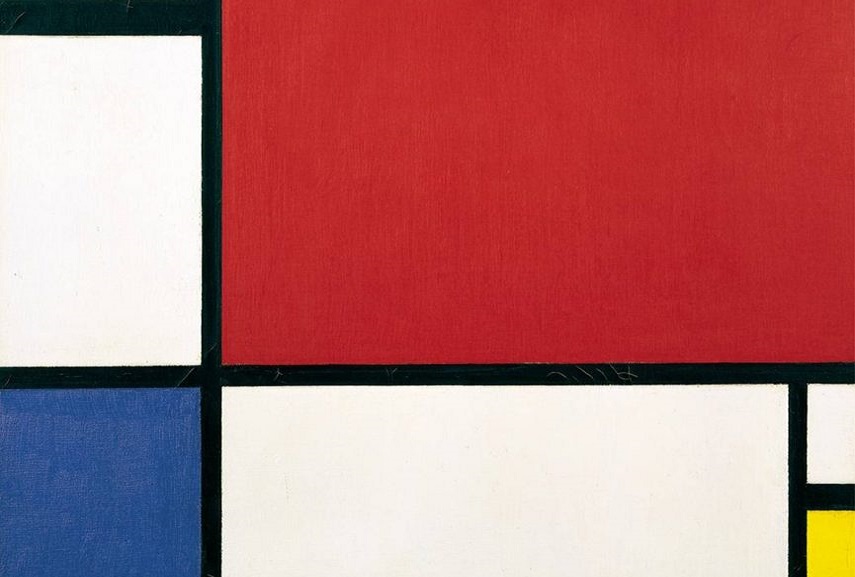 Piet Mondrian's Grids
Piet flourished in an atmosphere of intellectual freedom of Paris, the freedom that enabled him to embrace an art of pure abstraction for the rest of his life. He began producing grid-based paintings in late 1919, the style that will eventually make him renowned throughout the world of art. Initially, the lines delineating the rectangular forms are relatively thin and were filled with primary colors[6]. However, during late 1921, Mondrian's paintings arrive at what can easily be described as their definitive and mature form. Thick black lines started to separate the models, lines that were larger and fewer in number than ever before. Many of the forms were starting to be left completely white as well. This was not the conclusive culmination of his artistic evolution, however - Mondrian's work continued to evolve during all of his years spent in Paris. In the September of the year of 1940, Piet left Europe because of the WWII and set his sails towards New York City. The new pieces on which Mondrian began working on whilst in Manhattan were even more startling than his previous artworks. It's even reasonable to claim that these works indicated the beginning of a new idiom for Piet, a style[7] that was unfortunately cut short by the artist's death. Piet Mondrian died from pneumonia on the 1st of February in 1944.
In order to reveal the very essence of the mystical energy behind nature and the universe, Piet Mondrian distilled his representations of the world to their basic vertical and horizontal elements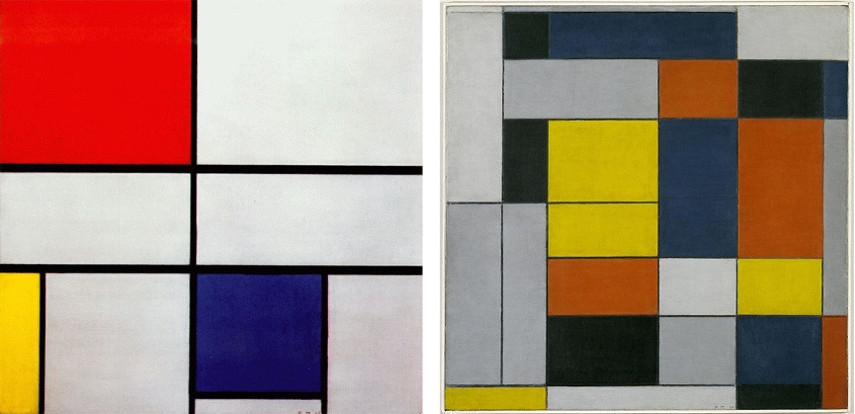 Piet Mondrian - The True Father of Abstraction
Ultimately, Piet Mondrian, the avant-garde theorist and painter, managed to do what he wanted from the very start of his mature career - to establish a way of creating art that completely reflected the underlying spirituality of nature[8]. He successfully revealed the very essence of the mystical energy in the balance of forces that governed nature and the universe by simplifying the subjects of his paintings down to the most basic elements. A hundred years ago, this seemed like an ambitious and almost impossible task and, in all honesty, it still seems just as impressive and difficult today. However, Mondrian managed to pull it off and, by doing so, cemented his name in all of the art history books as the individual without whom the entire modern era would definitely not be the same by a long shot. As a matter of fact, it's reasonable to say that the entire outlook on abstraction we have today might not even exist if Piet never abandoned conventional ways of shaping pictorial forms.
References:
Schapiro, M., Mondrian: On the Humanity of Abstract Painting, George Braziller; 1st edition, 1995
de Jong, C. W., Bax, M., Degen, M., Otte, K., Vermeulen, I., Welsh, R. P., Piet Mondrian: Life and Work, Harry N. Abrams, 2015
Jaffe, H. L. C., Piet Mondrian (Masters of Art), Harry N. Abrams, Inc, 1985
Mondrian, P., Mondrian Notes, Chronicle Books; Ncr edition, 2016
de Jong, C. W., Piet Mondrian: The Studios: Amsterdam, Laren, Paris, London, New York, Bulfinch Pr; 1st edition, 1995
Bois, Y. A., Rudenstine, A. Z., Joosten, J., Janssen, H., Piet Mondrian: 1872-1944, J. Paul Getty Museum; 1st edition, 2011
Tomassoni, I., Mondrian, Littlehampton Book Services Ltd, 1971
Mondrian, P., Piet Mondrian, Tushita Publishing; 170572 edition, 2016
Featured image: Piet Mondrian - Photo of the artist in his New York studio, 1942 - Image via artblart.com
All images used for illustrative purposes only.