Pino Manos is an Italian artist noted for his large-scale monochromatic pieces, originally embellished with twisted strips of canvas and painted in rich color.
His art explores the relationships of the light and shadow that stimulate the becoming of the total vision. Manos evokes a dynamic drama with his unique works by manipulating color, space, light, and movement across the seemingly distorted canvases to produce a sense of unity with the whole.
Sincronico Bianco Scorcio

Pino Manos was born in Italy's city of Sassari, located in north-western Sardinia in 1930. Aged 21 he moved to Milan, a global capital of fashion and design where he enrolled the Academy of Fine Arts "Cimabue" and "Brera", and Polytechnic University of Milan. For a brief period of time, Manos lived in Rome where he befriended with a famous painter and sculptor Alberto Burri.
In 1957 Manos moved to Florence, the city where he finished his studies of Architecture. In the early 1960s he started to travel worldwide visiting regions from Mexico and Peru through Egypt, Turkey and Israel to the Middle East and India.
In 1968 the artist decided to settled down in Milan where he founded the association The Creative (1980) for the socialization of Art and the development of creativity as a therapeutic element.
Art by Pino Manos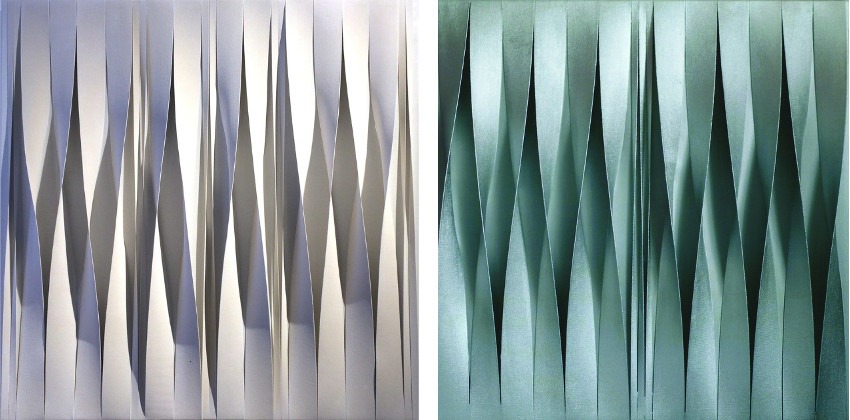 Pino Manos has been one of the central figures in the development of the Rigorismo - the movement rooted in the tradition of the Spazialismo (Spatialism) movement founded by Lucio Fontana in the late 1940s, as well as the German Zero movement of the late 1950s. Rigorismo challenges the defined artistic spaces and object within artistic media.
Pino Manos' work has been included in many individual and collective shows in galleries and museums throughout his native country and beyond including Unix Gallery, New York; Galerie Leu, Munich; Galleria San Carlo, Milan; Mibu Gallery, Kyoto; and Living Art Gallery, Milan, among others. He is represented by Unix Gallery in New York.
Synchronicity at Unix Gallery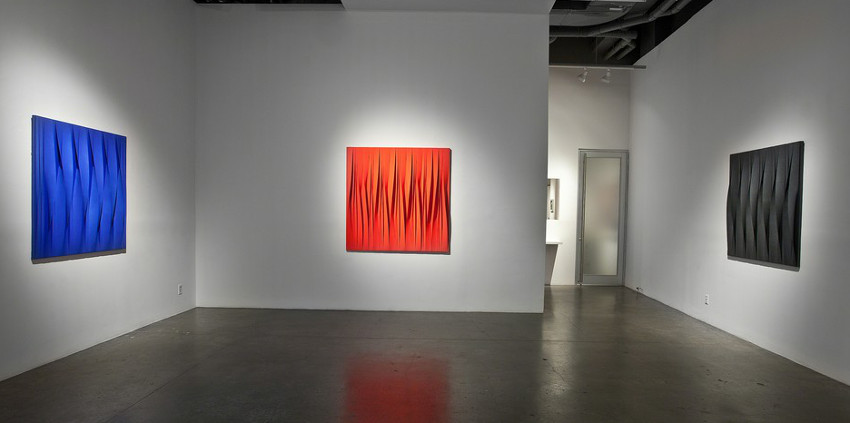 Pino Manos is based in Milan.
Featured image: Pino Manos - Efflorescence Summer Group Show at Unix Gallery - installation view
Images Courtesy Unix Gallery and Pino Manos